If you are thinking about a Disney Vacation, but roller coasters and fast moving thrill rides aren't your thing, you may be wondering if paying the price of admission is really worth it for you and your family. Perhaps you are prone to motion sickness, have young children that aren't tall enough for some of the most popular attractions, or simply are afraid of heights. Whatever it is that might keep you from queueing up for the high thrill rides, rest assured that the magic of Disney is EVERYWHERE in the parks and your trip will most definitely be magical and memorable for everyone. If you're wondering if a Disney Vacation without thrill rides is worth it, keep reading for some tips on how to make your trip to Disney
Visit During Special Events
A suggestion for planning a trip to the parks if you aren't into thrill rides is to schedule your visit during a time when there is a special event going on. Is spring your favorite season?  You won't want to miss the beautiful displays at EPCOT during the Flower and Garden Festival. Do you love to try foods from different countries and cultures? Come to Disney World during EPCOT's International Food and Wine Festival beginning July 15 and lasting through November 20, 2021. Make sure there is extra room in your belly because you will have a hard time choosing where stop at the many booths that are set up in the World Showcase. Both of these festivals at EPCOT offer a kind of food scavenger hunt where if you purchase all of the items listed, you receive an additional prize and keepsake! Best part – no thrill rides required! Halloween and the holidays are other times to plan a visit since the parks offer specially themed décor, treats, performances, and even afterhours parties to enjoy.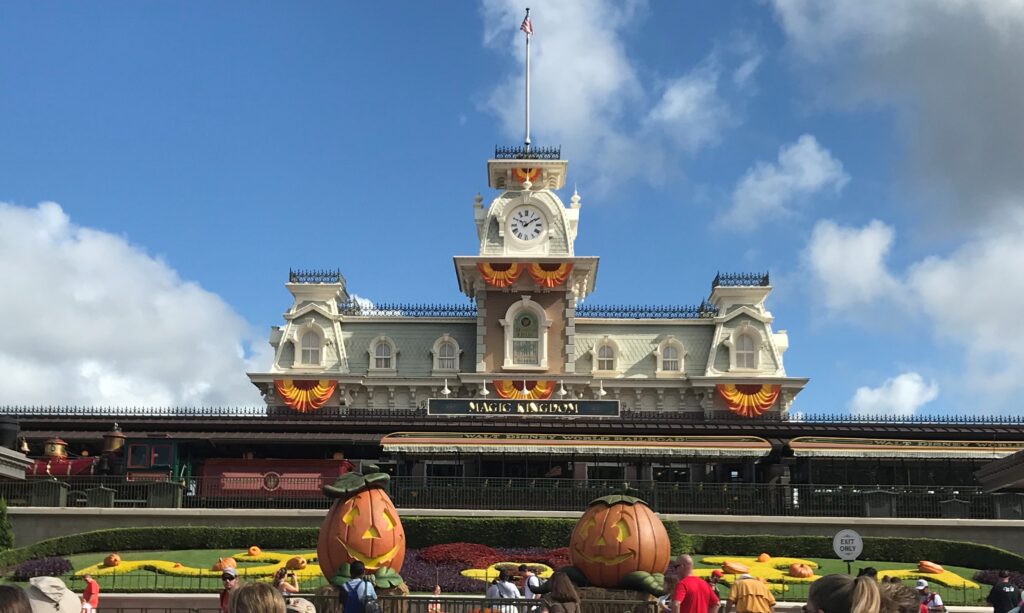 Shop 'Till You Drop
Regardless of when you come to Walt Disney World, what exactly can you do while the rest of your party goes for the ride of the life? There are endless shops at all 4 Disney World parks that have unique souvenirs and collector's items, some which are not available for purchase online! Take a stroll down Main Street in Magic Kingdom and you can spend an hour alone finding keepsakes for yourself, gifts for your family members back home, or even special treats from the Confectionary.  You can find a similar experience on Hollywood Boulevard and Sunset Boulevard in Hollywood Studios. Are you the type to buy so much that your suitcase won't close? Keep in mind that Disney will happily package and ship your items to your home for you for an additional fee.
Treat Yourself To Delicious Snack Around The Parks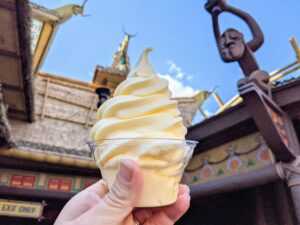 If shopping isn't your thing, while the rest of your party is waiting in line for a ride that you physically cannot stomach, fill your stomach with a yummy treat or even make a reservation at one of the many fun-themed restaurants. Better yet, take a load off and enjoy a special beverage, coffee, or cocktail at one of the many watering holes in the parks. When it comes to special treats, Disney has you covered in all corners of every park. This is a great time to try a Dole Whip, gelato in Italy, the blue and green milk in Hollywood Studios, and Pongu Lumpia (pineapple and cream cheese spring rolls!) in Animal Kingdom.
Hop On These Rides
But what if you DO want to ride, just not a fast, dark, or scary thrill ride? If that sounds like you or someone you may be traveling with, you'll find the following list encouraging and helpful.
Magic Kingdom
While Magic Kingdom may have the most rides, don't panic! There truly is something for everyone and no matter how many or how few of the attractions you enjoy, you'll leave the park feeling like you had a full-day of fun.
In Tomorrowland, skip the screams of Space Mountain and flying high on the Astro Orbiter and opt for the PeopleMover and the Carousel of Progress.
In Fantastyland, offer to take pictures of your loved ones flying high on Dumbo or spinning silly on the Mad Tea Party, or you can escape to Journey of the Little Mermaid for a slow trip under the sea (and grab a cinnamon bun at Gaston's tavern afterwards!).  You may want to skip the circling of Prince Charming's Carousel and flying in the clouds on Peter Pan's Flight, but you can still enjoy it's a small world followed by a fun 3D show at Mickey's PhilharMagic(c).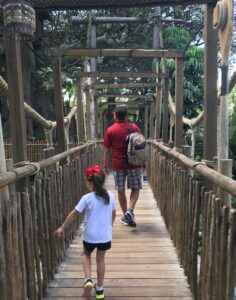 Over in Frontierland, you may pass on hills of Big Thunder Mountain and Splash Mountain by taking a cruise on the Liberty Square Riverboat and visiting Tom Sawyer's Island. Afterwards, catch the Country Bear Jamboree which will also give you a break from the heat.
In Adventureland, you'll skip Aladdin's magic carpets, but you'll giggle (or roll your eyes) through the Jungle Cruise and even Pirates of the Caribbean if you can tolerate a small 14 foot drop near the end of the indoor slow boat ride. The Swiss Family Treehouse is also a fun place to explore in this area!
EPCOT
Fortunately for those who prefer lower thrill attractions, you will only find a few high-thrill rides at this park. Since the main draw of EPCOT is the World Showcase, you might just spend most of the day "eating around the world."
You might not want to try Soarin' Around the World, but you can take a relaxing boat cruise in Living with the Land and then check out The Seas with Nemo and Friends nearby.  Afterwards, browse the adjacent aquarium!
If Test Track and Mission:Space are not for you, then a slow ride in "the big ball" Spaceship Earth should suit you better.
Finally, if the small drop at the end of Frozen Ever After in Norway isn't quite your speed, enjoy the slow boat ride in the Mexico pavilion that features Los Tres Caballeros.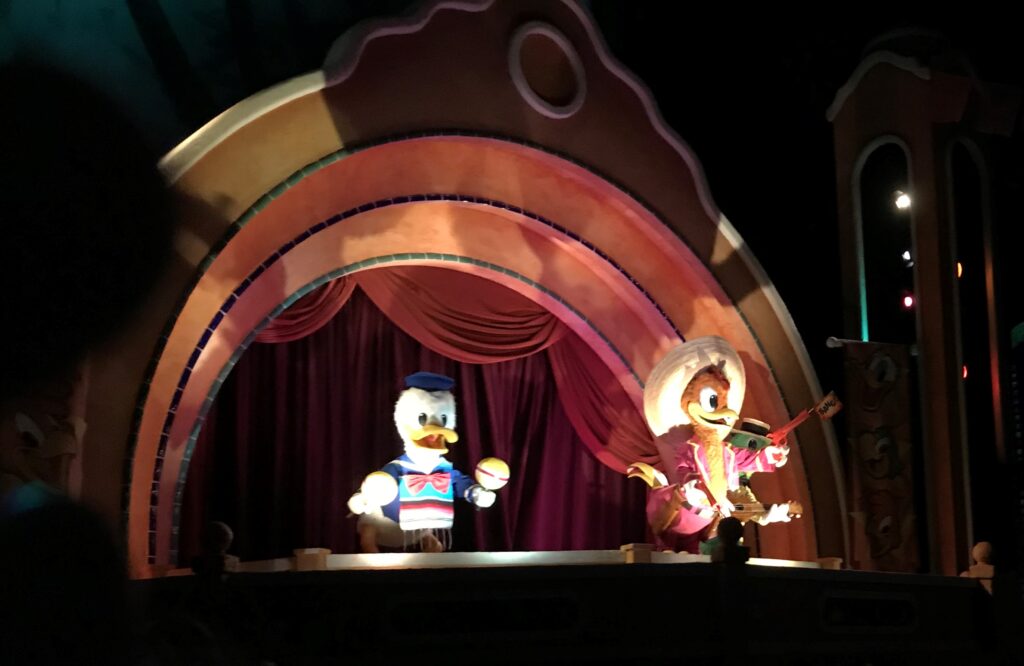 Animal Kingdom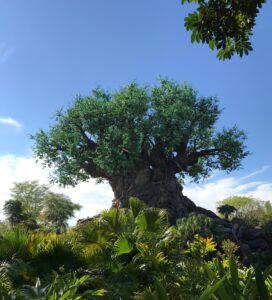 Animal Kingdom offers many options for those that prefer more low-thrill experiences.  You could spend an entire day alone just experiencing the Kilimanjaro Safari and observing the many species of animals in their exhibit! No matter what your daily itinerary looks like, you must see A Celebration of Festival of the Lion King.
But, if you need to skip the line for Expedition Everest and Kali River Rapids, it's a good time to grab an ice cream and enjoy the view of the water in the nearby stadium seating or check out the many offerings of Yak and Yeti restaurant. You can also spend a lot of time strolling around the grounds of the Tree of Life and catching the Winged Encounters show where macaws freely take flight around the Tree of Life! Be sure to also check out the 3D film It's Tough to be a Bug as well.
Lastly, if you don't care to fly high on a mountain banshee, then bypass Avatar Flight of Passage and choose the Na'vi River Journey instead where you take a slow boat ride deep into the bioluminescent rainforest.
Hollywood Studios
Hollywood Studios is another park with a great mix of high and low thrill rides.  You'll easily find something to enjoy!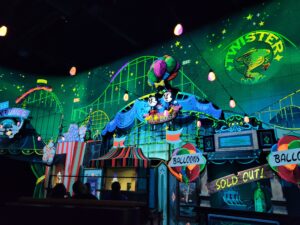 Lightning McQueen's Racing Academy is a fun indoor animated show to enjoy adjacent to Rock 'n' Roller Coaster and Tower of Terror that might not be on your must-ride list.
Toy Story land is filled with speed, spinning, and swirling, so it may be best to enjoy the theming of this part of the park by stopping to refuel at Woody's Lunch Box. Right out side of this land are Mickey & Minnie's Runaway Railway and the gallery tour Walt Disney Presents which are more suited for folks that enjoy the lower thrill attractions.
Sandwiched between the thrilling Star Wars attractions is Muppets*Vision 3D which is always a must-see at the park or you can always take a break at Oga's Cantina to enjoy the Star Wars theming and unique menu options.
These recommendations are just the tip of the iceberg.  There are currently frequent opportunities to see characters in cavalcades, motorcades, and even in stationary spots throughout the parks. The general atmosphere, friendly cast members, and specially themed structures and buildings give you the constant reminder that you're in the happiest place on earth! The time you are saving NOT standing in line for the popular high-thrill attractions is spent enjoying the more subtle, but just as magical nuances of Walt Disney World. We're sure that a Disney Vacation without the thrill rides is definitely worth it.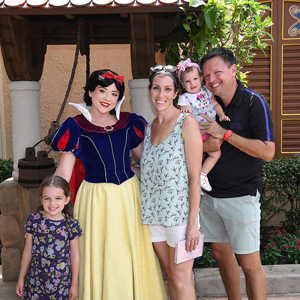 Written by
Shelley Wehler
Contributing Writer
Shelley is a stay-at-home mother of two girls living outside of Charlotte, North Carolina. Her love of all things Disney has grown even more as she sees the magic come alive through the lens of her young daughters. She spends her free time keeping up with the latest in Disney news and daydreaming of her next trip to the parks!