Welcome to your ultimate guide to everything you need to know about the Flower & Garden Festival 2021 at Epcot! We've compiled an impressive list of pretty much everything that is happening this year, from food to entertainment, we've got it completely covered in this article. We've broken this article into six major sections, so feel free to jump to the section that most interests you by clicking to expand the sections below.
Flower & Garden Festival 2021 Overview
Topiaries
Discover topiaries of beloved animals and Disney Characters, cultivated with care by Disney horticulturists.
Expand Topiaries Section
Future World World & Showcase Plaza 
Main Entrance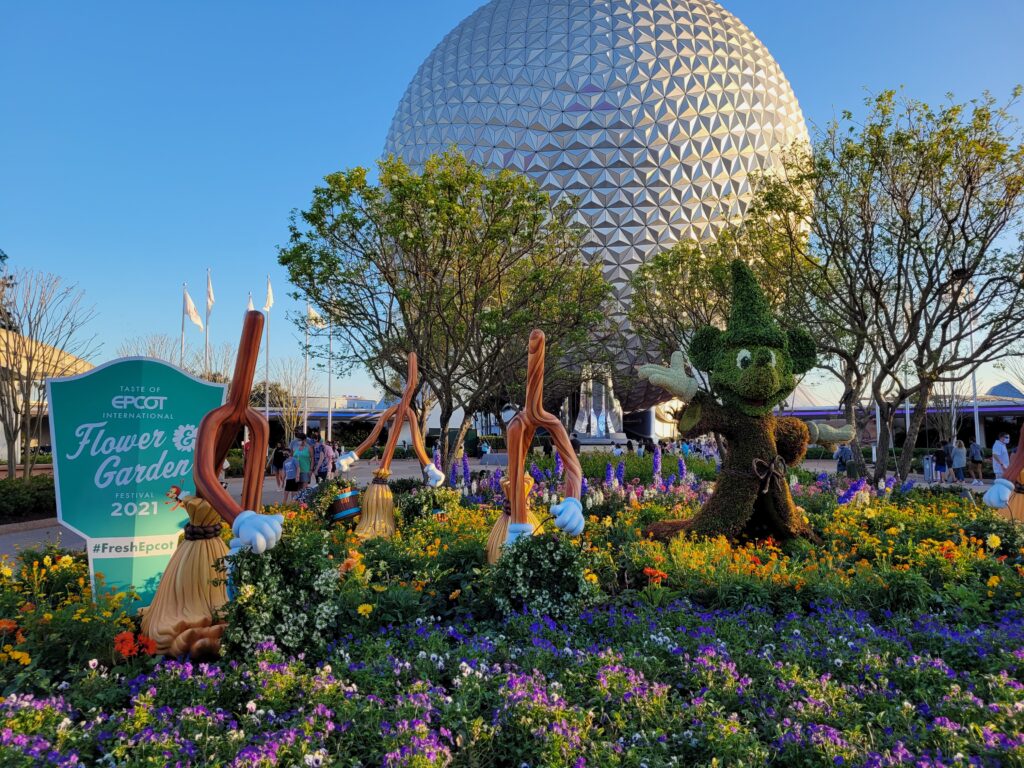 Sorcerer Mickey Mouse, Brooms, Ostriches Hippo, Gator and Mushrooms 
Future World East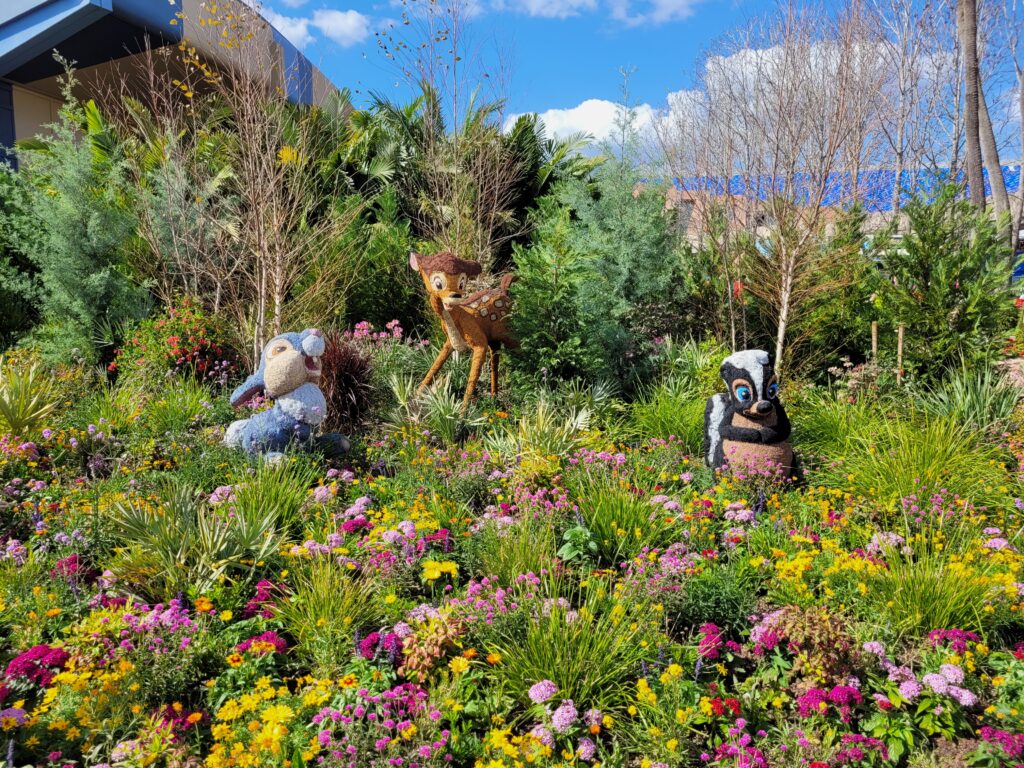 Bambi and Friends' Wildlife Habitat Near Mouse Gear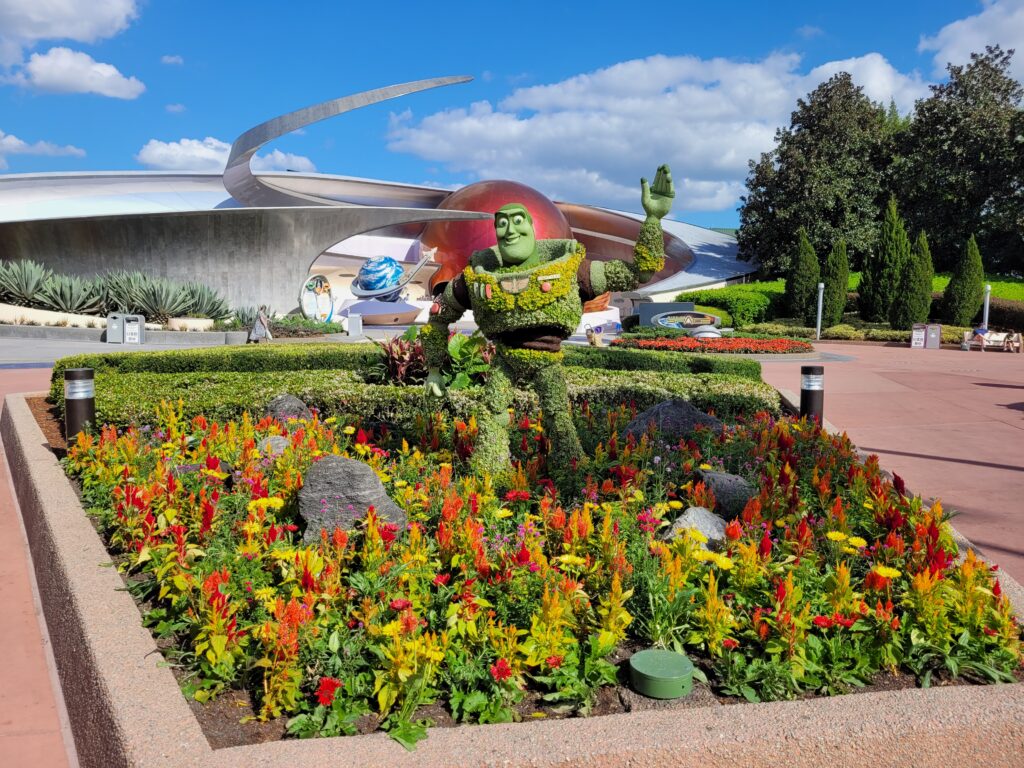 Buzz Lightyear Near Mission: SPACE 
Future World West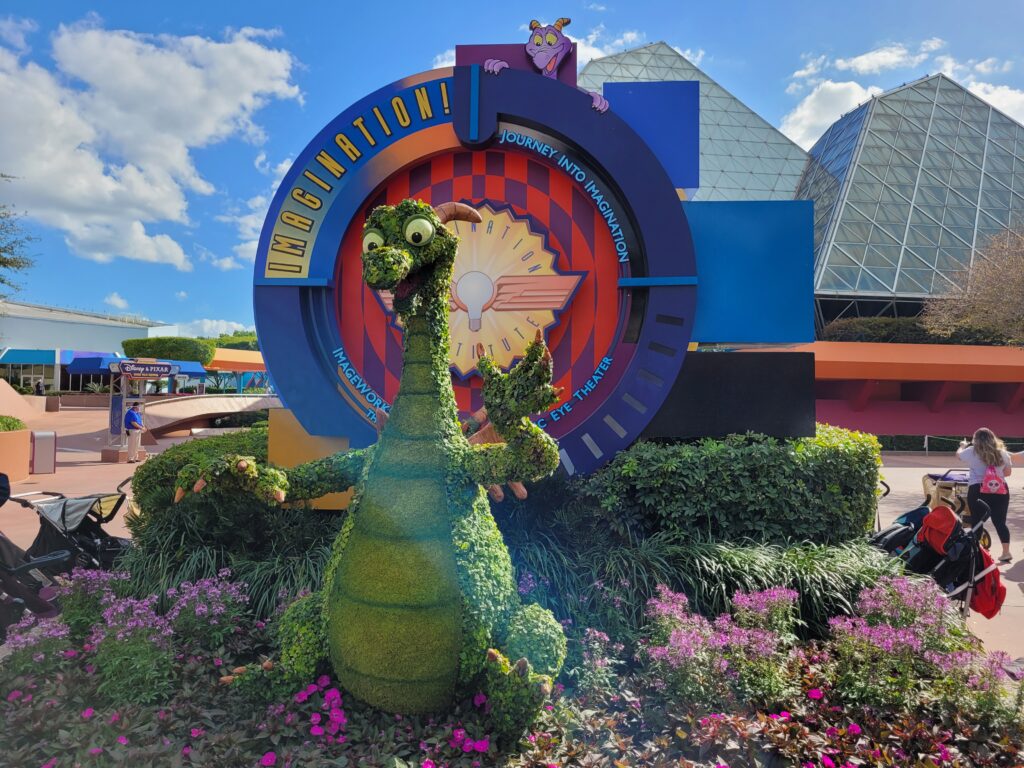 Figment Near Imagination!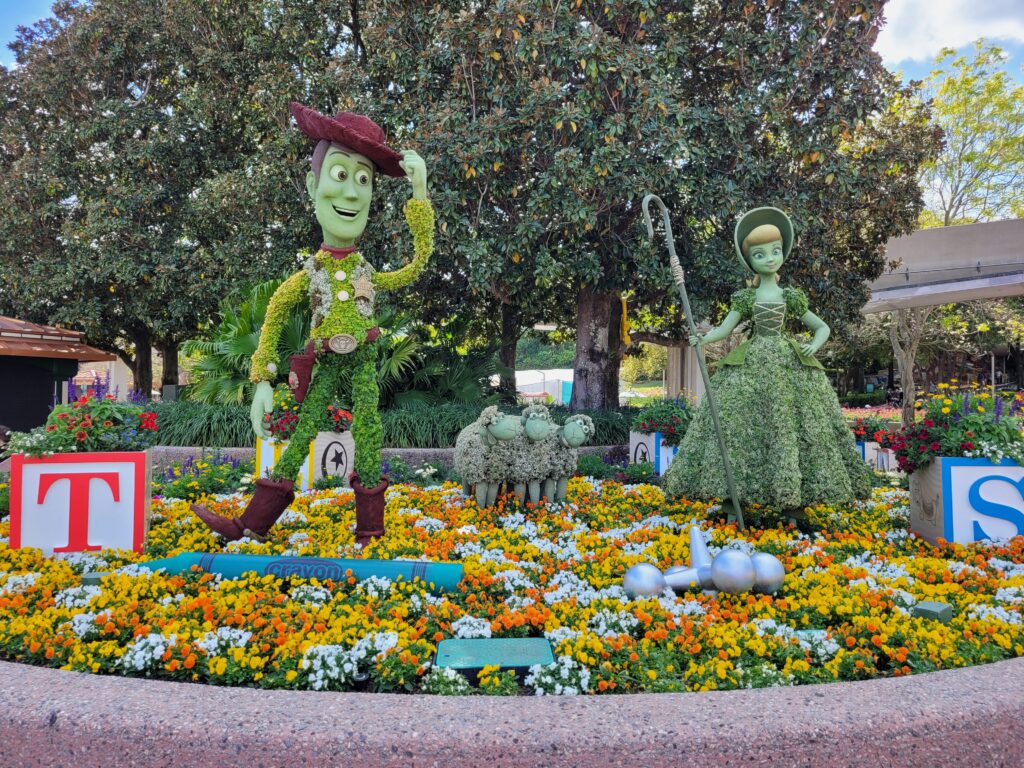 Woody, Bo Peep and Her Sheep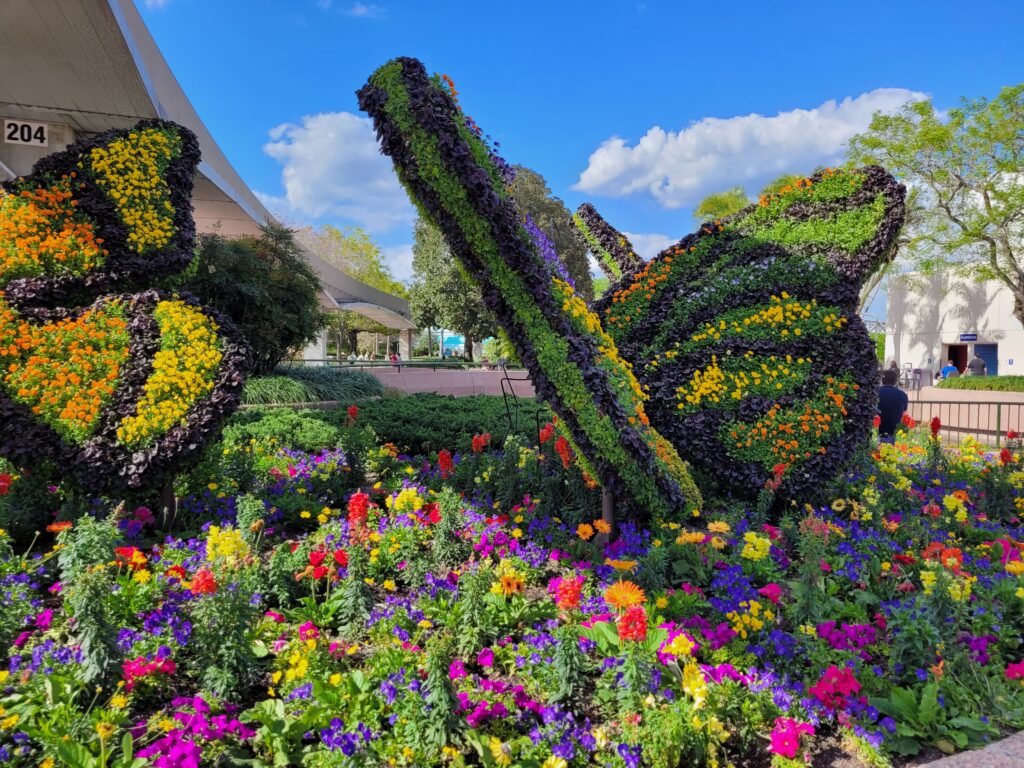 Topiary Butterflies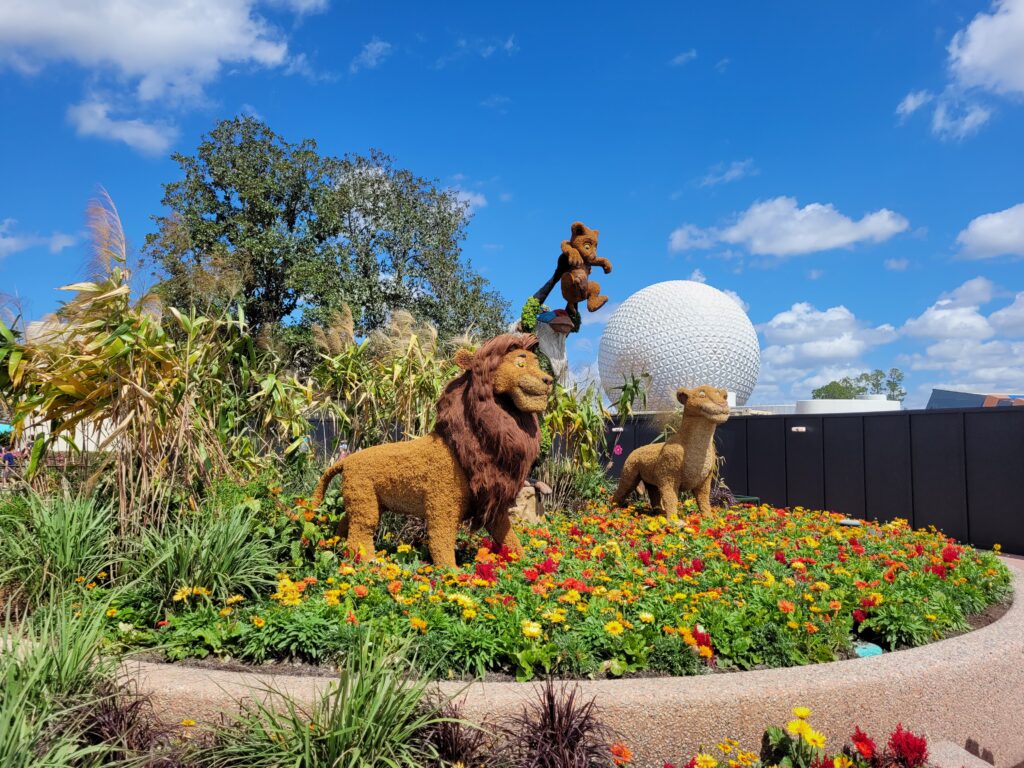 Simba and Friends 
Showcase Plaza Between Mexico & Canada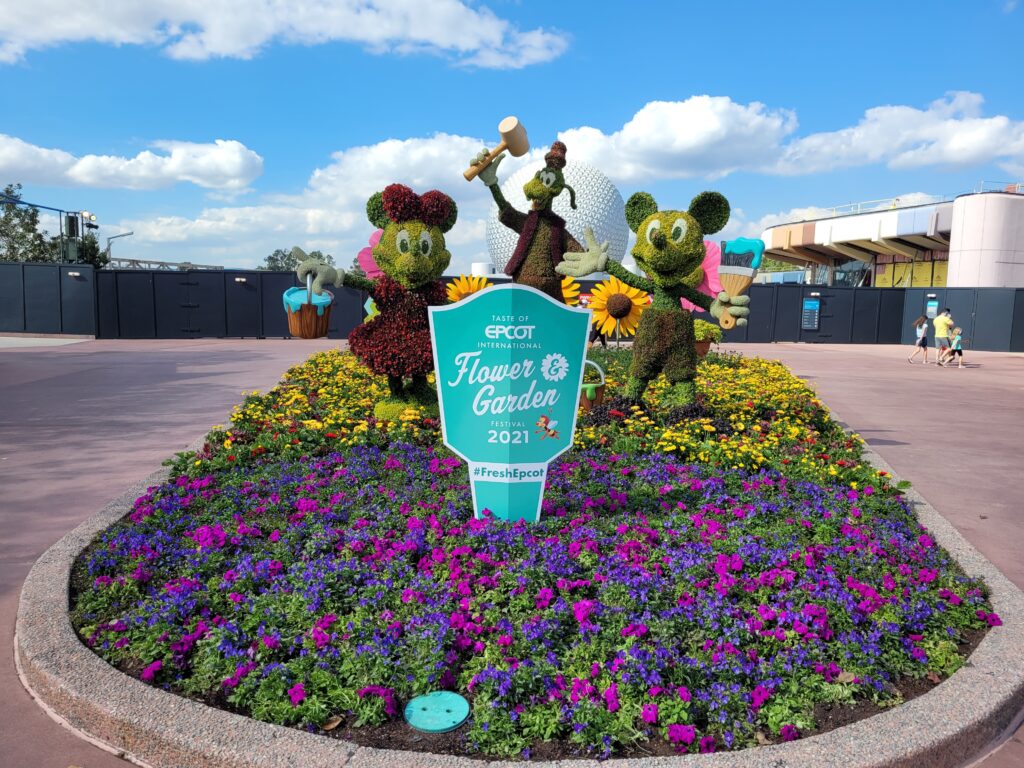 Mickey Mouse, Minnie Mouse and Goofy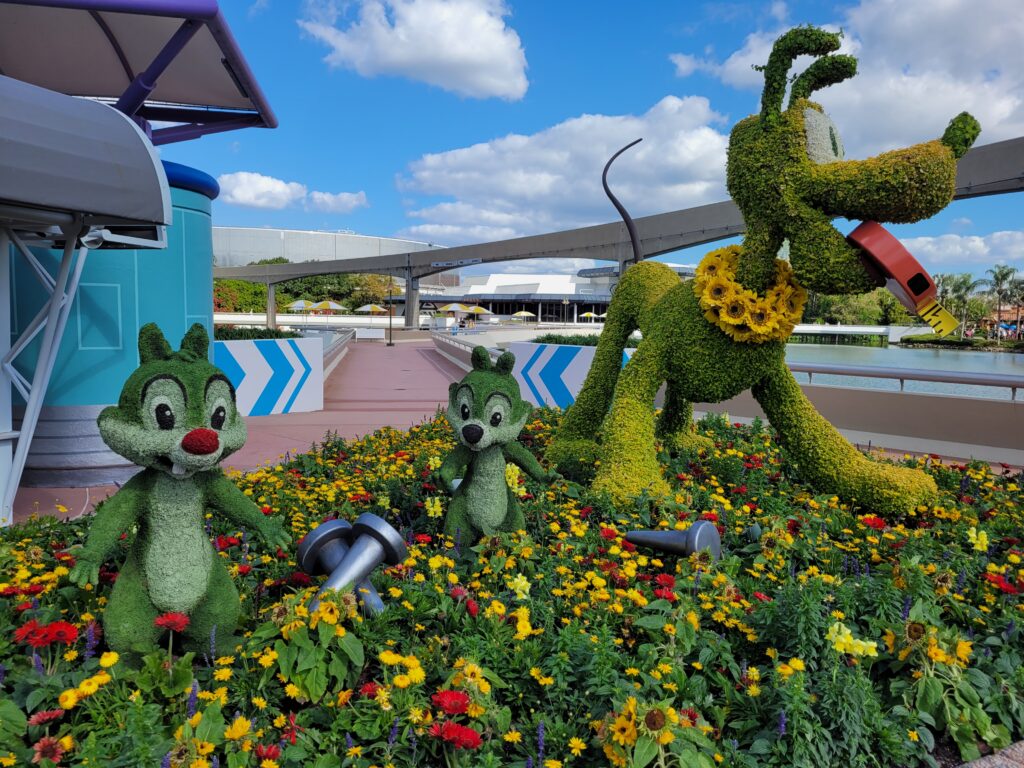 Pluto and Chip 'n' Dale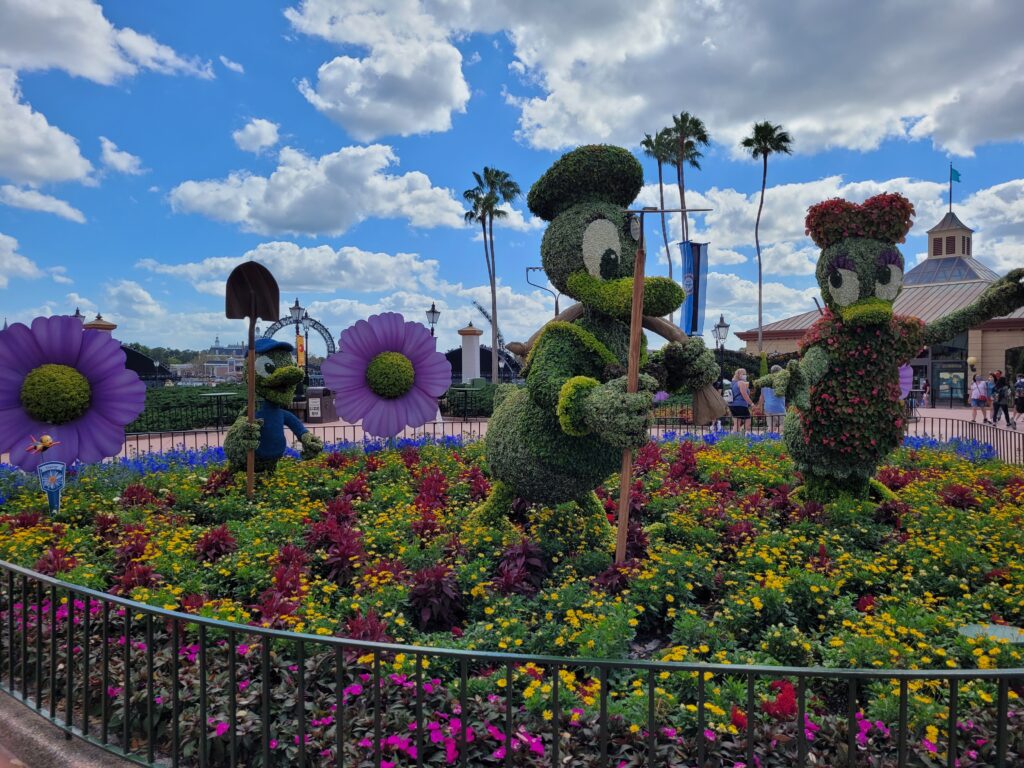 Donald Duck, Daisy Duck, Huey, Dewey and Louie 
World Showcase Mexico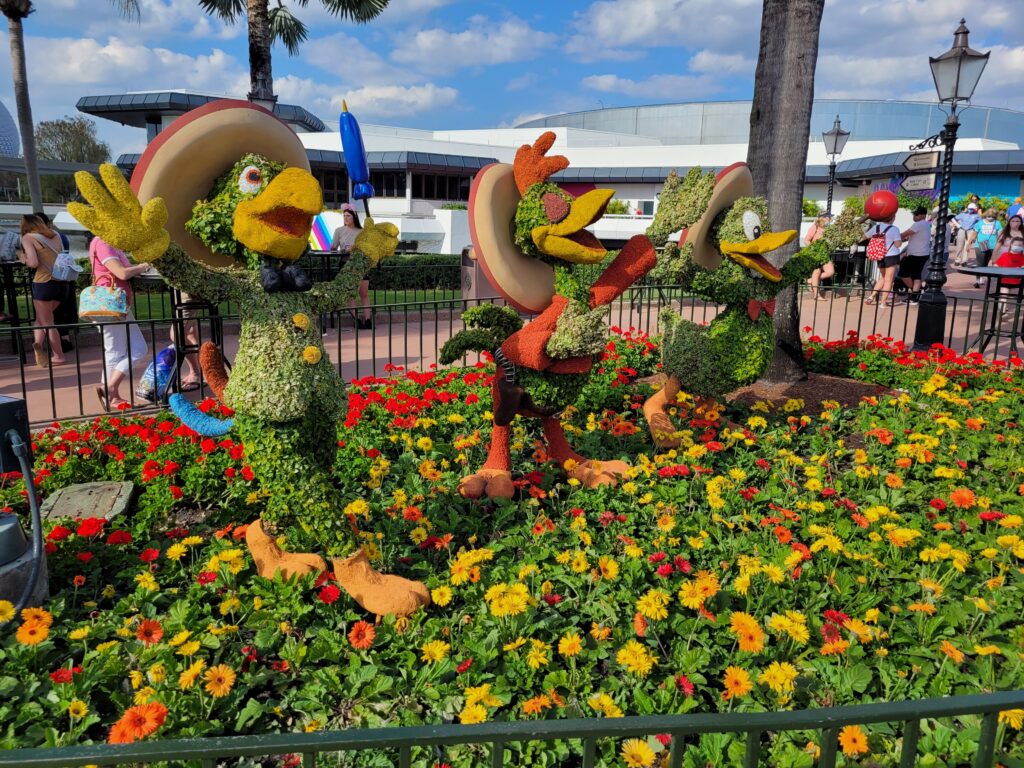 The Three Caballeros
Norway
Anna And Elsa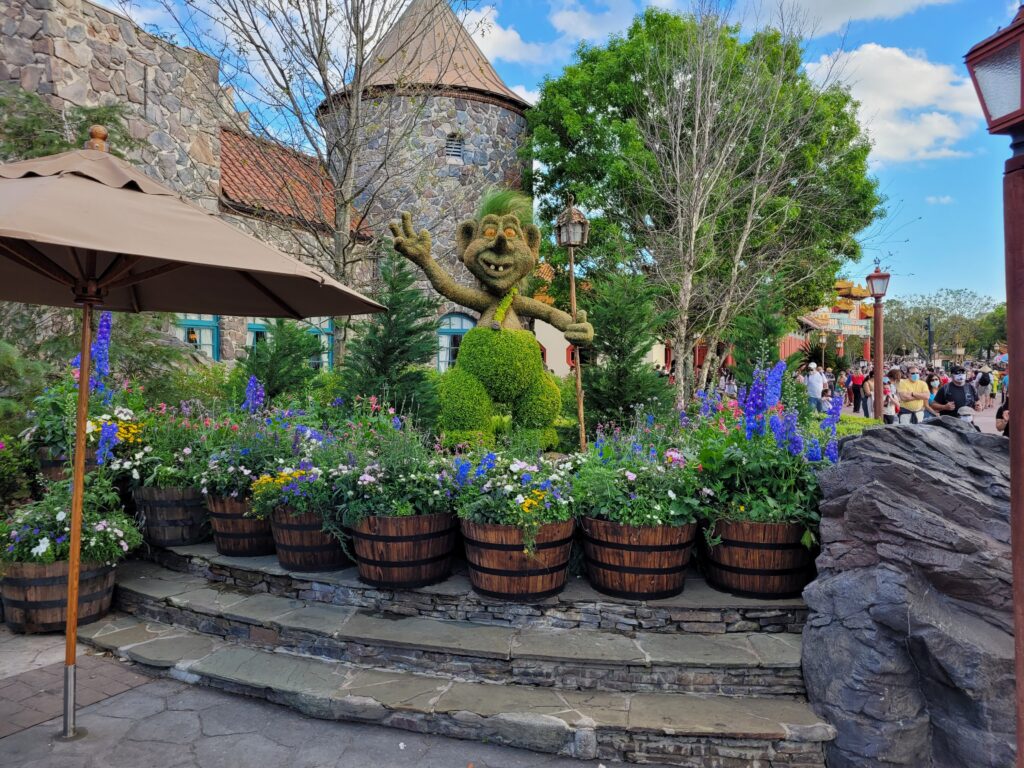 Troll
China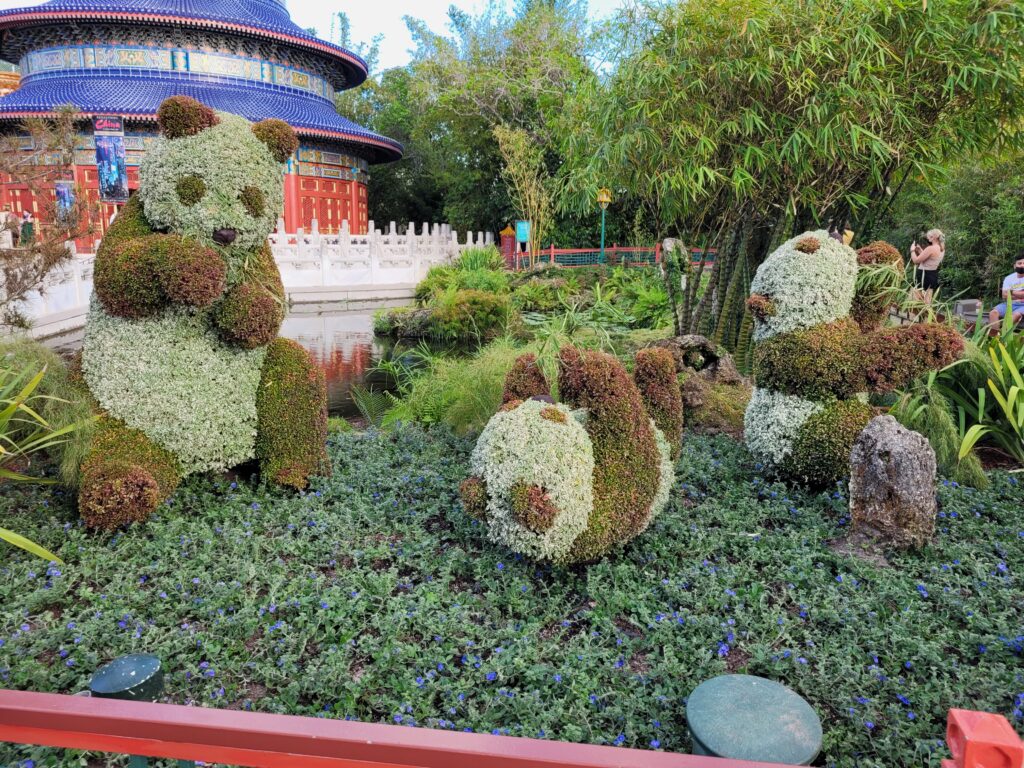 Pandas
Germany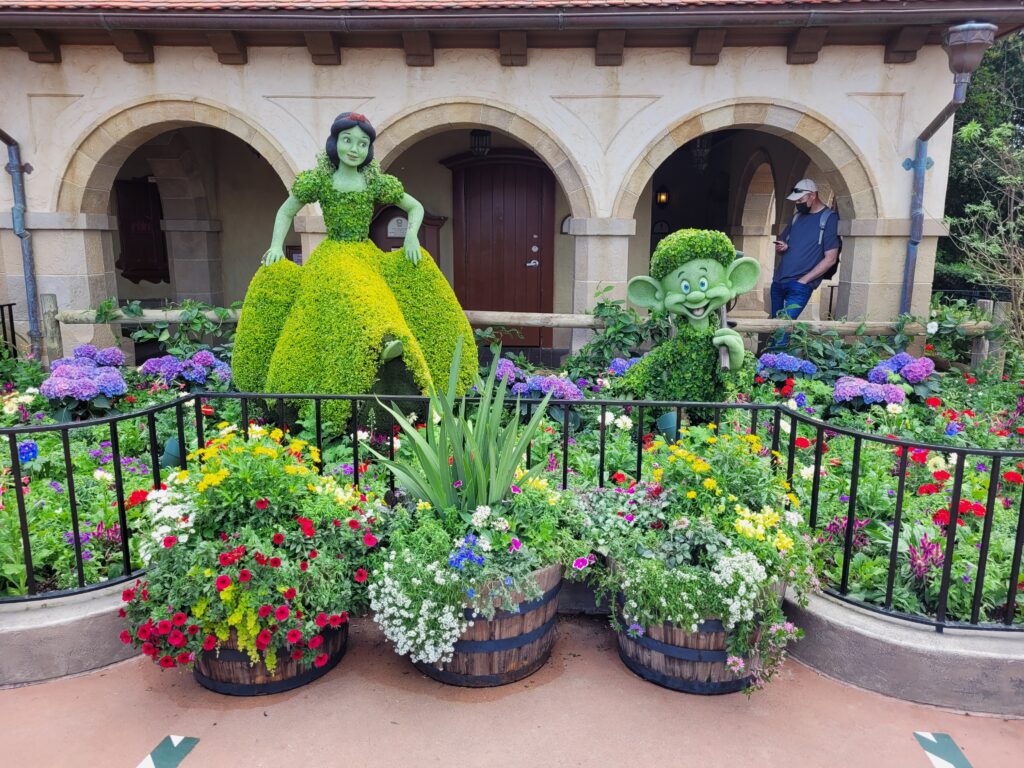 Snow White and Dopey
Italy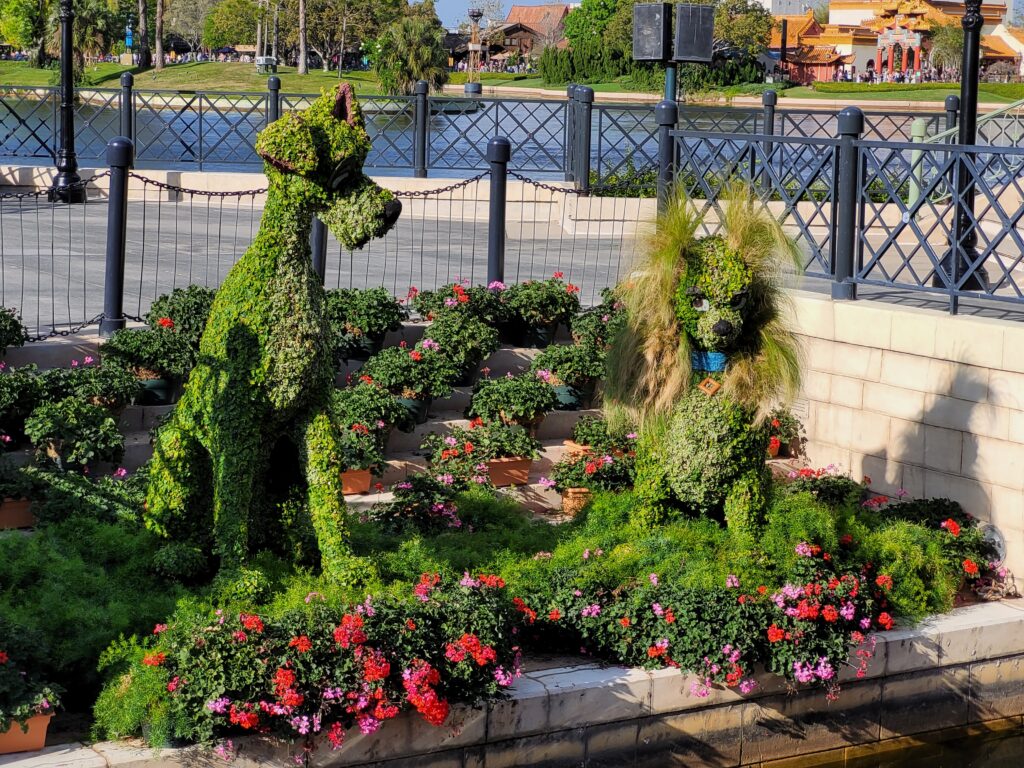 Lady and The Tramp
Japan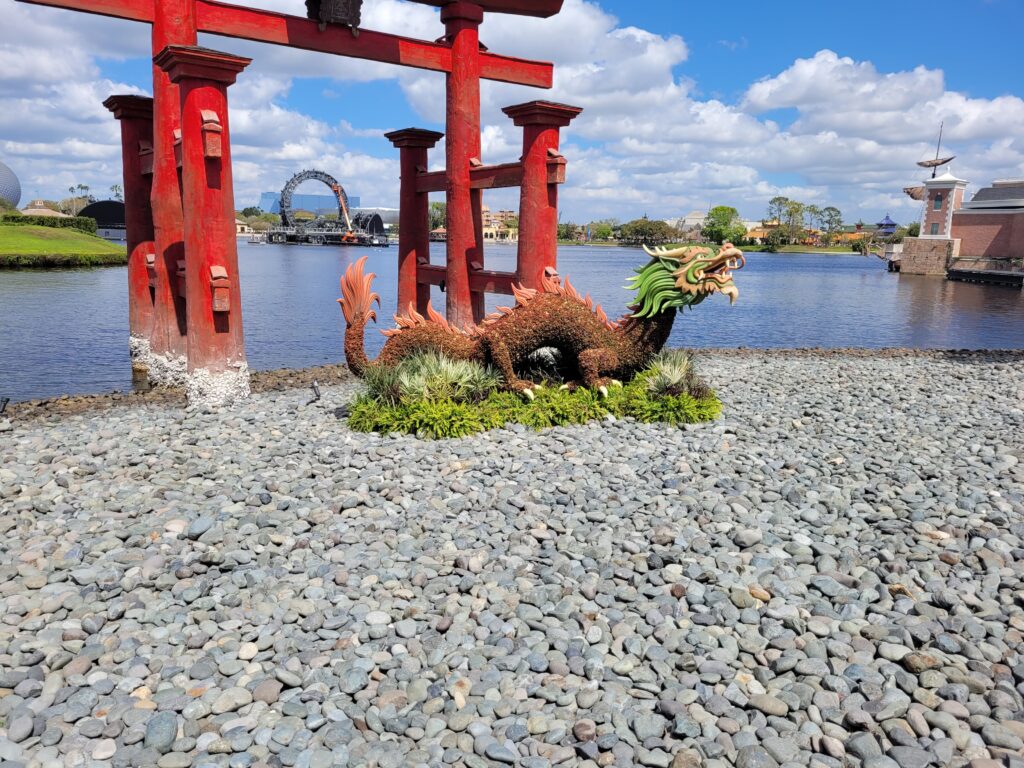 Dragon Topiary
France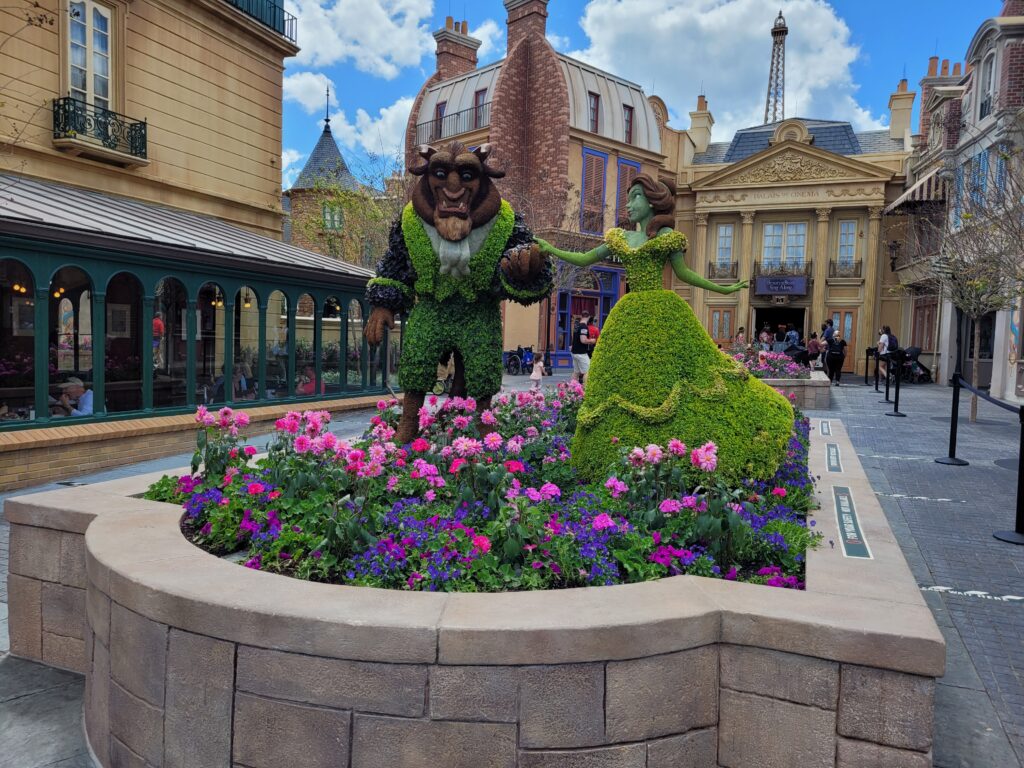 Beauty and The Beast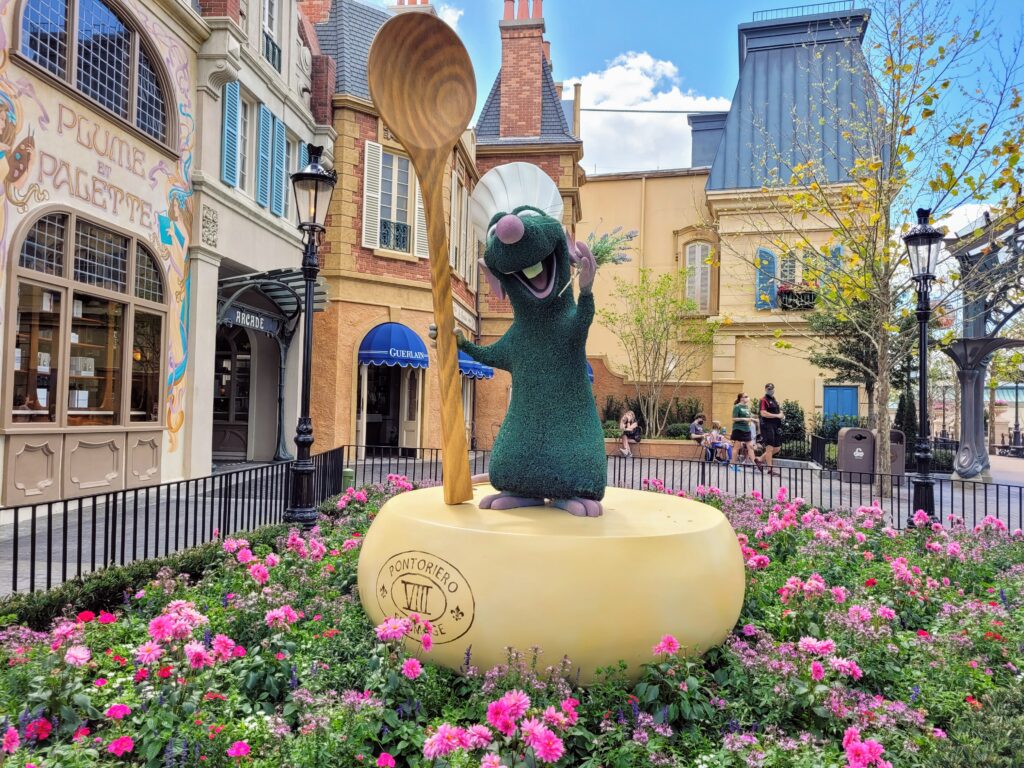 Remy
United Kingdom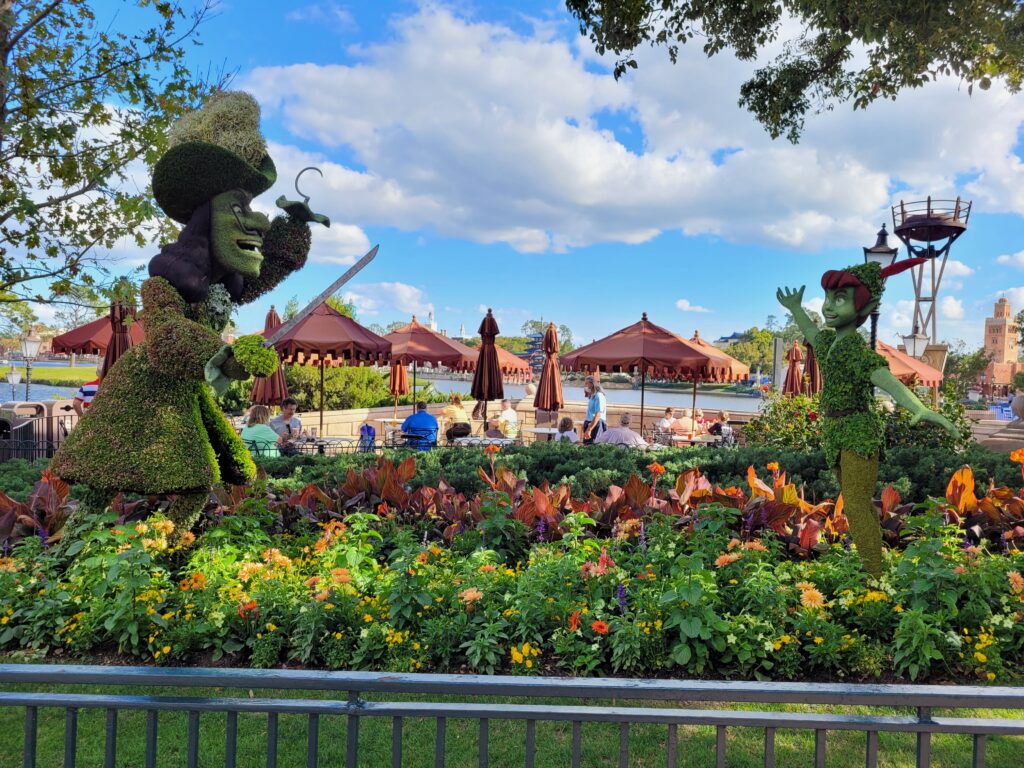 Peter Pan And Captain Hook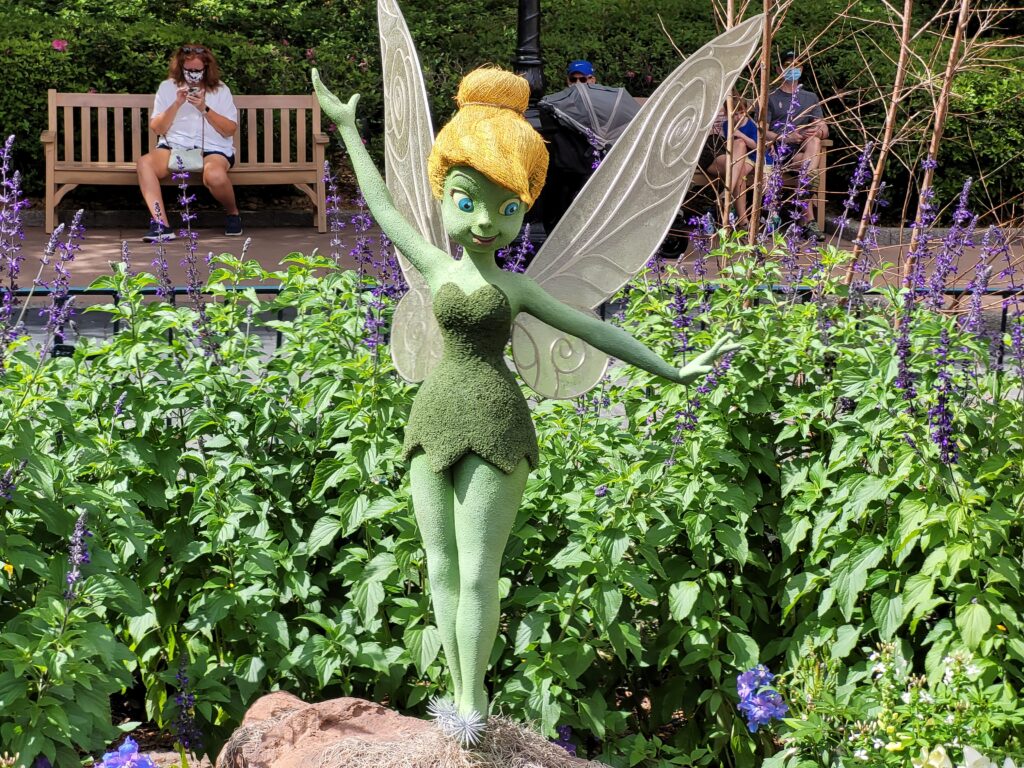 Tinker Bell And Fairy Houses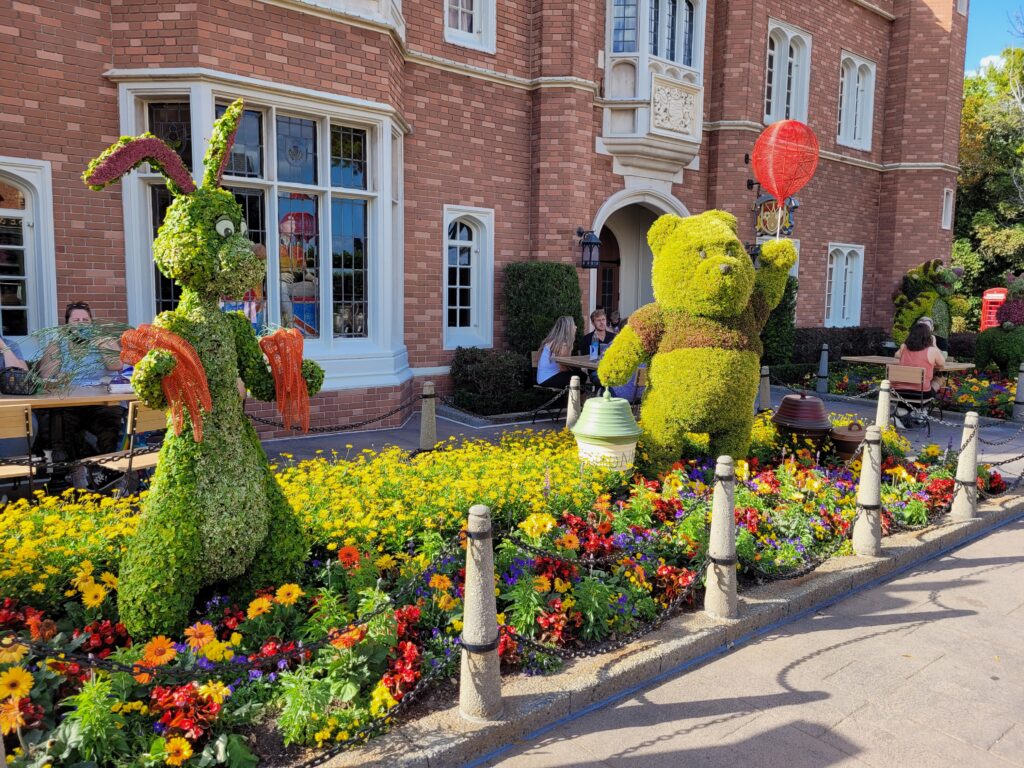 Winnie The Pooh And Friends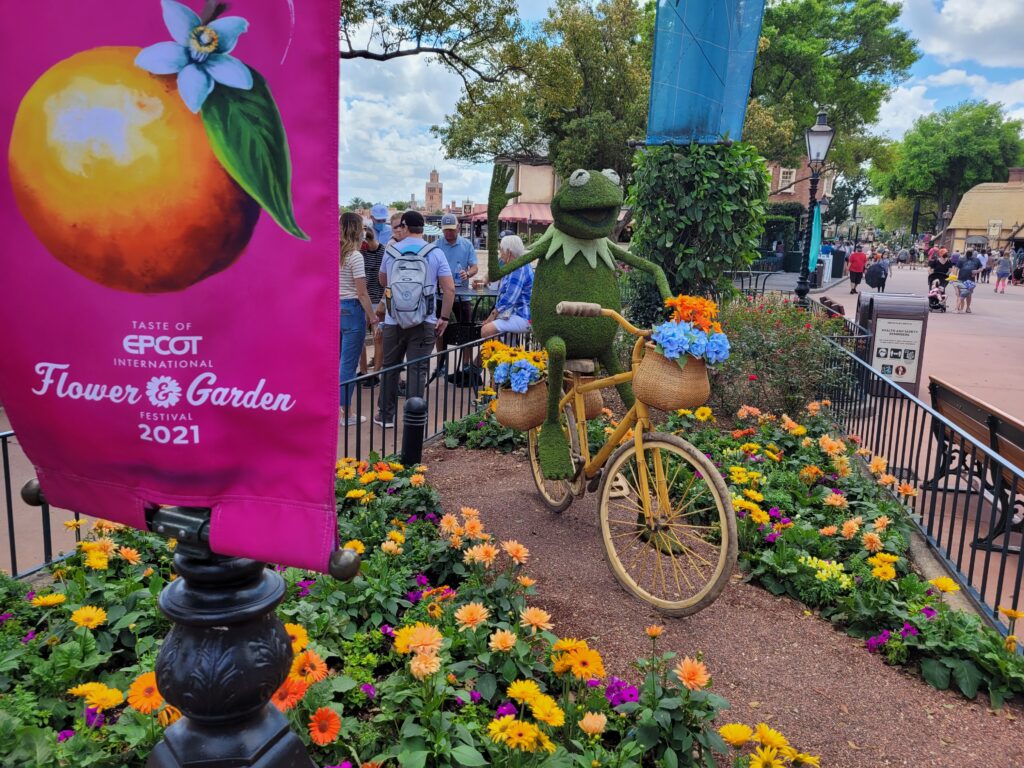 Kermit The Frog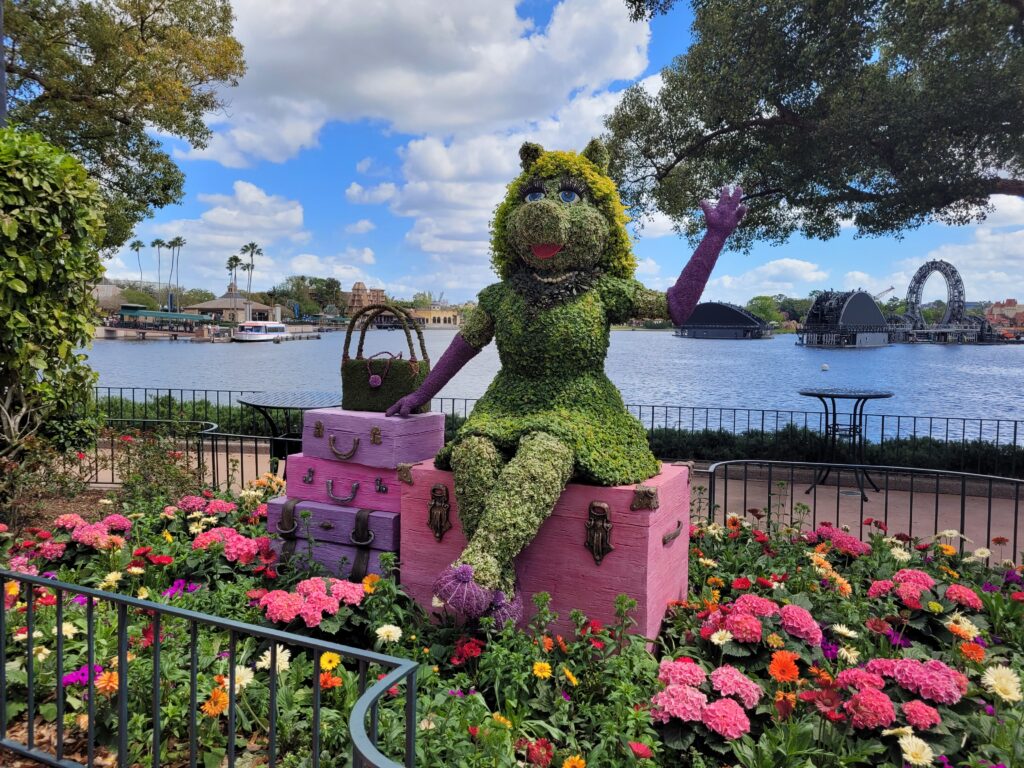 Miss Piggy
---
Gardens
Stroll through a fresh collection of imaginative spring gardens.
Expand Gardens Section
Future World 
Future World East 
Outdoor Escapes
Prehistoric Plants 
Future World West 
The Goodness Garden Butterfly House  – Near The Land 
Bold Bromeliads – Near The Land 
Health Full Trail – Near Imagination! 
Showcase Plaza 
Between Mexico And Canada 
Festival Blooms 
Floating Gardens 
The Honey Bee-stro Garden
World Showcase 
Mexico 
Tropical Rainforest Garden 
China 
Bamboo Garden 
Chinese Zodiac Topiary Garden 
Germany
Italy
Japan
Kokedama Garden Bonsai Collection
Morocco
United Kingdom
English Tea Garden
Shakespeare Garden
---
Festival Cuisine
Let your taste buds blossom with fresh flavors from food and beverage locations.
Expand Festival Cuisine Section
Joffrey's Coffee & Tea Company
---
Flavor Full Kitchen 
Future World West, between Refreshment Port and Imagination!
---
EPCOT Sunshine Griddle 
Future World East near Test Track presented by Chevrolet
Food
Avocado Toast with Marinated Toybox Tomatoes and Fresh Goat Cheese on Toasted Ciabatta
Shrimp and Grits: Blackened Shrimp and Cheddar Cheese Grits with Brown Gravy and Sweet Corn Salsa
Corned Beef Brisket Hash with House-made Potato Barrels, Onions, Peppers, Cheese Curds, and a Soft-poached Egg with Tabasco Hollandaise
Fried Cinnamon Roll Bites with Cream Cheese Frosting and Candied Bacon
Beverage
Froot Loops Shake (non-alcoholic)
Joffrey's Coffee" Cold Brew Cocktail with Milk, Kahlúa Rum and Coffee Liqueur, and Vanilla Vodka
---
The Honey Bee-stro
Showcase Plaza, near Traveler's Café
Food
Tupelo Honey and Sweet Corn Spoon Bread with Jalapeños, Bacon, and House-made Whipped Honey Butter – Gluten Free
Lavender Honey Mustard-marinated Chicken Flatbread with Whipped Honey-Ricotta Cheese, Marinated Vegetables, and Purple Haze Lavender Goat Cheese
Local Wildflower Honey-Mascarpone Cheesecake with Orange Blossom Honey Whipped Cream, Whipped Honey, Crystalized Honey, Honeycomb, Dehydrated Honey, and Fennel Pollen Meringue Kisses
Beverage
Honey-Peach Freeze in a Souvenir Spike The Bee Sipper Cup (non-alcoholic)
First Magnitude Brewing Co. Honey Bee Citrus Blonde Ale, Gainesville, FL
Florida Orange Groves Winery Orange Blossom Honey Wine, St. Petersburg, FL
Honey-Peach Freeze with Blueberry Vodka
---
The Citrus Blossom 
Showcase Plazo, near Port of Entry
Food
Meyer Lemon poached Lobster Salad with Grapefruit-Rosé Vinaigrette, Yuzu-marinated Hearts of Palm, and Avocado-Yuzu Panna Cotta – Gluten Free
Citrus braised Crispy Pork Belly with Kumquat and Carrot
Citrus Shortcake: Orange Chiffon Cake, Lemon Curd, Mandarins, Whipped Cream, and Citrus Crumble
Beverage
Orange-Lemon Smoothie in a Souvenir Orange Bird Sipper Cup (non-alcoholic)
Islamorada Beer Company Coconut Key Lime Ale, Fort Pierce, FL
First Magnitude Brewing Co. Lemon Hefeweizen, Gainesville, FL
Playalinda Brewing Company Hibiscus Lime Ale, Titusville, FL
Orange Sunshine Wine Slushy
Beer Flight also available.
---
Pineapple Promenade 
Showcase Plaza, near Port of Entry
Food
Spicy Hot Dog with Pineapple Chutney and Plantain Chips
Mixed Berry Buttermilk Cake
DOLE Whip – Plant-Based
Beverage
Frozen Desert Violet Lemonade (non-alcoholic) 
DOLE Whip with Fanta (non-alcoholic)
3 Daughters Brewing Tropical Hefe Wheat Ale, St. Petersburg, FL
Lexington Brewing & Distilling Company Alo'hop IPA, Lexington, KY
Wicked Weed Brewing Fresh Pressed Wheat Ale with Mango, Pineapple, and Guava, Asheville, NC
Playalinda Brewing Company Violet Lemonade Ale, Titusville, FL
Florida Orange Groves Winery Sparkling Pineapple Wine, St. Petersburg, FL
DOLE Whip topped with Parrot Bay Coconut Rum Pineapple 
Beer Flight also available.
---
Refreshment Port
Showcase Plaza, near Canada
Food
House-made Italian Sausage and Peppers Poutine – Plant-Based
Popsicle Trio: Honeydew, Raspberry-Mint, and Coconut-Lime – Gluten Free
Beverage
Starcut Ciders Cidre Colada Hard Cider, Bellaire, MI 
Cutwater Bloody Mary: Ultra-premium Vodka, All-natural Tomato Juice, and a dash of Spice
Cutwater Whiskey Mule: Black Skimmer Bourbon with Ginger Beer, a hint of Lime, and Aromatic Bitters
---
Trowel & Trellis
Showcase Plaza, near Disney Traders
Food
Grilled Street Corn on the Cob with Savory Garlic Spread – Gluten Free, Plant-Based
Impossible Sausage and Kale Soup – Plant-Based
Boneless Impossible Korean Short Rib with Cilantro-Lime Rice, Danmuji Slaw, and Kimchi Mayonnaise – Plant-Based
Lavender Pot de Crème with Blueberry Cake, Pink Peppercorn, and Lime Whipped Cream – Plant-Based
Beverage
Twinings of London Energize Matcha Cranberry & Lime Green Tea (non-alcoholic)
Parish Brewing Co. Bloom Hazy IPA, Broussard, LA
Twinings of London Energize Matcha Cranberry & Lime Green Tea with Hanger 1 Makrut Lime Vodka served in a Mason Jar
---
Jardin de Fiestas
Mexico
Food
Tostada de Cochinita: Braised Pork on a Crispy Corn Tortilla with Black Beans topped with Pickled Onions, Mango-Habanero Relish, and Oregano – Gluten Free
Taco Vampiro: Braised Beef on a Corn Tortilla with Crispy Grilled Monterey Jack Cheese and Salsa Ranchera – Gluten Free
Sope de Chorizo: Plant-based Ground Chorizo on Fried Corn Dough with Black Beans and Avocado Mousse – Gluten Free, Plant-Based
Beverage
Passion Fruit Margarita: Corazón de Agave Blanco Tequila, Passion Fruit Purée, Lime Juice, Nixta Corn Liqueur, and a hint of smoke with a Hibiscus Flower Salt Rim
The Garden Margarita: Ojo de Tigre Mezcal, Lettuce Juice, Ancho Reyes Chile Verde Liqueur, Lime Juice, Gracias a Dios Agave Gin, and a Sprig of Thyme
Tulum Mexican Craft Beer with Floater: Artisanal Lager with Citrus notes made with Caribbean Seawater and served with an Elderflower Liqueur Floater
---
Lotus House
China
Food
Papa Cakes: Potato Cakes filled with Shrimp and Water Chestnuts served with House-made Strawberry Sauce
Bon Bon Chicken Skewer with Sesame and Peanut Sauce
House-made Crab and Cheese Wontons
Beverage
"Panda" Bubble Tea: Classic Milk Tea with Black and White Boba Pearls (non-alcoholic)
Marco Boba: Amaretto, Iced Coffee, Milk, and Boba
Kung Fu Punch: Vodka, Triple Sec, Mango Syrup, Orange Juice, and Soda Water
Tang Dynasty: Jose Cuervo Especial Tequila Gold, Light Rum, Strawberry Syrup, Piña Colada Mix, White Boba Pearls, and Soda Water
---
Refreshment Outpost
Outpost
Food
Pineapple Skewer with Tajin Seasoning – Gluten Free, Plant-Based
Beverage
Islamorada Beer Company Key Lime Hibiscus Ale, Fort Pierce, FL
---
Bauernmarkt: Farmer's Market
Germany
Food
Potato Pancakes with House-made Apple Sauce Potato Pancake with Caramelized Ham, Onions, and Herb Sour Cream – Gluten Free, Plant-Based
Toasted Pretzel Bread topped with Black Forest Ham and Melted Gruyère Cheese
Warm Cheese Strudel with Mixed Berries
Beverage
MIA. Beer Company Hugo, Doral, FL
Bitburger Premium Pils, Rhineland-Palatinate, Germany 
Stiegl Brewery Radler Zitrone, Salzburg, Austria
Apfelschaumwein: Sparkling Wine and Apple Liqueur
Beer Flight also available.
---
Primavera Kitchen
Italy
Food
Margherita: Rustic Italian Flatbread with Tomato Sauce and Mozzarella
Arancini: Sweet Sausage Fried Risotto Balls with Pomodoro Sauce
Traditional Sicilian Cannoli: Crisp Pastry filled with Sweet Ricotta, Chocolate, and Candied Orange
Beverage
Peroni Pilsner
Pinot Grigio
Chianti
Prosecco
Rosa Regale
Moscato
Italian White Sangria with Prosecco
Italian Red Sangria with Cabernet Sauvignon
Italian Margarita with Limoncello and Tequila
---
Funnel Cake
The American Adventure
Food
Mini Funnel Cake topped with Lemon Cheesecake Ice Cream, Blueberries, and Powdered Sugar
---
Magnolia Terrace 
The American Adventure
Food
Crawfish Étouffée with Andouille Sausage and Dirty Rice
Cajun-style Roasted Oysters 
House-made Boudin Two Ways with Spicy Mustard
Pecan Cake with Maple Whipped Cream
Pecan Praline
Beverage
81 Bay Brewing Co. Orange Coriander Wheat Ale, Tampa, FL
Wicked Weed Brewing Day Light American Light Ale, Asheville, NC
Parish Brewing Co. Ghost in the Machine Double IPA, Broussard, LA 
Bayou Cocktail: Bayou Spiced Rum, Coconut Rum, Fruit Punch, and Minute Maid Orange Juice
Beer Flight also available.
---
Hanami
Japan
Food
Frushi: Strawberry, Pineapple, and Cantaloupe wrapped in Sweet Rice and Pink Soy Wrap served with Whipped Cream, Drizzled Berry Sauce and Toasted Coconut
Shrimp and Crab with Spicy Mayonnaise and Cucumber Slices finished with Creamy Avocado and Violet Sauce
Soy-glazed Pork Shank with Truffle Mashed Potatoes, Crispy Lotus Flower, Garlic Chips, and Green Onion
Beverage
Sakura Zen Ale
Pineapple Sake
Blood Orange Sour with Fresh Mint
---
Taste of Marrakesh
Morocco
---
La Isla Fresca 
Between Morocco and France
Food
Lamb Curry with Sweet Plantains and Rice – Gluten Free
Sugar Cane Shrimp Skewer with Steamed Rice and Coconut-Lime Sauce – Gluten Free
Tropical Mousse Cup: Layers of Passion Fruit Cake, Coconut Mousse, and Tropical Fruit Glaze with Fresh Pineapple
Beverage
Tropical Freeze (non-alcoholic)
Ivanhoe Park Brewing Co. Hibiscus Guavacation Sour Beer, Orlando, FL
Tropical Freeze with Parrot Bay Coconut Rum
---
Fleur de Lys
France
---
Festival Favorites
World Showplace
Food
Watermelon Salad with Pickled Onions, Feta, and Balsamic Reduction
Beef Brisket Burnt Ends and Smoked Pork Belly Slider with Garlic Sausage, Chorizo, Cheddar Fondue, and House-made Pickle
Fried Green Tomatoes with Blue Crab-Fennel Salad, Remoulade, and Smoked Paprika Oil
Key Lime Tart with Toasted Meringue
Beverage
Frozen Lemonade (non-alcoholic)
3 Daughters Brewing Maple Bacon Stout, St. Petersburg, FL
Frozen Lemonade with Firefly Blackberry Moonshine
---
Cider House
World Showplace
Food
House-made Potato and Cheddar Biscuit with Salmon Tartare
Beverage
3 Daughters Brewing Pink Lemonade Hard Cider, St. Petersburg, FL
Bold Rock Watermelon Hard Cider, Nellysford, VA
Blake's Hard Cider Co. Triple Jam Hard Cider, Armada, MI
Samuel Smith Old Brewery Pure Brewed Organic Lager, Tadcaster, UK
Snakebite: Blake's Hard Cider Co. Triple Jam Hard Cider and Samuel Smith Old Brewery Pure Brewed Organic Lager
Cider Flight also available.
---
EPCOT Farmers Feast
World Showplace
Sample the finest local ingredients from a rotating menu featuring the season's freshest offerings.
---
Northern Bloom
Canada
---
Garden Graze
Purchase five delicious Festival menu items from select locations during the Festival and receive a complimentary commemorative keepsake.
Expand Garden Graze Section
Menu Items 
Grilled Baby Vegetables 

Flavor Full Kitchen, Future World West 

Boneless Impossible' Korean Short Rib 

Trowel & Trellis Hosted By Impossible, Showcase Plaza 

Pineapple Skewer 

Refreshment Outpost, Outpost 

Potato Pancakes With House-Made Apple Sauce 

Bauernmarkt: Farmer's Market, Germany 

Lemon Magdalena Cake 

Taste Of Marrakesh, Morocco 
One complimentary redemption prize offered per fully-stamped Festival Passport, while supplies last. Must purchase 5 (five) Garden Graze menu items to redeem for prize. Not valid for a Disney Park Pass reservation or Theme Park admission. 
---
Entertainment
Enjoy live music performances at America Gardens Theatre, World Showplace, and Canada Mill Stage.
Expand Entertainment Section
For show times, visit My Disney Experience app. 
Bands At America Gardens Theatre 
Americo Gardens Theatre 
Watch bands from Orlando, known as "The City Beautiful," perform songs of yesterday and today. Live on Sunday, Monday, Friday and Saturday. 
Mariachi Cobre
America Gardens Theatre 
Enjoy an exuberant performance of world-famous, traditional folk music. 
Voices Of Liberty 
America Gardens Theatre 
Get swept away by inspiring vocal performances celebrating America's spirit and beauty. 
Epcot Pianist 
World Showplace 
Relax and enjoy a selection of songs of the season. 
Jammin' Gardeners 
Canada Mill Stage 
Tap your feet to the syncopated sounds of the funkiest gardeners around. 
Entertainment subject to change without notice.
---
Festival Merchandise
Shop from four official Festival merchandise collections at Festival Markets and Mouse Gear.
Expand Festival Merchandise Section
Commemorate your visit to the festival with official event merchandise. Visit Festival Markets throughout the Park to shop these collections:
Orange Bird 
Celebrate Orange Bird with vibrant and festive drinkware, apparel and accessories. 
Sweet As Honey 
Find sweet reminders of Spike the Bee on apparel, drink'. and a garden stake. 
Minnie In Full Bloom 
Minnie is living life in full bloom with this feminine collection of apparel, headwear, garden accessories and MagicBand. 
Figment's Home-Grown Happiness 
Bring home Figment apparel and accessories made of sustainable materials, like organic cotton and bamboo. 
Mouse Gear
Future World East
Visit this shopping destination to find select Festival merchandise, Disney Character Apparel, toys, and Park souvenirs, including PANDORA Jewelry and Dooney & Bourke handbags. 
And that's it! We hope you found this information useful, and for those of you not able to attend, we hope this has given you a taste of Flower & Garden Festival 2021 from a distance. If you made it to this part of the article, you should let us know what your favorite part of the Flower & Garden Festival is by leaving a comment below!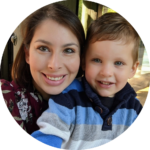 Written by
Rachel Van Norman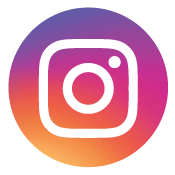 Guest Author
Rachel fell deeply in love with all things Disney as a little girl. Now as a wife and a mother herself, she shares this Disney obsession with her son and everyone around her. From her love of princesses to eating all the Disney food, Rachel spends her time radiating Disney magic and keeping everyone up to date on Disney news.