When arriving at Epcot and heading to the World Showcase it can be very overwhelming trying to figure out just where to start. The World Showcase spans a little over a mile long and you will visit 11 countries without a passport or a single flight! I highly recommend good walking shoes for this trip! 
Visiting World Showcase can take up a good portion of your day because there is so much to see and experience, not to mention so much to eat and drink! But where do you start? This is the ever popular debate among Disney fans: Should you go right or left at EPCOT's World Showcase? So let's get into some basics that might help you make your decision. 
When making your big decision and planning your trip these are some things to keep in mind: What do you want to see? Are you traveling with children? Do you have limited time? We'll discuss the options and help you determine which is the better path for you.
Going Left
Mexico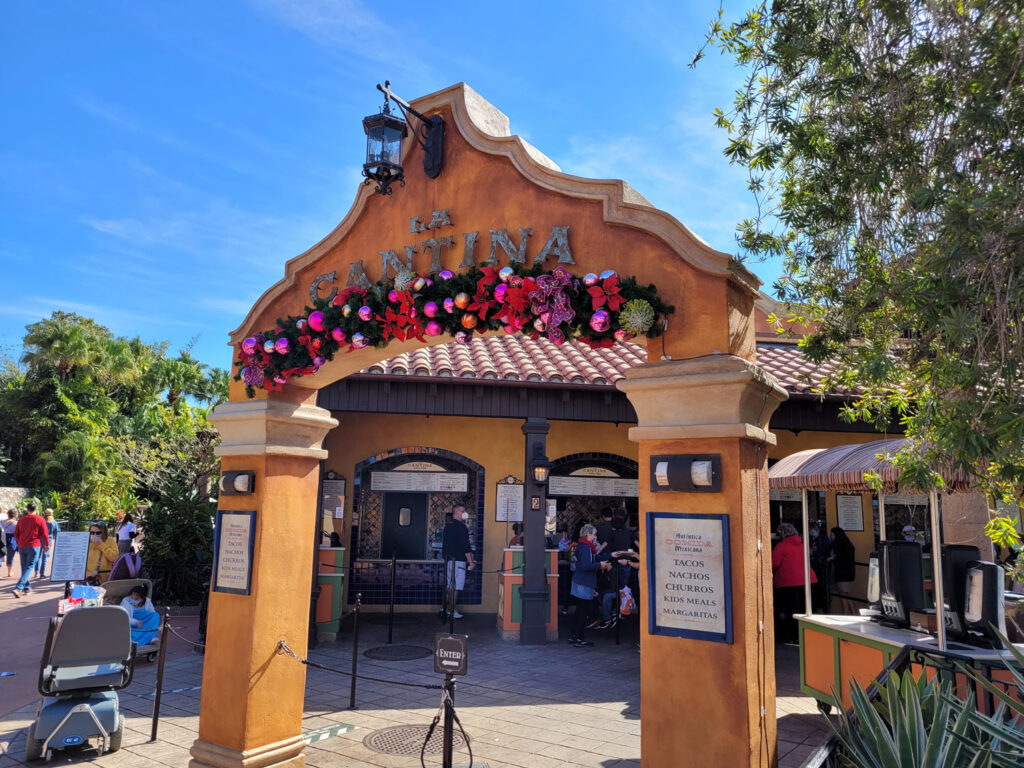 When entering the World Showcase from the left or going clockwise around the lagoon, you will begin your grand tour in Mexico! In my experience, this is the path chosen by most guests and is considered the first stop on your tour around the world. With that in mind, this path can get crowded pretty quickly with everyone headed to this spot first. But don't let that deter you! There are so many wonderful and delicious  things to experience there! You are greeted with the sounds of Mariachi's and an ancient Aztec ruin.
Inside the air conditioned giant temple you can dine at San Angel Inn Restaurante, where it is always twilight, a similar dining experience to Blue Bayou at Disneyland Resort. Or try the more casual La Cantina with waterfront dining. For adults, you'll find tequila tasting and for the kids you will find a calm boat ride featuring the Three Caballeros. 
Norway
Next is Norway, one of my favorite countries to visit! If you have littles ones, I believe going left at the entrance to the World Showcase is the best option. Norway is hugely popular for families and kids thanks to one of the newest and most popular attractions in the entire park, Frozen Ever After. Due to its popularity, you're definitely going to want to get a FastPass+ for this one!  It's a nice easy boat ride with a short drop, and it goes backwards a short way. This ride also has some of the most stunning scenery and life like animatronics in all of WDW. Norway is also home to the only place you can meet Anna, Elsa, and Olaf and you will find them at Royal Sommerhus.  
Speaking of Kiddos, another awesome and FREE thing you can do with the little ones not just in Norway but the entire World Showcase are the Kidcot Fun Stops. These can be found in each country and is a fun way to keep the kids entertained when visiting the World Showcase.
At each Kidcot Stop and you can meet a cast member who is native to that country, learn a bit of the language, decorate a keepsake and you will receive a Traveler Card that has facts about that country. The Traveler Cards are an awesome souvenir for the kids and when they collect all 11 they will be given a special postcard from Mickey Mouse!
PRO TIP
Parents, keep a pack of crayons with you as you make your way around EPCOT. The coloring pages your kids collect in each country can be used later to occupy time when you get stuck waiting in a long line!
China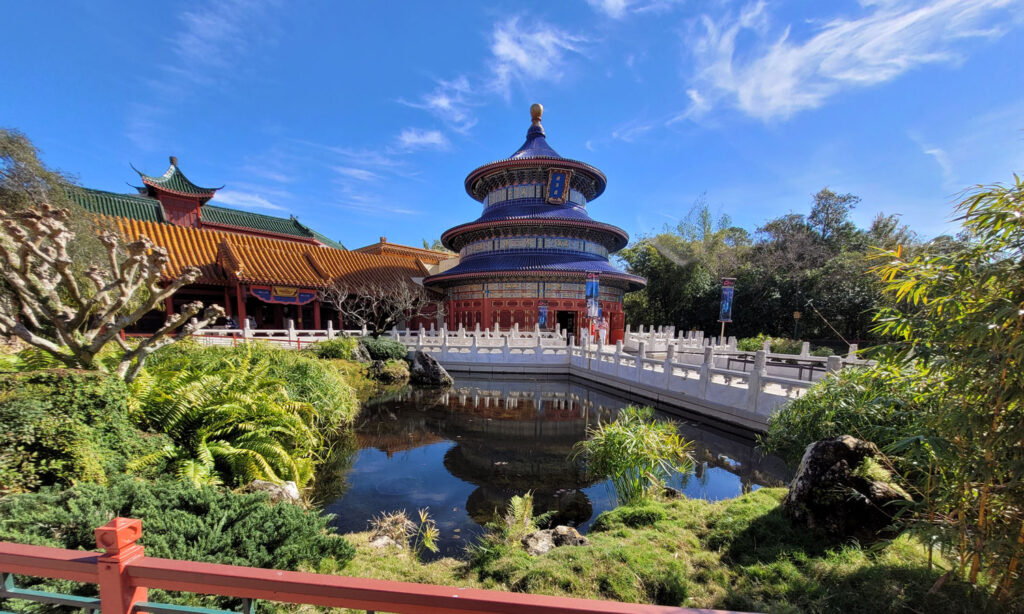 When entering China, it is hard not to be blown away by the replica of the Temple of Heaven. Just outside the temple you may find Mulan posing for pictures or a group of Acrobatic performers known as the Jeweled Dragon Acrobats. This performance is not to be missed and the whole family will enjoy it!
China home to one of the most popular table service restaurants at EPCOT, Nine Dragons Restaurant. Be sure to try the Pork Belly Bao buns, they're delicious! Don't forget to take a look inside the temple where you will find a museum walk thru as well as a 14 min, 360° movie called Reflections of China. This style of film known as Circle-Vision was created by Walt Disney himself and the China and Canada pavilions are one of the last places you can see this film style still in use today. 
Germany
Next you will stumble upon a bustling German-inspired village with the sounds of live music coming from the Biergarten, and the smell of the divine Karamell-Kuche caramel popcorn. The Germany pavilion is one of my favorite stops! It has it all; great food, sweet treats, and ice cold beverages for the kids and the adults. There is even a Character Meet 'n Greet with Snow White.
Italy
The Italy Pavilion is a unique blend of many famous cities and landmarks. The plaza contains monuments and nods to Venice, Rome and Florence. The best part of this pavilion is pizza! Napoli Ristorante e Pizzeria has some amazing pizza that the whole family will love. Don't forget to leave room for dessert.
Have you really visited Italy if you didn't stop for a gelato? If you are drinking your way around the world, Tutto Gusto Wine Cellar has over 200 bottles of Italian wine. Good luck choosing! 
American Adventure (United States)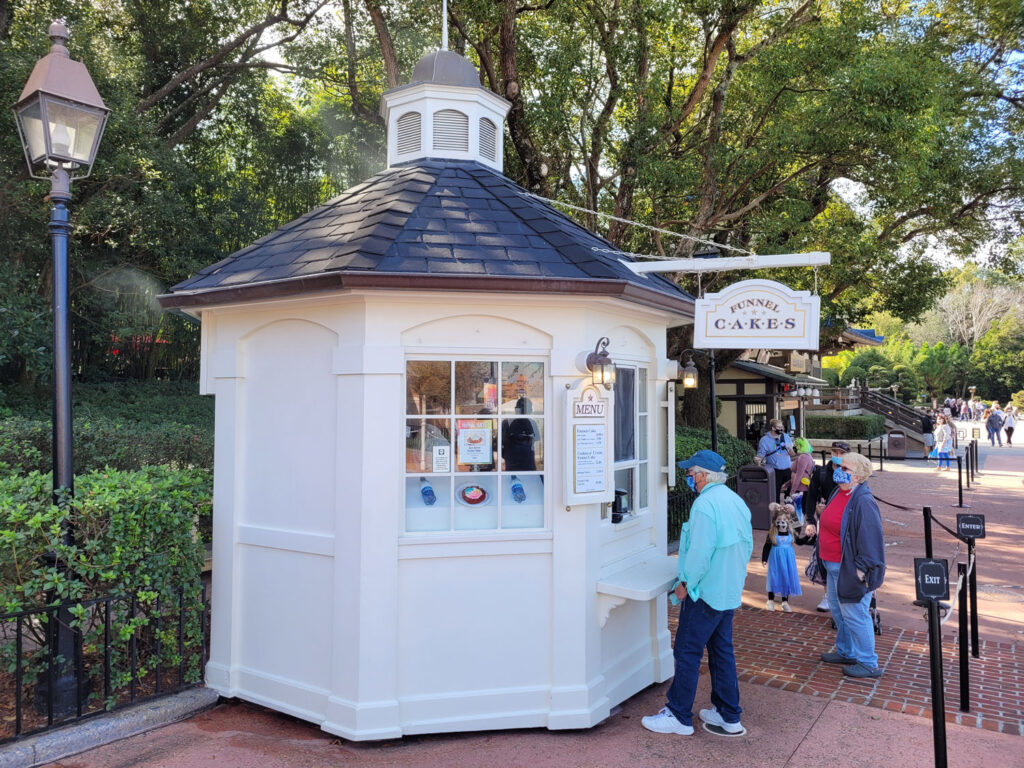 The American Adventure is at the center of the World Showcase and the halfway point on your travels around the lagoon. This pavilion is a good place to stop and take a break if you are looking to give your feet a rest before continuing on. The American Adventure, is a 30 min film with music, lead by tour guides Ben Franklin and Mark Twain.
If you need to reenergize at this point head to Joffery's for an Instagram worthy specialty coffee. Or grab a classic American snack like a Mickey Pretzel, popcorn or funnel cake.
PRO TIP
If you are visiting during the holidays be sure to check out the Candlelight Processional at the America Gardens Theater. Every night a celebrity guest narrates the biblical tale of Christmas accompanied by a beautiful choir and orchestra.
From here, generally what we like to do is take a nice long break from the park during the hottest part of the day and come back and do the other half of the lagoon in the evening when temperatures have cooled. Friendship Boats are available at Germany and Morocco to transport you closer to the exit of the World Showcase if you're too tired, or hot, to walk.
Now let's take a look at what you might experience when you enter EPCOT's World Showcase from the right.
Going Right
Canada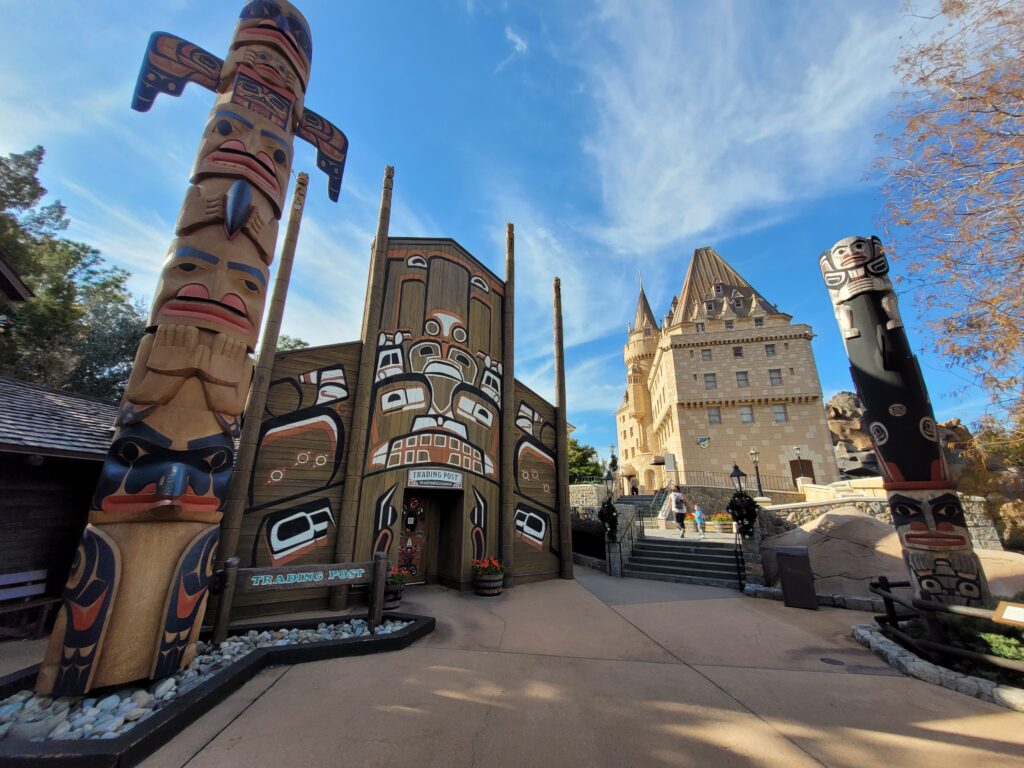 Going right when you enter the World Showcase and your first stop will be Canada. It's hard not be blown away immediately by the enormous totem poles and 30 foot waterfall. Now I will start by saying that this half of the lagoon does not actually have a ride at the moment, though Ratatouille is scheduled to open in France very soon.
The right half of the World Showcase has some prime date night options for an "adult" night out. One of those spots is definitely Le Cellier Steakhouse. It is a small and romantic restaurant inside a beautiful chateau cellar.
United Kingdom
Right next door to Canada you will find the United Kingdom. This pavilion is fun because it represents the UK and surrounding nations including England, Scotland, Wales, and Ireland. The theming here is magnificent. As you make your way around the pavilion you'll feel as though you are walking down Cherry Tree Lane to The Banks' home from Mary Poppins. In fact, you can actually meet Mary Poppins here as well as Alice and Winnie the Pooh.
I also love this pavilion for the live bandstand! Last time we visited we grabbed some fish and chips and a beer and relaxed while listening to hits from the Beatles being performed live. It was like a concert in the middle of Epcot! A favorite souvenir to bring home from this country is tea. The Tea Caddy has every kind of tea and accessory you could possibly need.
As you leave the UK the road is going to split and you can head toward France or the International Gateway. The International Gateway is actually another entrance to EPCOT. If you decide to take a midday break, from here you can hop on the Disney Skyliner to your resort. Or if you're staying at the BoardWalk or Beach & Yacht Club you'll be able to walk over to your resort.
France
Next up, my all time favorite country in the World Showcase, France! There are so many reasons to love this pavilion.
PRO TIP
As you leave the UK you will head over a bridge and head into France. Stop on this bridge and take a picture with the Eiffel Tower in the background. This is my favorite picture spot as well as a great place to watch any of the nighttime spectaculars.
If  you have a sweet tooth like me, head to L'Artisan De Glaces for arguably some of the best ice cream I've ever had. If you are drinking around the world, you can even get an Ice Cream Martini made with Grand Marnier. As if this pavilion wasn't wonderful enough, in October of 2021 France is getting its first ride, Remy's Ratatouille Adventure! This ride's Grand Opening will coincide with the start of Walt Disney World's 50th Anniversary Celebration. But in the mean time the kids can enjoy Beauty and the Beast Sing Along and character Meet 'n Greets with Belle and the Beast. The France pavilion is a must when visiting the World Showcase.
Morocco
At the Morocco Pavilion you should take a walk around and enjoy the genuine Moroccan architecture. This pavilion is unique because the King of Morocco sent his own artisans over to Florida to oversee construction to ensure that it be a truly authentic experience. Though there is no ride here, kids are able to meet Jasmine and Aladdin in this pavilion.
Be sure to save some room on your tour because this pavilion has some of the best food options. Spice Road Table, for example, is a beautiful waterfront, table-service restaurant serving up Mediterranean cuisine. The Spiced Chicken is one of the best dishes we had over the course of our entire visit to Walt Disney World, which for us makes the Morocco Pavilion a must stop.  
Japan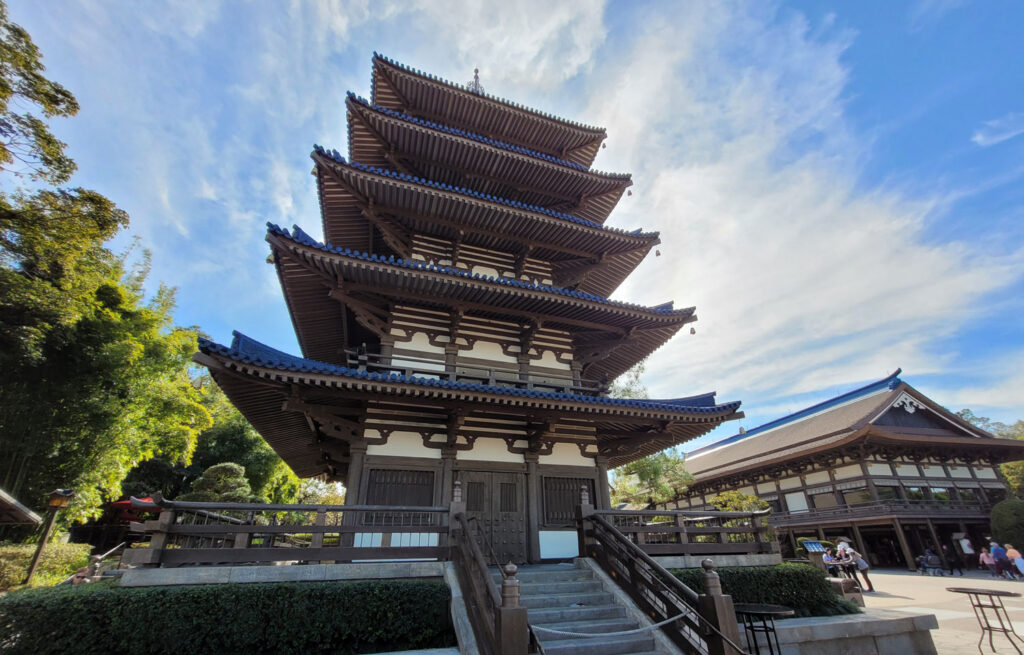 If you have chosen to take the path to the right this time, Japan will be the last country you visit before reaching The American Adventure again. This is another must see country if you have a limited amount of time to spend at the World Showcase. If you love sushi like myself head to Tokyo Dining. Or for a traditional Teppanyaki style dinner try Teppan Edo. This restaurant also doubles as dinner and show as the chefs cook right at your table and its fun for the whole family. 
Mitsukoshi Department Store has every Japanese goodie and gadget you could imagine. You can find a unique array of snacks in this pavilion that range from KitKats and Rice Cakes to Dried Squid or Tuna Jerky!
PRO TIP
Mitsukoshi Department Store offers many affordable and interesting options if you are searching for some really unique souvenirs or gifts.
So, Right or Left?
As you can see, there really is no wrong answer! The best option for you all depends on what you'd like to see, do, eat, who you're traveling with and how much time you have to spend. I hope my tips have given you an idea of what you can expect and will help you narrow down your choice the next time you visit EPCOT. No matter whether you choose to go right or left at EPCOT's World Showcase there is something for everyone and now you can plan your vacation like a pro!
Written by
Alyssa Parks
Contributing Writer