As you enter the land of Pandora in Disney's Animal Kingdom Park you become immediately immersed in the environment. Surrounded by giant flowers, rocks, and a beautiful landscape, you will feel like you are visiting Pandora and at any minute could encounter an ikran or banshee. 
Based on the 2009 James Cameron film, Avatar Flight of Passage surpasses any and all Disney attractions in regards to immersive experiences, even starting at the queue. Flight of Passage is a 3D single-rider simulation. The ride takes you through the land of Pandora, where you will meet the people of Pandora, the Na'vi, and ride on your very own banshee. 
Avatar Flight of Passage Details

| | |
| --- | --- |
| Walt Disney World Park | Animal Kingdom |
| Location in Park | Pandora – The World of Avatar |
| Height Restrictions | 44 inches |
| Age Interests | Children to adult |
| Thrill Type | Adventure flight simulation |
| Hours | Regular park hours |
| Wait Times | 60+ minutes |
| FastPass+ | Yes |
| Accessibility Information | Must transfer from wheelchair, no service animals, ride vehicle and restraints may prohibit some guests from riding |
Flight of Passage Background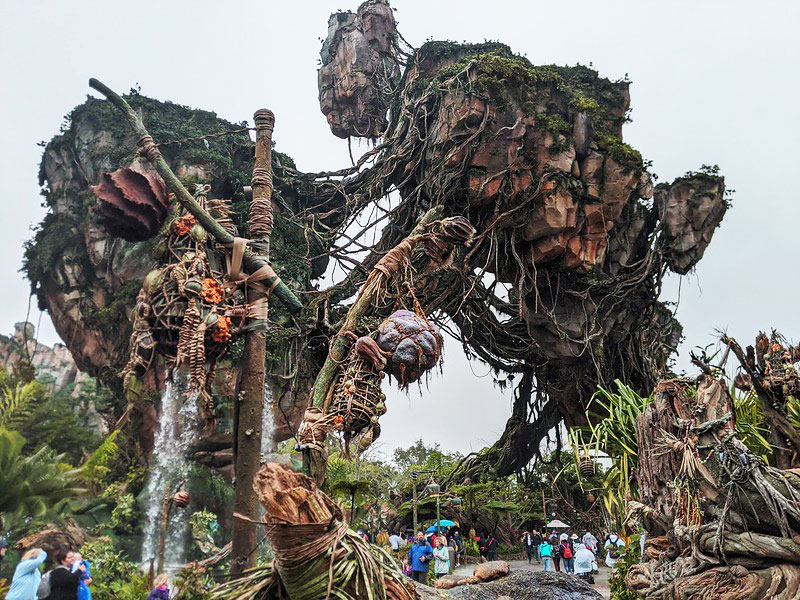 The concept of the Flight of Passage was conceived in 2012 as a combination effort with Walt Disney Imagineering, Lightstorm Entertainment, and Weta Digital. The Walt Disney Imagineering team approached James Cameron in 2012. The original idea was for Flight of Passage to be a "Soarin' over Pandora" style of ride. James Cameron's teams at Lightstorm Entertainment and Weta Digital assisted in creating original film and animation specifically for the ride. 
Arriving at Flight of Passage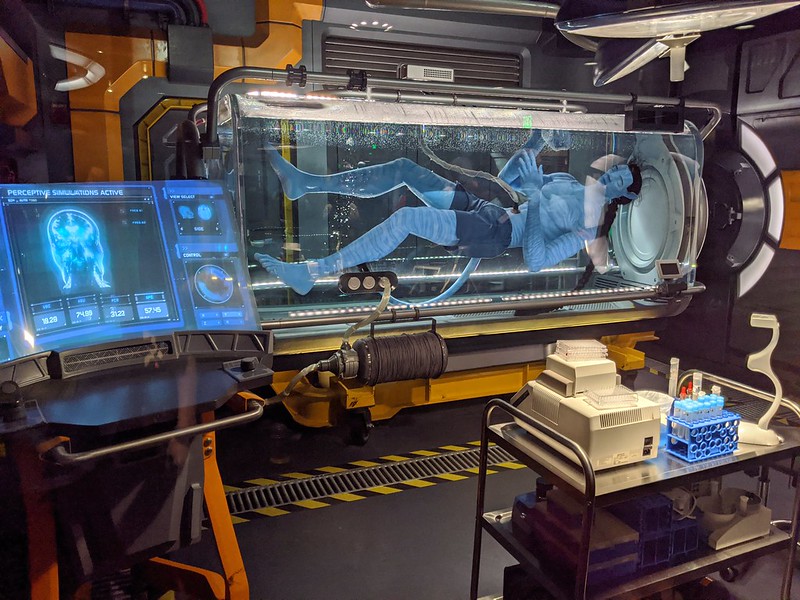 To get to Flight of Passage you have to enter the land of Pandora in Disney's Animal Kingdom Park. There is a cave-like structure with a sign that says Flight of Passage, this is where you will enter the ride. Upon entering the line, you will enter a cave, where you can feel the energy of the animals that inhabit the planet. There are drawings and other artifacts placed around, bringing you back to ancient Pandora times.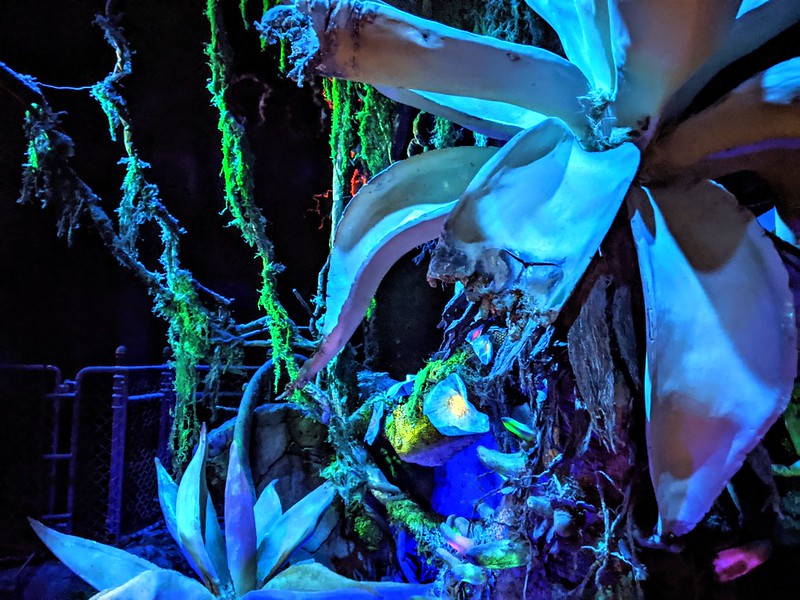 Beyond the cave you start to see life. Giant trees, bushes, and flowers will surround you and light up in the dark. This bioluminescent plant life lights up the way as you traverse to the Avatar laboratory. You'll then see various experiments and tests on your way to the entrance of the ride. 
Ride Overview
Flight of Passage is an immersive ride where you are linked to a banshee or an ikran. The attraction starts with an instructional video. Dr. Ogden and Dr. Stevens explain the process of linking with your avatar. This process "matches up" your genetic material to find the best match with an Avatar. 
Upon entering the ride you will be shown to your "banshee". To replicate the feeling of riding a banshee, Disney created a mechanical motorcycle-like machine with a saddle. You are given 3D goggles and you'll sit on your "banshee".
In front of the riders is a large screen. As the ride starts, you can feel the banshee breathe as your legs wrap around its belly. The banshee begins to fly and you get to explore the world of Mo'ara. Without spoiling the story of the ride, you and your banshee will come into some conflict and the ride will become more turbulent and exciting. It feels as if you are flying through the trees and swerving through different landscapes. 
Avatar Flight of Passage is a great ride for riders of almost all ages. Riders must be at least 44 inches tall. While it is suggested that riders who have motion sickness avoid Flight of Passage, I found that it has much smaller of a trigger of motion sickness than similar style rides such as Mission Space or Star Tours. 
Animal Kingdom's Avatar Flight of Passage is one of the most unique and immersive ride experiences that can be found at the Disney Parks. From the ride system to the story-line and the theming, this is a ride that should not be missed by anyone visiting Disney World and the Animal Kingdom Park. 
Have you experienced Avatar Flight of Passage at Disney's Animal Kingdom? Tell us what you think of the ride in the comments below.
Seth Nock
and the DVC Shop Editorial Team
Header image: flickr.com @ Cory Doctorow