One of the famous three "mountain" rides in Disney's Magic Kingdom, Big Thunder Mountain Railroad (fondly known as "Big Thunder") is one of the most adventurous rides in the park. With its exhilarating turns and drops, the ride draws guests to it over and over again. Its haunting story, beautiful theming, and gorgeous views make it one of the most exciting and scenic rides you can find at Disney World. Continue reading below for more information about this beloved ride.
Big Thunder Mountain Railroad Details

| | |
| --- | --- |
| Walt Disney World Park | Magic Kingdom |
| Location in Park | Frontierland |
| Height Restrictions | 40 inches |
| Age Interests | Children to adults |
| Thrill Type | Adventure – Thrill Ride, Small Drops |
| Hours | Regular Park Hours |
| Wait Times | 45+ minutes |
| Accessibility Information | Must transfer from wheelchair/ECV |
Ride Overview
Big Thunder Mountain Railroad is one of Disney World's most popular rides, existing at four of its parks across the globe. The thrill ride opened nearly nine years after the Magic Kingdom, in September 1980, just over a year after its counterpart at Disneyland opened. The ride itself was the brainchild of Imagineer Tony Baxter (who also worked on Splash Mountain, Star Tours, and Journey to Imagination) and ride design engineer Bill Watkins. 
Like many of the attractions at Disney World, Big Thunder Mountain Railroad has its own backstory explaining its time and place in its world. While not told directly to guests, much of the backstory can be found in the ride's design, including its queue, theme, and operation.
Set in the town of Tumbleweed in the late 19th century's American Southwest, gold was found on Big Thunder Mountain. Unbeknownst to the townspeople, the town had been cursed, and a flash flood later destroyed the mines, leaving the people to abandon the town afterward. Since the tragedy, the old mining camp's locomotive has been seemingly racing around on its own, and thrill-seeking adventurers come to Big Thunder Mountain to take a ride on the possessed train.
Ride Experience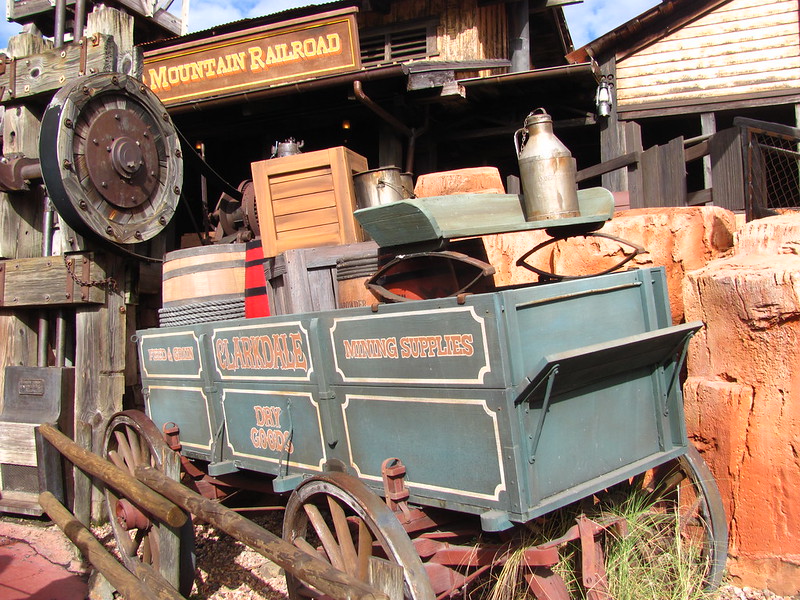 Once aboard, the automated train conductor's voice advises guests to remove any hats or sunglasses they might be wearing on top of their heads, "'cause this here's the wildest ride in the wilderness!" With that, the train sets off, immediately taking a turn into a dark bat-infested tunnel, before making the rickety-sounding climb up the first hill, during which, guests get a look into a cavern filled with stalactites and stalagmites. 
At the top of the hill, guests pass under a waterfall, then the train drops to the left before careening to the right around the mountain, under the second lift drop, through a short tunnel, and then through Tumbleweed's flooded remains. After passing over a decaying trestle and through Davy Jones Mine tunnel, the train climbs the second lift hill. 
There are numerous twists and turns, including a 540-degree downhill counterclockwise double helix, and then the train passes over another broken trestle and into a tunnel toward the third lift hill. While ascending the hill, the train shakes from an earthquake. After dropping down the third hill, the train drops toward the Rivers of America, crosses through a short tunnel and over a small bridge, and passes through the ribcage of a T-rex skeleton. Finally, the train turns past geysers and a hot spring before returning to the station.
Map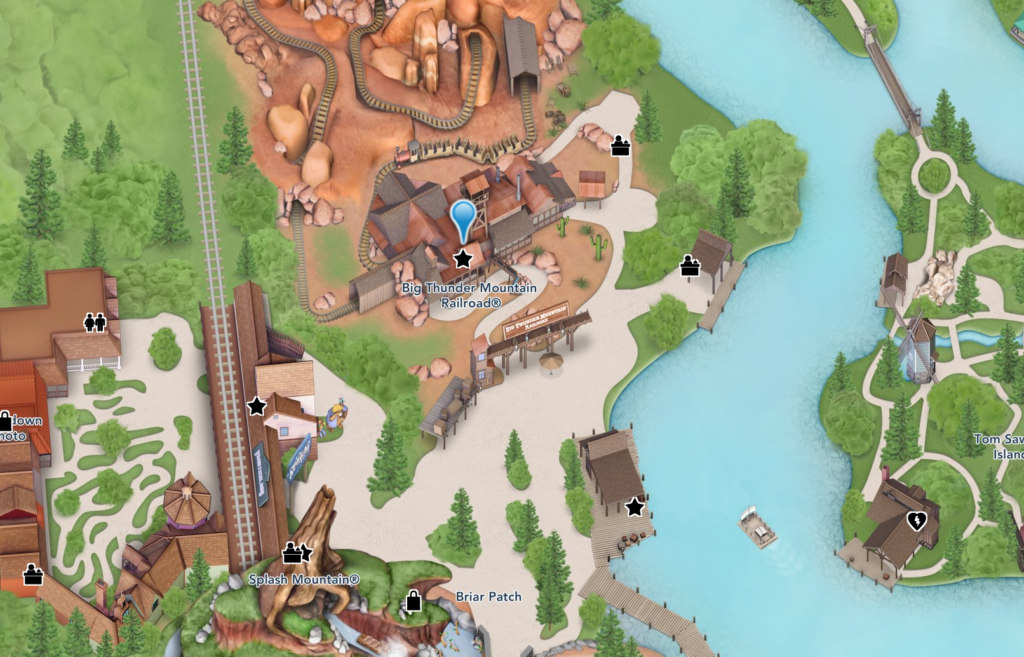 Location and Wait-times
Located in the back of Frontierland at Walt Disney World's the Magic Kingdom, Big Thunder Mountain Railroad sits behind Splash Mountain and across the Rivers of America from Tom Sawyer's Island. As one of Magic Kingdom's three mountain rides, along with both Space Mountain and Splash Mountain, Big Thunder Mountain Railroad usually has a long queue, tending to average around 45 minutes to 90 minutes.
Because of its popularity, guests who don't want to wait in long lines are encouraged to try to get on the ride just after park-open or right after fireworks (or just before park-close). While it won't be a walk-on for Fastpass+ guests, it would only be a short wait. 
Queue Experience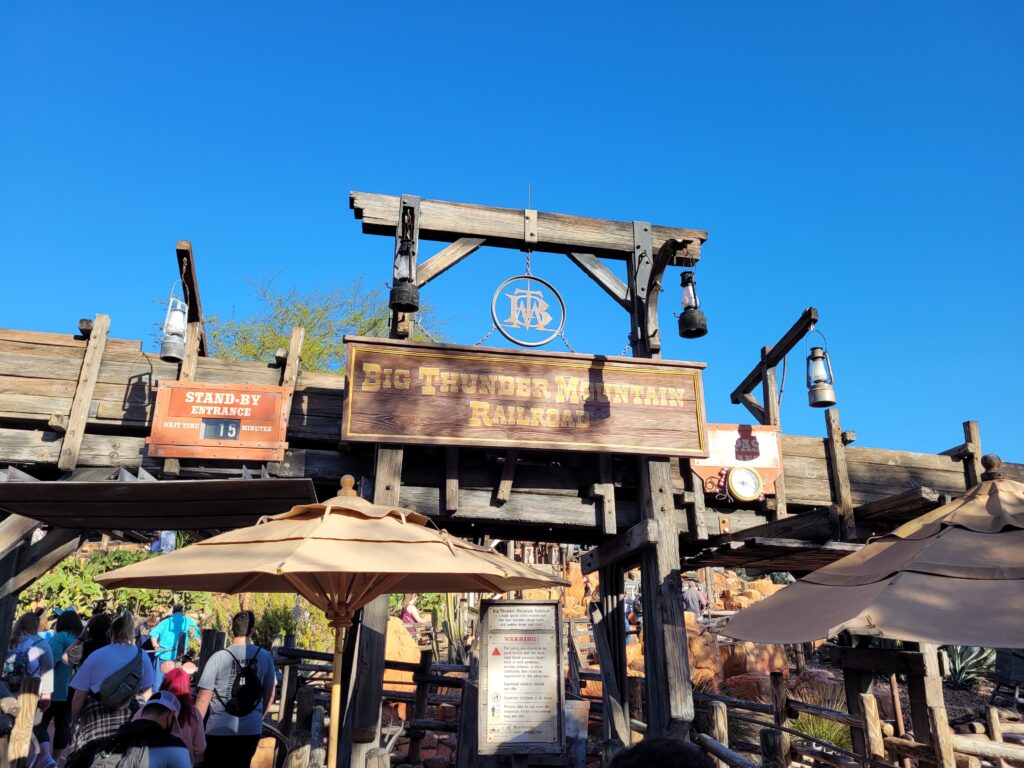 The queue takes guests through the abandoned train station, giving them a tour of the station as they proceed through the queue, and then finally head downward into the train station. Old Western music plays in the background. Once you arrive at the train loading zone, the train arrives, each one with five cars, three rows per car, and accommodating up to two guests per row. 
Ride Notes
For guests with neck and back problems, Big Thunder can be a bumpy, jostling ride, though not quite to the degree of Space Mountain. There are also a number of small drops, so guests with heart problems, high blood pressure, motion sickness, or other conditions could find their physical health aggravated by the ride. Expectant mothers are discouraged from riding, and any guests with mobile disabilities must be able to transfer from a wheelchair or ECV.
As an outdoor ride, Big Thunder also allows guests some beautiful views of the surrounding areas of Frontierland, and is particularly pretty to ride around sunset or twilight. However, regardless of the time, it is a thrilling ride with some amazing views that you can't find anywhere else in Magic Kingdom.
Seth Nock
and the DVC Shop Editorial Team
Main image by Jeremy Thompson, Flickr.com