If you're planning a trip to any or all of the Walt Disney World parks, the My Disney Experience App helps make navigating the parks and your itinerary much easier and less overwhelming!  Even if you aren't a fan of using technology, the information packed into this robust application will help to make your trip more magical than you could have imagined. Here is what I deem the top 10 features of the My Disney Experience app to help make the most of your Disney World Vacation!
Home Button Top Features

When you first enter the app, you will see 5 buttons along the bottom of your screen. These features are located on the home screen of your app.  They appear when you open the app and any time you hit the home button at the bottom of you screen.
1. Park Hours
Each Disney World Park has its own hours and they vary each day. If you like to stay late or arrive early, you will definitely want to plan your visit accordingly. The schedule of shows and parades at each park is available as well, including the recently returned nighttime spectacular shows! You can view these by clicking on the button labeled "Today's Showtimes".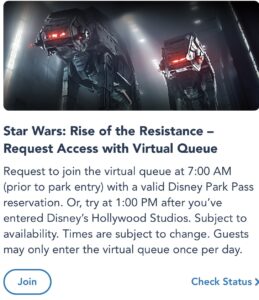 2. Join the Queue for Rise of Resistance in Hollywood Studios
If you are visiting Hollywood Studios and want to check out the extremely popular Star Wars attraction Rise of Resistance, you must have a confirmed park ticket and reservation and join a virtual queue on the day of your visit. This can be found by scrolling down on the main home screen (use the home button to native to the home menu).
The virtual queue opens at 7:00AM each day and you will want to be prepared at 7:00AM to snag your spot in a boarding group!  The queue reopens at 1:00PM for park-hopping guests who have already entered Hollywood Studios.
Location Button Features

These next features on are located under the location icon located on the bottom of your screen.  Choose one of the selections from the drop down menu at the top.
3. Attraction Location And Wait Times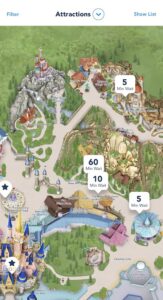 This feature alone is so valuable and a life-saver for those that are not familiar with the parks. Walking around in a crowd of exciting park goers can be overwhelming and having a map in the palm of your hands makes navigating to your favorite attractions so much easier!
Located in the drop down menu once you enter the location tab, you are able to zoom in and out on the map and even click on the attraction name to see the height requirements and thrill level. What's more is that the approximate wait times for each attraction also appear!
This feature itself makes having and using the My Disney Experience app 100% worthwhile because you can access the wait times for the attractions from anywhere without having to actually walk up to its entrance. If you are a planner like me, you can browse wait times before your visit the days leading up to your trip so you can better predict short waits at your favorite attractions.
4. Entertainment Offerings
The location of shows and special performances are also listed in the same drop down menu as above.  This is also where you can find the beginning point of the character cavalcades and promenades and the time slots in which they will randomly appear to greet park guests. In the past, I have found this feature to be useful because it showed me performers that I didn't even know existed and gave us even more options for things to do! It's also important to reference this feature even if you are a seasoned park veteran since not all of the daily entertainment that existed pre-pandemic has returned.
Lastly, if you zoom out away from the parks, you can see where there is entertainment at the Walt Disney World resorts such as the pianist at the Grand Floridian and the time(s) of day it can be enjoyed by guests.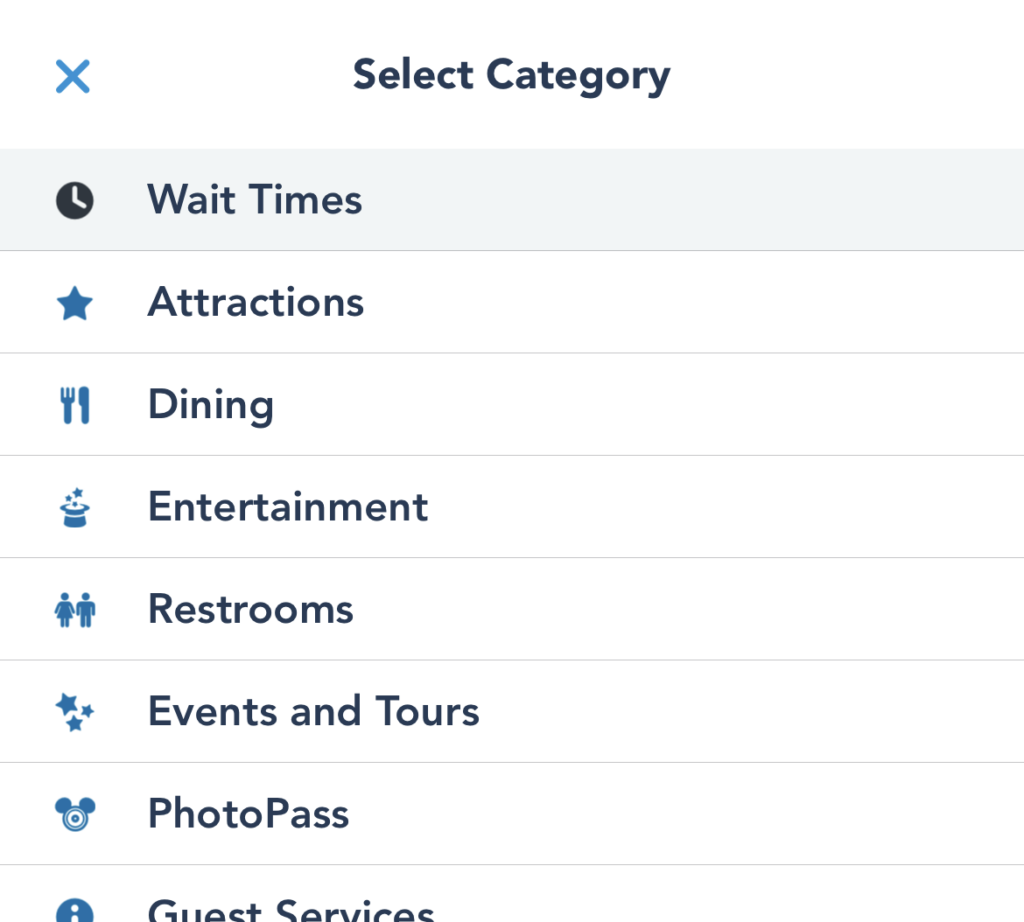 5. Restroom And Other Service Locations
This feature can be extremely helpful especially if you are traveling with little ones like me who don't always give advance notice that they need to use the restroom. Being able to locate the closest restrooms on the map is useful so you don't walk too far out of your way and waste precious park time.
Plus Sign Button Features

The following features are available under the encircled plus sign (+).
6. Purchase Park Tickets
Did you know you can purchase tickets right on the app? Simply choose the number of tickets and the day(s) of your visit and you'll be prompted for payment. If you already purchased tickets through the website or a third party, you can also link your tickets to the app by adding your confirmation number. Having your tickets confirmed within the app makes it easier to access some of the other features below such as making a dining reservation and accessing your photo pass photos.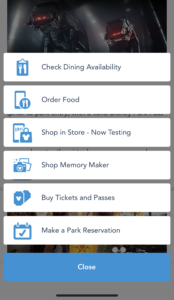 7. Make A Park Reservation
Since the Walt Disney Parks reopened in July 2020, a reservation for the park that you wish to visit (or the first park that you wish to visit if you are park hopping) is required. You must have a paid ticket AND and a confirmed park reservation to enter. On May of 2021, Disney's CEO confirmed the reservation and virtual queue system was here to stay for the foreseeable future, so be sure not to skip this important step.
8. Make A Dining Reservation
If you wish to have any sit down meals during your visit to Walt Disney World, it is strongly recommended that you make a reservation in advance. At the time of this writing, you may make a dining reservation up to 60 days in advance of your stay.
In order to make a reservation at a restaurant inside of one of the parks, you must have a confirmed ticket for your desired date. However, you may make a dining reservation at one of the Walt Disney World Resorts without staying there. See this article for a step-by-step guide on how to make a dining reservation on the My Disney Experience App.
9. Make A Mobile Food Order And Choose Pick-up time
If you plan to have a quick-service meal or snack in the parks, placing a mobile food order through the My Disney Experience app is something you are almost guaranteed to do. Using this feature allows you to save time by ordering in advance for your party instead of having to wait in line or at a table.  It also allows you to choose your pick-up time in advance so you can use your time more wisely enjoying your favorite attractions and shows!
10. Purchase Memory Maker and Access your photos
If your first questions is, "What is Memory Maker? and "Do I really need to purchase it?," read about the details and why it's a worthwhile addition to your vacation. Spoiler alert, the answer is YES, you should purchase it! Having high quality photos without having to have your phone at-the-ready at all times is a huge advantage on it's own. In addition, you and your party will be able to view your park photos almost immediately. You are able to purchase Memory Maker from the main (+) menu on the My Disney Experience App. Once you have photos ready to be viewed, you can access them on the search tab (magnifying glass) under "Photos."
Menu Button Features

The last button on the right, the menu button, has a 2nd access point to many of the features noted above.  If you click this button, you will see a screen with the following options, that has many of the important daily details and purchases needed for your trip.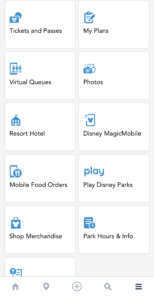 What's missing?
There are several features that used to be part of the app that are no longer available. This includes, making a Fast Pass+ reservation and character meet locations. There has not been any announcement whether FastPass+ will or will not return, but many are speculating that Walt Disney World will follow Disneyland Paris and introduce Disney Premier Access as the replacement. If this happens, I bet we'll see the option to purchase this pop up on the app.
Second, while many characters are out and about in all four parks each day, their permanent meet locations have not reopened.  Many are seen in cavalcades at various times throughout the day or positioned where you can see and speak to them from a distance. Since these locations are outdoors, they are subject to change due to the weather. This guide from early 2021 can help you find your favorite characters in the parks until the permanent locations are restored. And remember, Character Cavalcade showtimes are now available in the My Disney Experience App.
Stay tuned for any news or updates to the My Disney Experience app as Walt Disney World continues to reopen closed attractions and experiences as they prepare for their 50th anniversary celebration beginning October 1!
How often do you use the My Disney Experience app? What's your favorite feature? Share your thoughts in the comments below.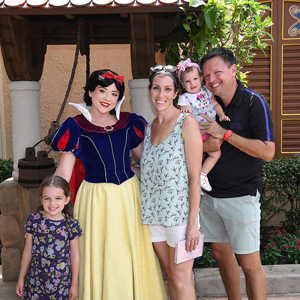 Written by
Shelley Wehler
Contributing Writer
Shelley is a stay-at-home mother of two girls living outside of Charlotte, North Carolina. Her love of all things Disney has grown even more as she sees the magic come alive through the lens of her young daughters. She spends her free time keeping up with the latest in Disney news and daydreaming of her next trip to the parks!