Fireworks are finally back at Walt Disney World! This past weekend I visited Magic Kingdom with my family for the sole purpose of seeing Happily Ever After and it did not disappoint. The 18 minute long fireworks spectacular features gorgeous projections all over Cinderella Castle, as well as a rousing soundtrack that's sure to give you chills. Even though it was a holiday weekend, the crowds didn't seem too bad at Disney World's flagship park, which was probably thanks to the constant rain showers.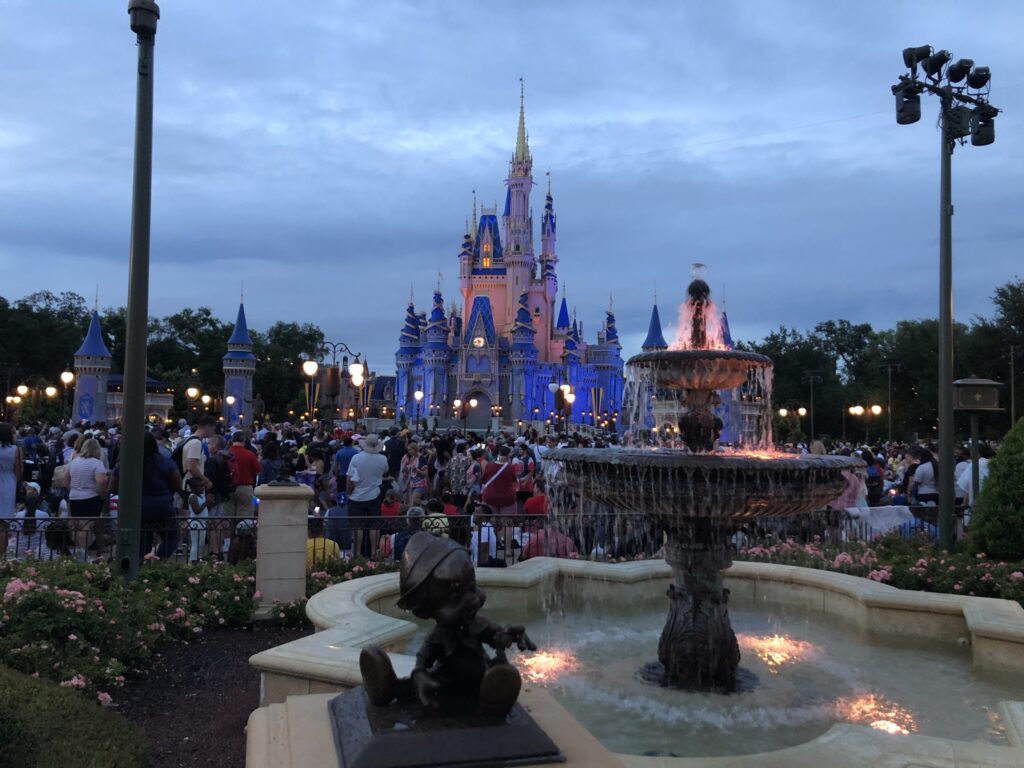 Since we were on a mission to see Disney fireworks for the first time in a year and a half, we camped out around 6:45 pm, with Happily Ever After starting at 9:15 pm. Thankfully, the rain cleared up around 7 o'clock and turned the humid day into a cool summer evening.
If you're looking to get a perfect castle view for the show, I would recommend getting in place around 7:45 pm at the latest. The crowds really started to build after 8 o'clock, making me feel like I was at Magic Kingdom pre-COVID. 
PRO TIP
For the best views of Happily Ever After, I would recommend finding a spot in the hub, preferably with a planter or railing in front of you. Planters work as a barrier, so you don't have to worry about someone standing directly in front of you and blocking your view of the castle! 
Even though Main Street was quite busy, the crowd was in great spirits and definitely hyped for the return of Disney fireworks. We may have been waiting for two and a half hours, but between people watching, eating Casey's hot dogs, and witnessing three proposals, we had plenty to keep us entertained!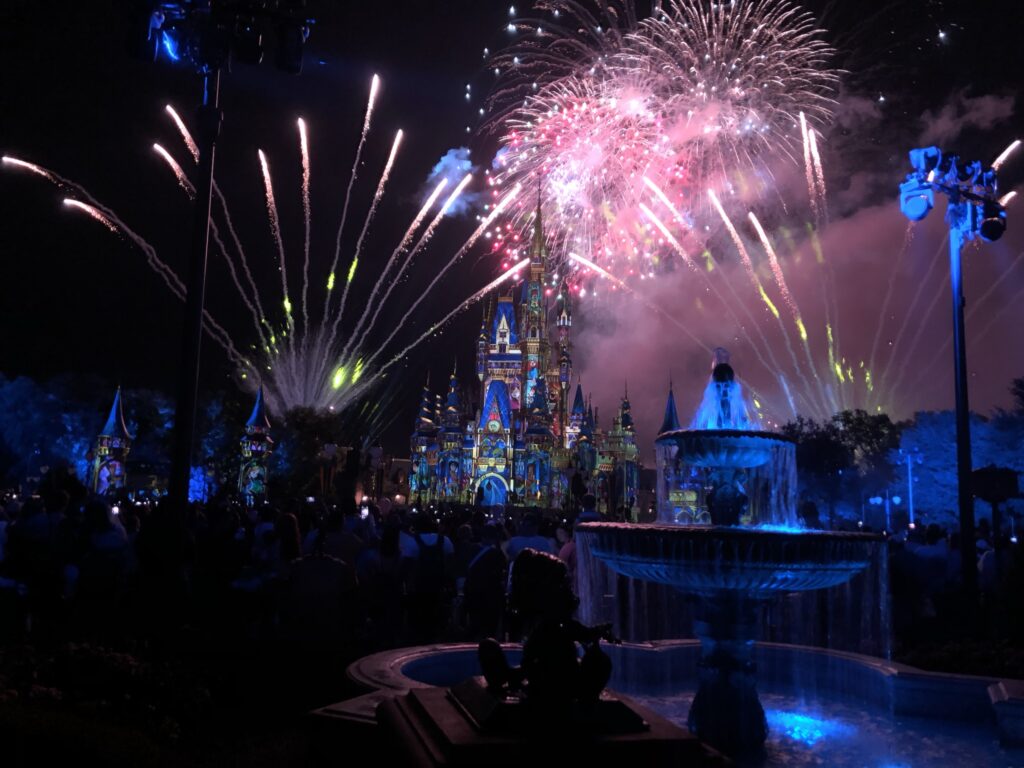 After the show ended, the crowds seemed to get a bit more disorganized. We waited in place for about 15 minutes before attempting to maneuver through the hub, which gave the crowd a bit of time to disperse.
PRO TIP
If Magic Kingdom is still open after Happily Ever After concludes, I would recommend heading into the park to hop on a few more rides. They usually have shorter waits and it lets the lines for the monorail and ferry boat die down. We were able to walk right on Big Thunder Mountain after the show.
Happily Ever After debuted at Magic Kingdom in May 2017 and has become an instant fan-favorite. However, Disney recently announced that a new fireworks show, Disney Enchantment, will be replacing Happily Ever After during Walt Disney World's 50th Anniversary celebration. This new nighttime spectacular will feature immersive projections on Cinderella Castle, as well as along Main Street, USA. The Most Magical Celebration on Earth is scheduled to start on October 1st and last for 18 months, so it is possible that Happily Ever After will return sometime in 2023.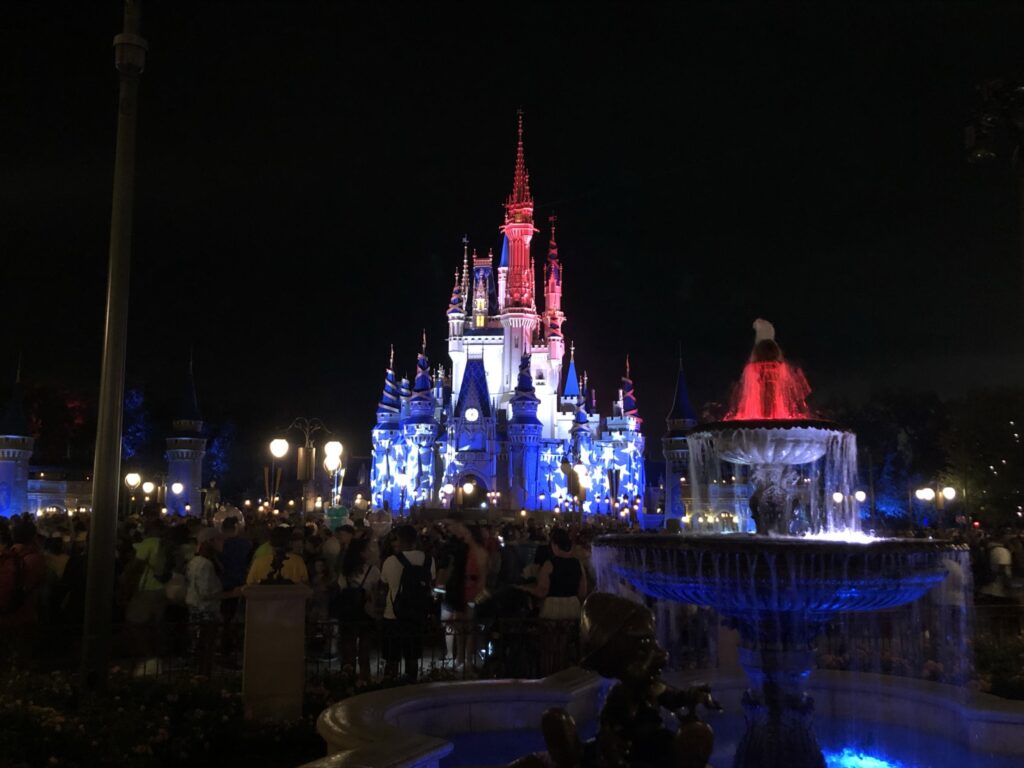 It is such a treat to finally have Disney fireworks back; it really feels like the world is returning to normal. Are you planning on catching Happily Ever After or Disney Enchantment on your next Disney Vacation? Tell us in the comments below!
Written by
Erika Lucas
Contributing Writer
Erika has lived in Orlando her whole life, so she was practically raised at Walt Disney World. While in college, she worked for Disney in roles ranging from character attendant to VIP tour guide. Nowadays, she spends her days planning her next trip to the parks or dreaming about setting sail on another Disney Cruise.