Dining at the Disney parks is a little different than it used to be, and guests may be unsure on how to make a dining reservation on the My Disney Experience App. In this article we'll be walking you through the process step by step with screenshots to will help make it easy for those looking to visit the parks and want to make a dining reservation. 
When Do I Need To Make A Reservation?
Not all dining locations in the parks will require a reservation. Some offer mobile ordering while others are still operating using a standard queue. If you'd like to learn how to make a mobile order step by step with screenshots, you can read our article: How To Use Mobile Ordering On The My Disney Experience App. However, the specialty and sit down dining locations will offer reservations, and it is best to get them as soon as possible.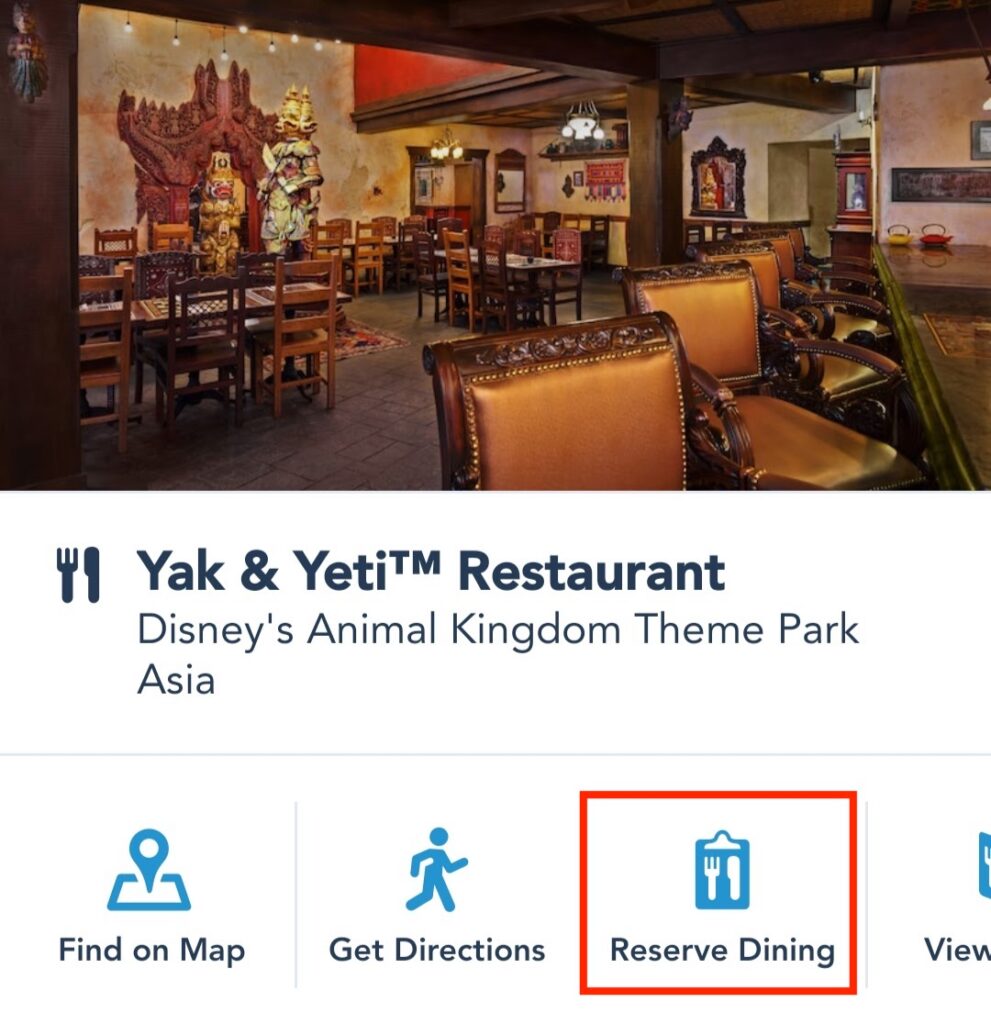 If character dining at Disney World is something that interests you, be sure to book as early as possible. Character dining ranks as one of the most magical experiences that can be had for guests visiting Disney theme parks, and it will always require reservations that book up pretty far in advance.
The general rule for reservations that guests should abide by, is that if you are sitting and being served by a waiter, try to make a dining reservation. Guests are able to begin booking reservations 60 days out from their ticket dates and should do so as close to the beginning of this window as they can.
Do I Need Tickets or Park Reservations?
In order to make a dining reservation, guests will be required to have valid tickets for entry, as well as park reservations. For example, if a guest wishes to make a reservation at Hollywood Brown Derby for dinner, they would need to have purchased their ticket and reserved a space at Disney's Hollywood Studios for the same day. 
How To Make The Reservation
In order to make the dining reservation, guests first will need to be sure to download the most updated version of the My Disney Experience App. Once guests are logged into the account, they can begin. We've added 2 different sets of steps below, one for performing a general search to see what is currently available (filtering by park, price, dining experience is optionally available), and another for making a reservation at a specific restaurant of your choice. Each step can be clicked, which will expand that step, to show a screenshot that will help guide you through the process.
Book A Dining Reservation By Searching Available Time Slots
Book A Dining Reservation At A Specific Location
If there is a particular restaurant that a guest is hoping to book then there is a slightly different process that may be quicker than filtering through all the restaurants. 
Both options will require a credit card to book your reservation. It can either be done at the time of booking the reservation, or guests can save their credit card information in the My Disney Experience App to use to book reservations or make mobile orders at any time for added convenience.
I Didn't Get a Reservation, Now What?
As stated, many dining locations that take reservations are very popular. There are some points in the year that the parks are not as busy, and guests will be able to book reservations the day before. However, there is the chance that guests will not be able to book a dining reservation if it is too close to the date of their trip or it is a busy time of year and there is a lot of demand. If guests are not able to secure a dining reservation, there is still hope with two other options. 
The Walk Up List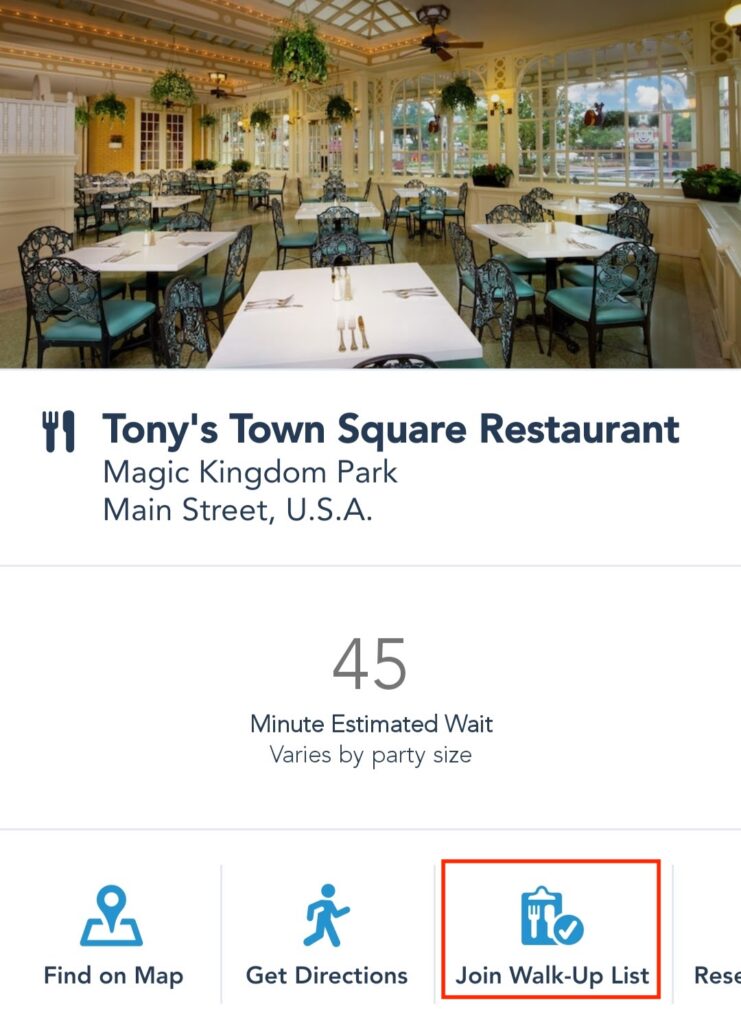 Many locations have the option of a Walk-Up List. The "Walk Up List" button is usually right next to the "Reserve Dining" on the My Disney Experience App. Being added to the walk up list does not guarantee a guest a spot, but it is a sort of overflow, and gives guests the chance to get into the restaurant. You can see an estimated wait time that varies based on your party size to get an idea of how long it would take to get a table at your desired restaurant. If a guest is able to get in the walk up list, they will need to be at the dining location to be seated within a certain time frame or their table will be given to the next in line.
Ask A Cast Member at The Restaurant
Another option that guests have is to go to the restaurant and ask if there are any tables available. Although there will most likely be nothing right away, many Cast Members try to carve out space for guests who ask for it, and will give a reservation away within a few hours. Again, this option is not a guarantee, but actually works more often than not.
Let's Review
Making a dining reservation on the My Disney Experience App is streamlined and easy. It is also a great way to guarantee a lovely sit down meal. The top things to remember are:
Be sure to have your tickets and park reservations first.

Book 60 days out from your park reservations.

Search generally for restaurant availability, or by specific restaurants.

Add yourself to the Walk Up List on the App if you could not get a reservation.
Have you made a dining reservation on the My Disney Experience App before? Did you find it easy? Let us know your thoughts on the process below.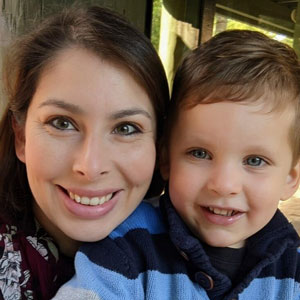 Written by
Rachel Van Norman
Contributing Writer
Rachel fell deeply in love with all things Disney as a little girl. Now as a wife and a mother herself, she shares this Disney obsession with her son and everyone around her. From her love of princesses to eating all the Disney food, Rachel spends her time radiating Disney magic and keeping everyone up to date on Disney news.