Those who have recently visited Walt Disney World will know that mobile ordering using the My Disney Experience app is now the norm for ordering food and beverages at locations that offer this service. Guests who use the mobile ordering option will see that using My Disney Experience not only saves them time but also makes planning out snack breaks a much more streamlined experience. In this article, we'll be covering the ins and outs of how to use mobile ordering, walking you through the process step by step. If you're looking for a step by step guide on making advance dining reservations you can read our article on the subject here: How To Make A Dining Reservation On The My Disney Experience App.
Download The My Disney Experience App
The first step to using mobile ordering will come prior to your park visit. Before arriving at the parks, you can download and install the My Disney Experience app on either the Google Play Store, or the Apple App Store. Guests are able to search for any specific dining location in the app, scroll through them in a list format, or view them on the map. Guests also have the option of narrowing down their options to one particular park at a time by using the filtering option located in the top left-hand corner of the map section of the app.
How To Make A Mobile Order
When you select a location, you will be given the options available for that particular restaurant. Some restaurants will require mobile ordering, while others such as Be Our Guest restaurant and Garden Grill are strictly dine in and do not have that option.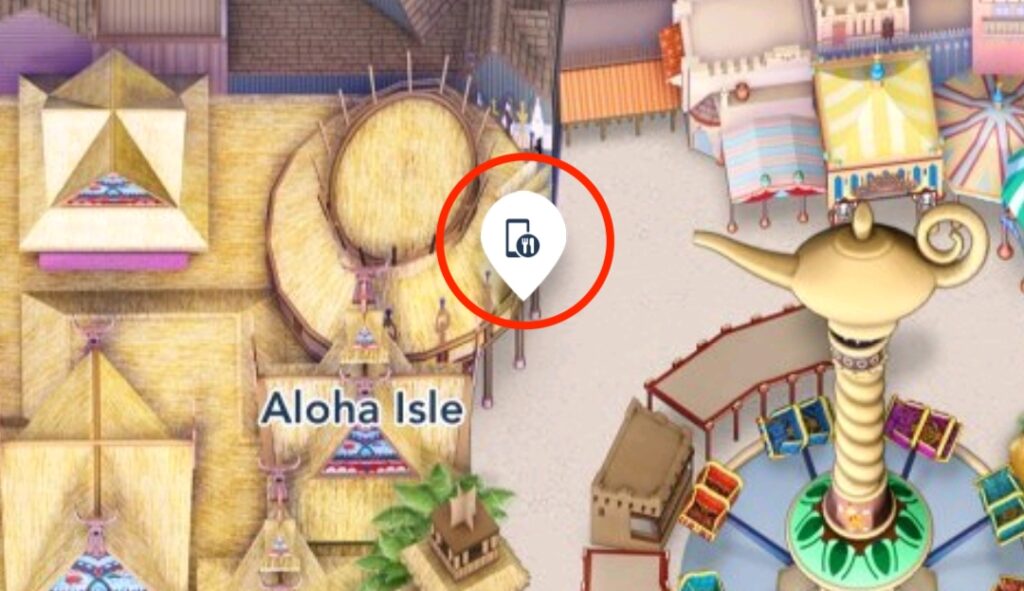 You can tell from looking on the map of the park which restaurants will have the mobile order option, as there will be a button that has a picture of a phone with a fork and knife next to the restaurant.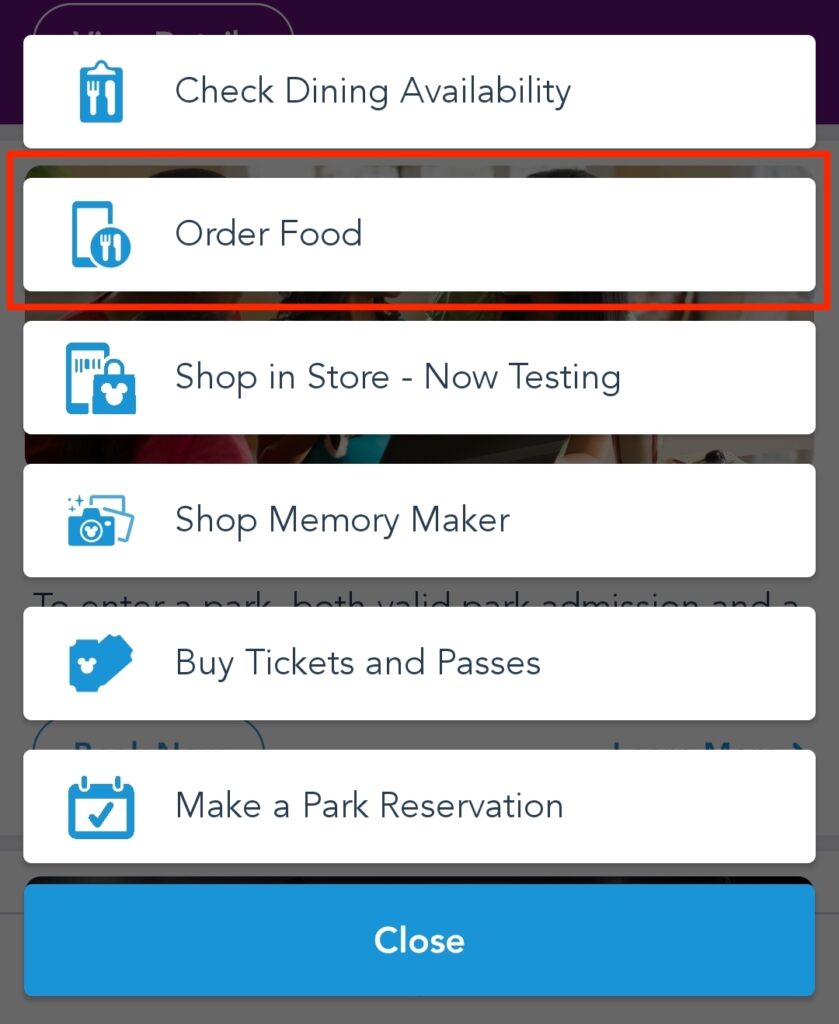 You can also press the "+" icon on the bottom of the app and this will pull up a selection menu. Here you can go directly to the "Order Food" button and select a restaurant there. 
Once you select the restaurant for your mobile order here are the steps to take inside of the app in order to complete your order. 
Press the Order Food button

Select an arrival time window

Select your food items and customize your order

Pay for your food in the app via the purchase button
Mobile ordering is a great time saver because it allows you to select your pick up window and plan ahead. This allows guests to place their order while they are still in line for rides or in a completely separate area of the park. Instead of having to head over to order food while hungry and wait in line to place their order, guests just make a mobile order, head over during their arrival window, and have their food prepared when they arrive.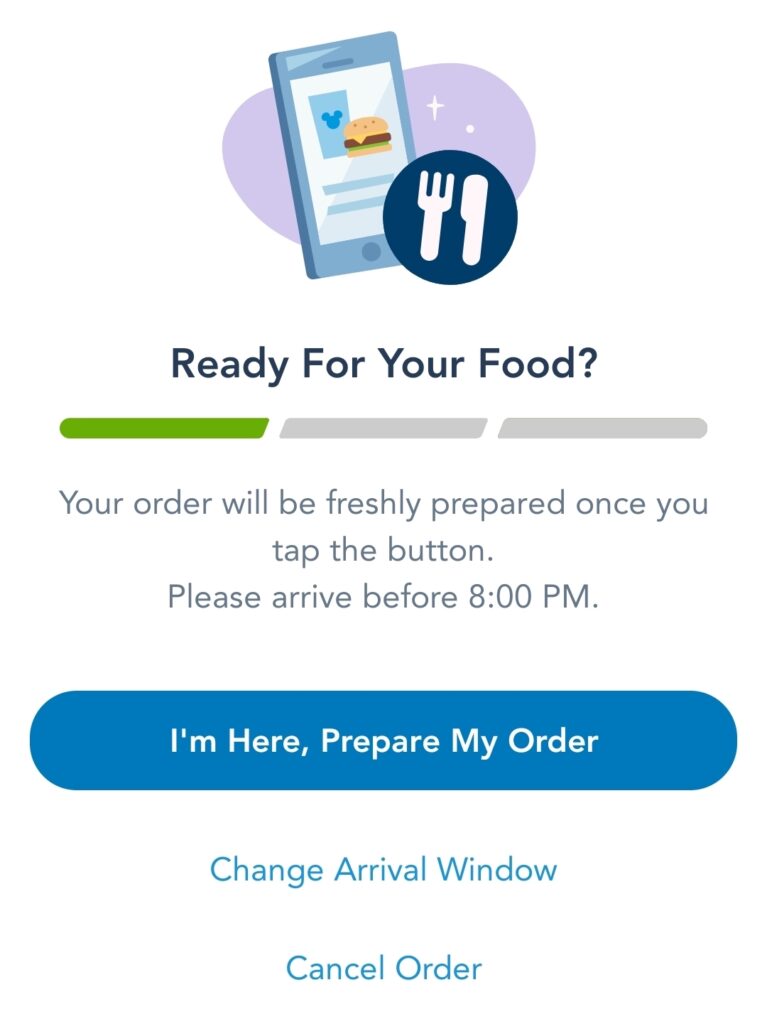 Guests arrive at the restaurant of their choosing at any point during their pick up window. This window is typically a half hour of time. When you arrive, just press the "I'm Here, Prepare My Order" button. You will receive a notification when your food is ready, and your mobile order screen will tell you where you can pick up your order.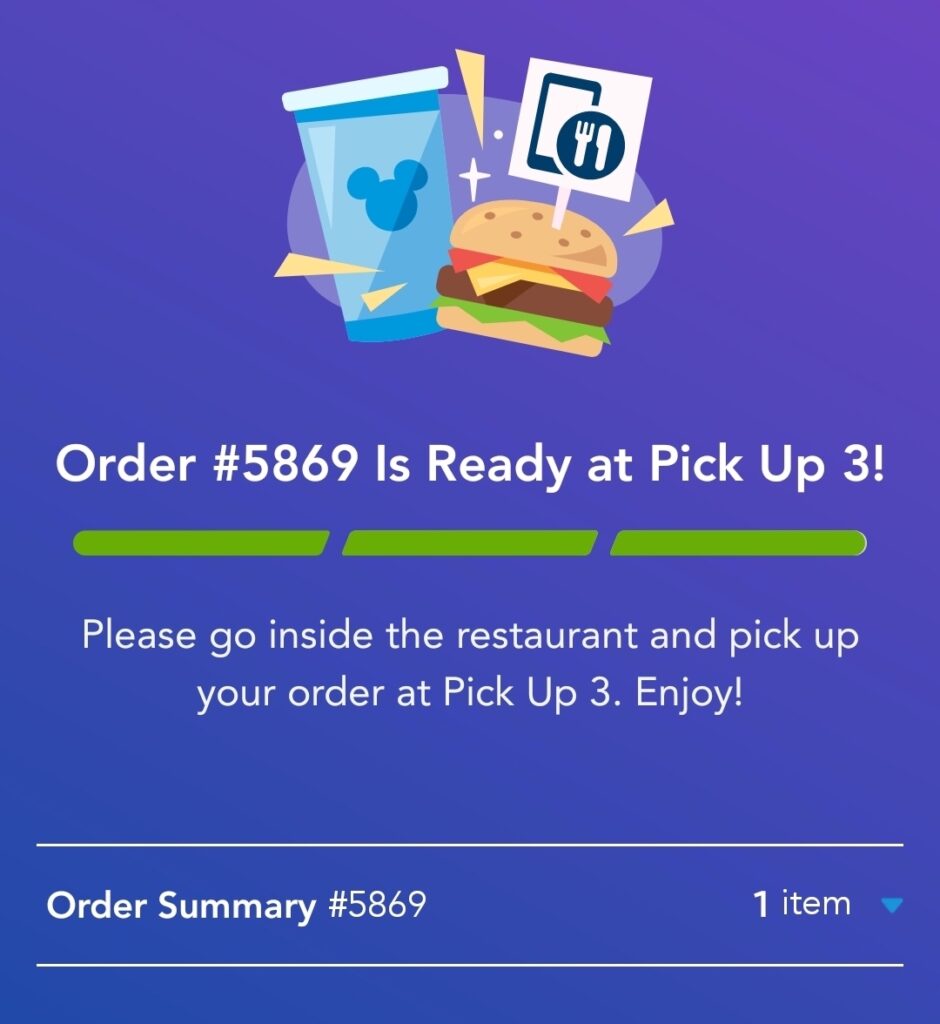 Many restaurants will only allow entry into the restaurant with a completed mobile order notification or order ready screen on your phone. Once you have the notification or order ready screen on your phone, you may pick up your food at the designated window and enjoy.
Using the My Disney Experience app is extremely useful not only in getting mobile orders throughout your time at the parks, but it is also a great tool in finding open dining locations, making dining reservations, and looking through menus in the restaurants. Utilizing this app is easy to do and a great way to make the best of your days in the parks!
Let Us Know Your Thoughts!
Have you used the mobile ordering option in the My Disney Experience app? Do you feel like it saves you time during your visit? Let us know your thoughts below!
Written by
Rachel Van Norman
Guest Author