Some table service dining locations at Walt Disney World offer "buffet" or "all you care to eat" options. Buffet meals typically means guests will leave their seats to go choose out their own food offerings in a buffet style, where all food is served from a designated area. In contrast, all you care to eat style usually indicates that Cast Members will bring your food to your table. You may also see the all you care to eat style referred to as family service style. Regardless of terminology, for both buffet and all you care to eat style dining guests pay a flat fee to access all of the food they want. A non-alcoholic, non-specialty beverage is also included–drinks like juice, soda, and coffee. Second helpings are more than welcome! Do note that as Walt Disney World resort continues to increase operations following the brief closure in 2020 that many restaurants that are usually a buffet style may temporarily be all you care to eat style. The Walt Disney World resort has more than a dozen restaurants that operate as buffet or all you can eat style; let's take a look at 8 favorites in no particular order.
Resort Buffet To Please A Crowd: Boma – Flavors of Africa
Arguably one of the best dining experiences at Walt Disney World overall, and definitely a top tier buffet style meal, is at Boma – Flavors of Africa. Located in Disney's Animal Kingdom Lodge, this meal is worth going a bit out of your way for. Boma offers both breakfast and dinner as buffet style meals, where guests will enjoy offerings from a variety of African countries as well as American classics. At breakfast enjoy a made-to-order omelet, pancakes, waffles, fresh fruits, assorted breakfast meats, and do not miss out on the turkey bobotie–which is essentially a fun twist on a quiche. During dinner relish in the wonderful breads with spreads like hummus, a plethora of salads, flavorful pastas, and delicious roasted meats. Boma also features great vegetarian options, both hot and cold, and boasts American standards like macaroni and cheese and chicken bites for less adventurous eaters. Plus, be sure to save room to indulge in some desserts. The zebra domes, a chocolate covered cake with amarula liquor mousse, are a fan favorite! For guests 21 years of age and up, Boma has a vast selection of excellent African wines to enhance your meal. A meal at Boma is sure to please most parties: there is truly delicious, well spiced and perfectly executed dishes that may not be so abundantly available to guests in their hometowns, and also plenty of comforting classics.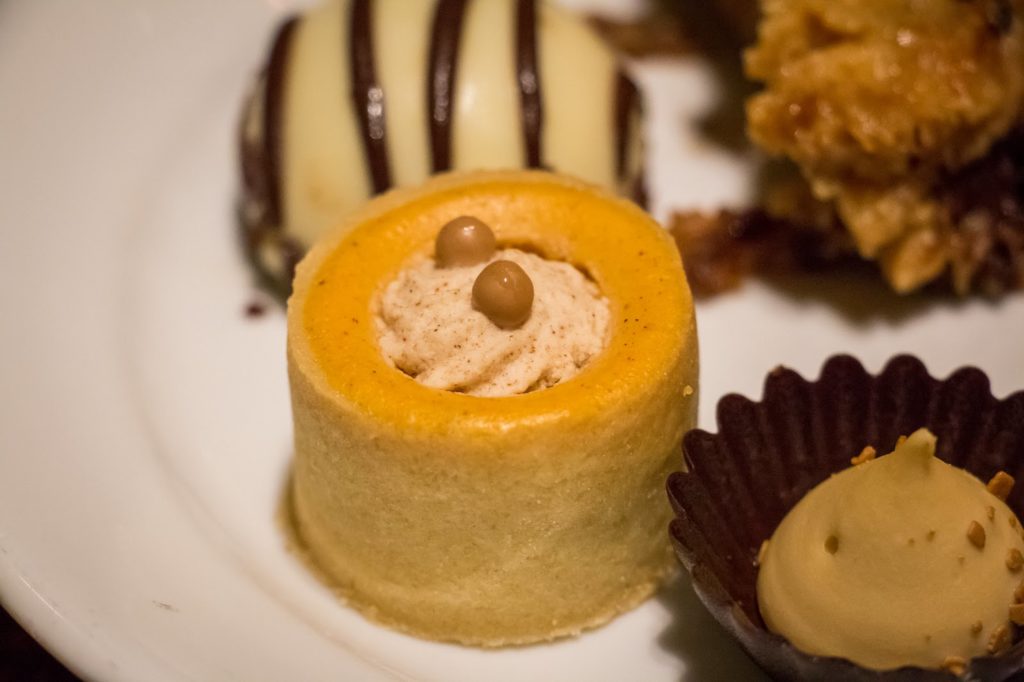 Character Buffet Meals
At Disney World, your time may be one of your most valuable assets. I love to make dual use of meal time by meeting some characters while dining. Please do note that some character dining locations are still operating with modifications; in most cases characters are not back to full meet and greets and instead may be distanced interactions.
Garden Grill
Located in World Nature at EPCOT, Garden Grill features the Chip 'n' Dale Harvest Feast for lunch and dinner with all you care to eat fare focused on freshness. Typically this all you care to eat meal will include a salad, sides like macaroni and cheese, seasonal vegetables, stuffing, and potatoes, and a couple of different meat options like sliced turkey or beef with chimichurri. Once you've had your fill with the main features, there is also a dessert coming your way! The restaurant very slowly rotates, so your scenery changes as you progress in your meal–including seeing visuals from the Living with the Land attraction. Chip and Dale are always at Garden Grill, and they bring a friend or two along too. Usually you'll see Pluto and Mickey, but characters are subject to change. Previously, Garden Grill also offered an all you care to eat meal during breakfast time. Right now, Garden Grill is closed for breakfast, but stay tuned for information when breakfast returns.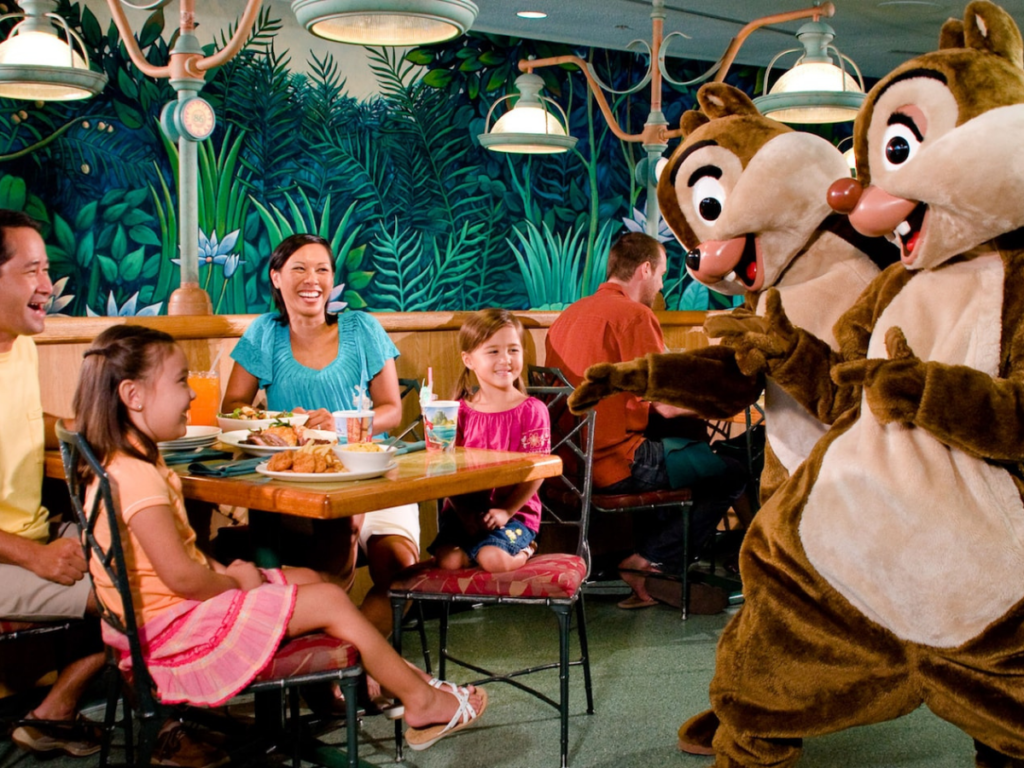 The Crystal Palace
This greenhouse inspired structure, located in Main Street, U.S.A., at the Magic Kingdom, is an excellent location for a character meal. Right now, this offering of American fare for lunch and dinner is modified and does not feature characters, but usually you will be attending a friendship day celebration with your favorites from the Hundred Acre Woods. Pooh, Piglet, Eeyore, and Tigger usually make an appearance at this buffet style meal. And while you can often spot the Hundred Acre Woods friends in various parades and cavalcades and Pooh and Tigger regularly participate in meet and greets, outside of special hard ticketed events this is often the easiest way to meet Eeyore and Piglet. But even without the characters at the moment, the building and décor are light, bright, and airy, and this is a wonderful place to take a break from the hustle and bustle of the theme parks without ever leaving Magic Kingdom. I personally cannot wait for The Crystal Palace to re-open for breakfast and return to the standard character buffet meal we all know and love.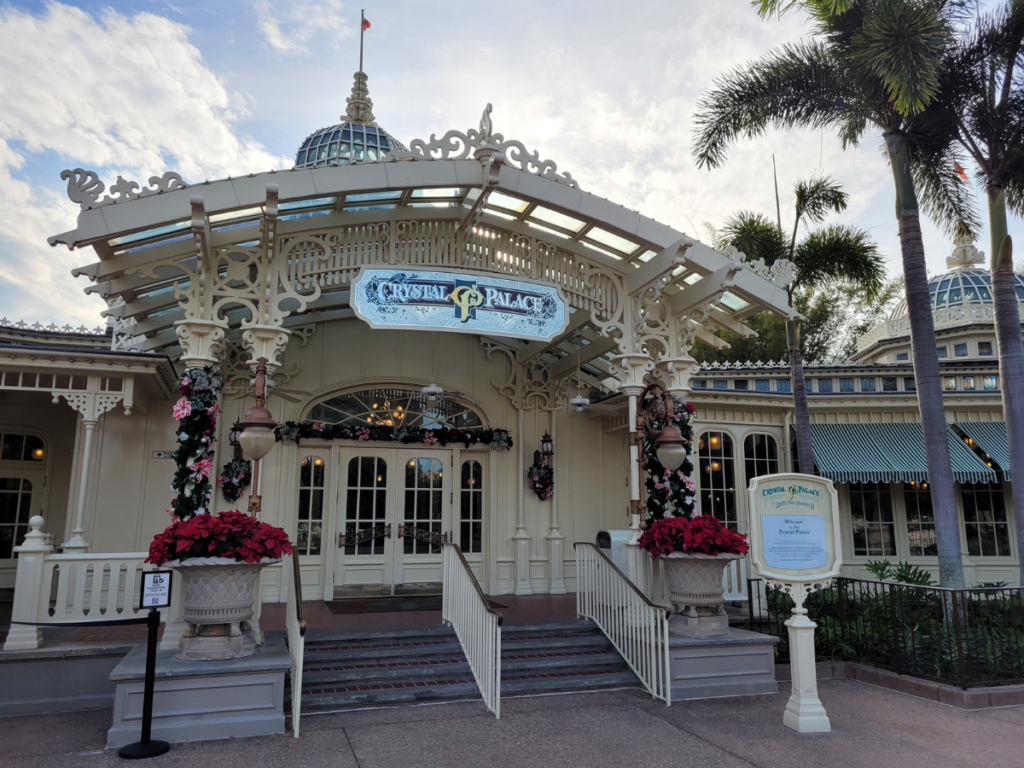 Tusker House Restaurant
Tusker House Restaurant, at Disney's Animal Kingdom, is probably my favorite character meal in the theme parks, because the food is outstanding. Similar to Boma, you are going to get a variety of African and American inspired dishes in this buffet style meal for either breakfast, lunch, or dinner. This food is truly flavorful, and one of the best character meals in terms of food quality you can find. Plus you will get to meet Donald Duck and his friends–usually Mickey, Goofy, and Daisy–dressed up in their expedition outfits. As with most fixed-price meals at Walt Disney World, breakfast is less expensive than lunch or dinner. I like to book a seating late into breakfast service to take advantage of the cheaper price but enjoy food options from both breakfast and lunch. For example, if breakfast ends at 10:30 a.m. and lunch begins at 11:00 a.m., I try to book a 10:15 a.m. reservation. This means I pay the breakfast price and get one plate of breakfast food. Then, I eat my breakfast, meet some characters, and usually it is past 11:00 a.m. by that time so my second plate can be lunch fare! I love being able to experience the variety of both breakfast and lunch foods while meeting characters, and I will always jump at any opportunity to save a bit of money at Disney World.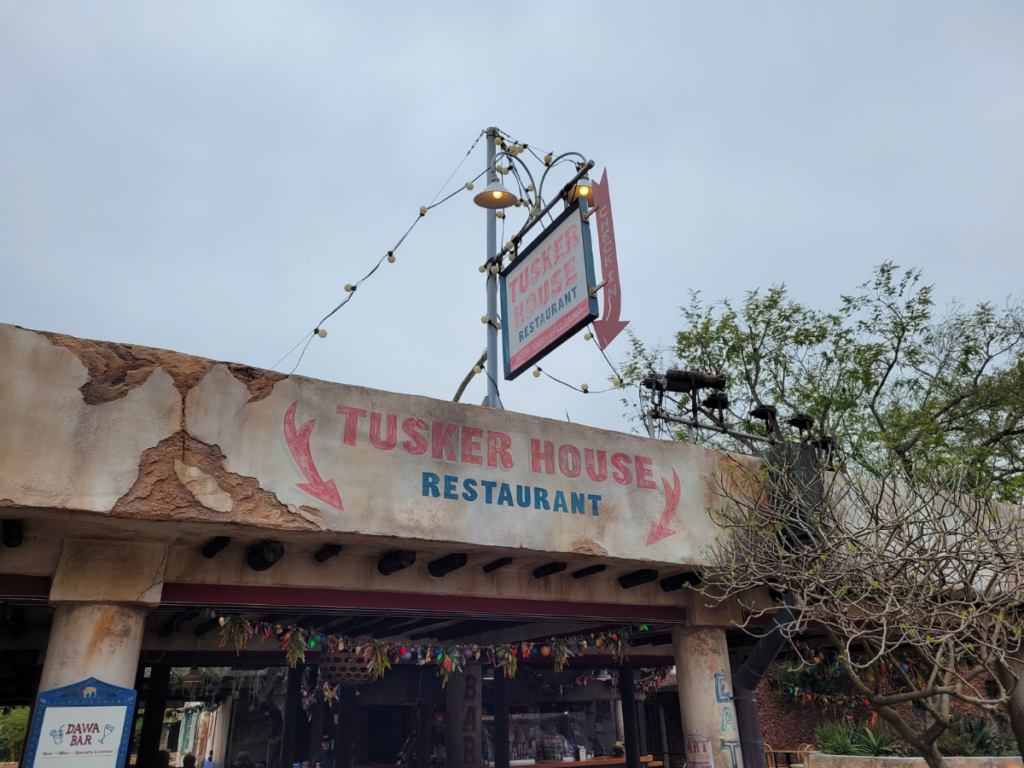 1900 Park Fare
A meal at 1900 Park Fare is full of whimsy and elegance, perfectly highlighting everything I love about the location in Disney's Grand Floridian Resort & Spa. At present, 1900 Park Fare is not open. However, once it re-opens this buffet style meal has two distinct sets of characters. During the Supercalifragilistic Breakfast, you may get to see Mary Poppins, Alice in Wonderland, The Mad Hatter, Tigger, and/or Winnie the Pooh. Once it is dinner time, this location transforms into Cinderella's Happily Ever After Dinner, which usually features Cinderella, Prince Charming, Lady Tremaine, Anastasia, and Drizella. If your travel party has a mix of princess lovers and members who maybe do not love interacting with characters so much, this is a great compromise. While not a fully princess focused meal, meeting Cinderella is pretty magical. And for those less enthused, Anastasia and Drizella can be downright hilarious! Interacting with some of these quirkier characters, including The Mad Hatter at breakfast, is truly a treat. Hopefully this dining location will re-open soon; stay tuned to the DVC Shop Blog for all the latest news!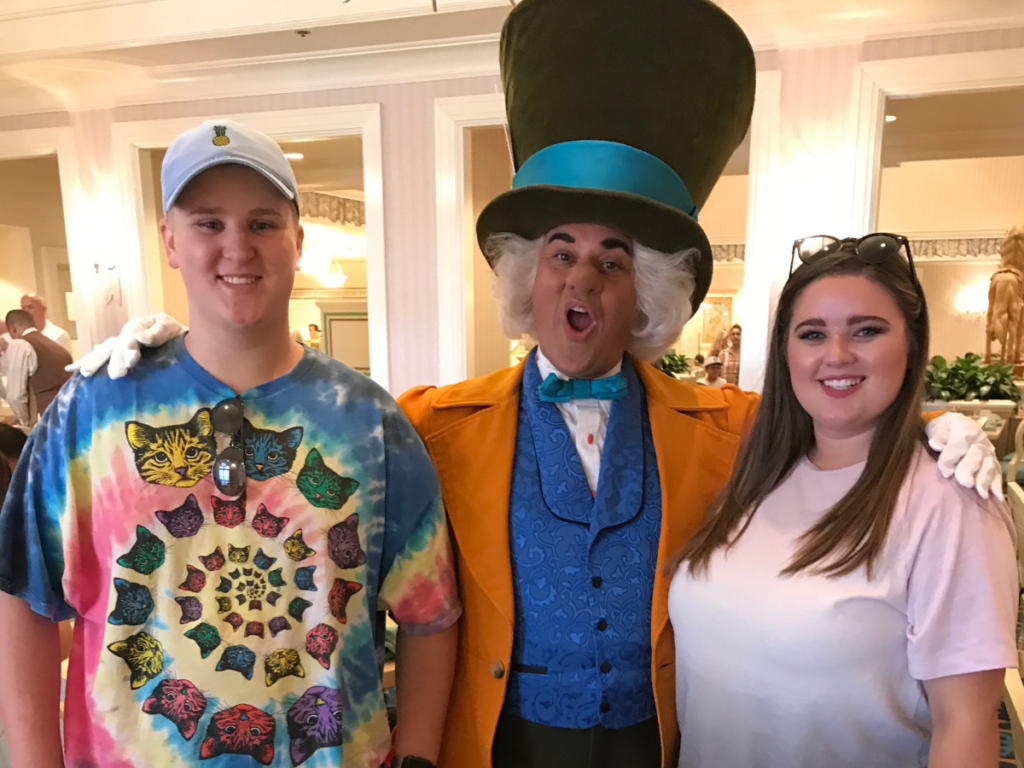 Chef Mickey's
Although not as old as the resort itself, Chef Mickey's has become a classic that every Disney parks fan should experience at least once. Inside of Disney's Contemporary Resort, guests can see the monorail go by while noshing on American fare. Traditionally, this has been a buffet style meal. But recently, it has been served all you care to eat style where guests do not have to leave their tables to get their food. This can be a benefit for character meals, as it means you are less likely to miss any character interactions! Chef Mickey's is currently open for breakfast and dinner and features Mickey in his chef attire of course. Mickey's friends in their culinary inspired outfits also make an appearance–usually Pluto, Minnie, Donald, and Goofy. This makes Chef Mickey's one of the only locations you can easily meet the Fab 5! If meeting the Fab 5 is high on your priority list, Chef Mickey's can save you a ton of time compared to waiting for individual meet and greets with each character in the theme parks.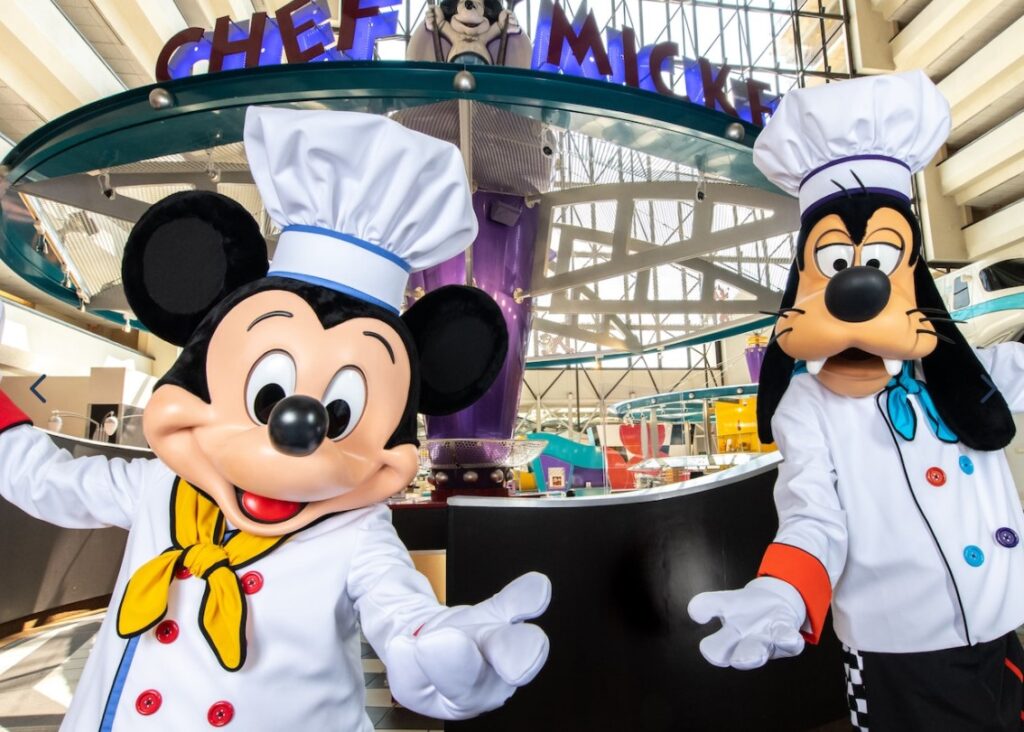 Entertaining Dining
When you book a table service restaurant you know you'll get a meal out of the experience, but these two options offer up some great entertainment as well.
Biergarten Restaurant
Open for buffet style lunch and dinner, Biergarten Restaurant in EPCOT's Germany pavilion offers an Octoberfest themed buffet with live music! The folk music creates a wonderful ambience, and often you can join in the fun and dance along. The meal features a variety of salads, several meat options–of course, bratwurst is a main attraction for many guests coming to this German restaurant, and delicious desserts like apple strudel and Bavarian cheesecake. And for guests aged 21 years and up looking to indulge, there's several beers to choose from and you can get an entire liter. Put simply, the atmosphere at Biergarten Restaurant is fun, making it a great choice for a buffet style meal.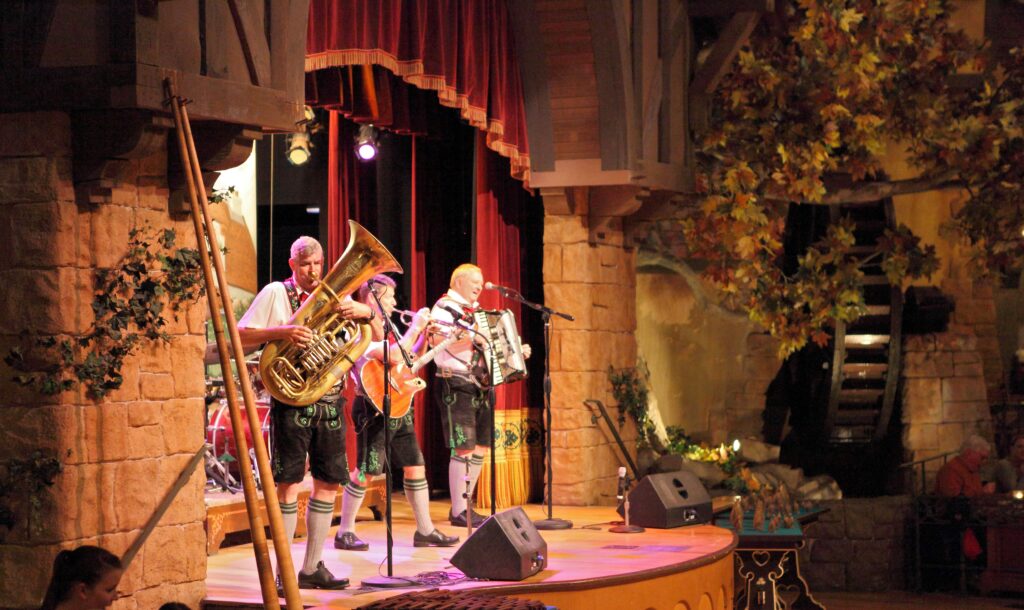 Whispering Canyon Café
The menus at Whispering Canyon Café in Disney's Wilderness Lodge feature both a la carte and all you care to eat options, which makes for a great mix to please everyone in a party. For folks that aren't so hungry just order a single entrée, and for people looking for a heartier meal then opt for an all you care to enjoy skillet. The Western flavored skillets at breakfast, lunch, and dinner are themed. For breakfast and lunch there's a lighter fare skillet, a heritage skillet featuring usual breakfast items, and a carnivore skillet with meat heavy barbecue style offerings. At dinner the skillets are a bit different: traditional, the pig, land and sea, and plant-based. No matter the theme, each skillet comes with options you would normally consider main entrées and side dishes from an a la carte menu. And once you finish your first skillet you are welcome to more–as much or as little as you'd like! These skillets can be a great value, and while there is no live band like at Biergarten Restaurant, your server is definitely going to dish out the fun. This is a sassy, colorful experience. And without spoiling too much, just know you are in for some hilarious antics.
What is your favorite buffet at Disney World? Let us know in the comments!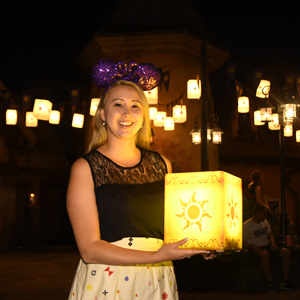 Written by
Jacqueline R.
Contributing Writer
Jacqueline is a PhD scientist with a passion for synthesizing detailed information in an understandable format. She is a Disney Vacation Club owner, overall Disney fan, and the primary content creator on the YouTube channel Pixie Dust PhD.