Resort Overview
You are finally on your way to Walt Disney World's Deluxe Resort, Animal Kingdom Lodge. What can you expect? An experience like no other! As you walk into the lobbies of Disney's Animal Kingdom Resort, you step into the heart of Africa. This secluded African-lodge-style resort is in the middle of 45 acres of a tropical savanna. Inspired by the traditional African kraal, the resort hotel has a horseshoe-curved design showcasing spectacular views of 4 lush savannas, home to over 30 African wildlife species, including zebras and giraffes, gazelles, kudu, and flamingos. Two distinct areas, Jambo House with its soaring six stories of African splendor and Kidani Village with its more intimate environment, immerse guests in African culture and details from carved railings to unique furnishings and artwork. Jambo House features standard guest rooms, suites, and villas, while Kidani Village has only villas. If your room has a savannah view, you can have coffee on your balcony and watch the animals. To truly enjoy your experience at this incredible Disney Resort, you need to know a few things before you go, so here are some tips for your stay.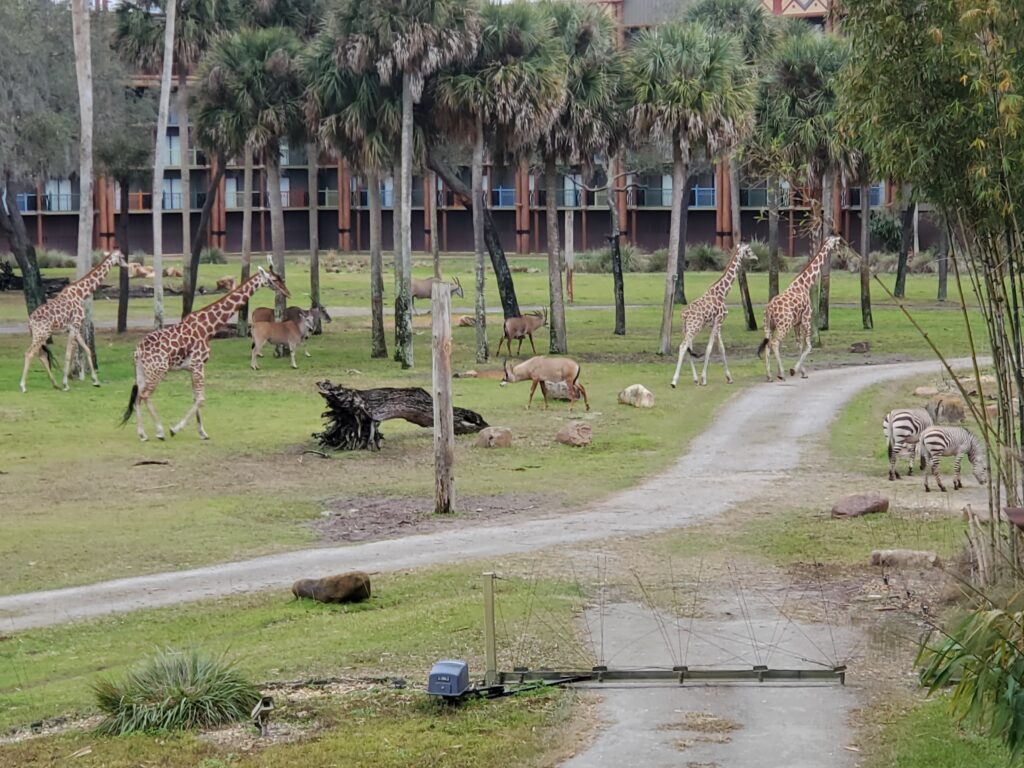 Grab A Bite To Eat
You will find unique and exotic meals at Jambo House and Kadani Village that feature classic dishes and African-inspired flavors.
Quick Service
The Mara at Jambo House is where you can grab a snack or sit in the dining room to enjoy a quick service meal. The Mara is open from 6:30 am to 11:00 pm, serving breakfast, lunch, dinner, snacks, and a late-night menu. Just outside by the pool is Maji Pool Bar which serves signature drinks, sandwiches, salads, and snacks. Breakfast at Sanaa, at Kidani Village, offers a quick-service menu and mobile order service.
Table Service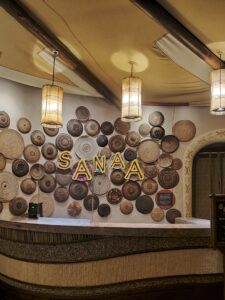 Boma – Flavors of Africa at Jambo House offers an all-you-can-eat African buffet of classic and regional specialties for breakfast and dinner in an atmosphere inspired by a lively open-air marketplace. Award-winning signature dining can be found at Jiko – The Cooking Place, located at Jambo House. Jiko is also home to one of the largest collections of South African wines in the United States. Watch the animals roam the Sunset Savanna as you dine at Sanna, at Kidani Village. Serving lunch and dinner with full table service, you can dine in or mobile order. Sanaa offers exquisite East African cuisine, starting with the Indian-style bread service with nine accompaniments and ending with delicious African desserts.
Other Offerings
Attached to Sanaa at Kidani Village is Sanaa Lounge offering unique African wines, specialty drinks, and appetizers. Victoria Falls Lounge is an intimate bar overlooking Boma at Jambo House. Enjoy sipping from a full bar menu with appetizers, whether sitting by the fire pit or sinking into a sofa.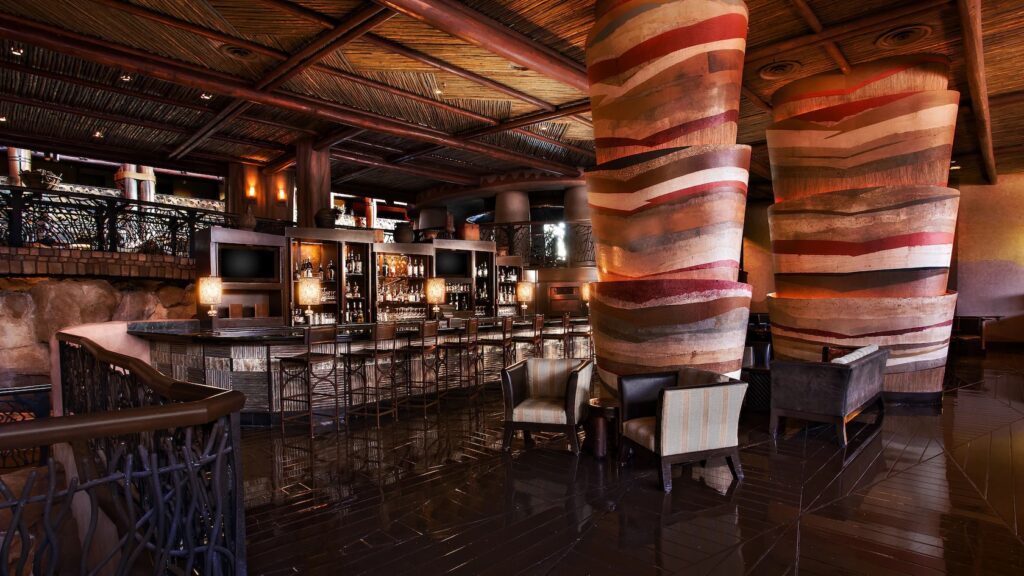 Pools
Follow the stream from the lobby of Jambo House out to the Uzima Springs Pool, a zero-depth entry, 11,000 square foot tropical oasis with a 67-foot long waterslide. Two whirlpool areas offer guests a place to relax and unwind. Look for the thatched hut in the pool area where Uzima Springs Pool Bar features cocktails, frozen drinks, African beer, and more!
At Kidani Village, Samawati Springs Pool features zero-depth entry and a thrilling 128-foot waterslide. There are two whirlpool spas and the distinctive Umanja Camp, a children's animal observation site-themed water playground with squirting Venus flytraps, a rope bridge, water cannons, and more!
Hours and lifeguard availability vary by pool and are subject to change.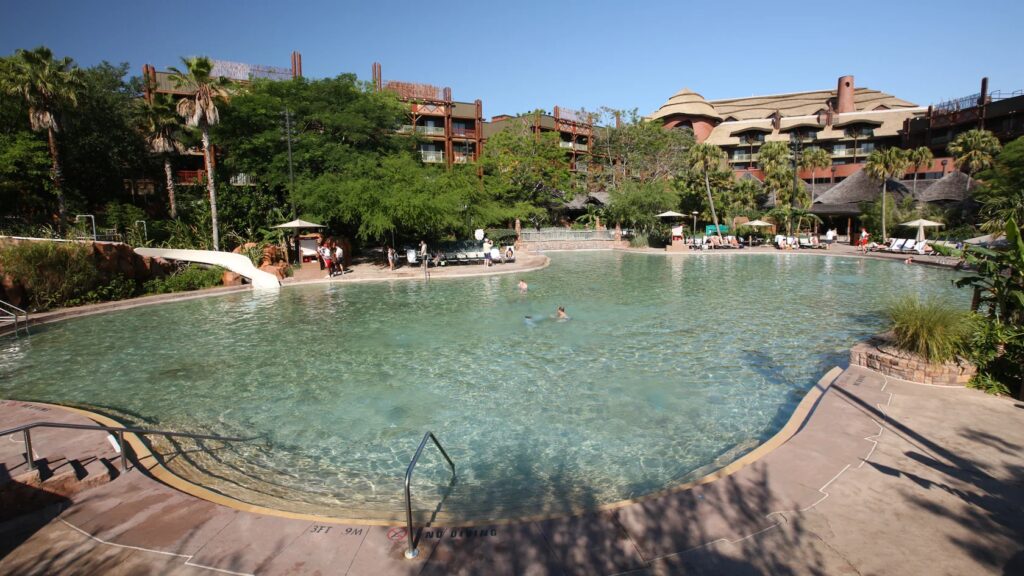 You Won't Want To Miss
Staying at Disney's Animal Kingdom Resort can be considered a vacation. Many fun activities and amenities are offered, along with the awesome pools at Jambo House and Kidani Village. At Jambo House, you can gather around the campfire at Arusha Overlook for family fun, roasting marshmallows while enjoying other campfire activities. Let the kids roam free at the Hakuna Matata Playground, located at Disney's Animal Kingdom – Jambo House, overlooking the flamingo area and savanna. 24-hour fun awaits those who love classic arcade games and popular video games at Pumbaa's Fun and Games Arcade, located near The Mara Café at Jambo House. Watch your favorite Disney movie during Movies Under the Stars by the Uzima Pool. Be sure to check with the front desk for movies and times. Unwind with a soothing massage or custom facial at the Zahanati Massage & Fitness Center at Jambo House. Another fitness center, Survival of the Fittest, is at Kidani Village. Both workout centers have state-of-the-art Life Fitness and Cybex equipment. Finally, pick up classic Disney merchandise, including authentic African merchandise, at Zawadi Marketplace at Jambo house or Johari Treasures at Kidani Village.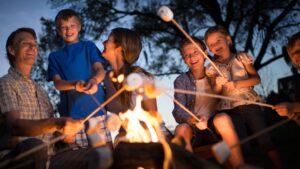 Unique to Disney's Animal Kingdom Lodge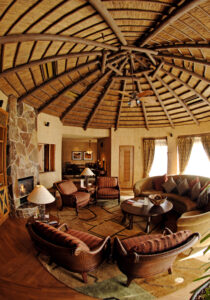 The Presidential Suite at Disney's Animal Kingdom Lodge, also called the Royal Asante Suite, is a beautiful 2,115 square foot oasis with unique features, including a doomed thatched roof, a cozy curvy couch, a remote-control fireplace, a wood-carved canopy bed, original African artwork décor, and, of course, a spectacular view of the savanna.
The magic of the savannah comes to life during the Starlight Safari at Disney's Animal Kingdom Lodge, a nighttime safari adventure. An open vehicle immerses you among the 30 species of African wildlife at Animal Kingdom Lodge. A personal favorite of mine, it is on the pricier side at $89.00 per person plus tax (prices are subject to change) but worth it.
Find your wild creative side at Wild about Painting. Inspired by the majestic beauty of Disney's Animal Kingdom Lodge, you can create a Disney African keepsake painting. Reservations are required for guests 12 years of age and older. Each class is $35.00 per person, plus tax (prices are subject to change).
Learn about the natural history and management of the animal collection at Disney's Animal Kingdom Lodge during the Wanyama Safari and Dinner. Spend time with members of the Lodge on a safari that lasts approximately one and a half hours and concludes with a family-style African dining experience at Jiko – The Cooking Place. Reservations are required for guests ages eight years of age and older. The price is $179.00 per person, plus tax (prices are subject to change).
Did You Know?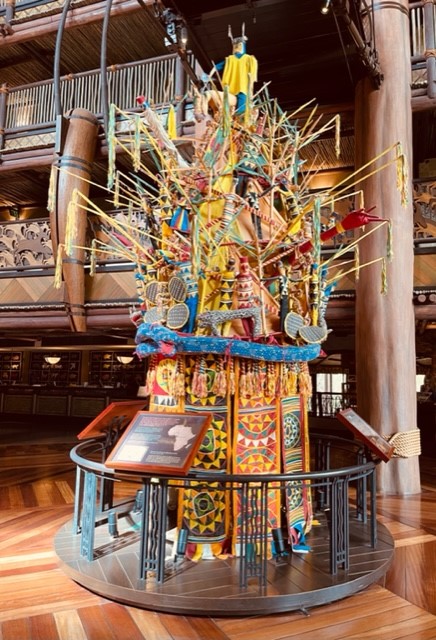 Disney's Animal Kingdom Lodge houses one of the largest collections of African art in the United States.
There is a treadmill on the balcony of the Presidential Suite.
There are over 20 hidden Mickey's throughout the resort's common areas. Ask at the front desk at Jambo House for the "Hidden Mickey Safari" clues!
Featured photo: Disney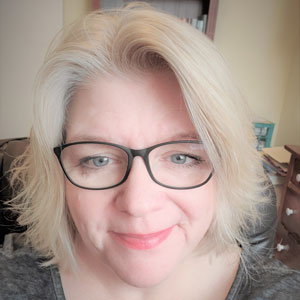 Written by
Tracy Engstrand
"All our dreams can come true if we have the courage to pursue them." – Walt Disney Tracy not only believes this but lives her life trying to exemplify Walt's positive attitude. Walt Disney World is a destination for Tracy and her family at least twice a year and it's a new adventure every time. Her favorite resort at the present time is Animal Kingdom Lodge, and her #1 bucket list item is an Alaskan Disney Cruise.