When visiting Epcot at Walt Disney World, guests may be most inclined to head to their favorite attraction or favorite country in the World Showcase. With so many popular rides, a large variety of international food and drinks, and festivals occurring almost every month of the year, there's no arguing that it's easy to spend an entire day at Epcot! And with so many things to do, see, and eat, you may miss some very talented cast members who perform at several World Showcase Pavilions in addition to the many characters and princesses that are regularly available to meet. Take note for your next trip, because you won't want to miss this hidden entertainment at Epcot!
Matsuriza
Located outside of the Japan Pavilion, you will find the thundering beats of Matsuriza. The Taiko drums are an instrument used in a traditional form of music found in religious ceremonies, festivals, and even on battlefields as soldiers prayed for victory. Experience the physicality and musicality of their performance which is normally scheduled several times each afternoon!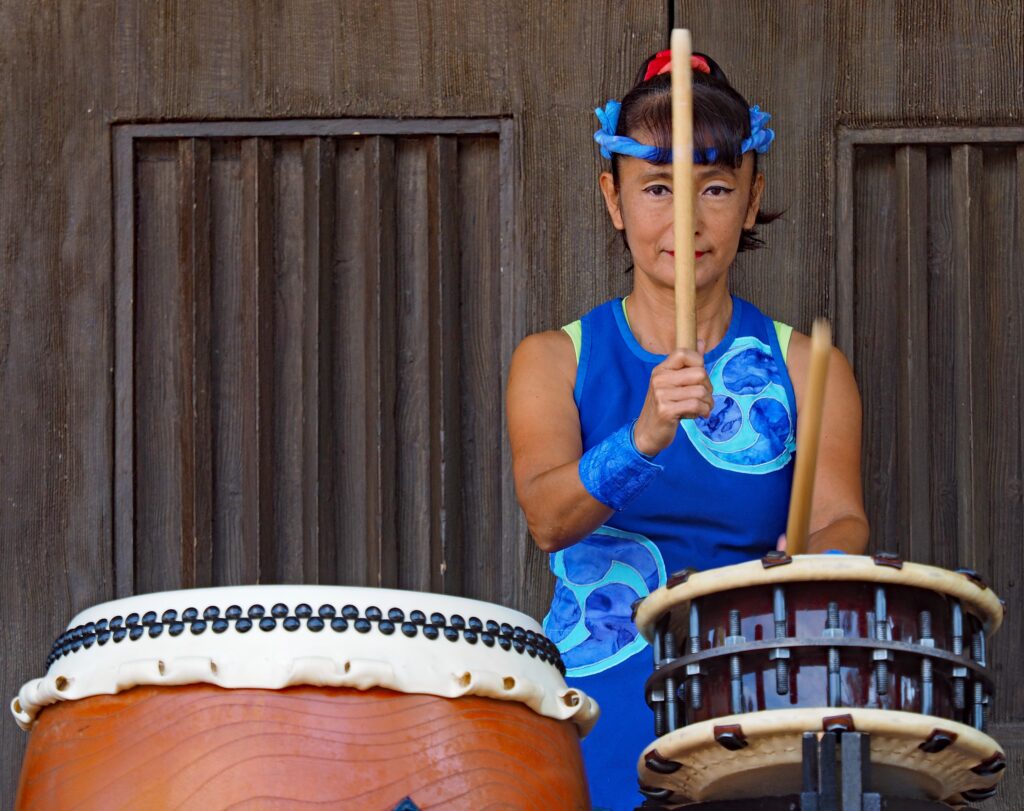 Mariachi Cobre
When you enter the Mexico Pavilion at Epcot, you will be taken by the stunning beauty of the pyramid, delicious food from San Angel Inn Restaurante, and a fun boat ride at the Gran Fiesta Tour. But if you stick around to shop the traditional souvenirs, you will be fortunate to hear the lively music of Mariachi Cobre! Scheduled to perform several times throughout the day after 11:00AM, you can't help but to smile and dance along to the strumming guitars, synchronized violins, sounding horns, and bellowing voices of the Mariachi Cobre!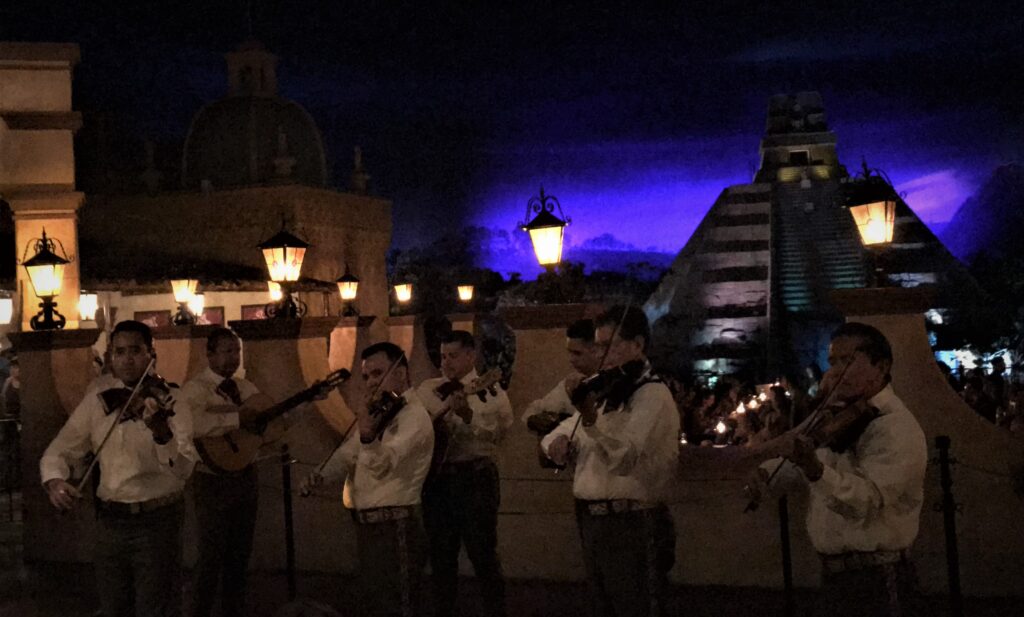 Voices Of Liberty
Of all the pavilions in the World Showcase, the American Adventure may be the one you are most inclined to pass by, but the Voices of Liberty are just one reason to step inside! Enjoy a 15-minute show featuring traditional and patriotic American songs sung in beautiful harmonies by the men and women of the Voices of Liberty! They usually perform on the hour between 12:00-5:00PM.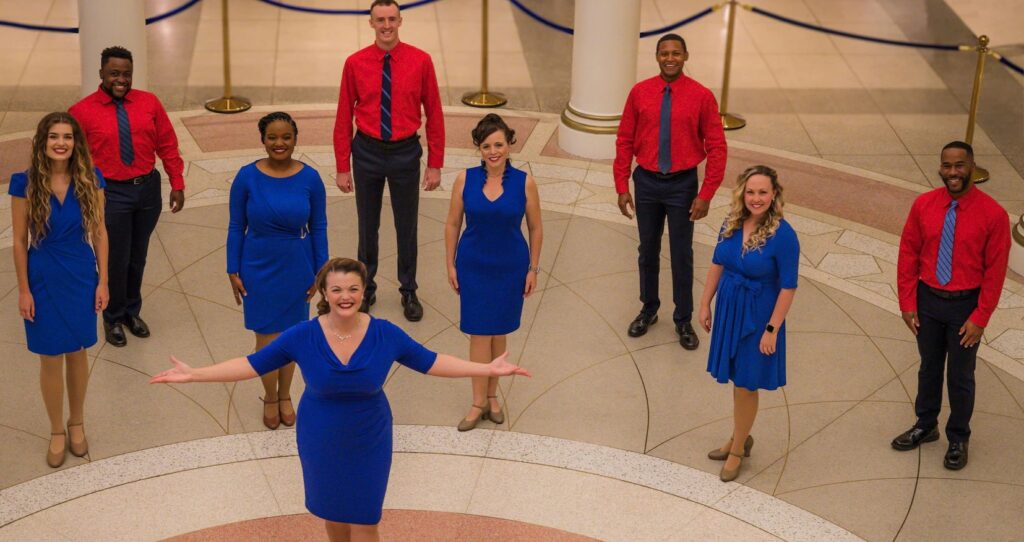 Polka Band At Biergarten Restaurant
One of the most fun places to enjoy lunch or dinner in the World Showcase is at Biergarten Restaurant in the Germany Pavilion. Offering a buffet of popular German dishes like schnitzel, sausages, potatoes, and spätzle, guests are also treated to the live music of a polka band! Their upbeat tunes will have your toes tapping and hands clapping. Grab a partner and head to the front of the stage where there is room to dance.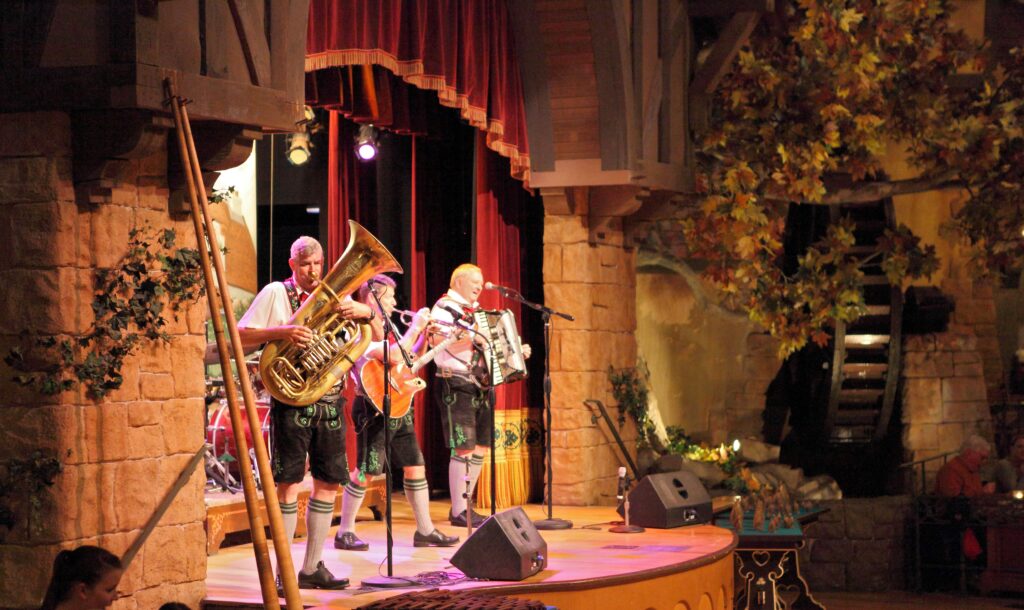 Sergio The Italian Juggler
If you walk through the Italy Pavilion, you'll find Sergio, the Italian Juggler near the back! He entertains guests for the duration of his 20-minute show by miming and juggling. You may even be chosen to participate in one of his stunts! Sergio usually performs several times each day with his first show beginning just before noon.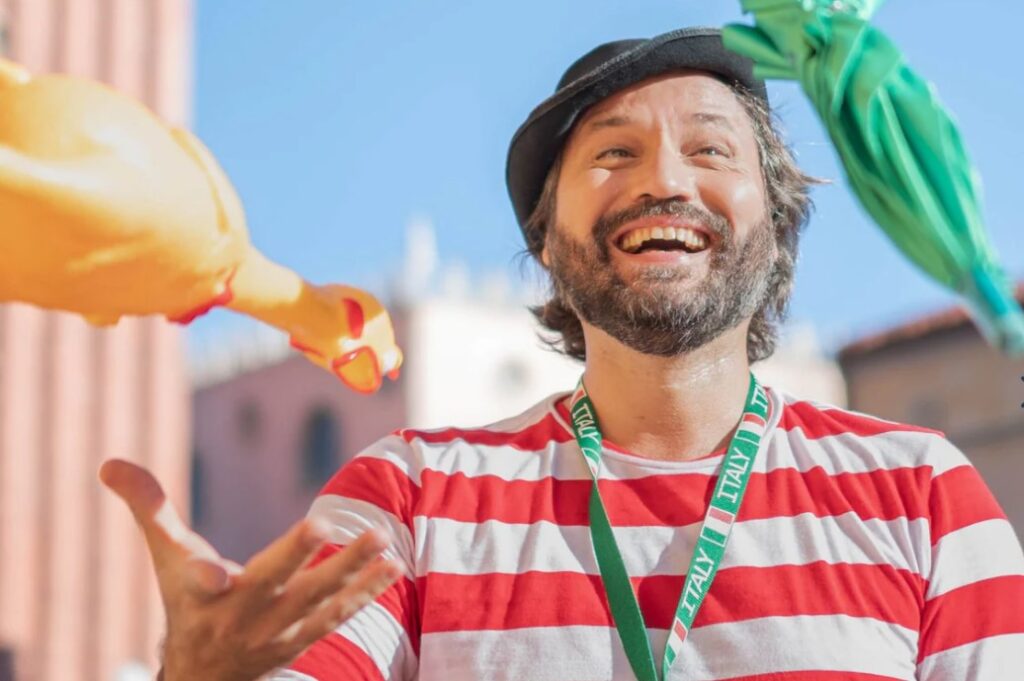 Another popular act before the closures due to Covid-19, were the Jeweled Dragon Acrobats performing in the China Pavilion. Their show has not yet returned and is still listed as "temporarily unavailable." We hope these unique performers return soon to delight guests with their strength and flexibility!
If you want to enjoy any of these acts, it's best to check the daily schedule on the My Disney Experience App for accurate show times each day. Which show would you like to see on your next visit to Epcot? Let us know in the comments below!
Feature photo courtesy of Disney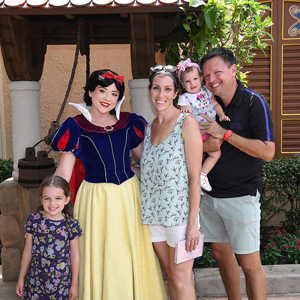 Written by
Shelley Wehler
Contributing Writer
Shelley is a stay-at-home mother of two girls living outside of Charlotte, North Carolina. Her love of all things Disney has grown even more as she sees the magic come alive through the lens of her young daughters. She spends her free time keeping up with the latest in Disney news and daydreaming of her next trip to the parks!