Character breakfasts at The Crystal Palace inside the Magic Kingdom have become a family tradition for us. I have taken my two daughters there countless times. While it is always a very different experience, it is still so familiar and comfortable. It's definitely something we look forward to.
The first thing I notice – every single time – is how the setting is so bright and airy. It is cheerful, even on a rainy Florida day! The ceilings are sky-high with windows all around. The space is very open, and yet intimate (I still don't know how Disney continues to pull that off!).
The food is perfect for little hands and picky eaters! Cut up fresh fruit and waffles with whipped cream and syrup, bacon galore and pastries… anything the kiddos of any age could possibly want is there, at their fingertips. Sweet or savory, take your pick! There are so many options… even an omelette station to meet your personal specifications.
For me, I love a good mimosa while I'm on vacation so I am always super happy to see that, as well as an extensive wine list, as an option.
When the music starts, the characters are only moments away! Winnie The Pooh, Tigger, Eeyore, and Piglet all show up to the party. First, they go around the entire place in parade-fashion. Kiddos are encouraged to join in and follow along. Because it's so open parents can keep a close eye on their little one, and it's a great opportunity for pictures and/or video. The parade happens a number of times, so if you miss it don't worry! This part almost makes me wish I was 5 again.
After the parade is finished, the characters take turns stopping by each table. They will sign autograph books, and will pose for as many pictures as you like! I enjoy the fact that they are never rushed, and always make us feel like we are special in that moment… even now, when my daughters are very much adults themselves. The characters all tend to goof around, and it makes for a very lighthearted enjoyable time.
Once the parade is over, and the characters have all taken turns stopping by, it's time to eat some more! The buffet is all-you-care-to-enjoy, so we usually pace ourselves and take it slow. This is such a fun place that it feels great to relax, out of the hustle and bustle of the crowds. Typically, about the time we are finishing up our second plates, the music and parade are beginning again.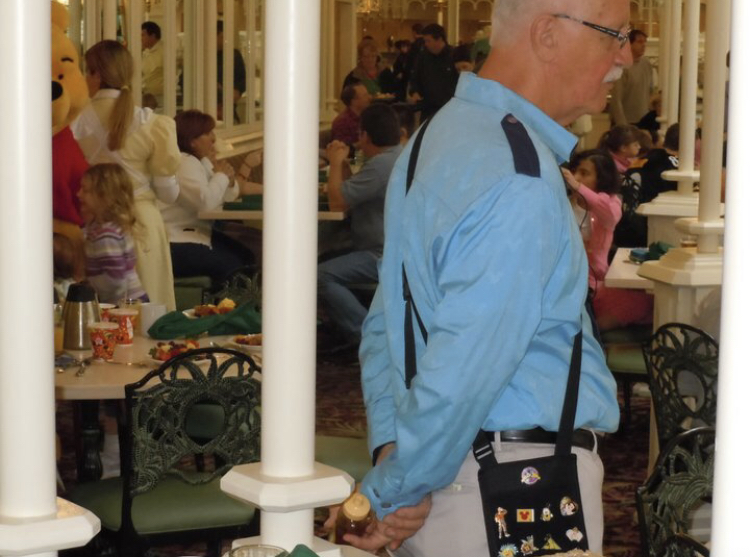 The staff is friendly, and the kids (all of them, not just ours) always seem very happy. My favorite person to see – I look for him every time – is Winnie The Pooh's "security". Okay, so he's not really security… but if you see him, take a look in his hands. He's carrying something that's so serious and important, and necessary in case of emergency…. A bottle of honey. (See picture :))
Guest Author
Kelly Johnson