I previously did an article that featured the best budget-friendly quick service restaurants at DVC resorts, but there are so many delicious table-service options that I wanted to highlight as well. All of these locations offer diverse menus that will please your palate, but won't deplete your wallet. Many of these locations are hidden gems or Disney fan-favorites, so you know that they're popular with the people who know Disney World best. Save this list of best budget-friendly table service restaurants at DVC Resorts for when it's time to plan your next Disney Vacation.
Sanaa: Disney's Animal Kingdom Lodge – Kidani Village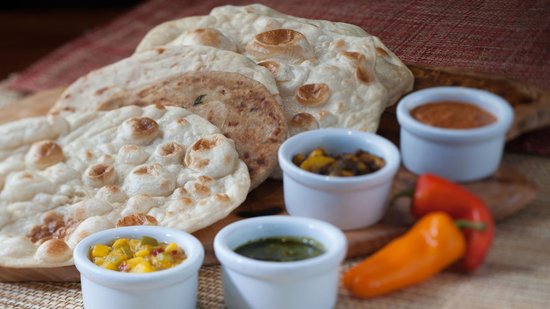 Sanaa is one of the most under-appreciated restaurants at Walt Disney World. It's located on the ground floor of Kidani Village at Disney's Animal Kingdom Lodge, so it can be a bit of a trek to get there. In addition, I think picky eaters may be hesitant when they hear that the menu is African-Indian inspired, but trust me, it is absolutely delicious!
Their famous naan bread service with nine different sauces is a must; seriously, you'll be dreaming about the naan bread for months to come. For the main course, the Potjie inspired bowls gives you the opportunity to customize your meal, my personal favorites are the butter chicken and braised beef. If you're dining with a picky eater, they also offer a burger at lunch and a New York strip steak for dinner.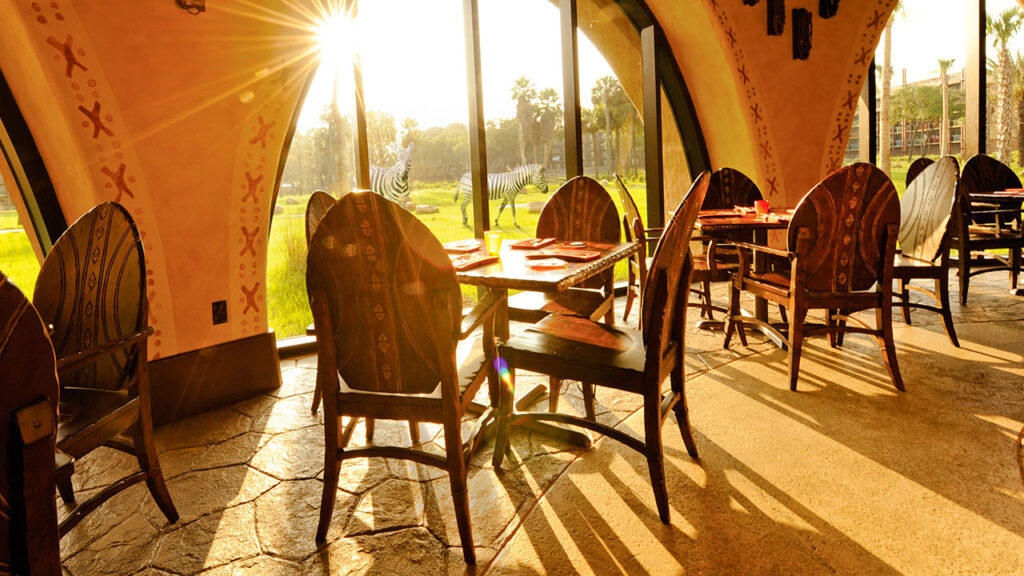 One of my favorite things about Sanaa is the atmosphere. The low ceilings are decorated with African baskets and the walls are adorned with colorful artwork. Plus, the large windows offer a breathtaking view of the savanna, so you can watch giraffe and zebras roam around while you dine.
Beaches & Cream Soda Shop: Disney's Beach Club Resort And Villas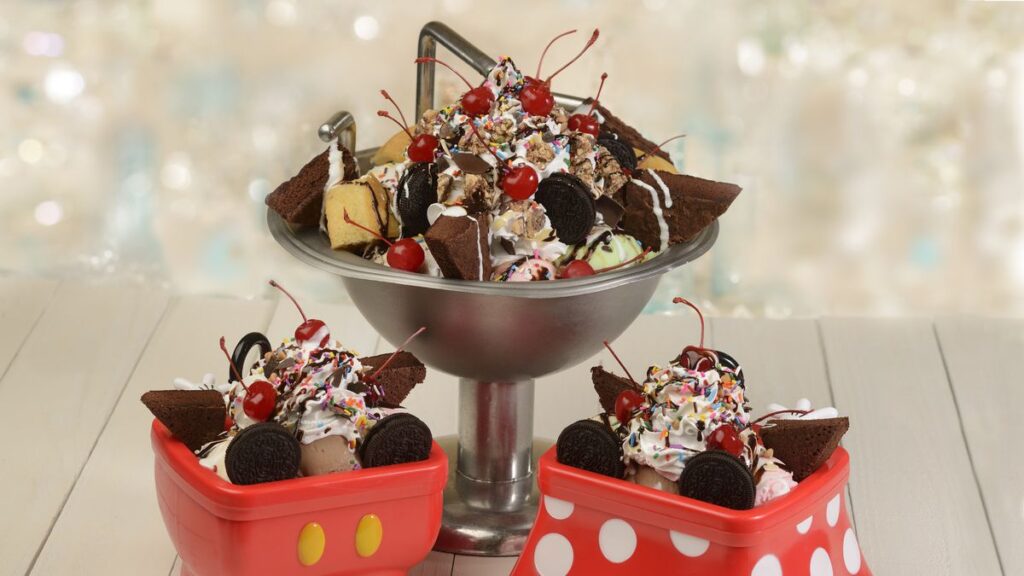 Located at the Beach Club, Beaches & Cream Soda Shop is a long-time fan-favorite among Disney lovers. The restaurant reopened in January 2020 after a refurbishment, which expanded the dining area, making it much easier to get a reservation. One of my favorite aspects about the décor in this bright and colorful establishment are the paintings of Disney characters enjoying ice cream that adorn the walls.
Beaches & Cream is open for lunch and dinner and serves classic American-fare, like burgers, sandwiches, chili, onion rings, and a scrumptious patty melt. If you have picky eaters in your party, then this menu is sure to please them. The main entrees here are delicious, but dessert is the real star of the show. My personal favorite is the No Way Jose, which is a perfect combination of peanut butter and chocolate. They also offer a variety of milkshakes and sundaes, but their most famous dessert is the Kitchen Sink which features five types of ice cream and just about every topping imaginable.
Grand Floridian Café: The Villas At Disney's Grand Floridian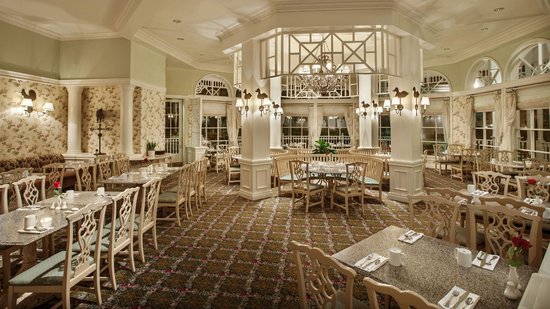 One of the best things about Grand Floridian Café is that it lets you feel fancy without having to spend an exorbitant amount of money. This bright, Victorian table service restaurant is much more laidback than some of the other eateries at the Grand Floridian, but the food is just as good, if not better.
Brunch is my favorite meal to have here because it offers a variety of both breakfast and lunch options, which are sure to please everyone in your party. The Lobster 'Thermidor' Burger is a fan-favorite, and the Buttermilk-fried Chicken and Waffle is absolutely delicious. For a more traditional breakfast, they also offer Buttermilk Pancakes, Mickey waffles, and delicious Brioche French Toast. If you're a tea lover like me, then you'll love the Twinings of London Tea Menu.
Overall, Grand Floridian Café is a great escape from the hustle and bustle of Disney World, and the perfect place to have a delicious but moderately priced meal.
Olivia's Café: Disney's Old Key West Resort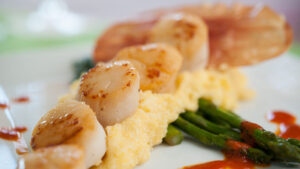 Located at Disney's Old Key West Resort, this hidden gem is my personal favorite restaurant at Disney World. The atmosphere is airy and laid-back and the personal photos of DVC members in the lobby makes the location feel even more inviting. Every entrée I've tried at Olivia's has been delicious, but my two favorites are the Southernmost Buttermilk Chicken and the Cayo Hueso Shrimp Pasta. Olivia's Café also serves breakfast, which includes American favorites with a Key West flare.
But the best part about Olivia's is that the prices are actually reasonable. Unless you order the slow-cooked prime rib, the most expensive item on the dinner menu is $24.00, which is cheap by Disney's standards. Whether you visit Olivia's Café for their relaxed vibe or for their comfort-food menu, I'm sure you won't leave disappointed.
Whispering Canyon Café: Boulder Ridge Villas/Copper Creek Villas And Cabins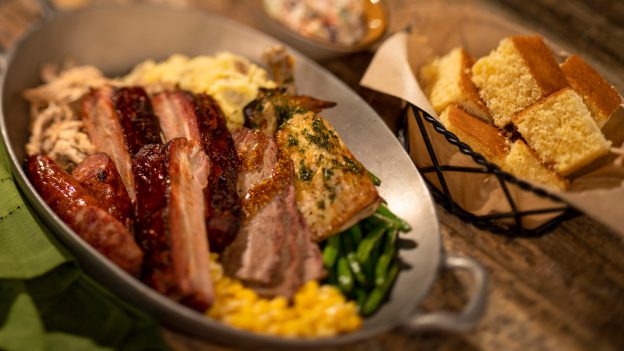 In recent years, Whispering Canyon Café has become a bit controversial because of its rowdy servers and energetic atmosphere- guests either loved it or hated it. The cast members will still joke around with you, but the craziness has been toned down quite a bit. However, the food at this table service and the value remain great!
To me, their All-You-Care-To-Enjoy Signature Skillets offer an excellent bang for your buck. My go-to skillet is the Traditional, which includes barbecue beef brisket, maple-chipotle pork ribs, pulled pork, citrus-herb chicken, Wester-style sausage, smashed potatoes, buttered corn, and sautéed green beans. At $34.00 for dinner, it's much cheaper than a Disney buffet, but you get just as much food and the quality is better. They also serve skillets during breakfast, the most expensive of which being $24.00. If you're not quite that hungry, then you can choose from a few standard entrees on the menu.
Have you dined at any of these restaurants? Which one is your favorite? Do you love another budget-friendly table service location at DVC to add to our list? Tell us in the comments below!
Written by
Erika Lucas
Contributing Writer
Erika has lived in Orlando her whole life, so she was practically raised at Walt Disney World. While in college, she worked for Disney in roles ranging from character attendant to VIP tour guide. Nowadays, she spends her days planning her next trip to the parks or dreaming about setting sail on another Disney Cruise.