At both Disneyland Resort and Walt Disney World Resort, there are a few options for tickets. The biggest distinction in ticket type is between base tickets and park hoppers. Base tickets allow entry into one theme park per day, whereas park hopper tickets allow guests to access multiple theme parks per day. There are currently restrictions on park hopping hours. At Disneyland Resort, guests can park hop beginning at 1 p.m., and at Walt Disney World, park hopping is permitted beginning at 2 p.m. This increased theme park access does come at a cost though–park hopper tickets are always more expensive than base tickets. For this reason, I don't always purchase park hopper tickets! Neither ticket type is inherently better than the other one, but there are some situations where base tickets or park hopper tickets may make more sense.
Disneyland Resort: Park Hop!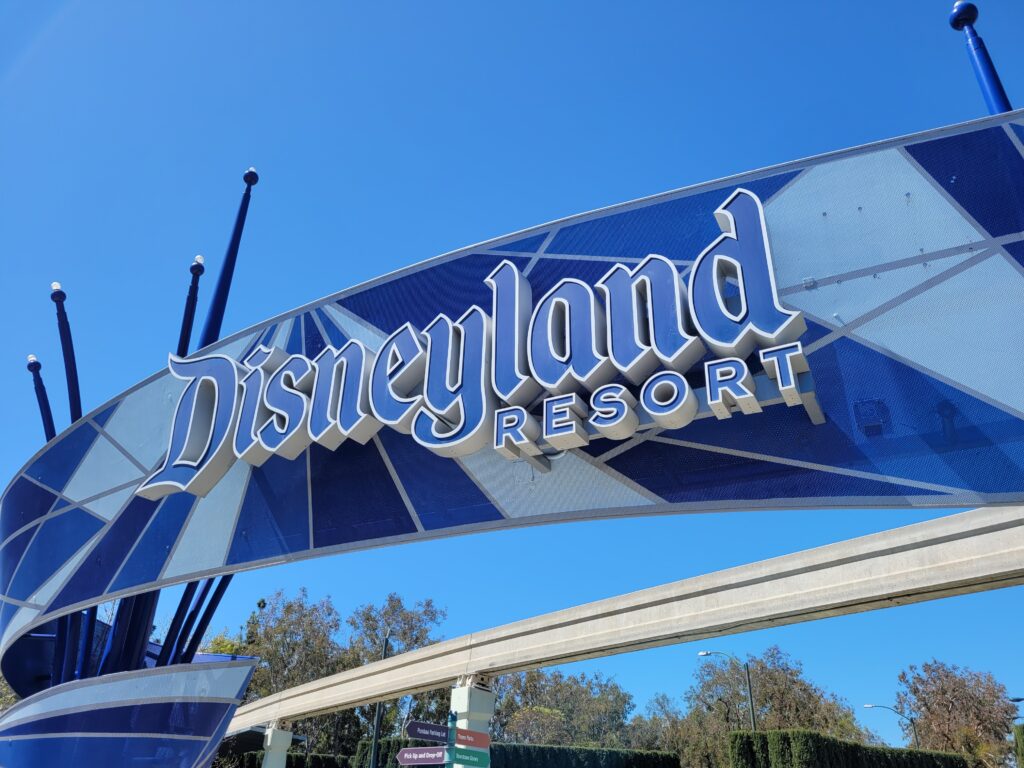 Disneyland Resort consists of two theme parks: Disneyland Park and Disney California Adventure Park. These two theme park entrances are located right across from each other. Really they are just steps away! For this reason I typically always recommend purchasing park hopper tickets at Disneyland Resort. It is so simple, fast, and easy to move between the two parks. You can really maximize your enjoyment of the various attractions, foods, and magical experiences by purchasing park hopper tickets and being willing to walk a tad more in a day to move between the theme parks. At Disneyland Resort, it is genuinely so easy to start your day off with classic rides at Disneyland Park, park hop to Disney California Adventure Park to have a late lunch and drinks at Lamplight Lounge (remember, there's almost no alcohol at Disneyland Park), enjoy Avenger's Campus, then hop back over to Disneyland Park for a nighttime spectacular. Park hopping at Disneyland Resort truly allows you to make the most of your day, and personally I think it's worth the extra ticket cost.
Walt Disney World: To Park Hop or Not
Walt Disney World is decidedly a different beast than Disneyland Resort. Simply put, Walt Disney World is massive and spread out. You cannot walk from one theme park to another, and transit time between the theme parks can be long. There are some resorts in locations where you can easily walk to theme parks, but it is not the majority. And there's not a single resort where you can walk to every theme park. Walt Disney World even advises to allow for up to 1.5 hours of travel time to get to your destination when traveling within the Walt Disney World property! Now, it usually doesn't take quite that long, but I have definitely spent 45 minutes getting from the Animal Kingdom Villas into the Magic Kingdom. I do not always buy park hopper tickets when vacationing at Walt Disney World, because the time it takes to hop between parks can be precious time lost.
Park Hours
I tend to travel during lower crowd periods–September after Labor Day crowds dissipate and early December are two of my favorite times to head down to Walt Disney World. However, lower crowds often also means shorter park hours. If EPCOT doesn't open until 10 a.m. and Disney's Animal Kingdom closes at 6 p.m. when you are visiting, then it probably doesn't make very much sense to park hop during those limited hours the theme parks are welcoming guests!
However, if you are visiting when park hours are extended and staying on-site, then park hopping tickets can be a great investment to boost the magic during your trip. For example, if you're staying on property through rented Disney Vacation Club points, then you are staying in deluxe level accommodations and have access to 30 minutes of early entry time in the mornings and some nights will have extended evening hours. Say Hollywood Studios generally opens at 8 a.m.; as an on-site guest you can enter the theme park at 7:30 a.m. Spend the first half of your day tackling big ticket rides like Rise of the Resistance, Mickey and Minnie's Runaway Railway, and The Twilight Zone Tower of Terror. Grab a Ronto wrap for lunch on your way out and take a break back at your resort. Then after you are rested and refreshed it's time to park hop! The world is your oyster. Head to any of the other theme parks–Magic Kingdom, Animal Kingdom, or EPCOT. And if it's a night with extended evening hours for deluxe hotel guests, be sure to take advantage of that limited crowd time.
When hours are longer, it's surprisingly feasible to get quality time in at three of the four theme parks in one day. I usually don't plan for this, but it almost always happens when we have park hoppers at Walt Disney World. For me, it's often a rope drop morning at Magic Kingdom, late lunch and princess sightings at EPCOT, then finishing our night at Hollywood Studios. And although Disney's Animal Kingdom theme park tends to close the earliest, the wait time for Avatar Flight of Passage can be relatively low right before closing, so it can still be worth park hopping over to the Animal Kingdom theme park in the evening.
Trip Length
If I'm going to be at Walt Disney World for less than about five days, I never purchase park hopper tickets. When I only have four full park days, then the time spent on transit getting between parks simply feels like time wasted to me. For shorter trips, I stick with base tickets. I'm able to save some money and really focus on each park for a single day.
If my ticket length is seven park days or more though, I always purchase park hoppers. With that amount of time in the parks, I cherish the flexibility of being able to park hop as I see fit. Also, I like to prioritize certain times of days at certain parks. I prefer Animal Kingdom in the morning as I love to do the Kilimanjaro Safari attraction right when the park opens with the hopes of the animals being fairly active in the cooler weather. Conversely, I prefer EPCOT at night. Walking around World Showcase grabbing small bites and drinks while torches are being lit is such a peaceful experience for being in a theme park. Purchasing park hoppers allows me to get the most of each theme park in during the time of day I appreciate.
First Timers
When traveling with first timers, unless it's a very long trip, I would not suggest purchasing park hopper tickets. Walt Disney World is fantastical, but can also be overwhelming. There is more than enough to do in a day at each theme park that park hopping likely won't add much to a first timer's experience. Additionally, sticker shock of Walt Disney World prices can be a bit of an uphill battle with a first timer. Saving some cash on base tickets compared to park hoppers can definitely help keep your first timer friends immersed in the magic instead of worried about their credit card bill. I love taking my friends to Walt Disney World for the first time and seeing their eyes light up with wonder! And I don't want to distract from that magical feeling by rushing them around to park hop.
Less Mobile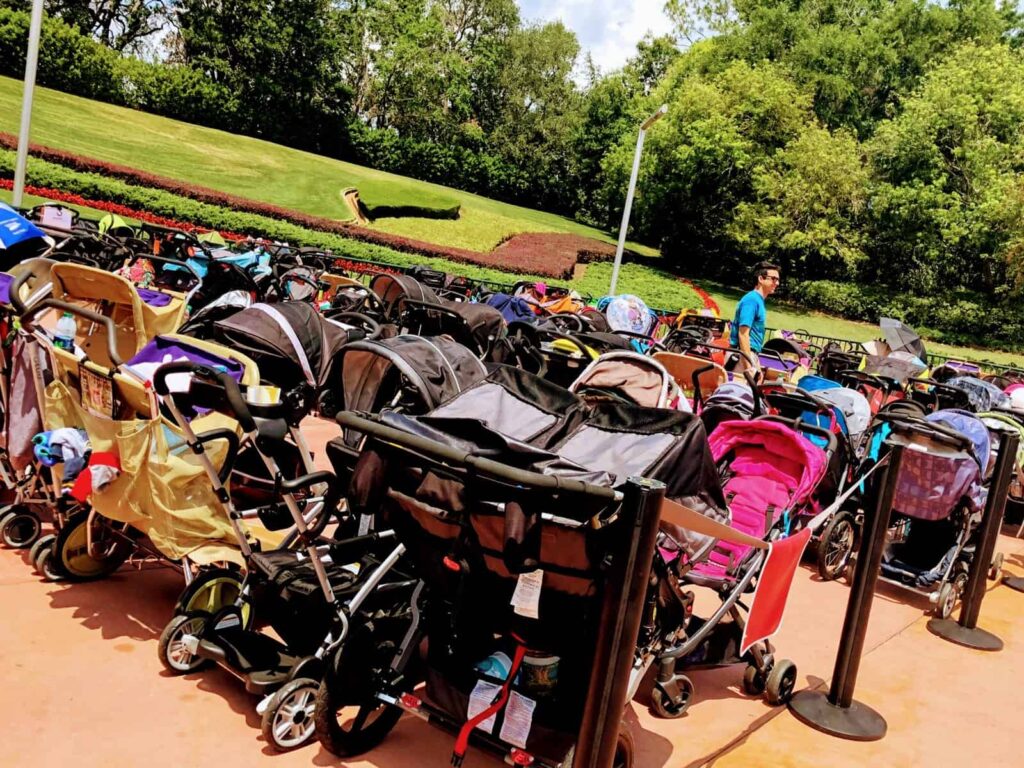 For travel parties including guests who are less mobile, be that children, grandparents, or friends with disabilities, it may be best to stick with base tickets and not push park hopping. Park hopping does take an extra amount of energy, and Walt Disney World days can already be pretty intense. Many people walk more steps in a day at Walt Disney World than they ever would at home. Consult with your travel party to assess their perception of their energy level and desire to go full speed. If they'd rather have a more relaxing vacation, perhaps stick to base tickets and do one park per day.
Midday Breaks

If you're the kind of travel party that sticks to a midday break back at your resort, consider park hopper tickets even for shorter trips. You have already committed to additional transit time by returning to the resort. Once you are there getting back out to a theme park, whether it be the one you visited in the morning or a different theme park, will not make too much of a difference. If you know you'll be leaving the parks midday, then having park hopping tickets increases your flexibility without much of the downside of added time getting between theme parks.
Budget and Priorities
Of course, a key aspect to the decision to purchase park hopper tickets or not is your budget. If it is possible, I think it is always great to have enough in your budget to splurge on park hoppers should you desire. That being said, that extra money could instead go to a fancier meal, like the newly rethemed Citricos, or a fun experience like the Bippidi Bobbidi Boutique. Every travel party will have their own priorities, desired experiences, and budget. Plan ahead to figure out if park hopper tickets fits into your budget and if the added flexibility will make your trip more enjoyable for everyone.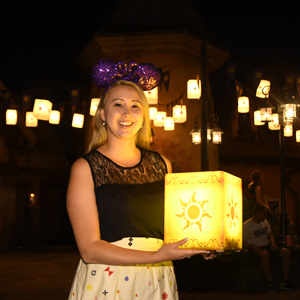 Written by
Jacqueline R.
Contributing Writer
Jacqueline is a PhD scientist with a passion for synthesizing detailed information in an understandable format. She is a Disney Vacation Club owner, overall Disney fan, and the primary content creator on the YouTube channel Pixie Dust PhD.