On July 17th, Disneyland celebrated its 66th birthday! Although the park has changed drastically since 1955, there are 12 attractions that have stood the test of time and are still available for guests to enjoy to this day. Of course, these rides have undergone many changes and refurbishments over the years, but it's still so special to be able to experience one of Walt's original attractions. Guests can experience Walt's original vision by visiting these Disneyland opening day attractions still in the park today.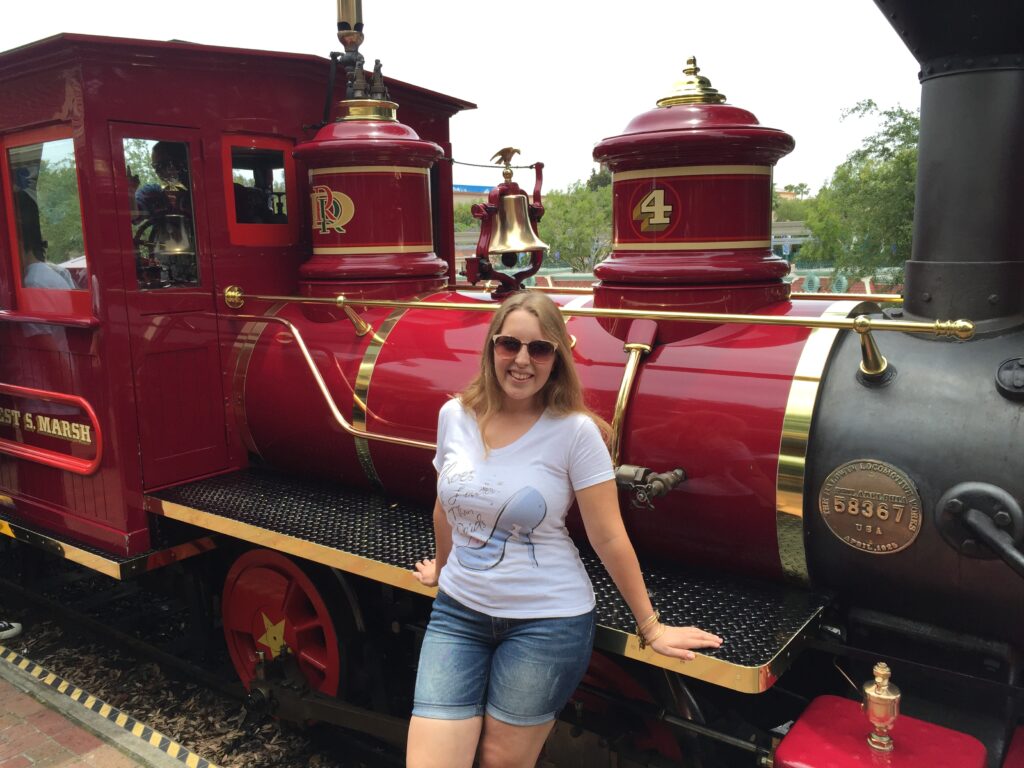 Disneyland Railroad
Most Disney fans know that Walt Disney had a lifelong fascination with trains. He even built his own model train in his backyard, the Carolwood Express. The Disneyland Railroad circles the perimeter of the park with stops in New Orleans Square, Mickey's Toontown, Tomorrowland, and Main Street, USA. Between Tomorrowland and Main Street, there's even a diorama portraying the Grand Canyon and Primeval World. The railway is a great mode of transportation, but it's also the perfect place to relax, rest your feet, and take in some sights.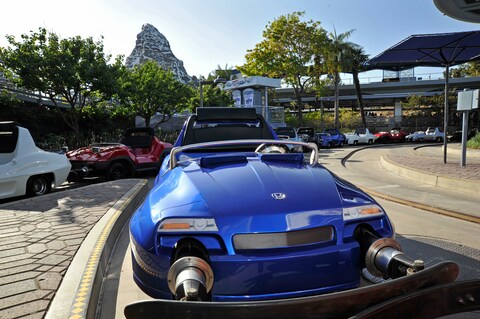 Autopia
Since Tomorrowland is supposed to represent a futuristic community, it has played host to many new attractions over the years, making Autopia the only attraction in Tomorrowland to survive from opening day. This ride was created to highlight mid-century America's fascination with the freeway system. The design of the cars has changed over the years and a guide rail was added to the track to keep guests in their lane, but other than that, the scenic highway has mostly remained the same. Autopia is often a kid's first chance to get behind the wheel and go for a spin!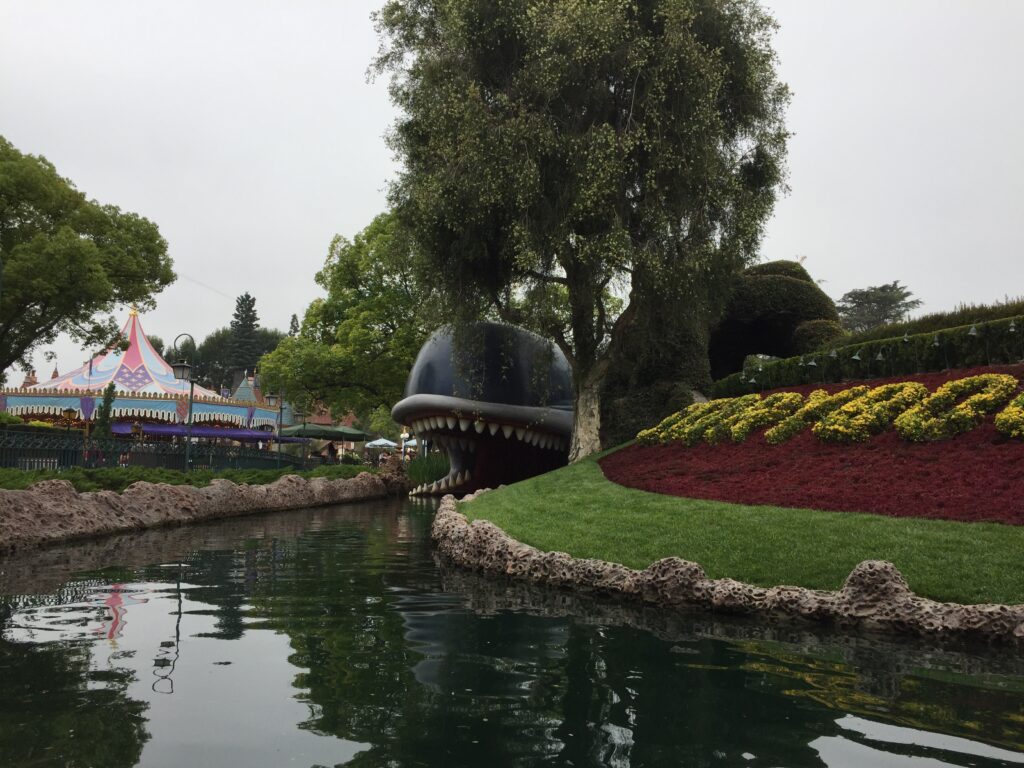 Storybook Land Canal Boats
On this picturesque boat ride, you will sail past famous homes and villages from beloved Disney films, while your tour guide tells you the story of each location. The castles, cottages, and landscapes throughout the ride are hand-built to perfection, making it feel like you are looking at a real-life replica of a Disney classic. Since 1955, scenes have been added to feature locales from modern Disney movies, like Frozen, Aladdin, and The Little Mermaid.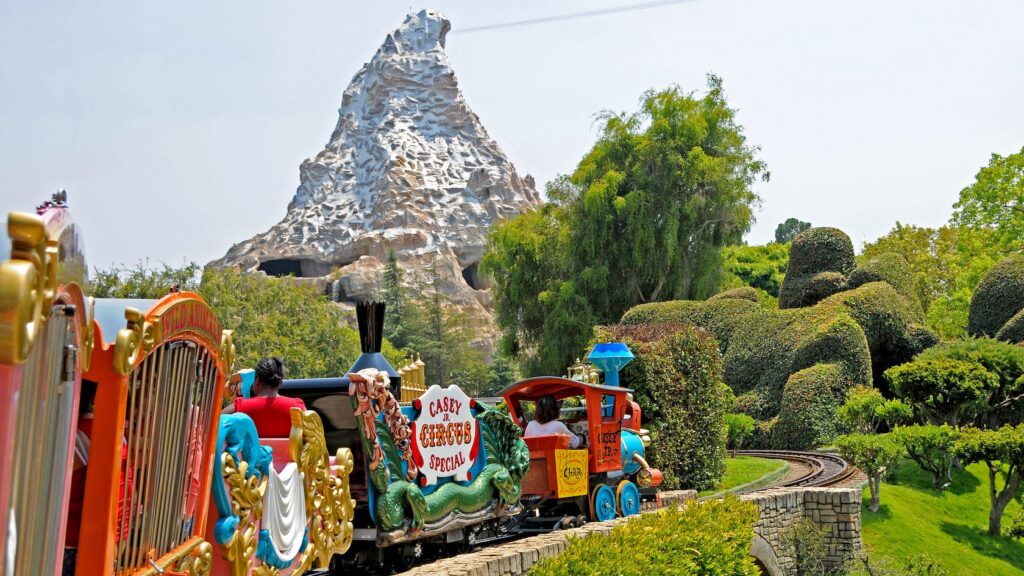 Casey Jr. Circus Train
Inspired by Disney's beloved film Dumbo, this kid-sized circus train gives you a scenic tour of Storybook Land's miniature scenes. Throughout the ride, you'll also get stunning views of Fantasyland and the beautiful floral landscape, all set to the Casey Jr theme song from the movie. Fun fact: The sleigh-style train cars that you ride in were actually taken from King Arthur Carrousel and made into the ride vehicles.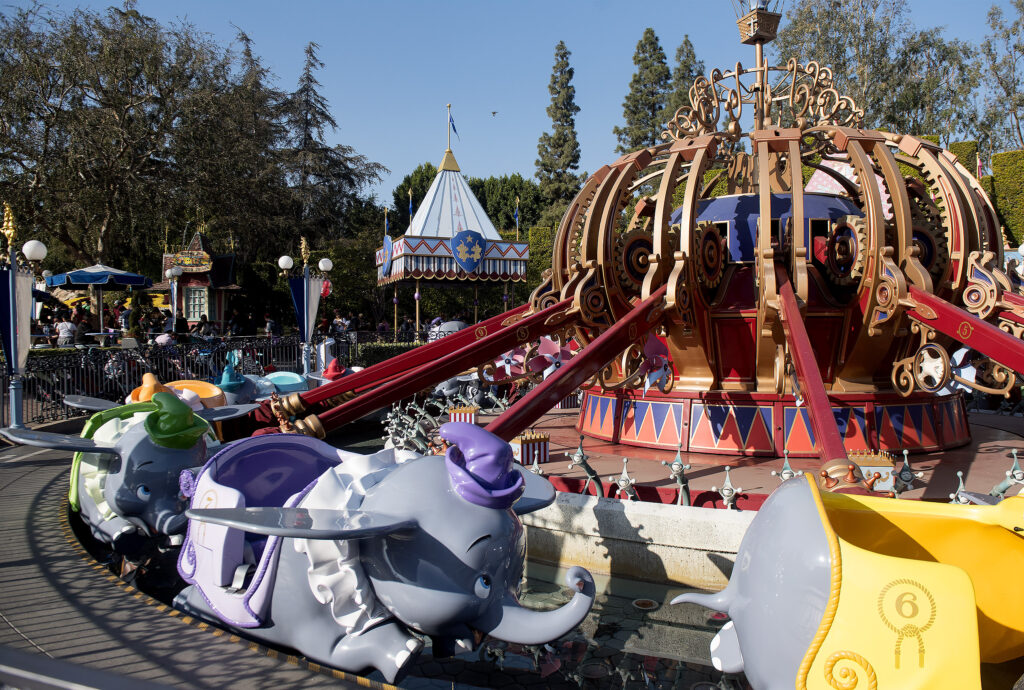 Dumbo the Flying Elephant
Technically, this attraction opened on August 16, 1955 – less than a month after the rest of the park- so it's practically an opening day original. It's hard to imagine a trip to a Disney park without climbing into your elephant and soaring high above Fantasyland. The queue can get a bit long, but it's worth it to ride this quintessential Disney attraction. Fun fact: The band organ located in the circus tent next to the ride is even older than Disneyland; it was built in 1915.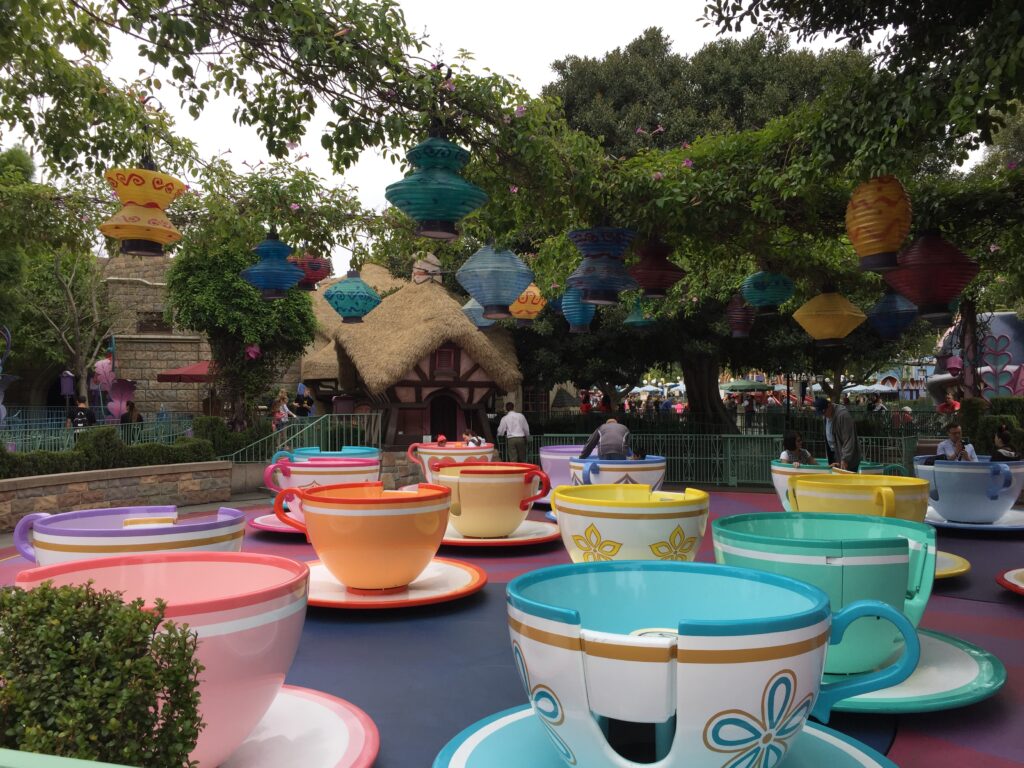 Mad Tea Party
Inspired by the Disney classic Alice in Wonderland, this timeless attraction lets you spin yourself silly in a giant teacup. When the park first opened, the attraction was actually located in the forecourt behind Sleeping Beauty Castle but was relocated when Fantasyland underwent a major refurbishment in 1983. If you get motion sick, then we would recommend sitting this one out.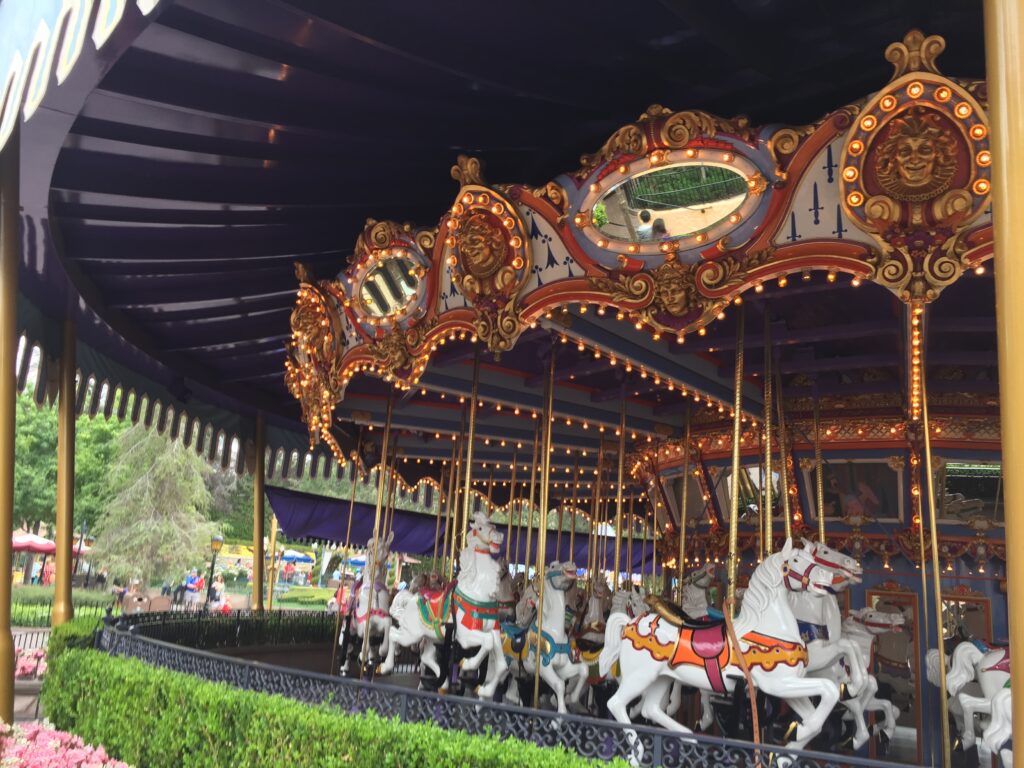 King Arthur Carrousel
It was a merry-go-round in Griffith Park that inspired Walt Disney to create Disneyland, so of course he had to include a carousel in his own park. Most of the hand-painted carousel horses date back over 90 years, but they've been meticulously maintained to make sure they're still show ready. Across the top of King Arthur Carrousel, there are scenes depicting the classic fairytale Sleeping Beauty and while you take your ride through Fantasyland, you'll be entertained with classic Disney tunes.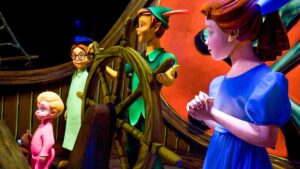 Peter Pan's Flight
Fly off to Neverland in this timeless Disney attraction that was restored in 2015 to add new magic and modern effects. When Fantasyland was refurbished in 1983, the outside of the attractions in the castle forecourt were resigned to resemble a quaint European village, as opposed to the medieval tents that donned the land when it opened in 1955. Although this attraction has undergone many refurbishments over the years, it still gives guests the chance to soar over some of their favorite scenes from the beloved Disney film Peter Pan.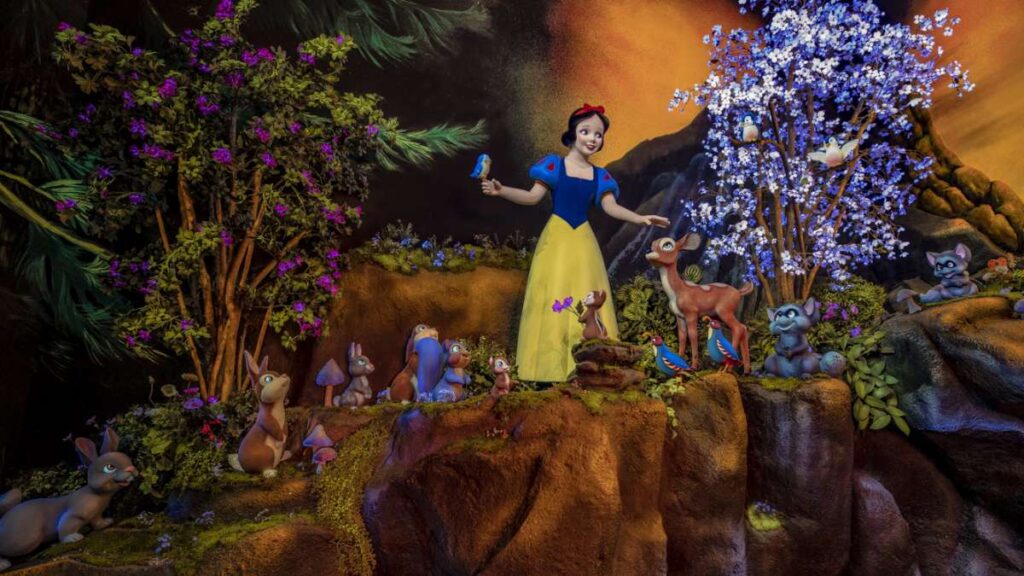 Snow White's Enchanted Wish
Formerly known as Snow White's Scary Adventure, this classic dark ride recently underwent a lengthy refurbishment to add new dazzling effects and to make it a little less frightening for the little ones. When the attraction first opened, Snow White was nowhere to be seen because you were supposed to be experiencing the story as if you were the princess. Nowadays, all the characters from Snow White and the Seven Dwarfs make an appearance as you ride through scenes from the film in a mine car.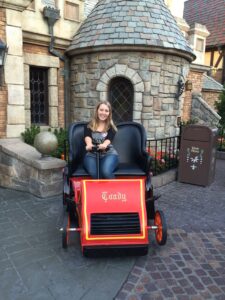 Mr. Toad's Wild Ride
Inspired by the 1949 Disney film The Adventures of Ichabod and Mr. Toad, the characters might not be familiar to most kids, but the ride is still a must-do. In fact, Disneyland is the only Disney park where you can experience this cult classic attraction. Once you enter Toad Hall, you'll board a buggy that winds you through an English town as you follow along on J. Thaddeus Toad's mischievous adventures.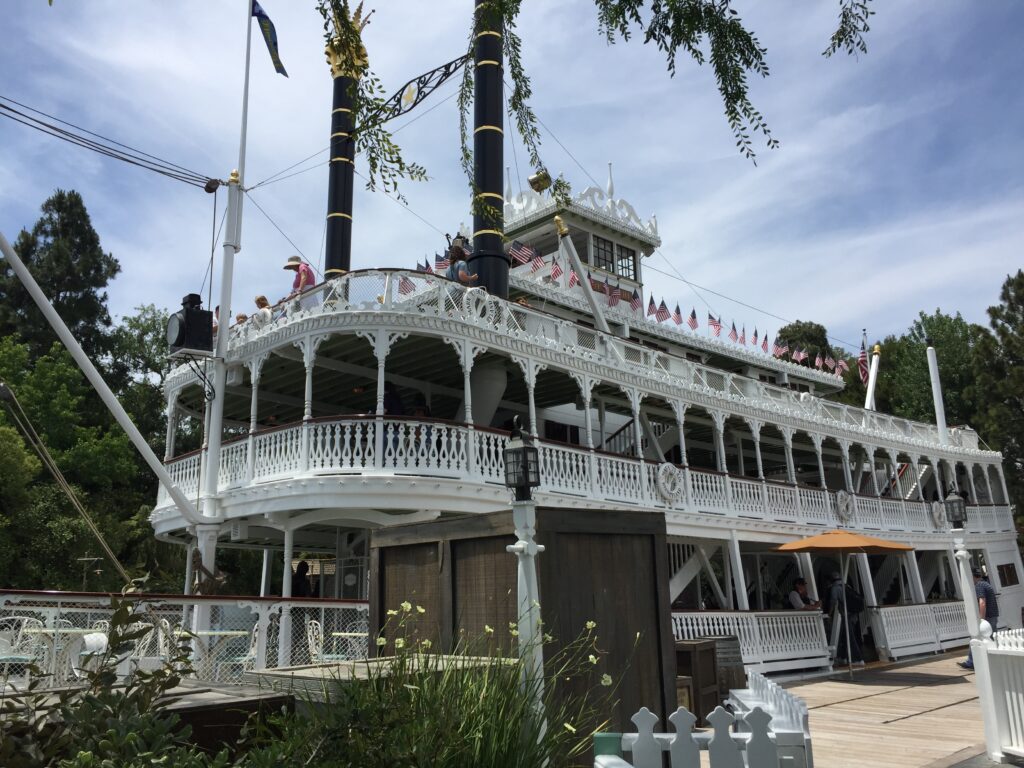 Mark Twain Riverboat
In Frontierland, you can board this authentic 19th-century paddle boat to take a scenic tour along the Rivers of America. Along this 14-minute cruise, you'll pass scenes depicting America's rugged wilderness and can catch views of the Pirate's Lair on Tom Sawyer Island. This steam powered boat not only fits in perfectly with the theming of Frontierland, but it's also named after one of Walt's personal heroes.
Jungle Cruise
Although this exotic river cruise has been around since opening day, the jokes and silly gags that it's famous for didn't come about until the 1960s, thanks to Imagineer Marc Davis. Your skipper will act as your "tour guide, cruise director, and swimming instructor" as you journey through the jungle along four well-known rivers. Following a refurbishment, the Jungle Cruise will be reopening to guests this July with brand new scenes that are sure to add to this hilarious adventure.
In the words of Walt Disney, "Disneyland will never be completed. It will continue to grow as long as there is imagination left in the world." Even though these 12 attractions have been a part of the Happiest Place on Earth since 1955, they have undergone many changes over the years to keep them fresh and relevant, all while keeping the charm and character that made people fall in love with it in the first place.
Have you experienced any of these attractions? If so, which one is your favorite? Let us know in the comments below!
Written by
Erika Lucas
Contributing Writer
Erika has lived in Orlando her whole life, so she was practically raised at Walt Disney World. While in college, she worked for Disney in roles ranging from character attendant to VIP tour guide. Nowadays, she spends her days planning her next trip to the parks or dreaming about setting sail on another Disney Cruise.