If you love the movie "Toy Story" and its distinctive characters, you'll be delighted to find attractions, character meet and greets and souvenirs available at Walt Disney World that pay homage to your favorite Disney – Pixar pals. Be sure to visit Tomorrowland in Magic Kingdom where you can ride Buzz Lightyear's Space Ranger Spin and meet Buzz on the Tomorrowland stage! Also, you absolutely must visit Hollywood Studios where you can immerse yourself in an entire land dedicated to "Toy Story." You will find three attractions – Slinky Dog Dash, Alien Swirling Saucers, and Toy Story Mania – and can also meet Woody, Jessie, and Buzz. You may also see Green Army Men Drum Corps performing at various times throughout the day and even eat a meal at Woody's Lunch Box which serves the best lunchbox tarts and loaded totchos (tater tot nachos!). Soon, another restaurant will open in Toy Story Land, Roundup Rodeo BBQ. Fans of Toy Story will never leave Walt Disney World disappointed!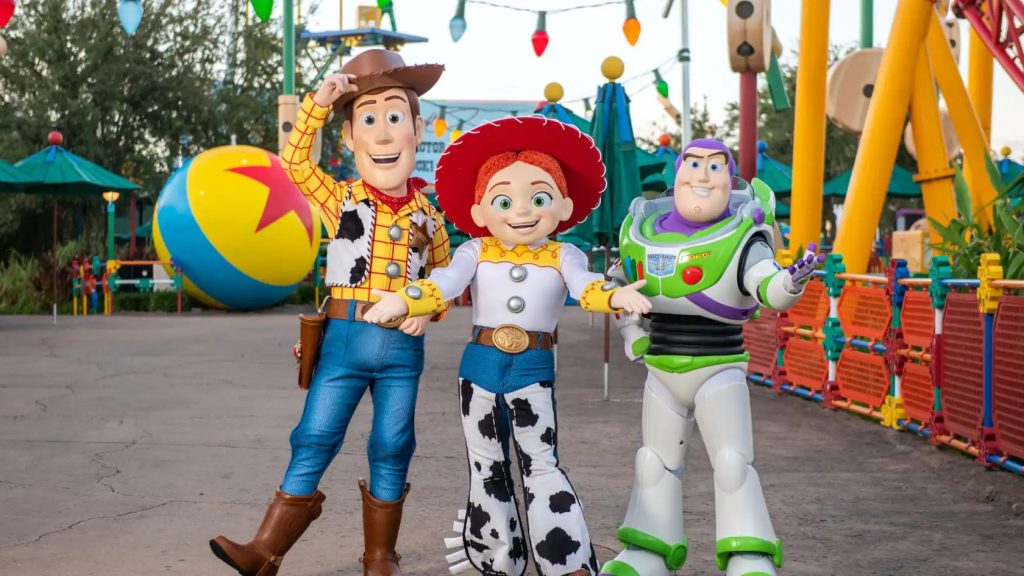 It's rare to find multiple attractions dedicated to one movie/movie series, but Disney has successfully designed four amazing "Toy Story" themed rides with their own unique themes. With that being said, Toy Story Mania and Buzz Lightyear's Space Ranger Spin do have similarities. Both Toy Story Mania and Buzz Lightyear's Space Ranger Spin are arcade-type attractions where you have a device on your ride vehicle that allows you to aim and shoot at targets earning each passenger points. So, what are the differences between these two popular attractions and which is better?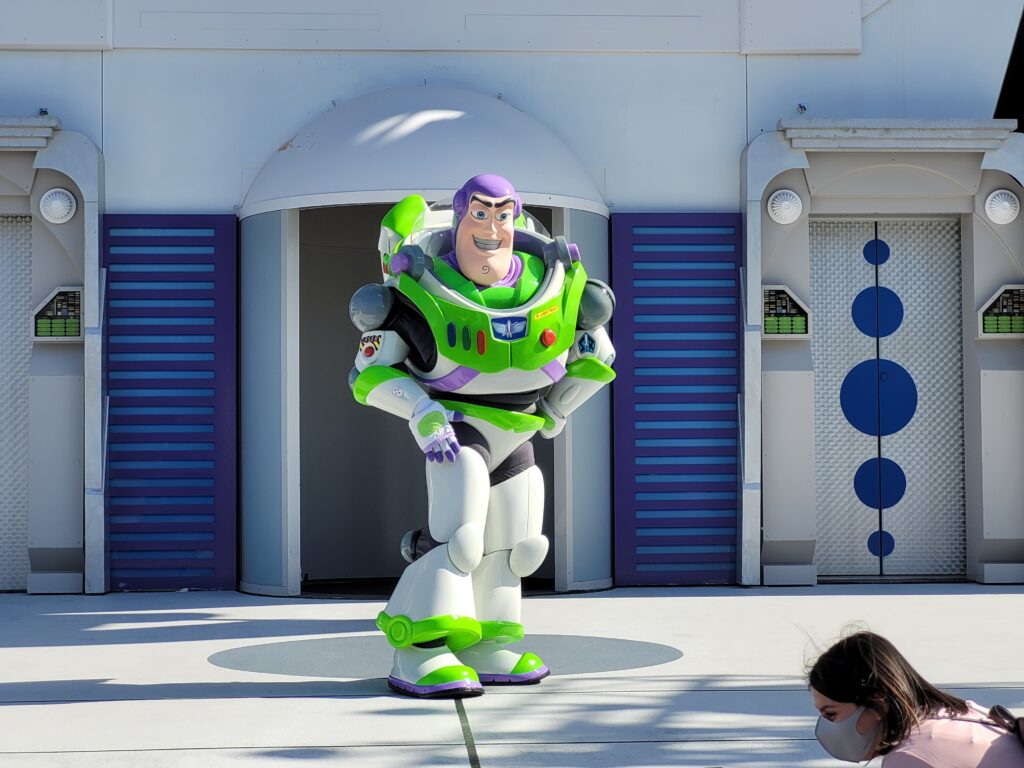 Buzz Lightyear's Space Ranger Spin
With his catchphrase "To Infinity…and beyond!" it's no surprise that guests will find Buzz Lightyear and his honorary attraction in Tomorrowland in Magic Kingdom. Buzz Lightyear's Space Ranger Spin takes you on a slow-moving mission into space where you battle his archenemy from "Toy Story 2," Zurg. Zurg is attempting to steal batteries from unknowing toys in order to power a destructive weapon. Hop on board and become a junior space ranger. Fire your laser at targets marked with a Z to stop Zurg from stealing their batteries!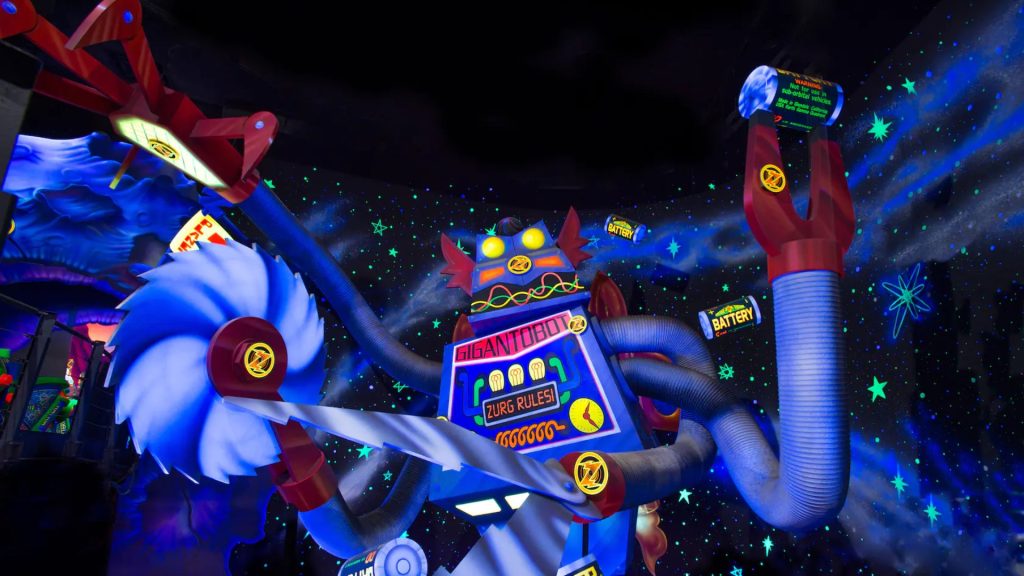 The ride vehicle seats two to three people, although there are only two laser guns, and moves continuously on a track past cartoon-like sets illuminated in black light. Because there are targets on both sides of the vehicle, the passengers have control over when and in which direction to turn the ride vehicle towards the targets to have a better aim. As you hit the neon and black targets, your points accumulate and display on your side of the vehicle. Near the end of the ride, space rangers zoom through space battling Zurg's moving spaceship and then take him on one-on-one which is precisely when Disney PhotoPass takes the opportunity to catch you in action. Compare your points at the end of the ride to the chart on the wall to see which level of space ranger you have achieved! Claim your ride photo and shop for souvenirs at the end of the ride.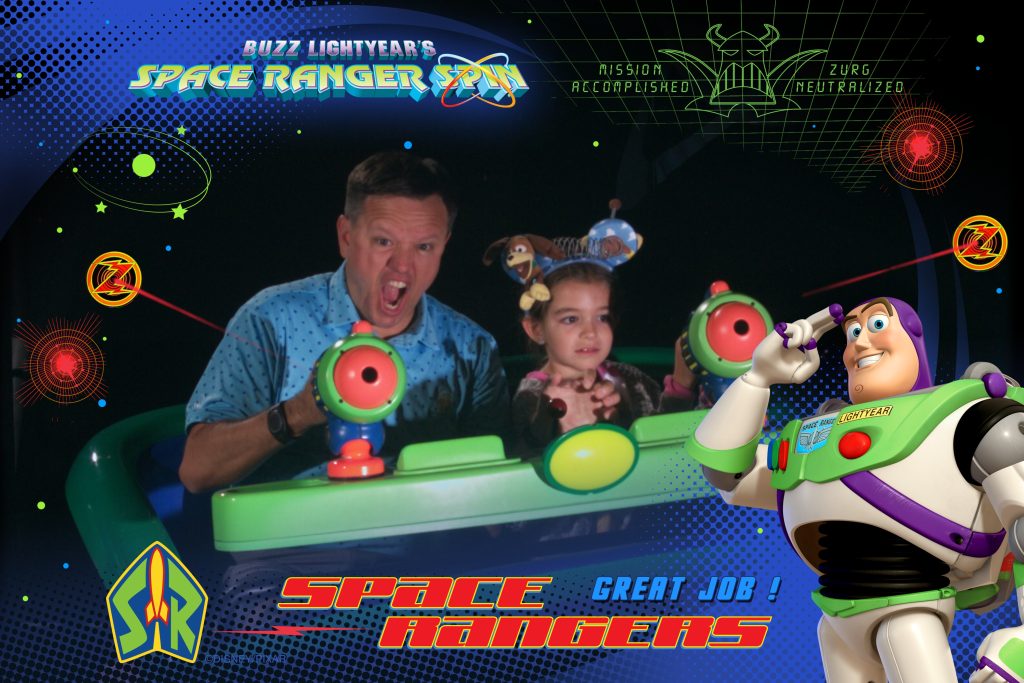 Toy Story Mania
As mentioned, Toy Story Mania is located in Toy Story Land in Hollywood Studios. The queue for this ride appears to be an extension of the theming outside with its bright colors and oversized toys. The ride vehicles load two side-by-side and back-to-back with another pair. One thing that sets this ride apart from Buzz Lightyear's Space Ranger Spin is that it is in 4D, so riders wear 3D glasses in order to more accurately aim at targets worth a varying degree of points.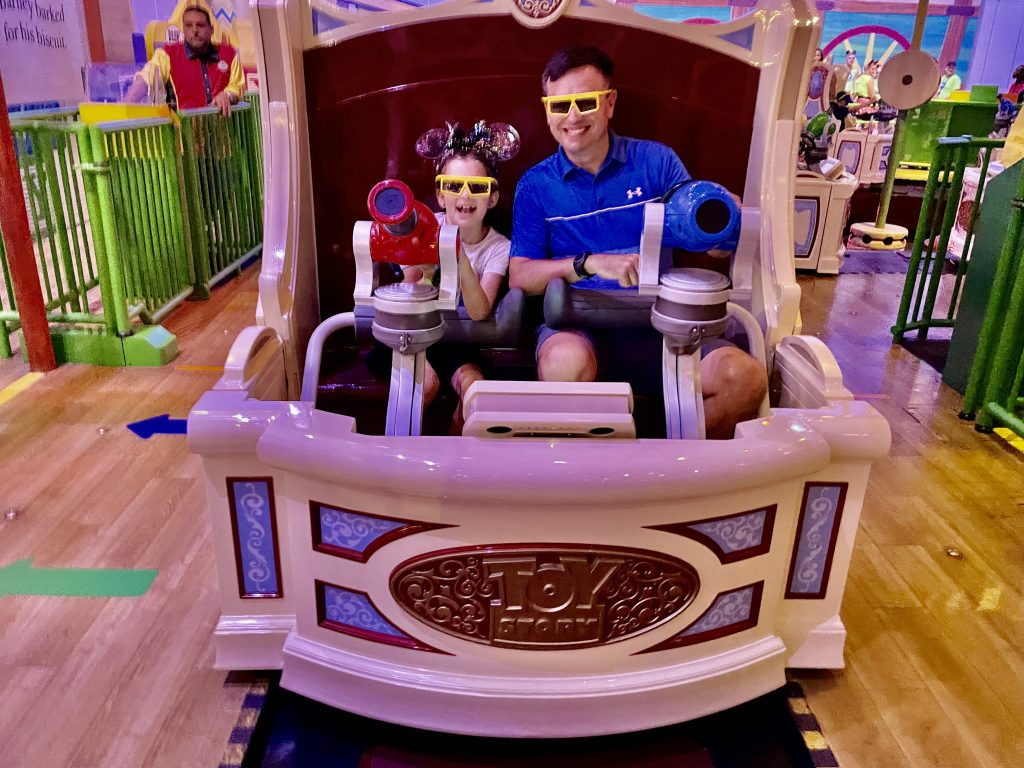 While you ride on a continuous slow-moving track on Buzz Lightyear's ride, in Toy Story Mania the vehicle stops in front of a screen while guests try their luck at a carnival game before going back into motion, whipping and twirling you around and then stopping again at the next screen, which offers a different game. There are 5 total carnival games lasting 30 seconds each. The characters featured in the game count down the last 5 seconds to alert you that the game is about to end. Throughout the ride passengers repeatedly pull back on a spring-action shooter in order to shoot at targets and earn points. When a target is hit, the points accumulate on your side of the car. You are supposed to be competing against the other riders in your car and at the end one of you is named "best in vehicle." Unfortunately, PhotoPass is not available on this attraction, but guests can shop for souvenirs at Jessie's Trading Post as you exit the ride.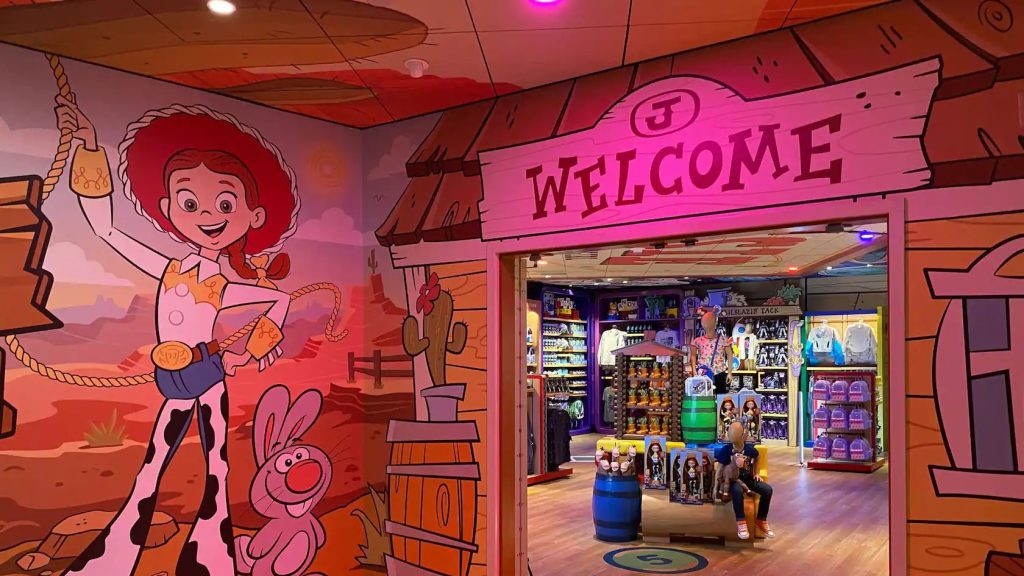 So, how can you choose which attraction is better? Do you prefer to take on Zurg or do you like to try your luck at 4D carnival games? Whether you are competitive or just enjoy the entertaining Toy Story theme of these attractions, they both provide a fun way to interact with Disney and make lasting memories with your loved ones. Do you have a favorite between these two popular and iconic Walt Disney World attractions? Let us know in the comments below!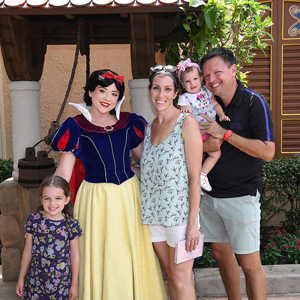 Written by
Shelley Wehler
Contributing Writer
Shelley is a stay-at-home mother of two girls living outside of Charlotte, North Carolina. Her love of all things Disney has grown even more as she sees the magic come alive through the lens of her young daughters. She spends her free time keeping up with the latest in Disney news and daydreaming of her next trip to the parks!