Disney Pixar's newest film, Lightyear, tells the story of the real Buzz Lightyear who inspired the toy we know and love. This sci-fi action-adventure film, which stars Chris Evans, opened in theaters this weekend. With the release of this animated movie, Disney's parks are now offering several Lightyear-themed experiences. Here is where you can find Disney Pixar's Lightyear in the parks!
Meet Captain Buzz Lightyear – Disneyland
The premise of Lightyear is that it is a film about a real astronaut named Buzz Lightyear. In the Toy Story universe, Andy watched this movie as child and it ultimately inspired the creation of the Buzz action figure. Because the Buzz Lightyear is Lightyear is technically a different character than the one we know from the Toy Story films, there is now a separate meet and greet available for this version of Buzz. In Tomorrowland at Disneyland, you can now meet and take photos with the real astronaut Buzz!
Lightyear Ice Cream Cone – Disney Springs
While there are lots of delicious desserts at Disney Springs, there is a limited time Lightyear-themed treat you won't want to miss! At Swirls on the Water, located near the Rainforest Cafe, you can get a Buzz Lightyear Star Commander Cone. This sweet treat features purple cheesecake soft-serve, chocolate wings, and space sprinkles. Head to Disney Springs for this ice cream cone soon because it is only available until June 30, 2022!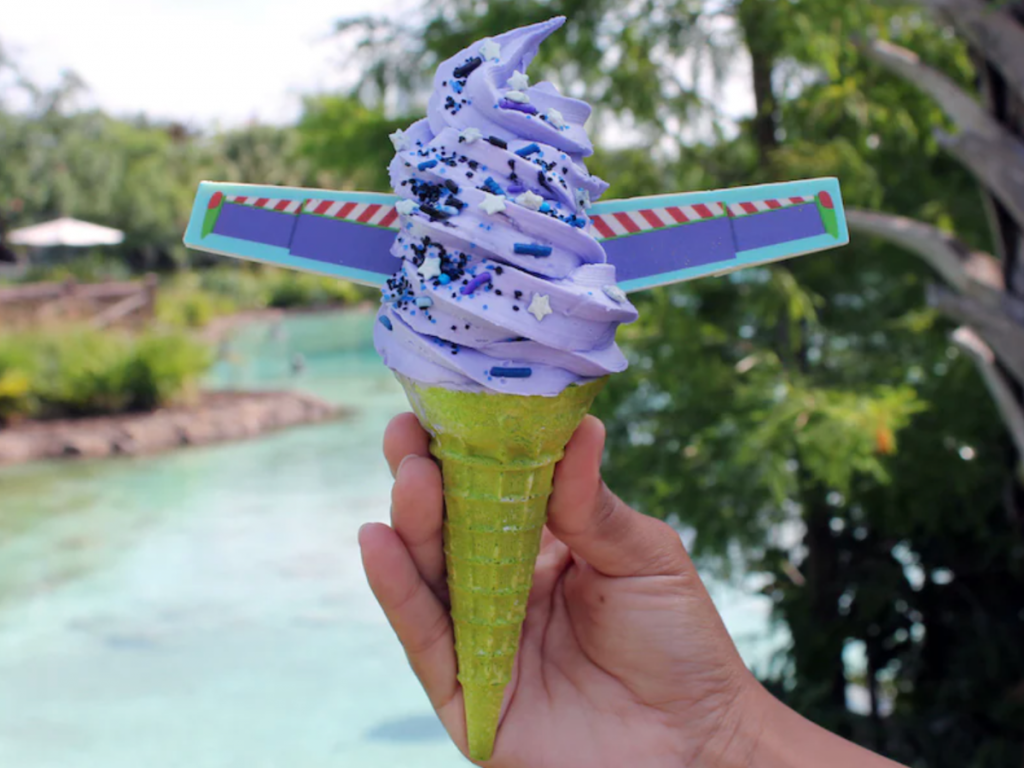 Build Buzz's Spaceship With Legos – Disney Springs
The LEGO Store, also at Disney Springs, is currently selling a set that allows you to build an XL-15 ship just like Buzz's. With an opening cockpit, 5 small figurines, and a removable fuel cell, this 497 piece set is authentic to the ship to in Lightyear. If you aren't able to make it to Disney Springs for this Lightyear LEGO set, you can find it on shopDisney!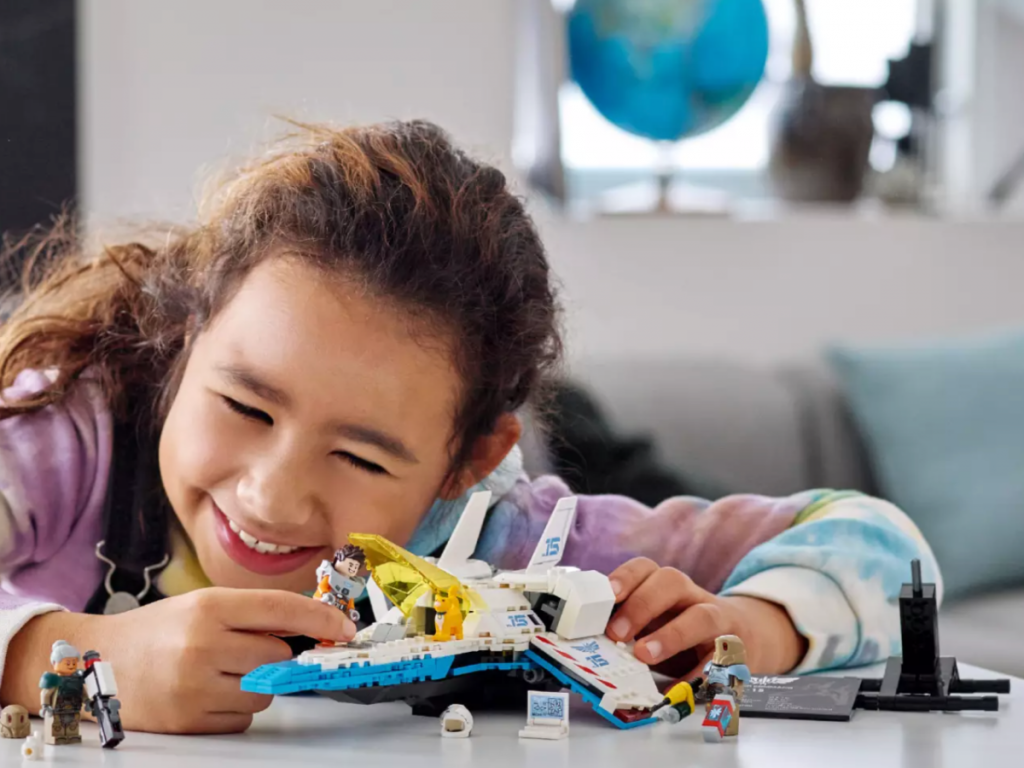 Lightyear Gauntlet – Disneyland Resort
At both Disneyland parks, you can get a refreshing drink in an out-of-this-world specialty sipper. With the Lightyear Gauntlet, you can gear up like Buzz and carry your drink of choice around the park. You can find the Lightyear Gauntlet in Tomorrowland at Disneyland and Pixar Pier in Disney California Adventure park. While supplies last, there is a 2 gauntlet per person limit.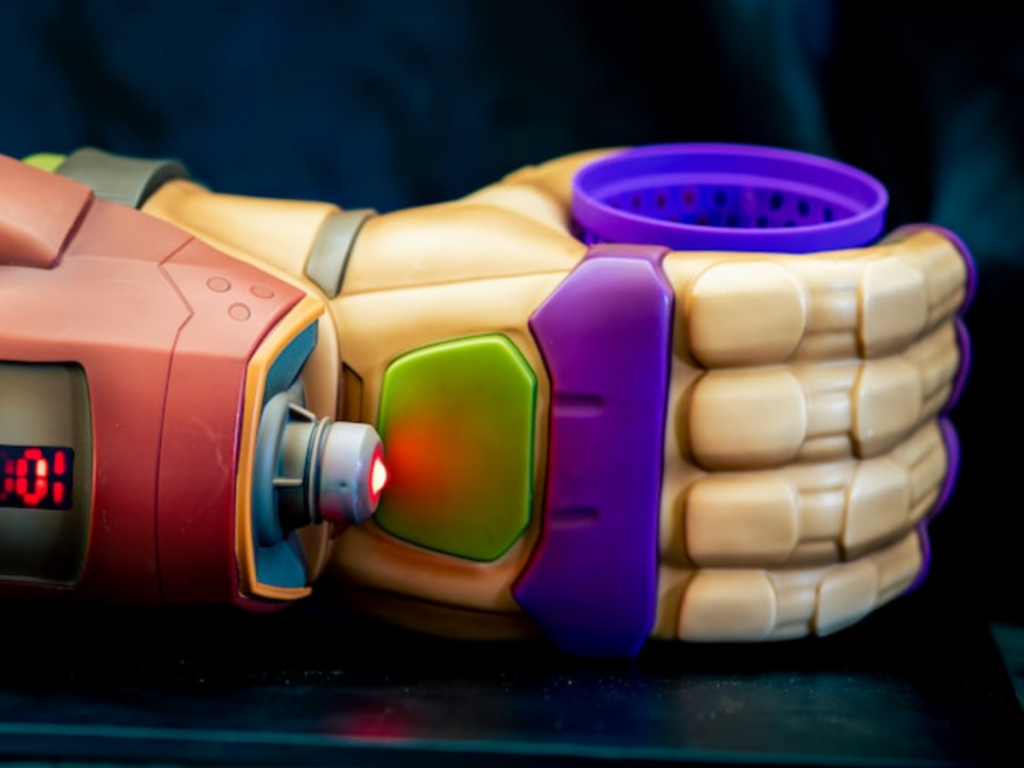 If you haven't seen Lightyear yet and will be at Disney Springs soon, you can see the film at AMC DINE-IN Disney Springs 24! Which Lightyear-themed experience are you most interested in? Let us know in the comments!
Featured Photo: Disney.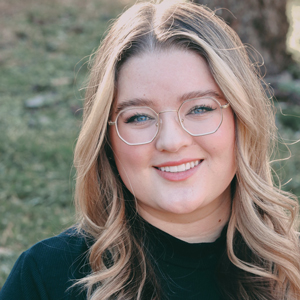 Written by
Emily Murray
Contributing Writer
For as long as Emily can remember, Disney has played a huge role in her life. Her infatuation with Disney resulted in many hours spent rewatching Toy Story and creating multiple powerpoints to convince her parents to book yet another vacation to the "Most Magical Place on Earth". In 2015, Emily followed one of her dreams and moved to Orlando, Florida where she spent just over five years working for the mouse in three separate roles. Emily is passionate about writing and using words creatively and concisely. She loves to make others laugh and hopes to sprinkle a little bit of magic into everything she does.