Ride along with Woody and all of his friends on a rootin' tootin' western themed shoot out. This 4D shooting game is all about hitting the target and scoring points inside of Toy Story Land.
Toy Story Mania! Details

| | |
| --- | --- |
| Walt Disney World Park | Disney's Hollywood Studios |
| Location in Park | Toy Story Land |
| Height Restrictions | Any Height |
| Age Interests | All Ages |
| Thrill Type | Spinning / 3D Video |
| Hours | Regular park hours |
| Wait Times | Medium |
| FastPass+ | Yes |
| Accessibility Information | Audio Description, Video Captioning, Must Transfer to Wheelchair |
Ride Overview
Toy Story Mania! opened on May 31, 2008. It was inspired by the Disney-Pixar's popular Toy Story franchise, one of the most popular movie series that Disney has released. Like the movie Toy Story, this ride is ahead of its time. Toy Story Mania! is one of the most technologically advanced attractions in Disney World right now. Another interesting fact about this attraction, it was the first attraction to be created for both Disney World and Disneyland at the same time. It truly is one of a kind, and a lot of fun to boot.
This attraction is a carnival style ride modeled after midway games. Guests are given 3-D glasses for this ride. Guests will use little popper guns that are attached to the cars to hit targets in each of the mini games. There are 5 mini games in all, as well as one practice round. These mini games are:
Pie Throwing Practice Booth (Practice Round)

Hamm & Eggs featuring Hamm & Buttercup

Rex & Trixie's Dino Darts 

Green Army Men Shoot Camp

Buzz Lightyear's Flying Tossers

Woody's Rootin' Tootin' Shootin' Gallery
Guests will hear the characters explaining the rules and shouting encouragement throughout the game. The car will have a scoreboard on it that will show you how many points you have gotten throughout the ride. 
Map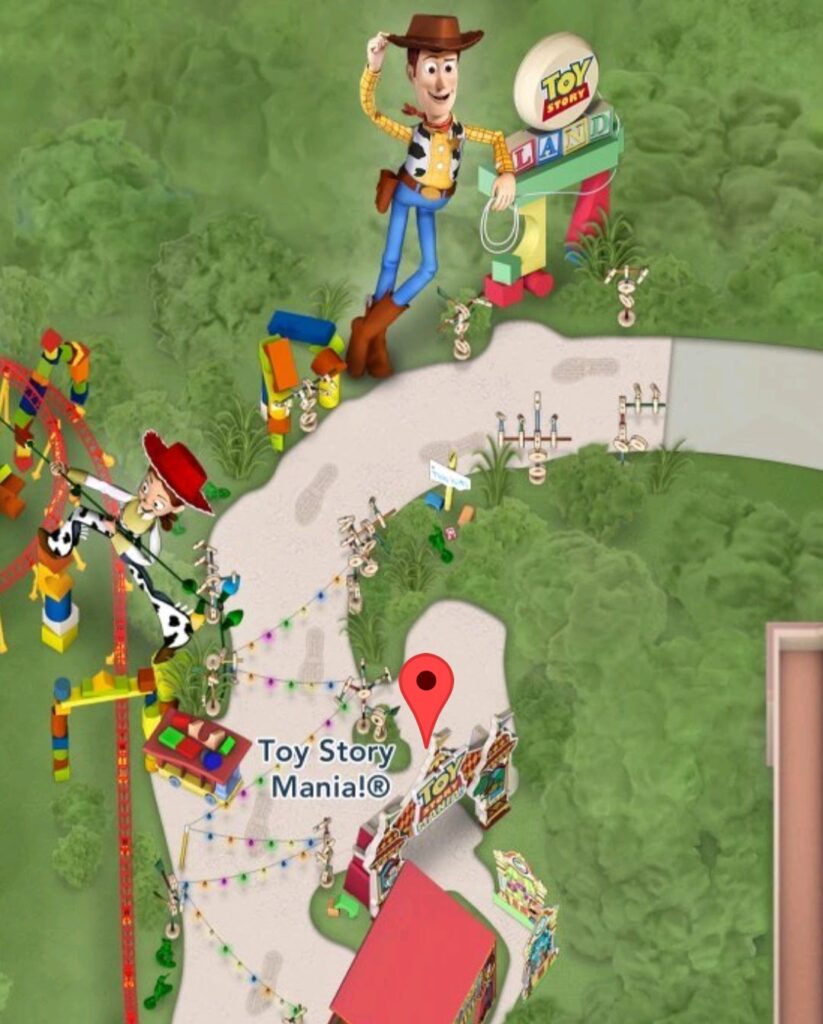 Location & Wait Time
Toy Story Mania! is inside of Disney's Hollywood Studios in Toy Story Land. It is located next to Andy's Lunchbox and across from Slinky Dog's Dash. There is stroller parking right next to this attraction for those who have little ones in tow.
All of the attractions inside of Toy Story Land are quite popular, due to the fact that the whole land is so engaging for guests of all ages. This attraction typically has medium wait times, although some days it can get closer to high wait times. 
Queue Experience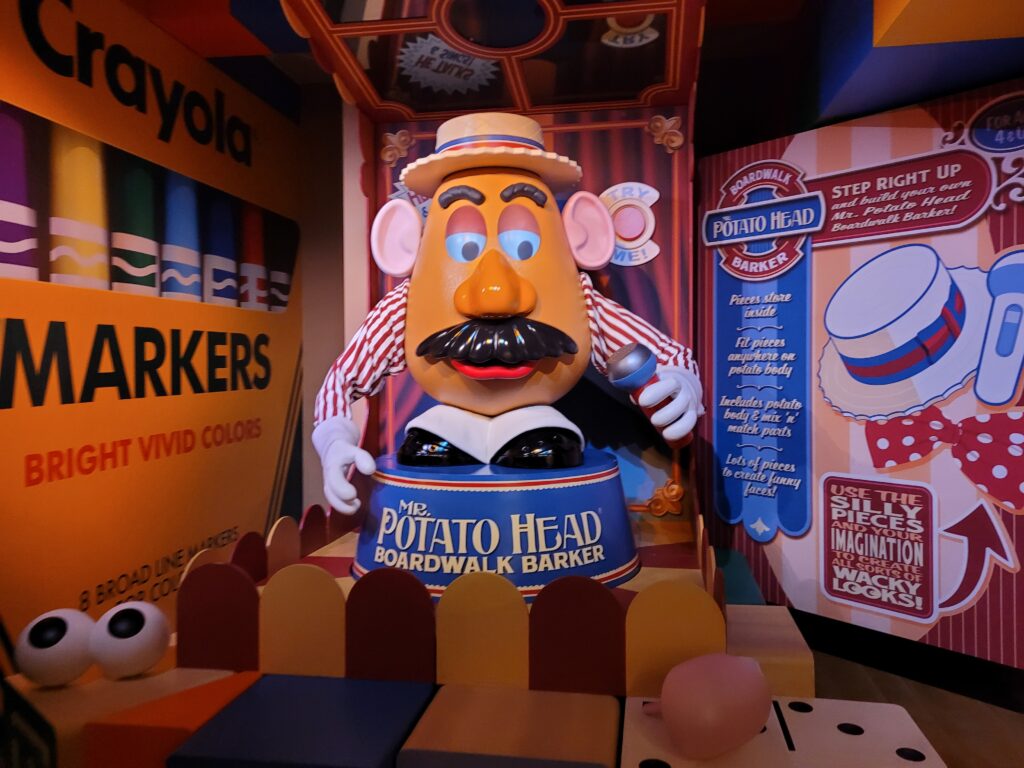 The queue for Toy Story Mania! is one of the most fun and childlike queues in Walt Disney World. Toy Story Land in itself is an extremely engaging world and the queue is no different. Walking through the queue is equivalent to being transformed into a toy and walking through a child's room. It is lined with oversized toys, letter blocks, and crayons that are so realistic guests will think they have shrunk and entered Andy's room.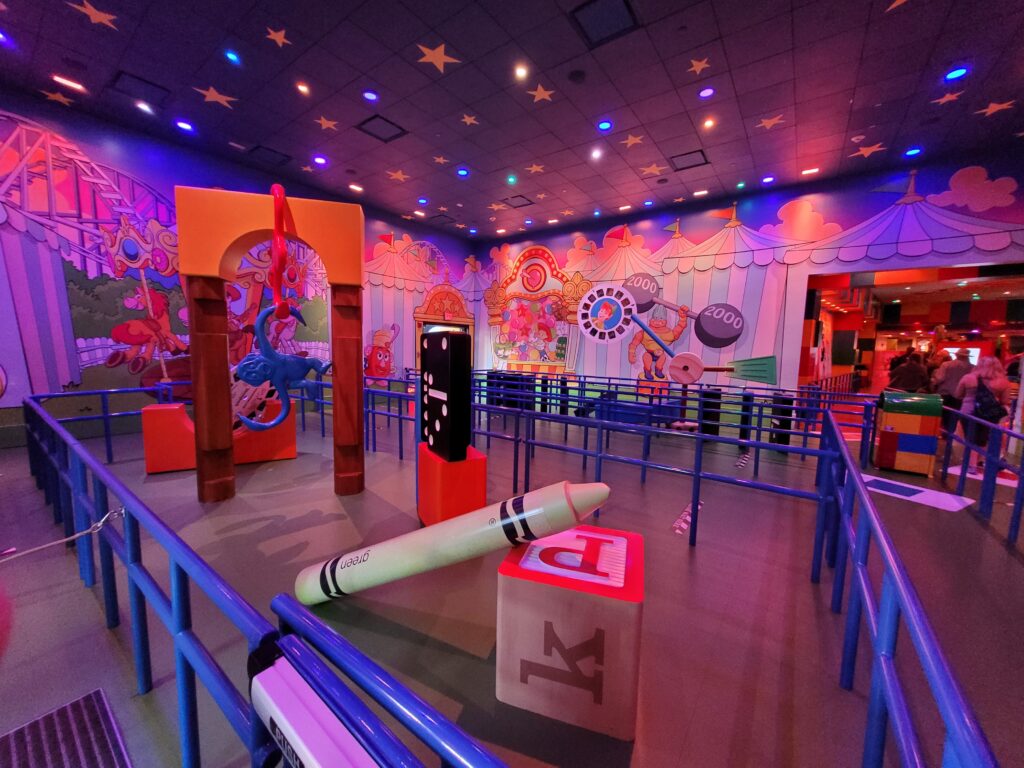 Toy Story's main characters are all over the queue in a variety of ways. The Army Men are perched and the character vary from large cutouts to statues. A highlighted character in the queue is a giant talking Mr. Potato Head that interacts with guests on your way to the attraction's vehicle. 
Written by
Rachel Van Norman
Guest Author