Take a toy-sized journey with Slinky through Andy's backyard on Slinky Dog Dash at Disney's Hollywood Studios!
Slinky Dog Dash Details

| | |
| --- | --- |
| Walt Disney World Park | Disney's Hollywood Studios |
| Location in Park | Toy Story Land |
| Height Restrictions | 38 inches or taller |
| Age Interests | Kids, Tweens, Teens, Adults |
| Thrill Type | Thrill Ride, Small Drops |
| Hours | 8:30 AM to 9:00 PM |
| Wait Times | Moderate to High |
| Genie+ | Yes |
| Accessibility Information | Must transfer to Wheelchair and then to ride vehicle |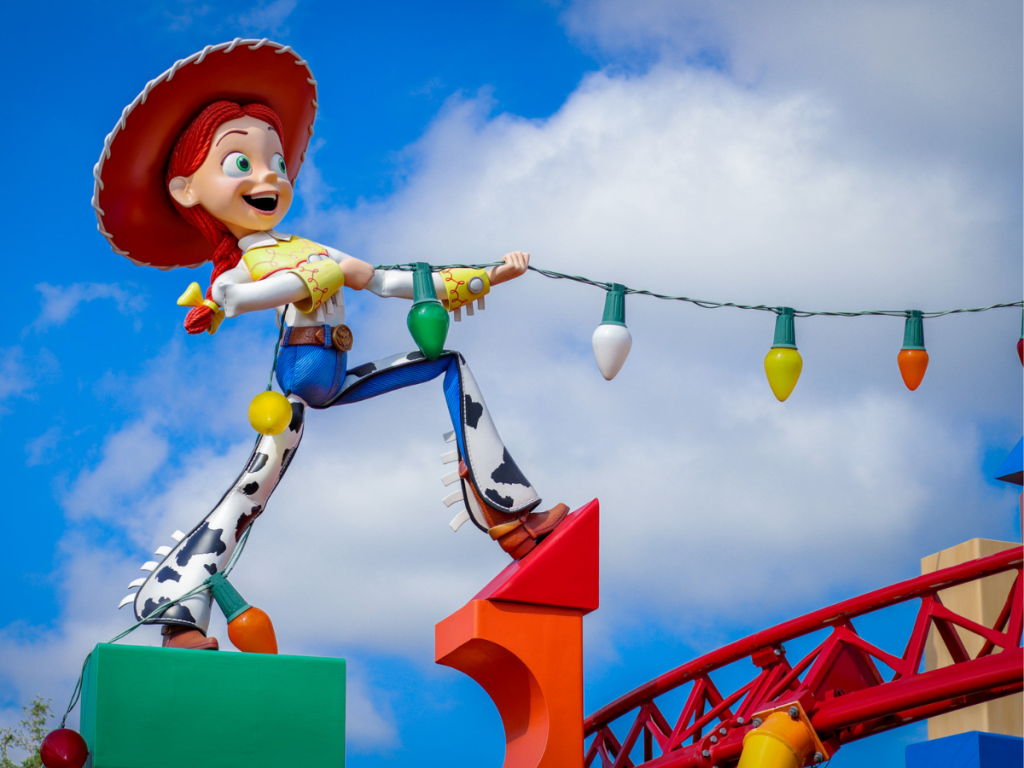 Attraction Overview
Have you ever wondered what it would feel like to be the size of a toy like Woody or Buzz from Toy Story? At Disney's Hollywood Studios, you can do just that as you explore an oversized version of Andy's backyard! Enjoy this smooth, but quick roller coaster with the help of one of Andy's favorite toys.
In his backyard, Andy has built a wild ride for his toys with a Mega Coaster Play Kit. The ride vehicle is none other than one of Andy's other toys: Slinky Dog. On this roller coaster, Slinky takes you through multiple takeoffs, around curves, up hills, and down drops. Be sure to look for Andy's other toys, like Jessie and Wheezy, during your ride through the backyard.
Because this attraction is a roller coaster, it has a height requirement of 38 inches or taller. Despite this, Slinky Dog Dash has one of the shortest height requirements of the roller coasters at Disney World. Seven Dwarves Mine Train, at the Magic Kingdom, has a the same requirement.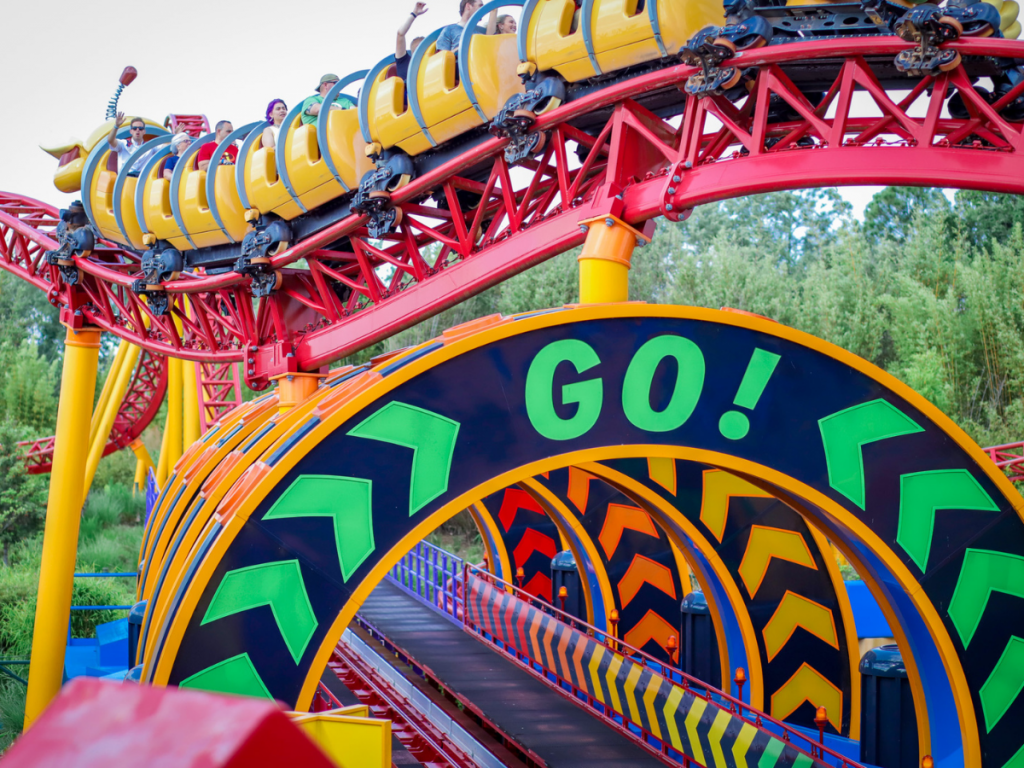 Map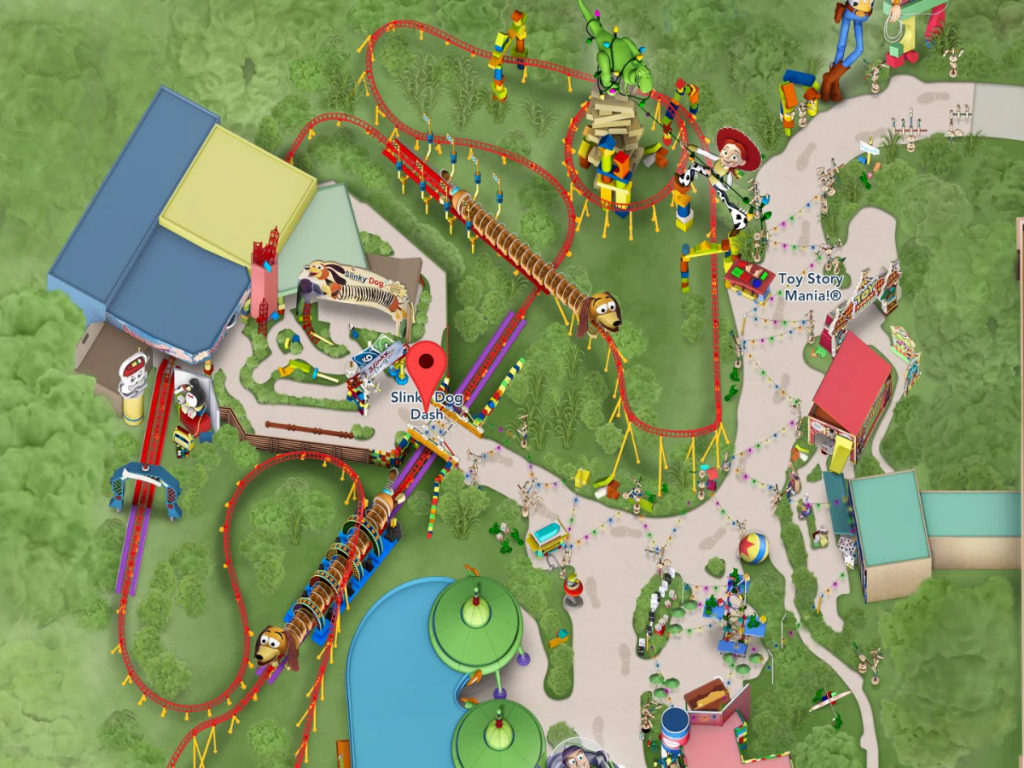 Location & Wait Times
Slinky Dog Dash is located in Toy Story Land at Disney's Hollywood Studios. This 11 acre land is based on Pixar's Toy Story films. You can find Slinky Dog Dash across from Toy Story Mania! Because Slinky Dog Dash is 1 of 2 roller coasters at Studios, and one of its newest attractions, the wait time can get long on busy days. Luckily, Slinky Dog Dash is available for Lightning Lane when you purchase Genie+.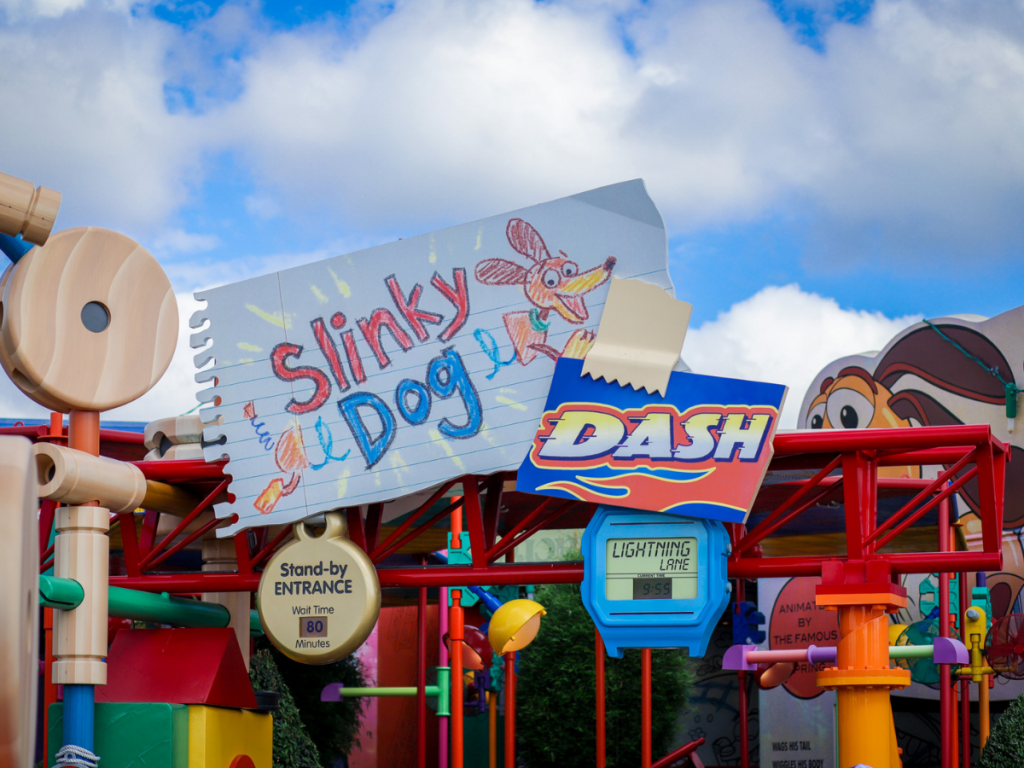 Queue Experience
To assemble this roller coaster in his backyard, Andy used his Dash & Dodge Mega Coaster Kit. In the outdoor queue for this attraction, you will see many of the other ways Andy got creative during the construction of Slinky Dog Dash. You may notice some other classic toys like Lincoln Logs, Tinker Toys, and board games. Among these toys are some of Andy's drawings and Christmas lights. Because this queue is completely outdoors, some parts are covered and there are often a few drink stands located through out the line.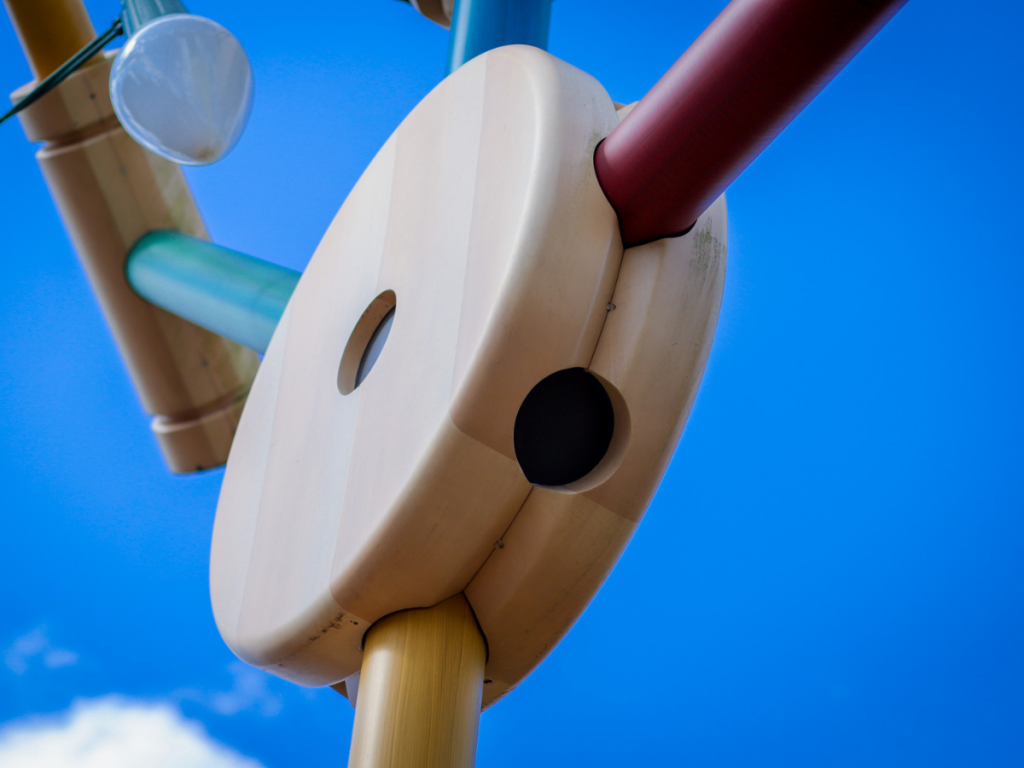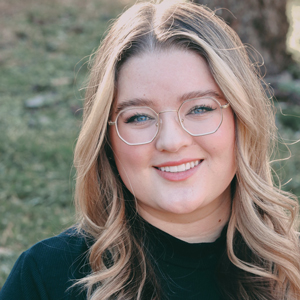 Written by
Emily Murray
Contributing Writer
For as long as Emily can remember, Disney has played a huge role in her life. Her infatuation with Disney resulted in many hours spent rewatching Toy Story and creating multiple powerpoints to convince her parents to book yet another vacation to the "Most Magical Place on Earth". In 2015, Emily followed one of her dreams and moved to Orlando, Florida where she spent just over five years working for the mouse in three separate roles. Emily is passionate about writing and using words creatively and concisely. She loves to make others laugh and hopes to sprinkle a little bit of magic into everything she does.