It's time to help your favorite Space Ranger, the famous Buzz Lightyear! Buzz Lightyear's Space Ranger Spin is an interactive attraction for those of all ages. On this ride, you will get to help defeat Buzz's nemesis Emperor Zurg by using laser cannons on your ride to gain points as you compete alongside friends and family. This ride will take you for a spin, all while you try and achieve a high score.
Buzz Lightyear's Space Ranger Spin Details

| | |
| --- | --- |
| Walt Disney World Park | Magic Kingdom |
| Location in Park | Tomorrowland |
| Height Restrictions | Any height |
| Age Interests | All ages |
| Thrill Type | Slow moving dark ride |
| Hours | Park open until park close |
| Wait Times | 45 minutes + |
| FastPass+ | Yes |
| Accessibility Information | Must transfer to wheelchair, audio description, and handheld captioning |
Ride Overview
Enroll in this galactic adventure by joining Buzz Lightyear in his quest to defeat the Evil Emperor Zurg, known from Toy Story 2. Emperor Zurg is collecting batteries from toys to power his new super weapon. Now is the time to become a Junior Space Ranger and get inside your very own XP-37 Star Cruiser to save the day.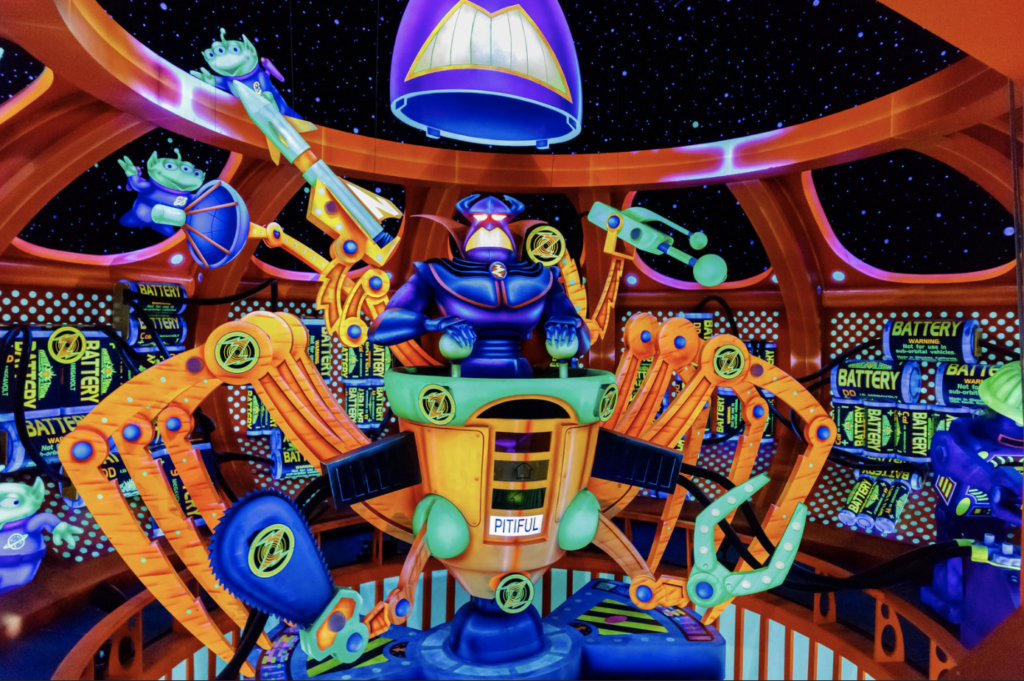 Once you board your Star Cruiser, you will see a laser cannon designed to help you hit multiple targets to gain points throughout your journey. These targets are marked by a big "Z" symbolizing The Evil Emperor Zurg. Every time you hit one of these targets, you will see your score go up in points as the scenery and music react to hitting the targets. Your vehicle also has a joystick to spin your Star Cruiser whatever way you want to find all the Z targets out there.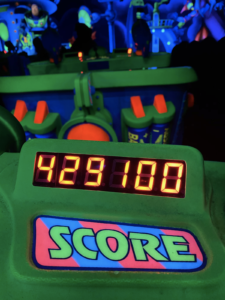 As you get closer to the end of the journey, you will go through a long tunnel in the galaxy with stars all around you right before seeing Emperor Zurg trying to defeat Buzz Lightyear. The next scene is where a photo will be taken of the two people sharing the XP-37 Star Cruiser so you can forever remember your adventure together. Your photo is available for purchase individually after you get off the attraction and is additionally included in the Memory Maker package.
Something to keep your eye out for during your adventure is particular Z targets. Some in the attraction are harder to find that are worth more points when you hit them. For example, you can find one in the dark galaxy tunnel, which is harder to find due to it not being lit up like the rest of the Z targets. Additionally, Zs that are purposely blocked by props and that you can only see by moving your vehicle's joystick are worth more points. Make sure to remember your final score so you can see your Space Ranger Ranking at the end of the ride.
Map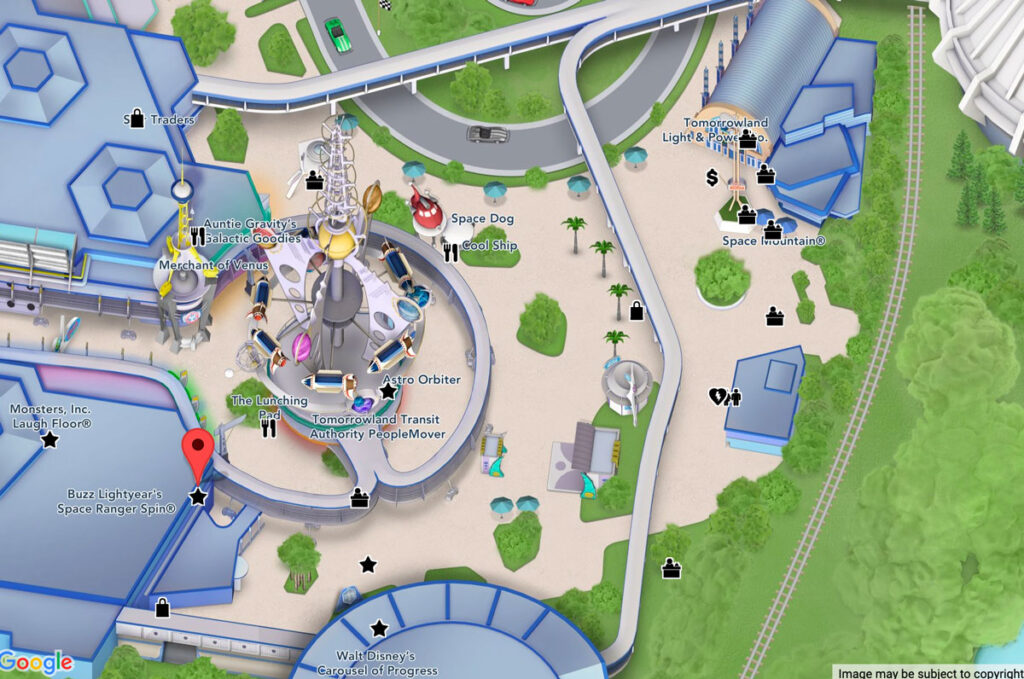 Location & Wait Times
Buzz Lightyear's Space Ranger Spin is located right off the Tomorrowland bridge and next door to Monsters, Inc Laugh Floor. Sometimes you'll even see Buzz Lightyear himself on the right hand side of his attraction for meet and greets.
This attraction does offer Fastpass to help reduce waits in the standby lines. On an average day, Buzz Lightyear's Space Ranger Spin has a medium wait for the standby line.
Queue Experience
Once you get in line for Buzz Lightyear's Space Ranger Spin, you'll see that you are now the size of your Toy Story friend Buzz Lightyear himself. This attraction queue is indoor and outdoor, depending on the current wait time. While on line inside you will be in air conditioning and see many vibrant and colorful rooms that include Hidden Mickeys. Buzz Lightyear will be there to greet you and instruct you on how to help him on his mission to defeat the evil Zurg.
Written by
Bobby Asen
Contributing Writer
Bobby has a strong passion for Walt Disney's stories and the Disney Parks. From taking vacations to the parks, to being an Annual Passholder, to working as a cast member for seven years at Magic Kingdom, his passion for Disney continues to grow. After visiting every Disney Park in the world, Bobby knew he wanted to share his experiences and his love for Disney in his writing.