If you would have asked me this question a few years ago, I would have vehemently answered this often asked question with a resounding "NO." But a serendipitous opportunity led our family to create some very special memories with our young daughters that I absolutely do not regret! Here how and why I ultimately said, "Yes!" to taking our one-year-old to Disney World.
"Honey, Guess What?"
Early in 2019, my husband came to me with a twinkle in his eye which meant he was about to pitch an idea that he knew I might not be in favor of. He was about to register for a work-related conference in Walt Disney World and he wanted our daughters and I to join him for the trip! I knew this would be a perfectly magical time for our then four-year-old daughter, but our youngest daughter would only be 15 months at the time of the trip and that made me very hesitant. I gave a tentative "yes" and then began to research. While our youngest's ticket would be free, I wanted to make sure if we were going to spend the time and money to take a special trip like this, it would be worthwhile for all four of us.  And what I found was very encouraging!
The Right Answers
I began my research on the Walt Disney World website, and also downloaded the My Disney Experience app on my phone to more easily find the answers that I was looking for. This app alone was a wealth of information and provided all of the information I needed to know about the parks without having to do a bazillion searches on the internet. It's a must-have if you are planning a trip to Walt Disney World!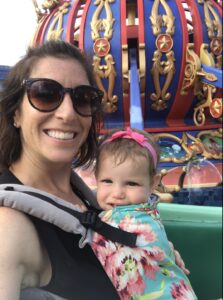 A big question for me was how many attractions would our one-year old be able to ride? Let's face it, I wanted to give my four-year-old the most magical experience, but I wasn't about to spend half of the day on the sideline with a one-year old that wouldn't be allowed on the rides.
However, what I found was quite encouraging.  In addition to the entertainment like parades and stage shows, there are more rides than one may think in all four Walt Disney World parks that permit guests of any height to ride! How did I find this out? When using the app, I went through attractions in each park that I thought my four-year-old would want to ride. There I could see the height requirement and target age group.  As my list of attractions grew, the confidence in taking the trip grew, and so did my excitement! Read more here about the best rides for toddlers in all four Walt Disney World parks and also I highlight many of the "any height" and "all ages" attractions in this post about when want (or need) to skip the thrill rides!
What About The Long Lines?
Another amazing thing that the My Disney Experience App displays is the wait times for every attraction at all of the parks.  Over the course of several months, I would casually browse the the wait times for the attractions at different times during the day. This allowed me to see when certain rides that I thought we might ride had very long waits and that some others often had shorter wait times of 20 minutes or less all day long.  This also gave me confidence that we weren't going to be standing in line for 30-60 minutes for every attraction at every park and gave me ideas about which rides would be best suited for a Fast Pass (fingers crossed that some version returns to Walt Disney World ASAP!).  The excitement continued to build and I was fully on board with this trip to Disney World!
Kids in A Hotel Room…For An Entire Week?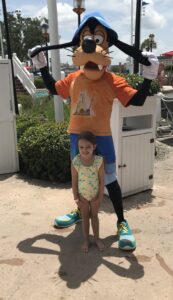 Keeping children entertained, quiet, and sleeping well in a hotel room for more than a night or two was something that definitely concerned me. Our little ones wake up early and immediately need breakfast.  My last large concern was would our family of four feel comfortable staying in a hotel room for an entire week? I wasn't entirely confident in this answer until we arrived, but I will tell you the answer was YES! The resort in which we stayed was chosen for us based on the location of my husband's work conference, but upon entering the doors, we immediately fell in love with The Yacht Club Resort.
While the theming inside of the Yacht Club may be a little more mature, we really enjoyed the outdoor space here and the surprise visits at the pool by Goofy and Donald! If we were choosing our accommodations ourselves we would have rented a room at DVC's Beach Club Villas which would have given us even more space and at-home comforts. The Standard Resort-View room that we ended up staying in easily accommodated a pack 'n play and all of the extra belongings (and food) needed when traveling with young children. The room also had a large wardrobe that provided plenty of storage for clothes and shoes, raised beds that allow you to store suitcases underneath, and housekeeping even delivered a microwave to use during the week that we used to cook instant oatmeal for breakfast and warm-up leftovers for lunch! We also absolutely loved the location of this resort.
Staying on Disney's Boardwalk offers many activities, restaurant options, and proximity to two of the four parks so we didn't have to try very hard to find things to keep us out of the hotel room!  If you prefer to stay in accommodations with more space (up to 2 bedrooms!) and an even more homey feel well-suited for families, you can inquire about renting a Disney Vacation Club villa on Disney's BoardWalk or elsewhere on the Walt Disney World property by browsing confirmed reservations or checking availability for a custom reservation.  If you're traveling with small children, you will surely not regret having the extra space, kitchen facilities and washer and dryer in your room or on site.
Just Say Yes!
So, to answer the question first posed "Should I bring my one-year-old to Disney World?", I say to you, YES you should! The parks and hotels are well-suited for families of all ages and sizes, and the staff at Walt Disney World will go above and beyond to make sure you are comfortable and having the time of your life at the most magical place on earth.  If you still have any doubts or concerns, here are additional articles that may help you make the right decision for you and your family:
What is the right age to take my child to Disney?
Best Ways to Entertain your Kids in Line at Disney World
Top Ten Tips for Using a Stroller at Disney Parks
Rent a Stroller or Bring your Own?
Best Tips for Breastfeeding Moms at Disney World?
How old were you when you first went to Disney World? Have you ever taken a one-year-old to Disney World?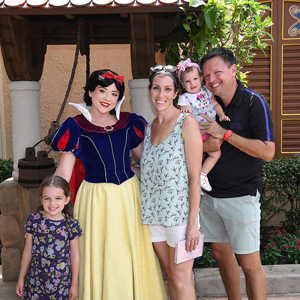 Written by
Shelley Wehler
Contributing Writer
Shelley is a stay-at-home mother of two girls living outside of Charlotte, North Carolina. Her love of all things Disney has grown even more as she sees the magic come alive through the lens of her young daughters. She spends her free time keeping up with the latest in Disney news and daydreaming of her next trip to the parks!