Taking your child to Disney is every parent's dream and going to Disney is every child's dream. It can be such a rewarding and extraordinary experience for your little one and for you too. There's nothing better than seeing that twinkle in your child's eye the first time they see Mickey Mouse in person or take that first photo in front of Cinderella's Castle.
While there's no arguing that children love Disney World, every trip to the happiest place on Earth is going to be different, and no child is the same. There is no hard-and-fast rule for what age it is appropriate to take your child to Disney World, but there are a number of things all parents might want to take into consideration when asking the question, what is the right age to take my child to Disney?
Keep in mind that the answer to this question will be incredibly subjective, dependent on each individual parent and child and what they can handle both together and separately. Here are a few things to consider when planning a trip to Disney World with your child.
Wait Times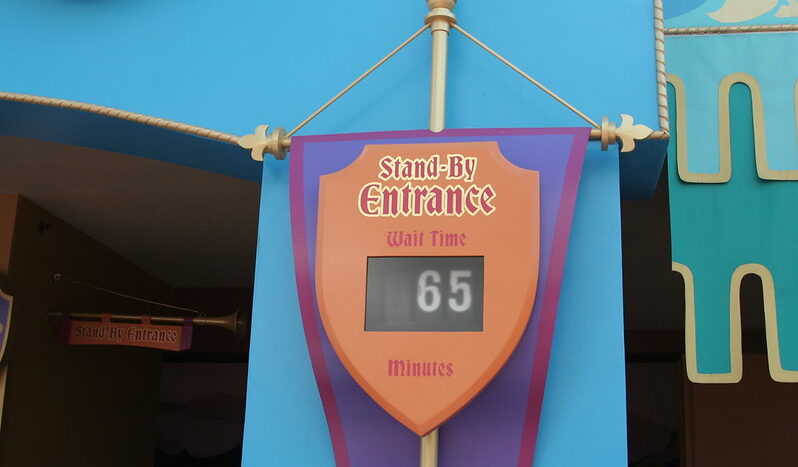 We all know Disney World is an extremely popular vacation destination and with that sometimes comes long lines. While wait times will depend on the attraction, some rides have consistently short lines, while others tend to have longer waits on a regular basis, you can expect to spend a portion of your day in the parks waiting in attraction queues.
For example, Peter Pan's Flight in Disney's Magic Kingdom's Fantasyland tends to average around a 70-minute wait time, but you might wait just a few minutes for the People Mover or Philharmagic. If your child is one that doesn't do well waiting in longer lines, visit rides that generally have short wait times and which you can see the ride system in plain site from the queue. Your child may find a little more patience if they can see what it is they are waiting for.
Additionally, for rides like Peter Pan's Flight that you definitely don't want to miss, take advantage of the FastPass + system or early admission to hop on the ride without waiting in the queue.
Keep in mind that most rides, with only one or two exceptions, don't have restrooms throughout the queue. Therefore, before you head over to a ride with a longer queue, make sure to take a quick detour over to the restrooms. You and your child will both appreciate it.
Long Days
A typical vacation to Disney usually includes a few long days, as most guests spend the majority of their time in the parks. While there is the opportunity to rest a bit during meals, it tends to be a very long day on your feet. Many guests visiting the parks walk around 6-9 miles a day, or anywhere from 18,000-25,000 steps (potentially more, depending on the day). This is a lot to ask of many adults, and even more to ask of a child. You'll not only want to ensure that everyone in your party comes prepared with walking shoes with good arch and ankle support but are also able to still enjoy themselves while spending that much time on their feet. 
If you're a parent with a small child in a stroller, this will significantly improve their experience as they'll be able to rest their small feet while you navigate the park. Keep in mind that you will be parking the stroller and later retrieving it for certain attractions and therefore you may have to carry your child at times. 
To determine how long you'll want to spend in the parks, here a few questions you should consider. 
Do you want to spend a full day at the parks, from rope drop to park close? (This could be up to 12-14 hours).

How many hours can your child realistically handle before needing a nap or long break?

Can you allow your child to nap in their stroller while you enjoy a snack or shopping break?
If you're staying at a Disney Resort or Hotel, will taking a midday break back in your room give your child that needed downtime to endure a few more hours in the park in the evening?
Remember, this is your magical vacation. While long days may be inevitable, they don't need to be nonstop, full speed ahead type of days. You want to make sure you all enjoy your experience, so keep that in the back of your mind when planning your trip.
Noise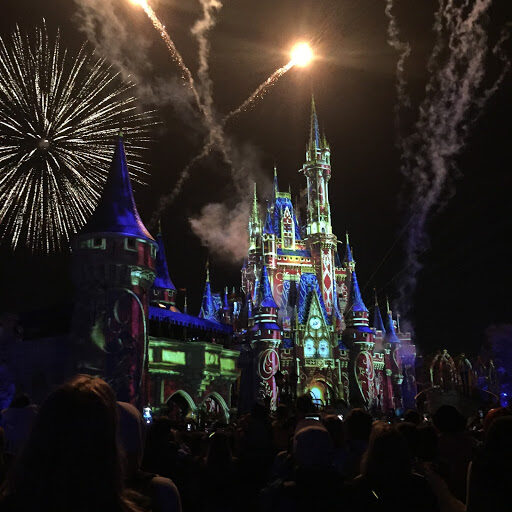 Another consideration to keep in mind when bringing your child to the parks, especially if they're very young, is that the park can be very noisy at times. There will be crowds, as well as shows, music, fireworks, etc. This is a lot of stimulation for young children (and introverts), and can they may get overwhelmed after a while. Be sure sure that this is going to be something your child can handle.
If your child doesn't like loud noises and crowds, plan to head back to your resort before the nighttime fireworks show in the evenings. During the day you can avoid watching parades from the front row and hang back at a nearby restaurant where your child will still be able to see the parade but not have to endure the crowds and cramped spaces.
What You Want to Do vs. What Your Child Wants to Do
This can potentially be the most conflicting part of your trip to Disney. It often depends on the age of your child and their interests, but the younger your child is, the more likely what they want to do, and are able to do, may be different from your own. Keep in mind that a number of attractions have height restrictions, so it's important to factor that in when planning your itinerary.
As an adult, you might want to spend a lot of time in EPCOT or Disney's Hollywood Studios, but your child might prefer to spend their entire day in Fantasyland at Disney's Magic Kingdom. You might want to go on Tower of Terror and Rock n' Roller Coaster, but your child might want to meet all the Disney princesses. 
Try to split up your day with attractions you'll both enjoy. Certain rides like the Jungle Cruise, Swiss Family Treehouse and it's a small world are fun for all ages and have no height restrictions.
It's also important to not forget about food and dining experiences. If your child is a picky eater, this may restrict your choice of both quick-service and table service restaurants. It can be very helpful to take a look at menus on the Disney World website and decide where you're going to eat each meal when you first start planning your trip.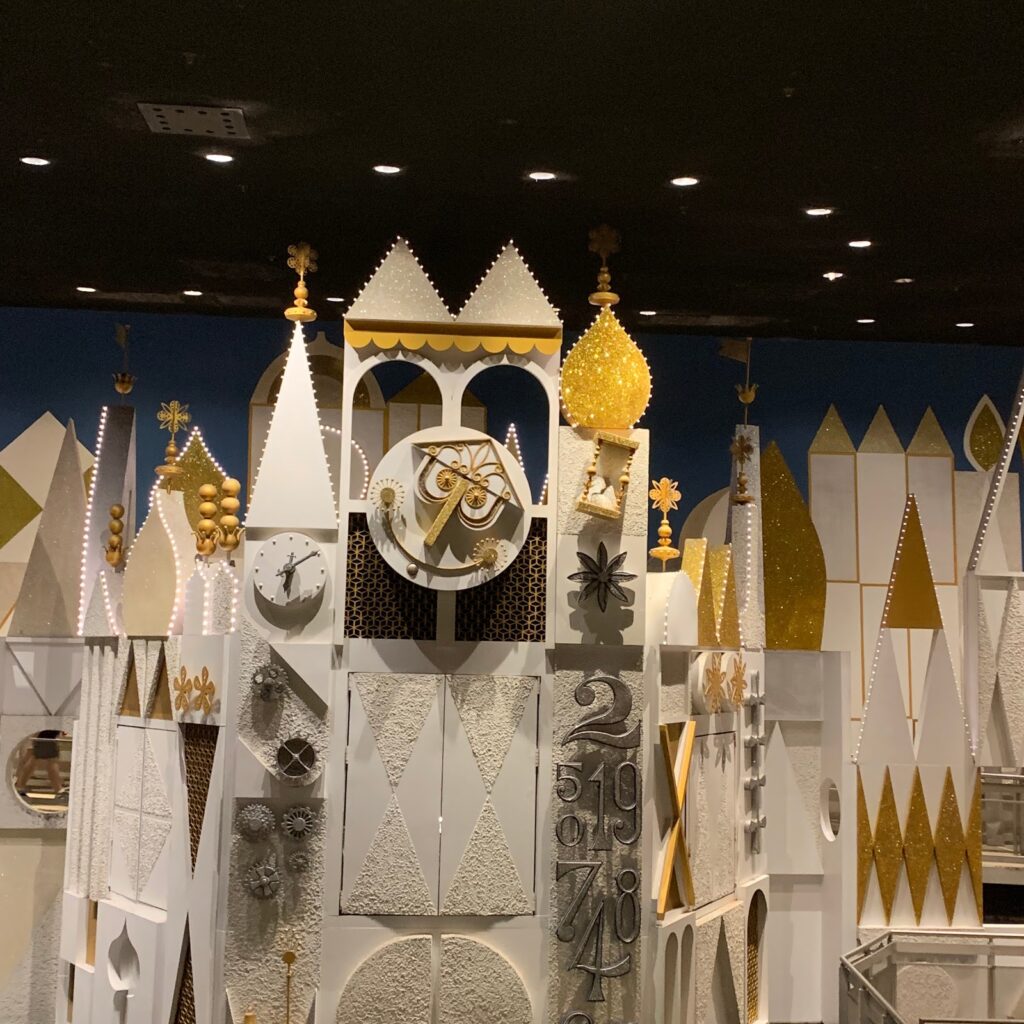 Weather
Possibly the most important thing to remember when visiting the Disney Parks, especially the Disney World Resort, is that it may be hot. With temperatures often above 90 degrees and high humidity from May to October, being able to manage the heat is essential.
While the temperature does vary wildly during the rest of the year, often with hot days and cool nights, you'll want to make sure you're prepared for very long days on your feet during a very hot and humid day. In addition, make sure this is something your child is prepared to handle. The heat can make some guests, both adults and children, quite cranky. 
Tips and Tricks
Whether you decide to take your child to Disney for the first time at 3 months old, 2 years old or 10 years old, making adjustments for your child's comfort and happiness can be easy. Here are a few suggestions:
Take a long break in the middle of the day, which is usually the hottest part of the day. Head back to your resort, take a nap or a dip in the pool before heading back to the parks for a few more rides and a nighttime show.

Make your trip to each park slightly shorter. Even if you have to split your Magic Kingdom day into two days, it may make your trip much more pleasant for both you and your child. Starting your day at the parks later in the day or finishing up early and heading back to your resort before dinner can make for a much more relaxing day.

Have meals in your room. DVC's Deluxe Resorts offer full kitchens or kitchenettes. Having a home cooked meal for breakfast or even a pizza for dinner while relaxing on the patio may help remind your child of a bit of that home routine they'll be missing while on vacation. This can get them ready to face the long day ahead or help them relax and be ready for tomorrow.

Don't schedule your park days back to back. Instead, add a few easy and relaxing resort days into your itinerary. Plan to wake up late, enjoy a slow breakfast, hit the pool and take a stroll at Disney Springs. You can even rent bikes or a boat for a few hours and enjoy some time in the slow lane before getting back to the parks.

Have a relaxing sit-down meal for lunch. There are many great dining options inside the parks that can act as a respite during a long day. Don't be afraid to find a quiet spot and have a long, relaxing lunch before heading to your next destination.
Know the height restrictions. No child likes being turned away from a ride they've been excited about for hours or weeks. Understand the Disney height restrictions for certain attractions to avoid making promises that you may not be able to keep. Before arriving at Disney, speak to your child about the attractions you know they'll be able to ride and get them excited about those rides and leave the others off the table.
Take advantage of Disney's rider switch service. Don't think you'll be stuck riding Dumbo ten times and taking pictures of princesses all day. You can take advantage of Disney's ride switch so the adults in your family can still enjoy the thrill rides your little one might be too small for. 
Deciding what is the right age to take your child to Disney is going to be up to each individual parent and child. The important thing to remember is that your Disney Vacation is supposed to be a magical experience and you'll want to make sure that you're all going to enjoy it. Only you can decide at what age to take your child to Disney and that you're both prepared for all that it entails. Regardless of when you decide to take a trip to Disney with your child, be sure to make it one to remember.
*Note, due to COVID-19 certain Disney services, attractions and dining options may be unavailable.
Seth Nock
and the DVC Shop Editorial Team
Header image @ MattCC716, flickr.com