Families planning their Disney trips with little ones may be wondering, is the best option to rent a stroller or bring your own for my next trip to a Disney theme park? We've covered the top ten tips for using a stroller at Disney theme parks, but we wanted to dive deeper into the subject of renting versus bring your own stroller. There are many benefits to both options, but considering the pros and cons will help you decide which is the best choice for your family and your next Disney vacation.
Renting A Stroller 
Renting a stroller from Disney is a convenient way to get the use out of a stroller during your time in the parks, while not having to deal with carrying it around the rest of the time. This is a great option for those whose kids don't usually ride in a stroller, except during the long days in Walt Disney World. This would include many older children, such as 5 years old and up.
Another benefit to renting a stroller directly from Disney is the ability to change out the stroller. If you lose it in the crowds, simply bring the receipt back to the rental location in whatever park you may be in and receive a new stroller. This also applies to Park Hopping. There is no need to cart a stroller from park to park, just leave it at one and pick up a new one when you arrive at your next location. There are some convenient locations to rent strollers in the Disney World theme parks that are usually very close to the entrance of the park.

The rental strollers are meant more for function and less for comfortability. They do not have any padding on them, and smaller kids who may like to nap during the day in the stroller, may find them difficult to stay in for extended periods. All of the Disney rental strollers also look identical, and they may be hard to locate when the stroller parking is crowded. If you rent a stroller, it'd be smart to bring a sign on it, such as one with your family name, to distinguish it.
Stroller Prices
Single Stroller
Single Strollers at Disney are recommended for children 50lbs and below.
Daily Rate: $15

Multi-Day (Length of Stay) Rate: $13
Double Stroller
Double Strollers at Disney are recommended for children 100lbs and below.
Daily Rate: $31

Multi-Day (Length of Stay) Rate: $27
Guests can receive the multi-day rate by pre-purchasing for the length of their stay. They simply need to hold onto their receipt and use it to pick up the stroller at the rental location in any park. 
Pros
Guests do not have to carry it around during Park Hopping.

Guests will not need to bring it in their car or carry it through the airport.

Option to have one if your child does not usually use one day to day.
Cons
Stroller fees will add to your vacation costs.

They are not padded and may not be as comfortable as your own.

Disney strollers look identical, and may be harder to find in the crowd.
Bringing Your Stroller
Although it is an extra piece of luggage to bring along, having your child's own stroller on your Disney trip could be a very good option. For smaller children, usually 4 and younger, who use their stroller frequently or who are not used to walking long distances, this may give them extra comfort. In addition, you already own this stroller, and there is no added cost to your vacation.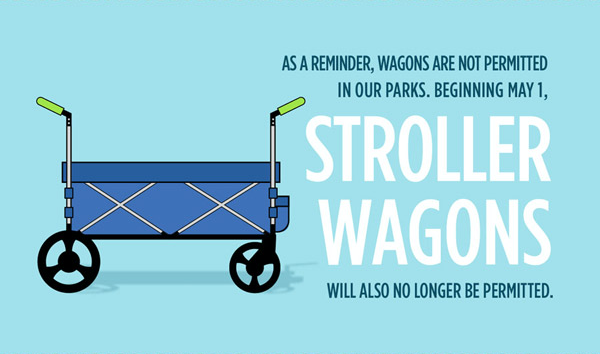 Typically, your own family's stroller will have additional features that will make it better for your child(ren) on those long days in the parks. The padding on the seat will make your child a little more comfortable. It will most likely be able to recline and have adjustable shades, allowing your little one to lounge back and relax or even sleep when they get too tired. Another lovely feature of bringing your own stroller is that it is absolutely free to do. 
Some types of strollers may not be allowed in due to size. Most strollers are under Disney's size limitations, which are 31 inches wide or less and less than 52 inches long, but be sure to check your stroller beforehand. Also be sure to check Disney's website for stroller type restrictions, since some types, such as wagons, are not allowed except for extenuating circumstances.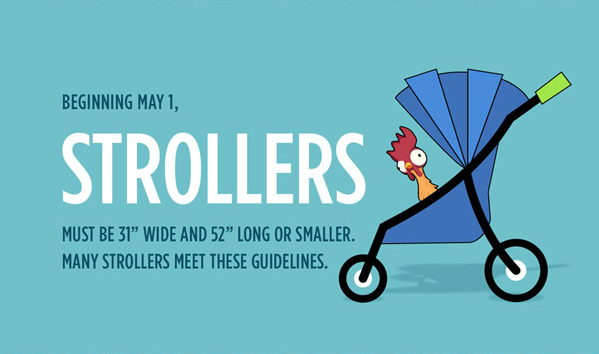 A downfall to bringing your own stroller is that from the beginning of your travels until you are home again, you have to lug it around and keep it in your possession. Strollers can be cumbersome, and if you want to park hop you will need to fold it down and take it with you. Also, you'll need to put something distinguishing on it, so it is easier to spot in the stroller parking sections.
Pros
It is absolutely free and can save you some money.

It may be more comfortable for your child.
Cons
You will have to bring it with you everywhere.

Some very large strollers may not be allowed in.
Renting Versus Bringing Your Own Stroller Overview
As you can see there are benefits and downfalls to both renting a stroller and bringing your own. However, after weighing the pros and cons, and testing it for ourselves, our conclusion is, bring your own.
Although the benefit of not having to carry the stroller around from place to place is amazing, the rental strollers at Disney are not as comfortable as the one's family's typically bring with them, and a child being as comfortable as possible during their Disney vacation is imperative to make sure every member of the family has the best time. It increases the likelihood that your child will nap or rest, and not fight being in the stroller. This allows parents to rush around to their favorite attractions with less fuss. 
Both are great options, but from our experience, bringing your own is the way to go. Do you prefer to rent a stroller or bring your own for your Disney vacations? Let us know your thoughts and experiences on the matter in the comments below.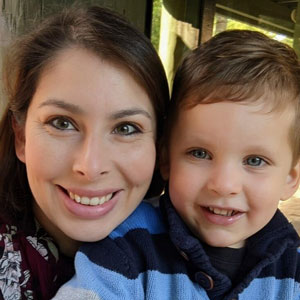 Written by
Rachel Van Norman
Contributing Writer
Rachel fell deeply in love with all things Disney as a little girl. Now as a wife and a mother herself, she shares this Disney obsession with her son and everyone around her. From her love of princesses to eating all the Disney food, Rachel spends her time radiating Disney magic and keeping everyone up to date on Disney news.