Although Disney World is infamous for Cinderella's Castle, pixie dust and princesses, there is more than enough adventure for boys to enjoy a fun filled trip! From fighting pirates to defeating Emperor Zurg, or meeting Ray in Star War's; Galaxy Edge, there is something for every and any aged boy at Disney World. Every park is filled with thrilling attractions, funny and adventure filled shows, boy favored characters and even scavenger hunts. If you are planning a boys trip to Disney World soon, here are some great things to check out and be sure to see!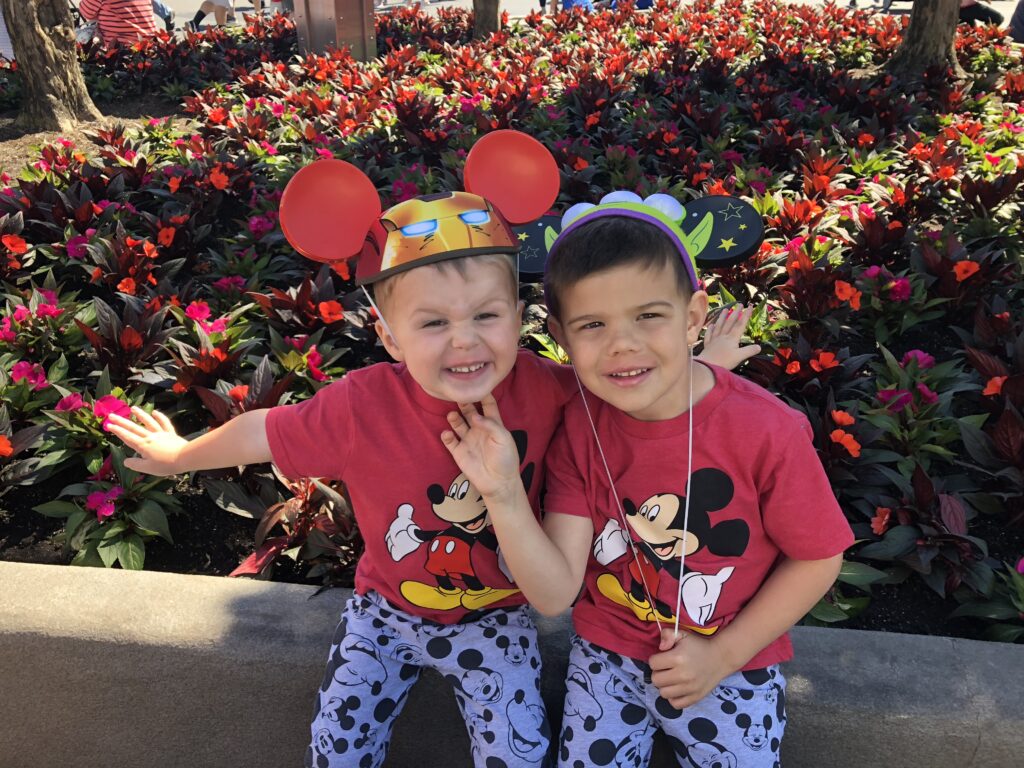 Adventurous Shows
Every park has thrilling and adventurous shows that will entertain boys at any age! A favorite is the Indiana Jones Epic Stunt Spectacular! at Hollywood Studios. Watch a live show as Indiana Jones dodges deadly traps, battle bad guys, and makes his thrilling escape out of Raider's of the Lost Ark! Your boys will be on the edge of their seat until the very end. A little secret; outside of the Indiana Jones Epic Stunt Spectacular! there is a rope that has a sign that says; "Do not pull," be sure to give it a tug for a little surprise.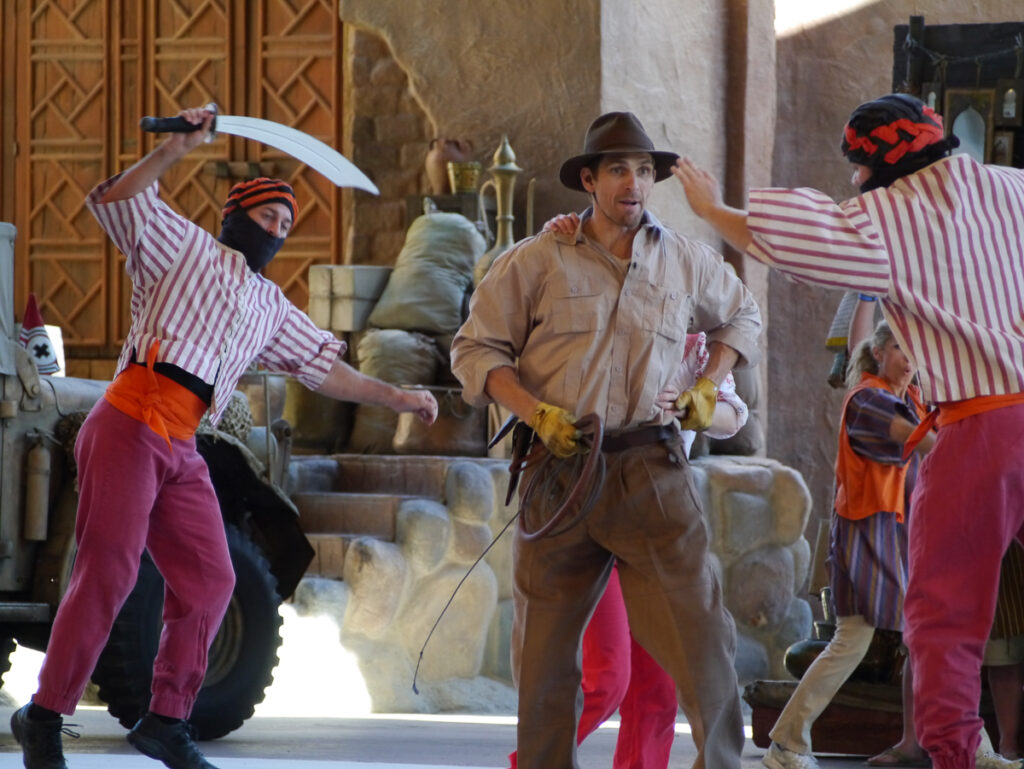 Some other shows to check out are the Pixar Pals Motorcade also at Hollywood Studios. This is a quick parade with characters like Buzz Light year, The Incredibles, Monsters Inc characters and more! Mickey's PhilharMagic and Monster's Inc Laugh Floor are always a fun time located in Magic Kingdom. Cool off and have a good laugh at Turtle Talk with Crush in Epcot.  At Animal Kingdom any animal loving boy will love A Celebration of Festival of the Lion King and their new water show; Kite Tails!
Boys Will be Boys!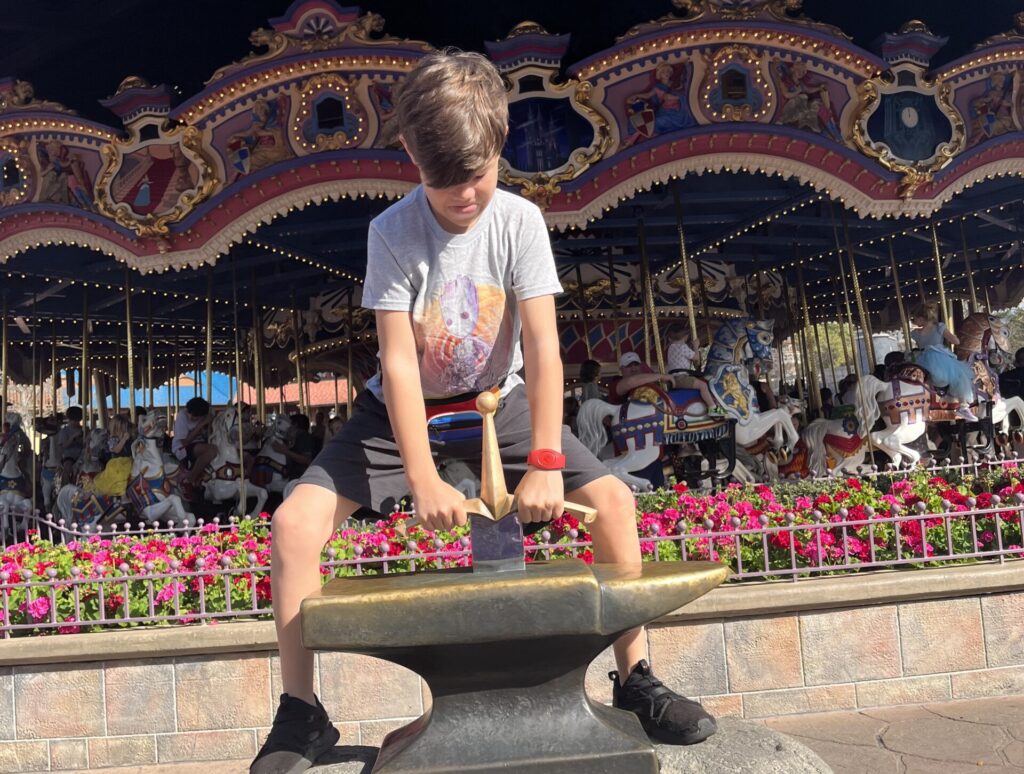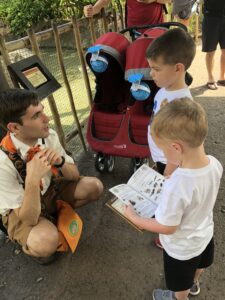 There is plenty of mischief your boys can get into at Disney World! Did you know at Magic Kingdom you can challenge Gaston to a push up contest? Just be ready to bring it, Gaston has been known to blow away the competition! You can also attempt to try your strength at pulling the sword out of the stone, in front of the Prince Charming Regal Carrousel. Your lucky boy could be the chosen one and named King for the day.
Let your boys explore the ultimate tree house at Swiss Family Treehouse in Magic Kingdom. Explore 360 degree views of Adventureland as you climb through the open air rooms and living quarters. If seeking is what your boys enjoy, be sure to send them on Wilderness Explorers scavenger hunt throughout Animal Kingdom. There are badge locations throughout the park where a troop leader will guide them to earn their badge!
Build Your Own Light Saber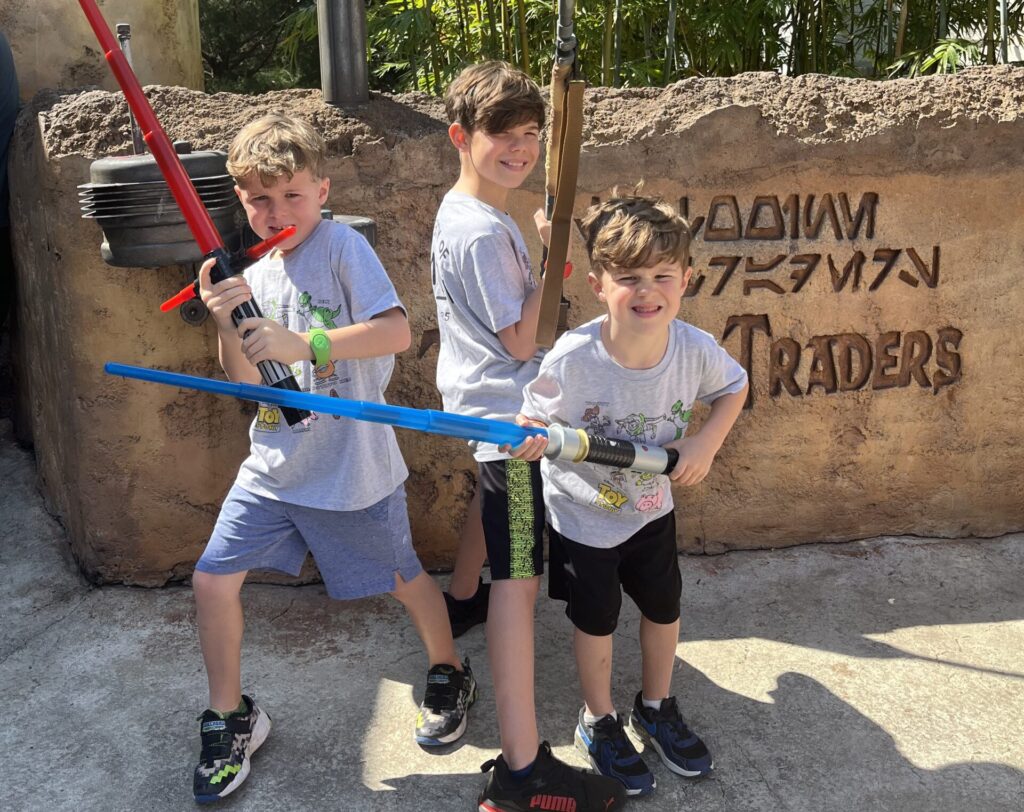 In Hollywood Studios, be sure to visit Tattooine Traders (outside of Star Tours- The Adventures Continue) to build your own lightsaber station! It has been closed for months due to supply shortages, but since February 2022 it has been back! Every Star Wars fan can custom make their own personal light saber and feel as though they're joining to force to beat the dark side!
A personal builder will assist you on your custom lightsaber. You can build a single light saber for $30, or a dual-blade lightsaber for $45. You can choose what color light saber you would like; red, white, blue, green, yellow or purple. From there you can choose what accessory items you want to add to make your lightsaber completely unique and yours! For a more intense custom built lightsaber you can make a reservation at Savi's Workshop. It usually takes more than hour and cost $219.99 per lightsaber.
Thrill Seeking Attractions
There are plenty of attractions to ride at Disney that will knock the socks off your boys! Head over to Adventureland in Magic Kingdom and ride the thrilling rollercoaster; Big Mountain Thunder Railroad, or cool off on Splash Mountain. In Tomorrowland you can ride cars at the Speedway, take a fast ride through space on Space Mountain, or score points by defeating Emperor Zurg on Buzz Lightyear's Space Ranger Spin.
At Hollywood Studios see how brave your boys are by riding Tower of Terror! Get ready to fight the dark side on Star Wars; Rise of the Resistance. Don't miss a trip to Toy Story Land and get on the fast and twirling rollercoaster; Slinky Dog Dash! At Epcot be sure to get on Test Track and Mission Space! And you will not want to miss the Kilimanjaro Safari at Animal Kingdom, or enter Pandora: The World of Avatar to see all they have to explore!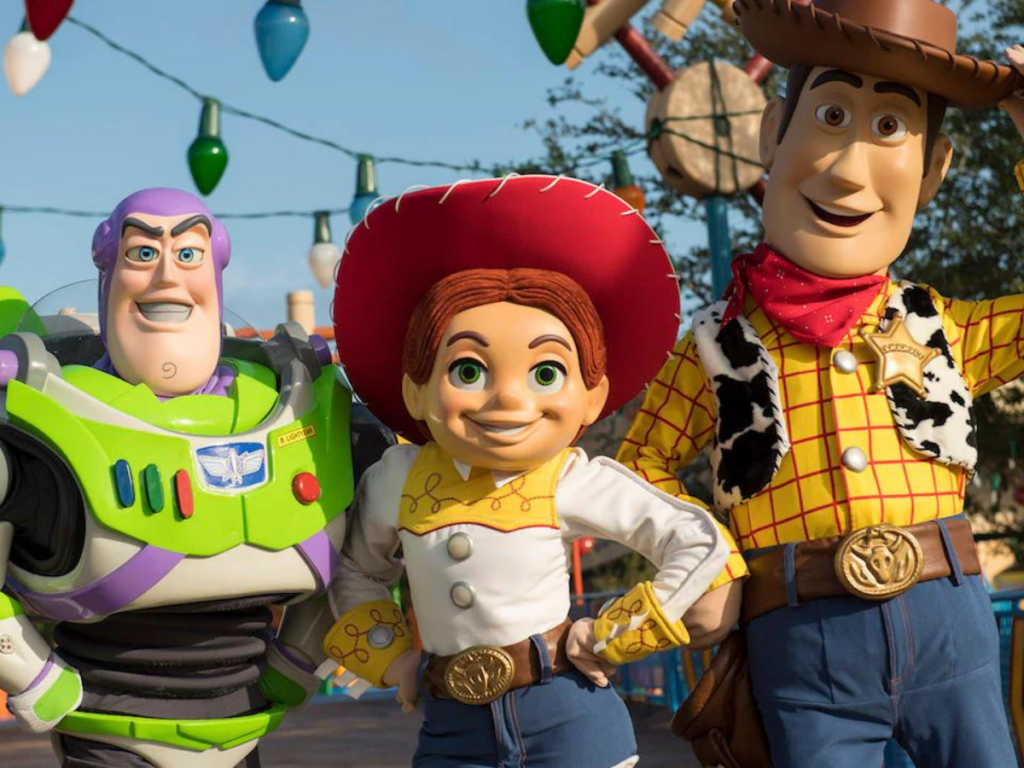 Disney World is the perfect place to take a boys trip! From thrill seeking attractions, to on the edge of your seat shows and plenty of adventure seeking mischief to be had! Every park has thrill seeking adventures for a fun filled boys trip to Disney World. If you need help planning your boy's trip to Walt Disney World, we can help! Get information on how you can use DVCShop Rentals to book your Disney vacation stay here.
Featured Photo: Disney.
Written by
Erin Bonsall
Contributing Writer
Erin is mom of 4 little boys and a pre-school teacher, from outside of Charlotte, NC. She remembers one magical Disney trip at a young age, but having children made her want to bring her own kids to the happiest place on earth! One trip 7 years ago started a love for everything Disney! Now her family visits Disney World as much as possible and it is their favorite place to make magical memories!