The third of Magic Kingdom's trio of "mountain" rides, Splash Mountain is always a fun ride for those who love large drops and those who are brave enough to risk the possibility of getting soaked. One of the most famous and beloved rides at Disney World, Splash Mountain is a thrill ride you won't want to miss. Continue reading below to learn more about this exciting ride.
Splash Mountain Details

| | |
| --- | --- |
| Walt Disney World Park | Magic Kingdom Park |
| Location in Park | Frontierland |
| Height Restrictions | 40 inches |
| Age Interests | Children to adults |
| Thrill Type | Thrill ride, water ride, big drop |
| Hours | Regular Park Hours |
| Wait Times | 45+ minutes |
| Accessibility Information | Must transfer from wheelchair/ECV |
Ride Overview
The original theme of Splash Mountain is based on several Uncle Remus's stories in the 1946 Disney movie, Song of the South. The animated sections about Br'er Rabbit, who is searching for his "laughing place," while Br'er Fox and Br'er Bear try to catch him are specifically taken from the movie. 
New Theme Planned
Disney has announced that they will begin retheming Splash Mountain in the near future to the 2009 film The Princess and the Frog. The ride setting will take place after the movie, with Tiana and Louis preparing for their first Mardi Gras performance, and will feature a song from the film. No announcements have been made regarding when closures and construction of the ride will commence. Disney has stated that imagineer Tony Baxter, who worked on the original theming of the ride, will be coming back to work on the new version of Splash Mountain. These changes will be coming to both the Disneyland and Disney World's Magic Kingdom versions of the ride.
Current Ride Experience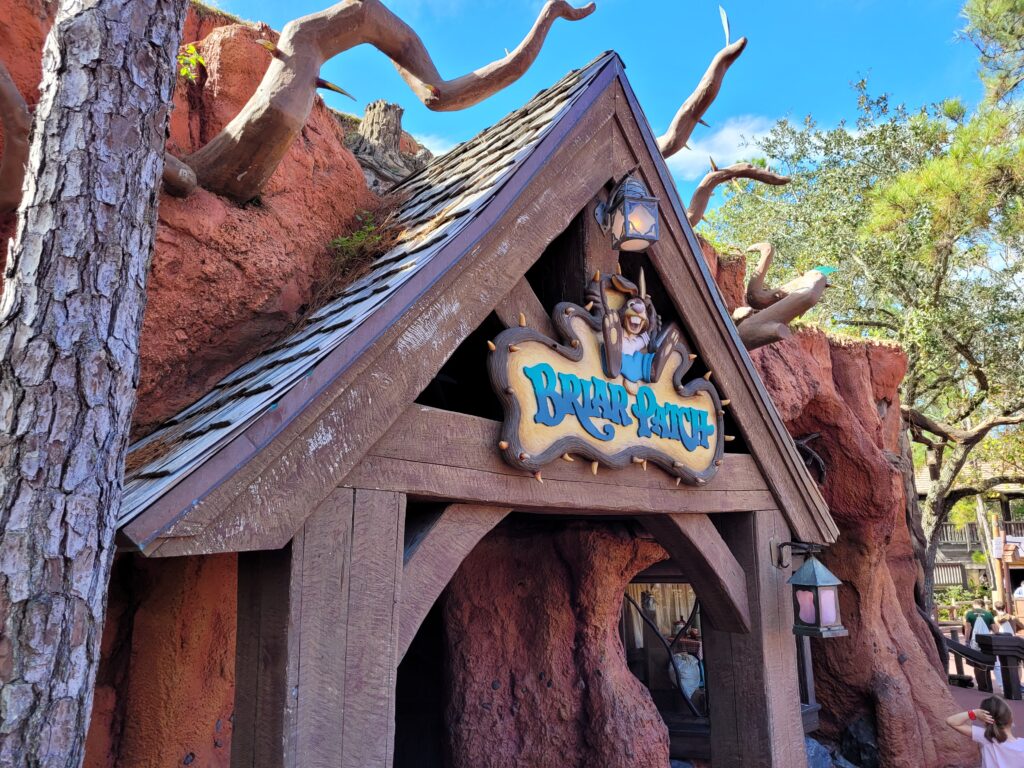 Once guests reach the loading area, they board log flumes, each with four rows, each row sitting two guests each, with a total of eight people per log. Since 2011, the logs have been equipped with lap bars for extra safety. Once the log departs, Br'er Frog begins his introduction and narration of the ride. The log goes a short straight distance in the water before going up a lift hill up to the outside of the mountain, to a pond at the bottom of the big drop. Here guests have a great view of the drop they will experience later, and a briar patch of scary-looking thorns. Then the log goes inside the mountain, up another hill, and emerges outside behind the mountain, floating through a river evocative of those in Georgia, where Song of the South was set. 
The log continues to float along through a rocky, earthy landscape, complete with the character's homes, as well as farm equipment, stagecoaches, and ale barrels, and topped off with an instrumental version of "How Do You Do?". After passing through Br'er Bear's cave, the log speeds down the Slippin' Falls, a short drop, and enters the inside of the mountain. Here guests float through a beautiful indoor part of the attraction, with animatronic animals singing a chorus of "How Do You Do?" Each scene guests pass shows parts of Br'er Rabbit's journey. Br'er Rabbit's enemies, Br'er Fox and Br'er Bear overhear Br'er Rabbit saying he is going to his Laughing Place, and though Br'er Rabbit is warned against it, he continues on.
Br'er Bear springs Br'er Fox's rabbit trap, and "Everybody's Got a Laughing Place" begins to play. Opossums sing the song overhead, and then the log reaches a dark tunnel with a "drip-drop" into the Laughing Place. Br'er Rabbit manages to evade Br'er Bear, unaware that Br'er Fox is waiting for his moment to attack. Then there's another short drop into a set of caverns with turtles, bullfrogs, and fountains, with scattered signs saying "Beware" and "Watch Out" where Br'er Rabbit has been caught by Br'er Fox. Passing a sign reading "Br'er Fox's Lair," the log enters a dark tunnel to ascend the final hill, where two vultures taunt riders and Br'er Rabbit begs Br'er Fox not to throw him into the briar patch.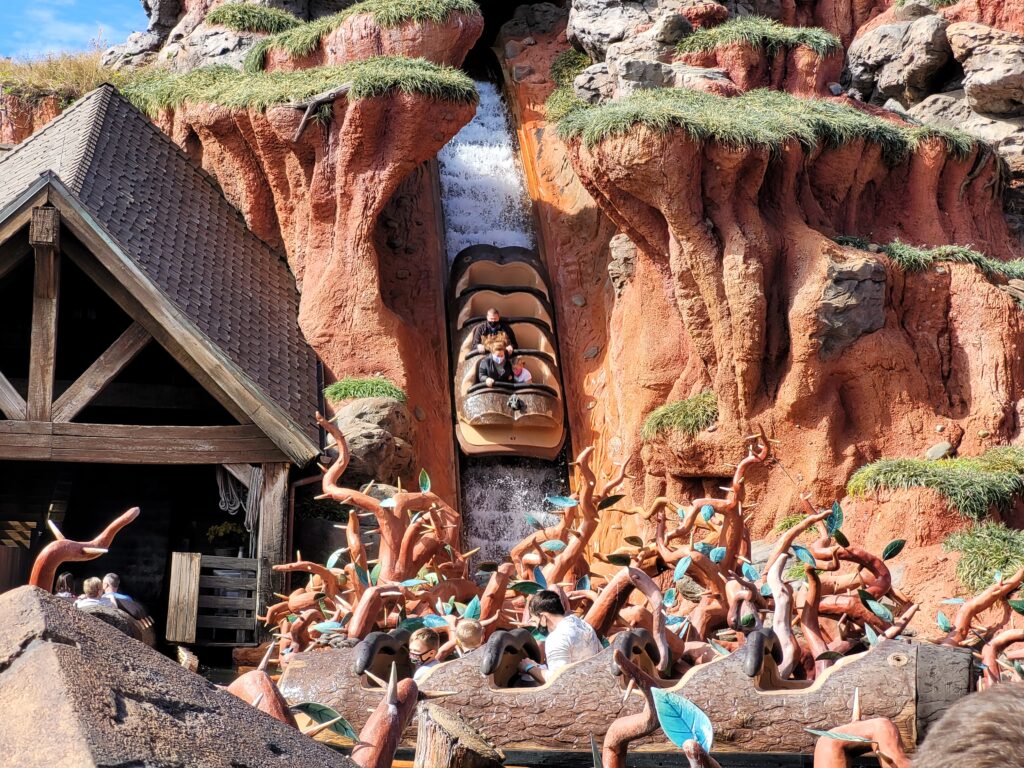 Then comes the 50-ft drop, at a 45-degree angle, reaching up to 40mph, into the briar patch and large splashes of water. The log coasts outside for a while, going under the Frontierland walkway at one point, before finally entering the mountain again. There more animatronic animals on a ship called the Zip-a-Dee Lady are sending up a rising chorus of "Zip-a-Dee-Doo-Dah" in celebration of Br'er Rabbit's return. Br'er Rabbit tells Mr. Bluebird that he's learned his lesson, while Br'er Fox and Br'er Bear try to escape Br'er Gator. After the ride, guests are able to tap their tickets or MagicBands to save their ride photos if they wish. The ride itself lasts about 12 minutes.
Map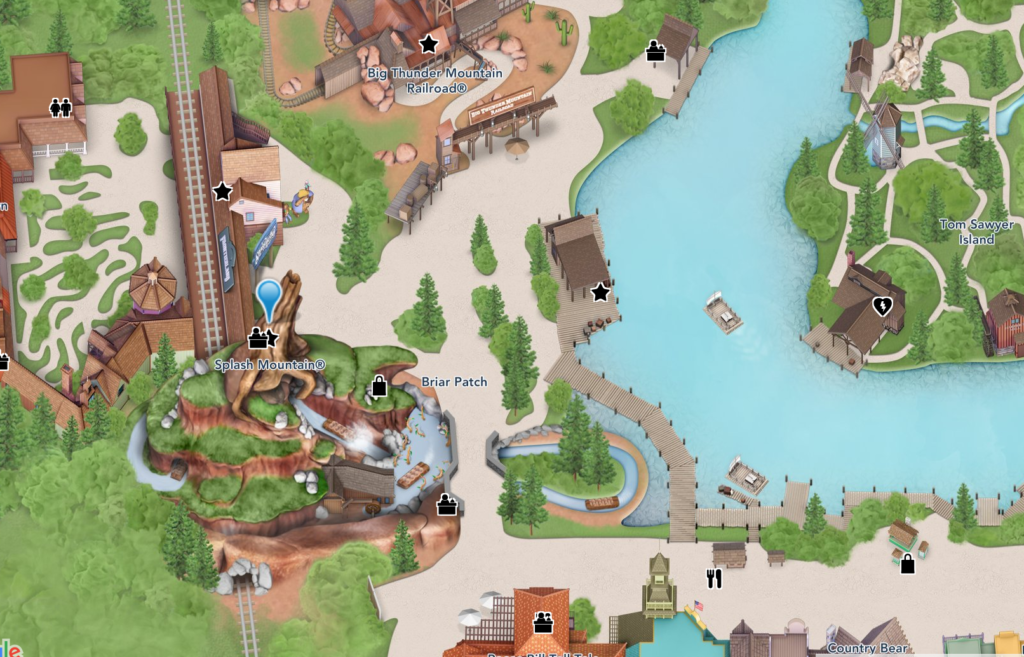 Location and Wait-times
Guests at the Magic Kingdom can find Splash Mountain near the back of Frontierland, next door to Big Thunder Mountain and across the Rivers of America from Tom Sawyer's Island. If entering from Adventureland, guests will see it straight ahead of them to their left and guests entering from Liberty Square can find it ahead of them on their right.
Even though the ride has been open for 27 years, its popularity and entertainment have not faded in the least. One of the most popular rides in the park, you can likely expect at the very least a 45-minute wait-time, with the average wait-time cycling between 90-120 minutes. If you have the opportunity, it's absolutely a great ride to try to obtain a Fastpass+ for, unless you plan to ride it first thing after park open or right after fireworks and before park close. Fastpass+ guests will still likely have a bit of a wait as well, but the queue helps build the anticipation for the ride experience.
A drawback of Splash Mountain for some is the likelihood of getting soaked. Most guests choose to either wear ponchos on the ride or clothes that will dry quickly. It's also important to note that no children under 40 inches can ride Splash Mountain. Guests with younger children should keep this in mind.
Queue Experience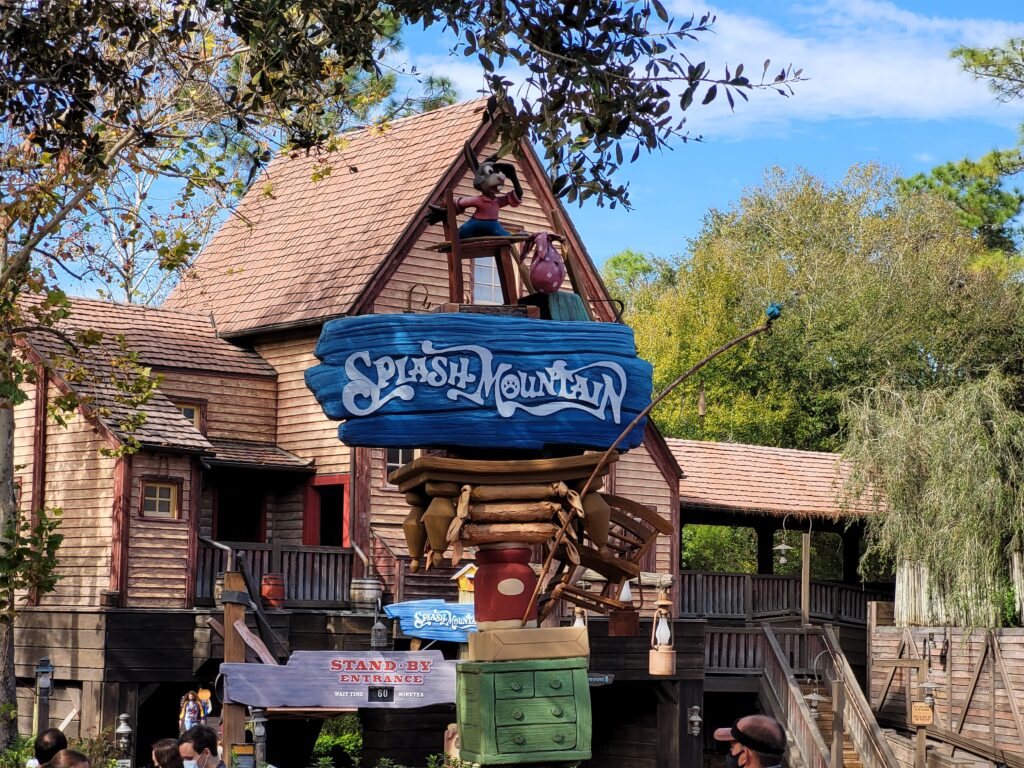 Splash Mountain's queue slowly draws guests from the world of Frontierland into the Song of the South. The beginning of the queue has guests entering a rustic barnyard, with the lines formed with short stone walls with wooden fences built on top. This leads to a barn and the mountain, where guests transition into the animated world. Instrumental versions of songs from Song of the South are included in the queue music, including the film's opening theme, "That's What Uncle Remus Said," as well as "Let the Rain Pour Down," and "Sooner or Later." You may also hear bluegrass-style versions of "Old MacDonald Had a Farm" and "Goober Peas."
Ride Notes
Most of the Splash Mountain ride experience is spent calmly floatin on the water, with the exception of the small drop at the beginning and the 50-ft drop near the end. It is noted for safety reasons, due to the drops, guests with high blood pressure, heart, back, or neck problems, as well as motion sickness could find their medical conditions aggravated by choosing to go on this ride. Expectant mothers should also not ride. Guests in wheelchairs or ECVs will have to transfer in order to ride. Those with a fear of heights may also want to be cautious of this ride.
Seth Nock
and the DVC Shop Editorial Team