One of the most iconic rides at Disney World, Space Mountain is a thrilling, space-themed indoor roller coaster that is perfect for adventure seekers. Guests looking for an exciting and exhilarating experience should be sure to add Space Mountain to their list of rides to visit when at Disney's Magic Kingdom, or any of the other Disney Parks where there is a Space Mountain attraction. Continuing reading below for more information about this very popular Disney attraction. 
Space Mountain Details

| | |
| --- | --- |
| Walt Disney World Park | Magic Kingdom |
| Location in Park | Tomorrowland |
| Height Restrictions | 44 inches |
| Age Interests | Older children to adult |
| Thrill Type | Adventure |
| Hours | Regular park hours |
| Wait Times | 45+ minutes |
| Lightning Lane | Yes |
| Accessibility Information | Must transfer from wheelchair, no service animals |
Ride Overview
Space Mountain is known as one of the most thrilling rides at Disney's The Magic Kingdom. A space-themed roller coaster, it first opened at Walt Disney World in January 1975. Walt Disney first conceived of the concept after the success of the Matterhorn Bobsleds at Disneyland in 1959, but due to technological limitations at the time, this idea was unable to be realized until years later. Space Mountain at Disneyland opened two years after its counterpart at Disney World. 
Imagineer Bill Watkins designed both Florida and California's Space Mountains. Watkins is also known for working on other famous rides like Big Thunder Mountain Railroad, the Peoplemover, as well as the openings for both EPCOT and Tokyo Disneyland. The Imagineers also consulted astronauts during their design of the space-themed ride.
Map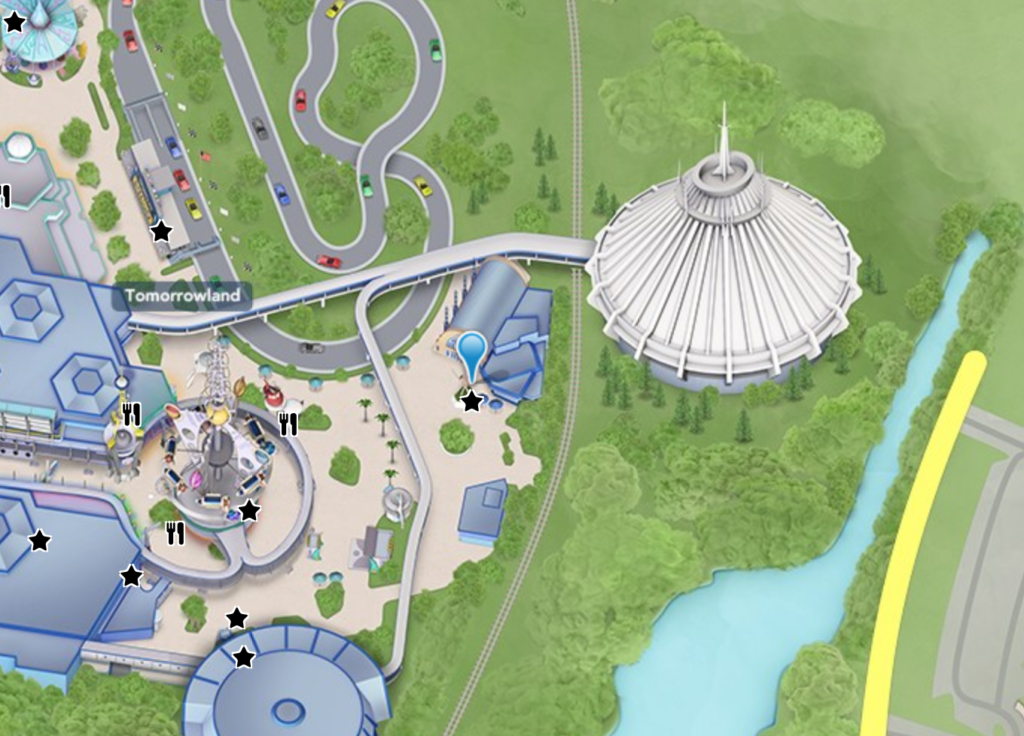 Location and Wait-times
Guests at the Magic Kingdom can find Space Mountain in the central back section of Tomorrowland. If entering from Main Street, USA, head straight through Tomorrowland to find it. If entering from Fantasyland, Space Mountain will be on your left when you enter Tomorrowland. 
After 46 years, Space Mountain hasn't lost any of its popularity, so expect a long queue unless you get in line first thing in the morning, right after fireworks, or with Fastpass+.  A typical stand-by queue line during busy times for Space Mountain is usually 90-120 minutes long, resulting in most repeat visitors considering a 45 minute wait (which might seem long) a short amount of time compared to the average wait. 
Fastpass+ guests should expect a short wait as well, so it's important to prepare to wait to enjoy the iconic ride. In addition, there is a 44-inch height restriction, so keep that in mind if you have younger children with you.
Queue Experience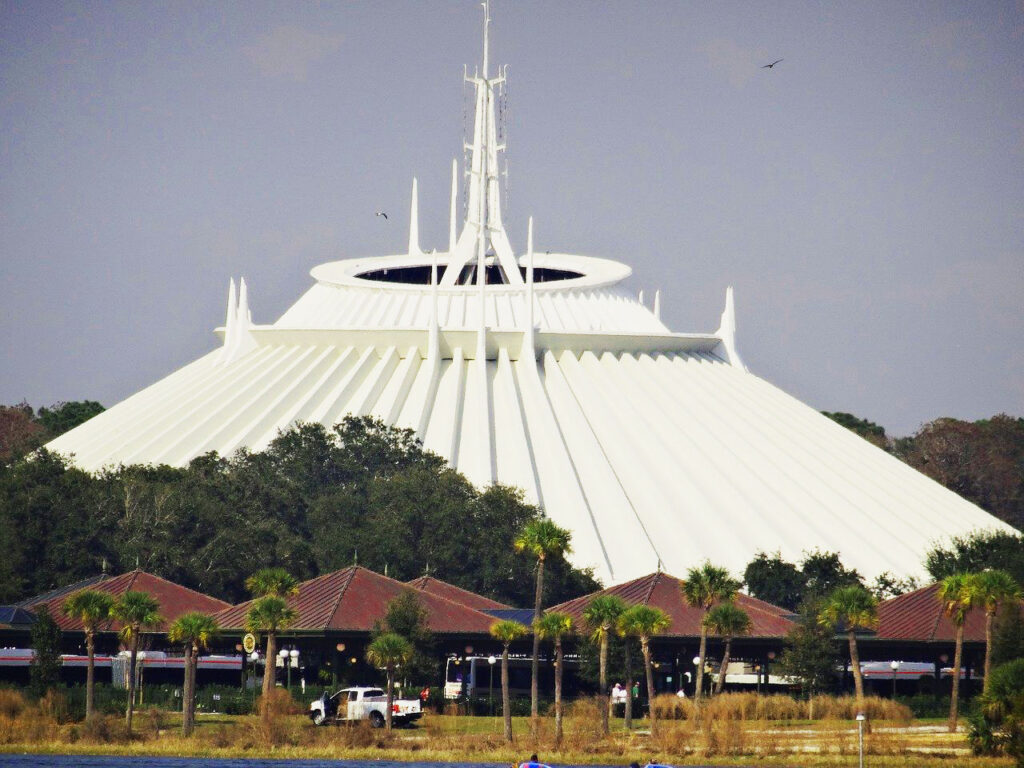 The queue experience is quite interesting and fun, especially if you're at all interested in space. Once inside, guests will find the interior coated in blue and dim white lights, giving the impression of actually being in outer space. A sign immediately greets "space travellers" to Starport Seven-Five, inviting you to a "getaway to the galaxies." 
The queue is designed like a space station, where guests will find star maps and charts, and windows looking out to the stars around the station. Previously, there were interactive game screens in the queue for guests, but since the arrival of the Play Disney Parks app, these screens now show potential space destinations, nebulas, galaxies, and a travel log (similar to those you might find in an airport). As you walk the queue, the blue light gets darker and darker, giving the impression that you are not only getting closer to your destination, but to space itself.
Once guests reach the Control Tower, they will then be separated into two different queues, one for the Alpha track, one for the Omega track. These tracks are parallel to each other and are both 90ft in the air in the loading zone. Both tracks are over 3100ft long, though the Alpha track is ten feet longer at 3196ft. Once through the queue line for your assigned track, guests will then be in the loading zone, leading their official ride experience.
Ride Experience
Space Mountain reaches speeds of just under 30mph and has no upside-down portions or major drops. However, it's definitely a unique and thrilling experience, with theming and presentation that draw guests back over and over. 
Guests are seated and strapped into two single-row rocket-shaped cars that are painted blue and gray for the theming. The ride first begins with the cars going around a corner and then up a lift hill with increasingly frequent strobing lights. At the top of the hill, your rocket's photo gets taken. This hill runs parallel to the rockets on the other track, as well as Peoplemover, and guests can often make these other tracks out as they proceed up the hill.
Once the on-ride photo is taken, the ride makes a turn and clack-clack-clacks up a steep incline, at the summit of which the rockets make a small, sharp drop, leading to many twists, turns, and small, sudden plunges (the largest drop is 26ft)  in the near-pitch black of the mountain, with the only lighting from the stars scattered across the space of the mountain.
The end of the space ride is marked by your rocket's passage through a swirling red wormhole, and making a short turn before reaching the unloading zone.
Post-Ride Queue Experience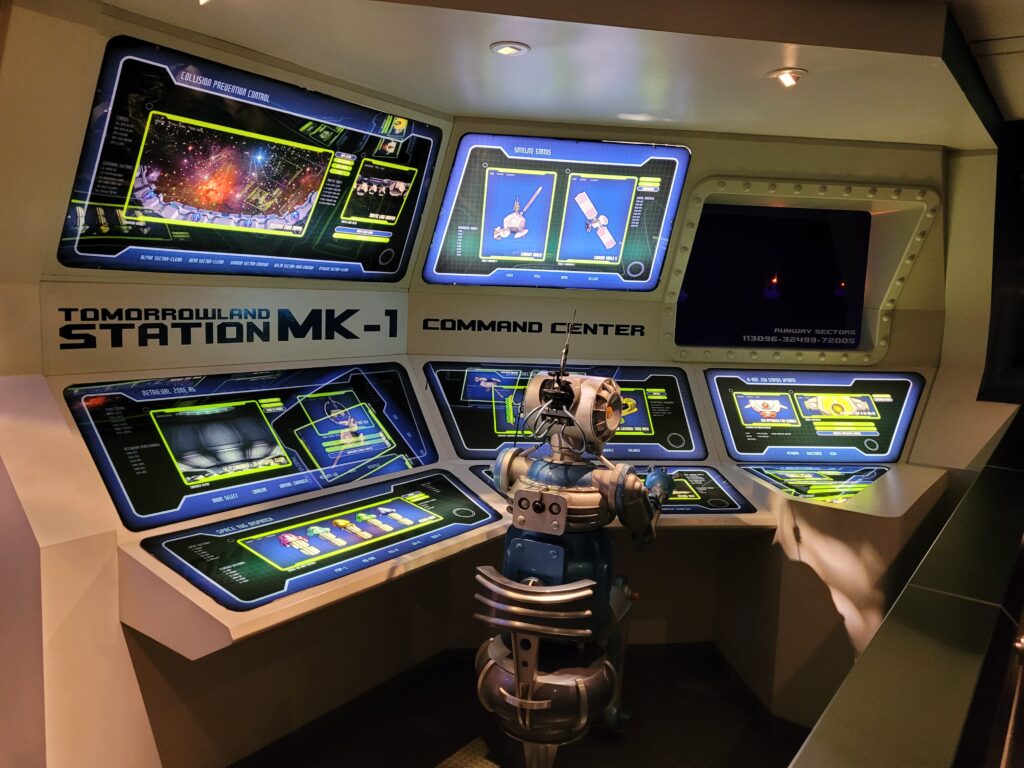 The post-ride queue experience is marked by sleek, futuristic designs, with rooms advertising different destinations around the galaxy the spaceport promotes travel to. These rooms are all hexagonally- or octagonally-shaped, showcasing different planets, portions of the space station. Guests then walk up a steep incline out of space and into the gift shop, and the exit to see the rest of Tomorrowland.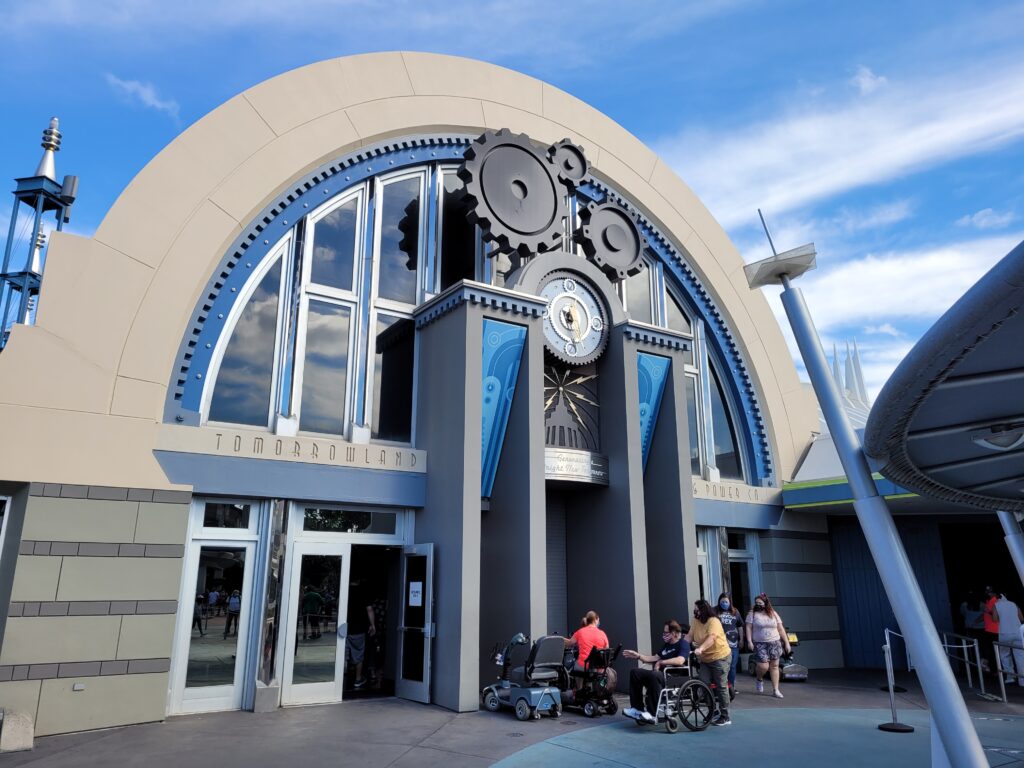 Ride Notes
Compared with other thrilling rides at Disney World, Space Mountain falls between Big Thunder Mountain Railroad and Rock n' Roller Coaster. There are quite a few flashing lights, and the ride is one of the jerkier ones at Disney World. Guests with high blood pressure, heart, back or neck problems could find their health aggravated by the ride, and expectant mothers are discouraged from riding. 
Guests with disabilities should note that service animals are not permitted on the ride. Those with mobility disabilities should keep in mind that if they are in a wheelchair (or ECV), they will have to transfer into the rocket. Riders must also be able to step over a small wall in order to settle into the low seat in the rocket, in which their legs will have to extend out straight and under the seat in front of them. Small children may become nervous riding as they will not be able to sit next to a parent or an older sibling.
Space Mountain is a classic for a reason. If you are in good health and enjoy thrill rides, this is definitely one attraction you don't want to miss on your next trip to Disney's Magic Kingdom!