Savi's Workshop is a shop located in Galaxy's Edge in both Disney's Hollywood Studios and in Disneyland. Here guests are able to build their own custom lightsaber. This is more than just building a toy, it is a full immersive experience that those wishing to harness the power of the Jedi will love. Here is everything you need to know about Savi's Workshop.
Choose Your Faction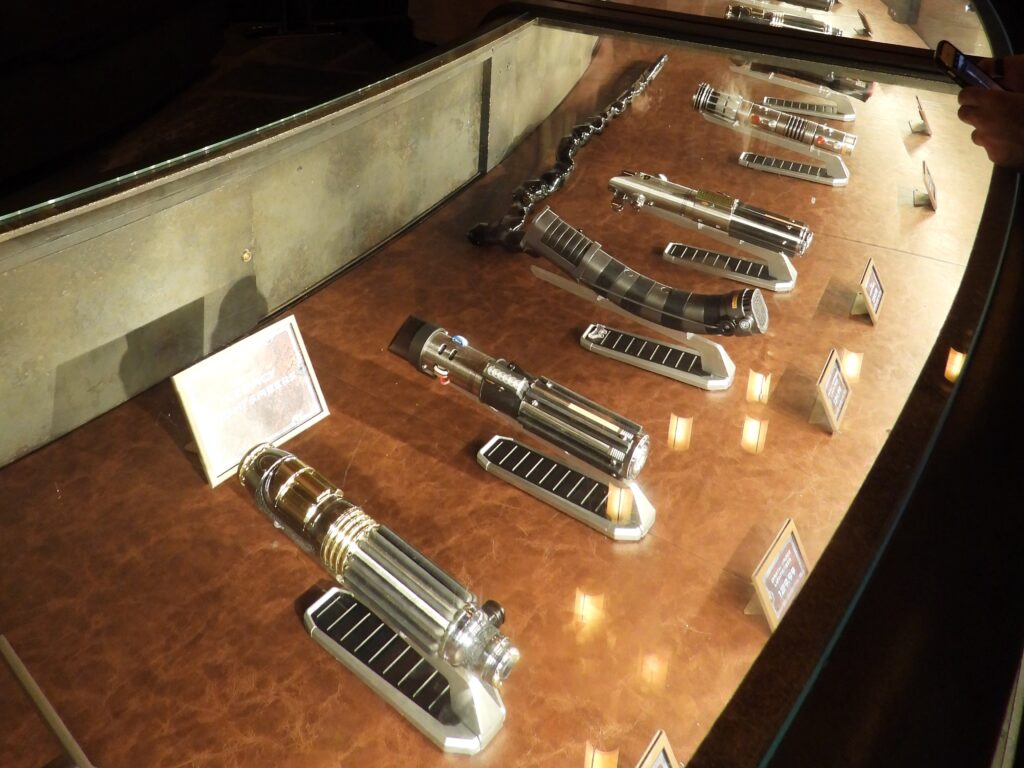 Peace and Justice
Lightsabers in the Peace and Justice faction will be made of Jedi temple and starship scraps to honor the fallen Jedi.
Power and Control
These lightsabers were originally created by the dark side. They are Sith inspired and made with pieces from their temples.
Elemental Nature
The Force is an energy that is created by all living things, and these lightsabers use parts of nature such as Rancor teeth and Brylark trees.
Protection and Defense
The ancient roots of the Force are celebrated with these lightsabers and the inscriptions that they carry on them.
More Than One
All of the factions at Savi's are interchangeable, which gives you the opportunity to mix and match the hilt parts. If you build multiple lightsabers at Savi's Workshop that have different factions, you will be able to change out the parts of one of your lightsabers with another, giving you even more customization options at any point.
Assemble Your Lightsaber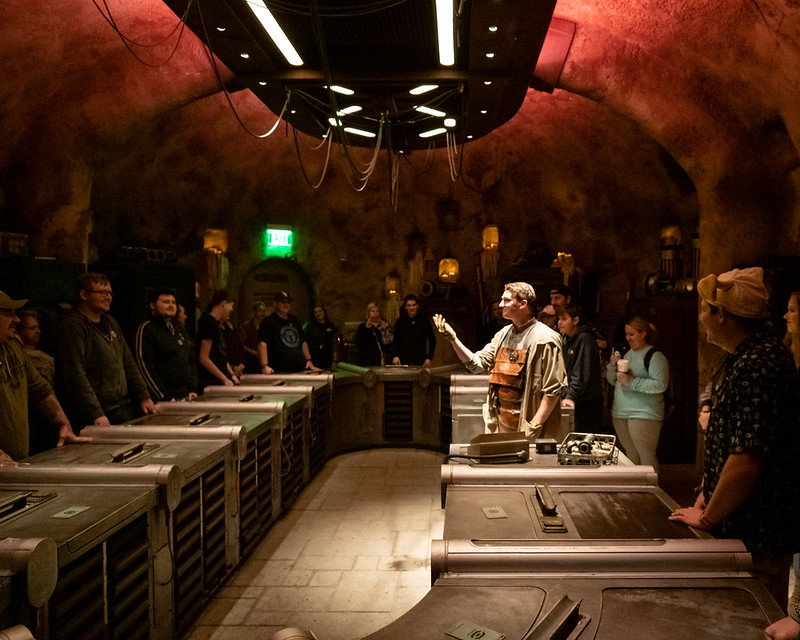 The Hilt
Once you choose your faction, the Gatherers will help you to select a Kyber crystal, which will serve as the heart and power source of your lightsaber. Kyber crystals are available in 4 different color options; red, blue, green, and violet. These Kyber crystal colors will also be the color of your lightsaber blade.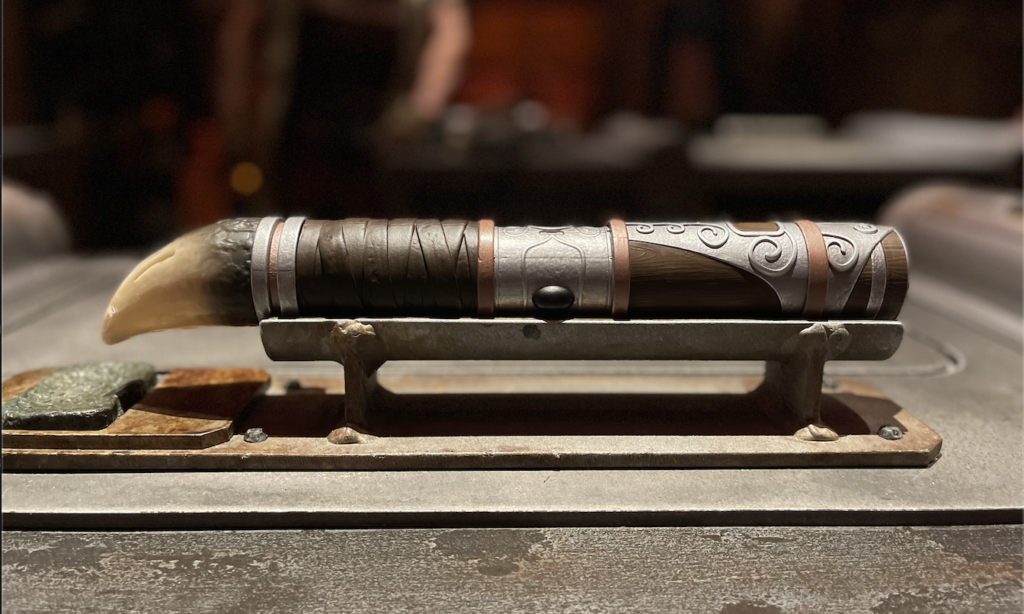 After the Kyber crystal is chosen, you can assemble your hilt from a box of parts. Each box contains:
1 hilt
4 sleeves (pick 2)
2 emitters (pick 1)
2 pommel caps (pick 1)
2 sets of activation plates and switches (pick 1 set)
After you finish building your hilt, the Gatherers will take the unused parts back as inventory for the younglings.
The Blade
Once the hilt is assembled, the Gatherers will connect the lightsaber blade to your custom hilt to prepare you for battle. The lightsaber blade comes in 3 different sizes, but only the medium 31 inch one is included in the package.
The lightsaber blades come in different colors, and each color will create different sounds that emulate different lightsabers from the Star Wars movies.
The color of the lightsaber comes from the Kyber crystal that you chose at the beginning of the experience. You can purchase more Kyber crystals in Savi's Workshop so that you can change the color and sound whenever you wish.
Cost
For such an immersive and exciting experience guests can expect to pay top dollar. However, is it worth it? Everyone who has done it says absolutely yes.
Lightsaber
You can expect to pay $219.99 plus tax for your lightsaber. For this price you will not only receive your lightsaber, but also a cloisonné pin and carrying case as well. DVC member discounts do not apply to this shop experience. Payment is due upon arrival.
Kyber Crystals
If you wish to have the options of more colors and sounds, extra Kyber crystals are available for purchase at Savi's Workshop. They cost $14.99, but DVC members will be able to use their discounts to purchase them, bringing the price down.
Who Can Build One
This experience is perfect for all over 5 years old. Although younger ones can build, they may not enjoy the full experience as much as the recommended 5 and up. At least one person in your building party must be 14 years or older.
Those able to enter this sacred area will be limited to the builder and one guest. It is also important to note that if you wish to build as well, you will need to purchase a lightsaber as well. Guests are not permitted to build with the designated builder.
Reservations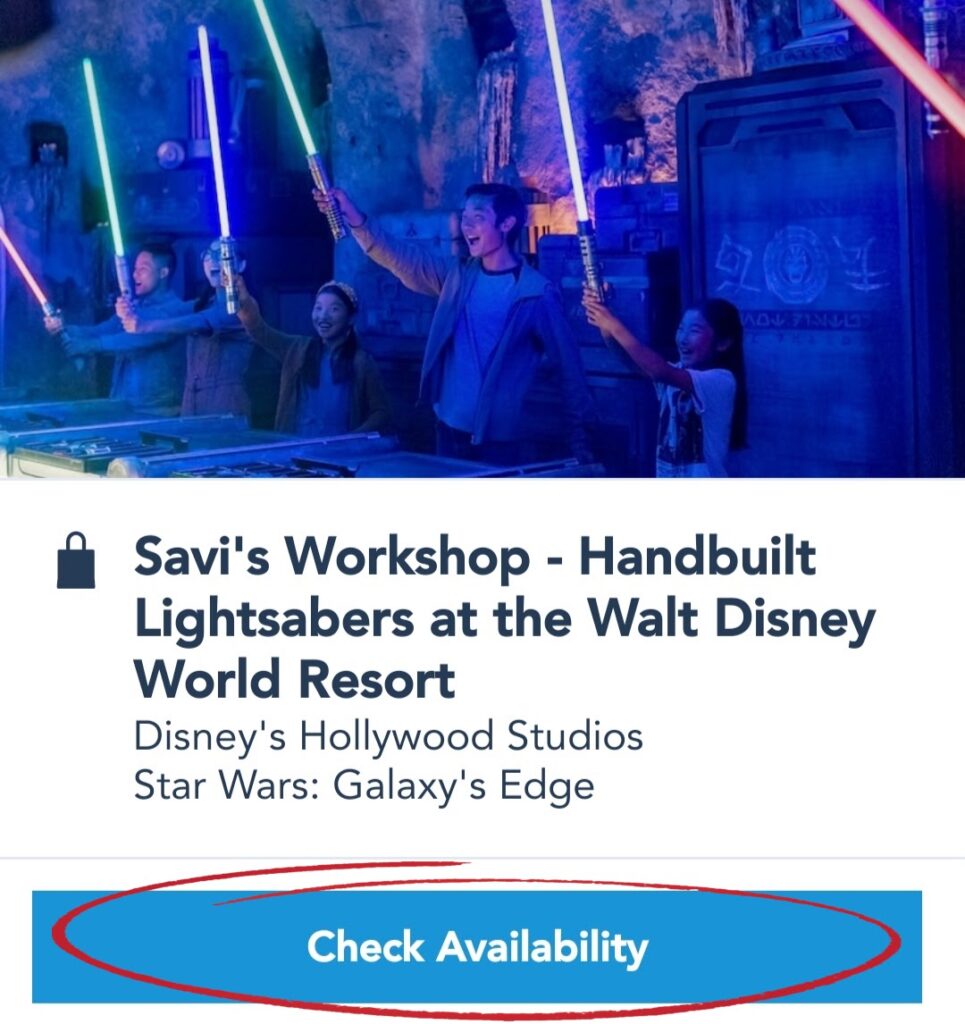 Do I Need One?
Although a reservation is not required to build a custom lightsaber at Savi's Workshop, it is highly recommended. Walk ins will be accommodated based on availability, but due to Savi's popularity it'd be best to book ahead of time to guarantee a spot. Reservations can be booked on the My Disney Experience app or on the Savi's Workshop page on the Walt Disney World website.
Guests making a reservation will also need to have a ticket and park reservation for Disney's Hollywood Studios for the day that they want to book. Reservations are non transferrable.
Check In
Guests should plan to arrive no sooner than 15 minutes before their reservation, 5 to 10 minutes early will give guests plenty of time. When guests arrive, they should head to the check-in location in the front of Savi's Workshop. Be sure that every member of your building party is present at check in. Being late to check in for your reservation may mean that you cannot build.
Guests will need to provide their reservation confirmation, credit card that was given, and a photo ID.
Cancellations
When booking a reservation, guests will be required to enter a valid credit card number. If guests no show on their reservation they will be charged a cancellation fee.
As long as guests cancel 24 hours in advance, they will not be charged a cancellation fee.
Let's Review
Savi's Workshop in Galaxy's Edge is not only the opportunity to create a souvenir and toy, but also an incredible immersive experience. Guests can expect to pay over $220 for this experience, but no one has ever regretted doing it. The lightsabers are customizable and interchangeable and a perfect event for those ages 5 and older. Guests will want to book a reservation in advance if this is a must do for them in the parks, and be sure to have tickets and reservations for the parks as well.
Savi's Workshop is truly a one of a kind experience. Have you ever built your own lightsaber at Savi's before? Was it in Disney's Hollywood Studios or Disneyland? What did you think of the experience? Let us know in the comments below.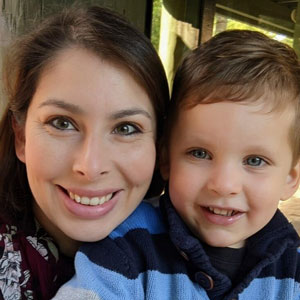 Written by
Rachel Van Norman
Contributing Writer
Rachel fell deeply in love with all things Disney as a little girl. Now as a wife and a mother herself, she shares this Disney obsession with her son and everyone around her. From her love of princesses to eating all the Disney food, Rachel spends her time radiating Disney magic and keeping everyone up to date on Disney news.