When traveling to Walt Disney World, there are so many signature attractions that you KNOW your kids will love – Dumbo, the Kilimanjaro Safari, Frozen Ever After, and Mickey and Minnie's Runaway Railway to name a few.  Their entrances are grand and eye-catching and they often have long wait times listed on the My Disney Experience app. No matter what, you can't and won't miss the chance to experience these rides, no matter how many people have the same idea.
But in between the BIG attractions that everyone knows, loves, and would never skip are hidden gems that usually have very short wait times and sometimes none at all (and therefore do not always show up under wait times if you are religiously planning your day with the My Disney Experience app)! Today, we highlight 10 hidden attractions at Disney World that we know your children will love and are sure to add extra magic to your day, especially when you may need a break from waiting in a long line.
1. Kidcot Fun Stops
While the adults may be enthusiastic about eating and drinking around the world, little mousketeers may be a little unimpressed while traveling from country to country around the World Showcase in EPCOT. An amazing way to keep them engaged (and learning!) is to find the Kidcot Fun Stops inside of each country. These are not always found at the front or main entrance of each pavilion, so it encourages kids to explore each of the 11 nations and look for cast members ready to handout a special keepsake.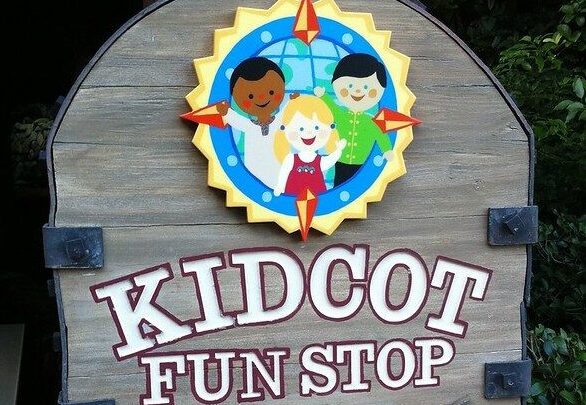 2. German Pavilion Garden Railway
Positioned adjacent to the Germany Pavilion in EPCOT, this model train display is not to be missed!  Its meticulous details take you on a journey through a hilly countryside and a quaint town. With multiple trains and tracks coming and going, it's the perfect spot to slow your stroll and let your little ones' imaginations be whisked away on a locomotive trip.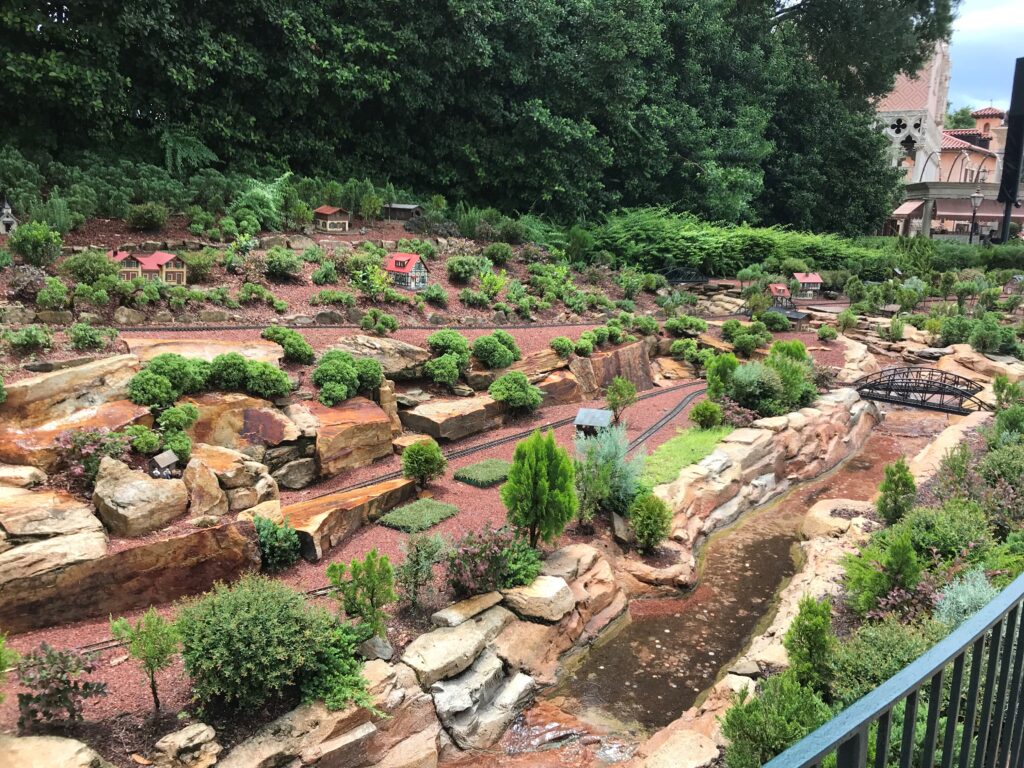 3. Beauty and the Beast Singalong Film
Located in the France Pavilion among the delicious pastries, ice cream, coffee, and wine (one of each, please!) is a hidden attraction that is ideal for the kiddos. If you aren't looking for it, you may pass the perfect opportunity to take a load off of your feet at the Beauty and the Beast Singalong. Enter the theater for a 15-minute show featuring the signature tunes from this fan-favorite movie. This attraction does not appear on the wait times screen of the My Disney Experience App, so it's an easy one to miss!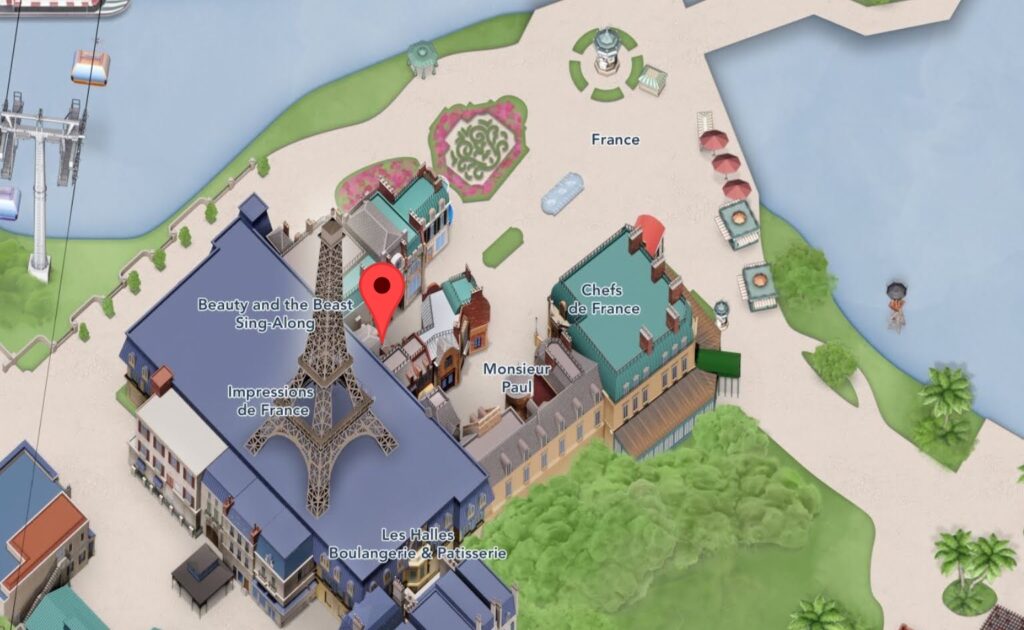 4. Wilderness Explorers
Similarly designed to the Kidcot Fun Stops, positioned throughout Animal Kingdom park are Wilderness Explorer kiosks. At these kiosks, you learn and complete nature-themed challenges or activities to earn badges just like the endearing character Russel in the movie "Up." There is the opportunity to collect as many as 25 badges across Disney World's largest park. This will keep your kids engaged as you move from attraction to attraction and land to land in Animal Kingdom all while learning a few new things!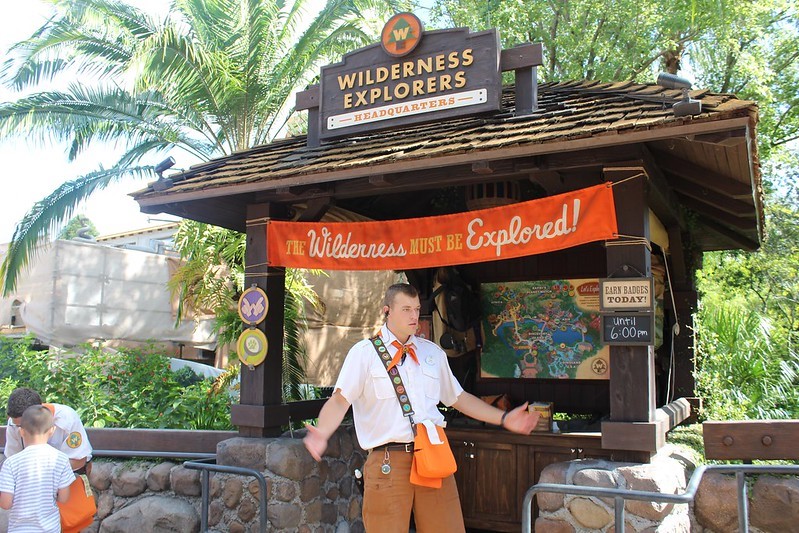 5. The Boneyard
Also located in Animal Kingdom, The Boneyard is a wonderful way for children 10 and under to burn off some energy after standing in a long line or sitting for a show. Let them climb up and slide down the fossil-themed play area that offers shade, large cooling fans, and places where children can actually dig to find hidden artifacts! It may seem unusual to spend time at a playground inside of a Disney park that you likely paid over $100 to enter, but the free time may be just what your children need before queueing up for the next big attraction.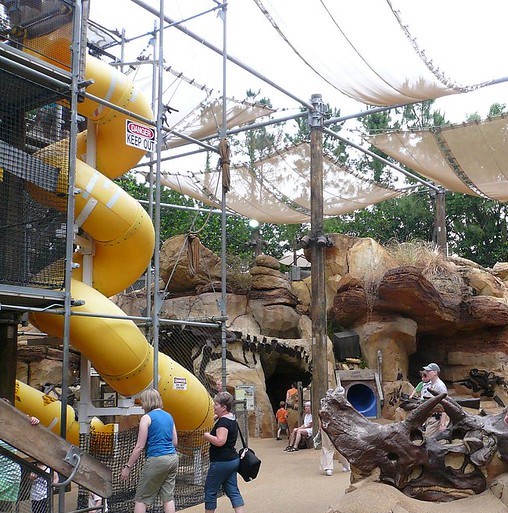 6. Discovery Island Trails
The Tree of Life is the focal point when you enter Animal Kingdom and while you may stop to take photos with it in the background, don't miss the opportunity to explore it up close. Discovery Island Trail takes you on the path around the Tree of Life where you will encounter not only beautifully serene landscape, but also even more animals than you see on the Kilimanjaro Safari.
Several varieties of birds and smaller land and aquatic animals live in habitats along this trail and, of course, it will give you the opportunity to see the incredible details carved into the Tree of Life itself. The best benefit is that you move at your own pace, so you can take your time to observe or keep strolling along as you wish!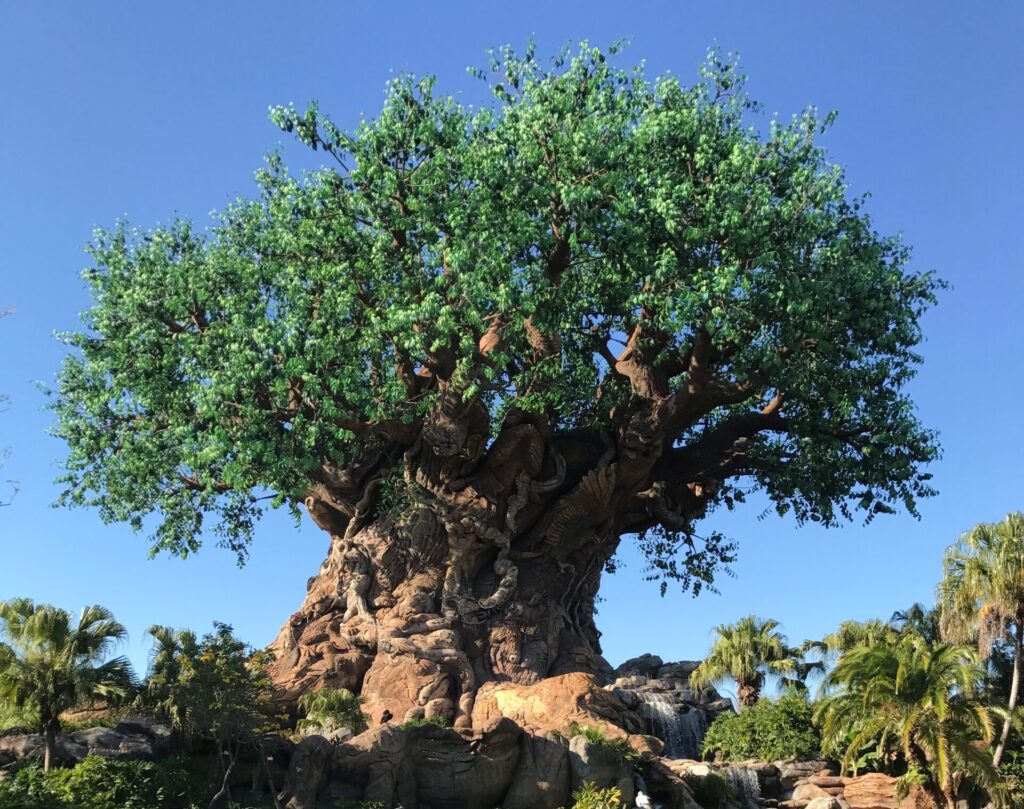 7. Country Bear Jamboree
Country Bear Jamboree is not necessarily hidden, but it may be an easy one to inadvertently skip over in Magic Kingdom. Located just passed Liberty Square on the gateway path between Fantasyland and Frontierland, it's possible to make the mistake like I did on our first trip to Disney World and just blow right through this area without stopping by for an entertaining show and some air conditioning! While the building is a well-marked log cabin, you may not realize that there is a theater inside! These bears are sure to make you smile and get your toes tapping with their upbeat musical performance. At sixteen minutes in length, this show is just long enough to fall in love with these characters while minding children's short attention spans.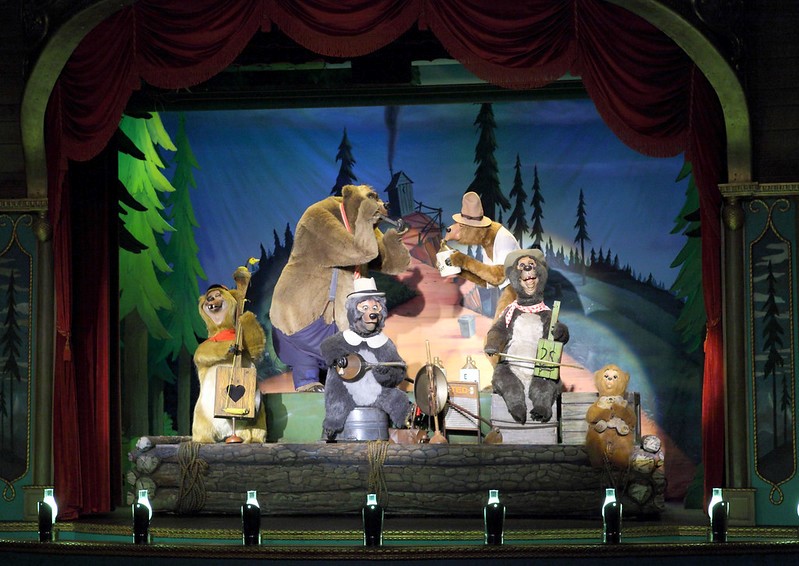 8. Tom Sawyer Island
Another reason you might walk right by Country Bear Jamboree is because you are looking in the opposite direction at the Rivers of America. While it's hard to miss the queue for the Liberty Square Riverboat cruising through the water, it's quite easy to miss the chance to float over to Tom Sawyer Island if you're determined to get in line for Big Thunder Mountain Railroad or Splash Mountain.
Enjoy a log raft ride over to the island and ignite your explorative spirit as you make your way around the island leisurely walking the trails, over bridges and in and out of caves. Children will love a place to roam a little more freely than when walking with the crowds between all of the other attractions. Just be mindful that Tom Sawyer Island closes before dark, so don't leave this for the last stop of the day!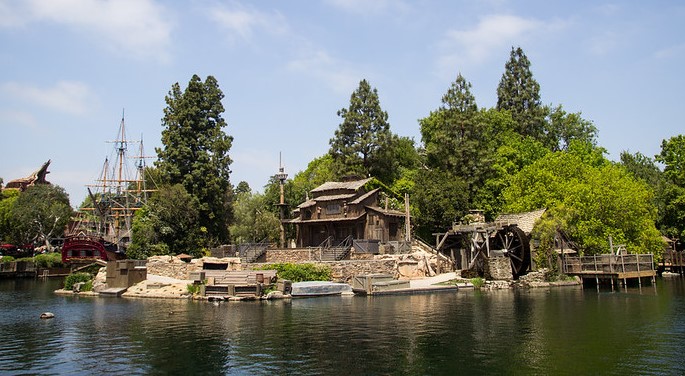 9. Enchanted Tiki Room
Walt Disney's Enchanted Tiki Room is centrally positioned in Adventureland, but being surrounded by so many other attractions and not appearing on the My Disney Experience App under wait times, it's another easy one to skip over. But please don't! The kids will fall in love with this 10-minute show that not only has talking and singing exotic birds, but they will watch the whole room come alive as they learn the unique stories of various characters.  With the show beginning every 15 minutes, you are sure to have a short wait which is always favorable among the little ones. The Enchanted Tiki Room is another opportunity to enjoy a brief break for your feet and to cool off from the hot Florida sun.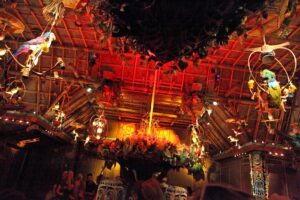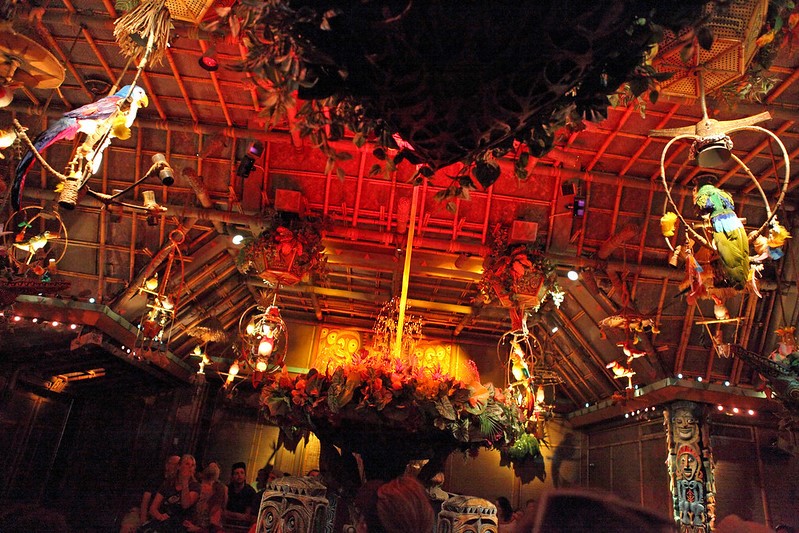 10. Play Disney Parks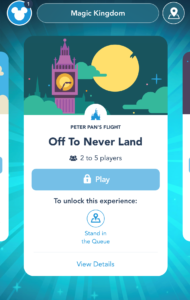 This last attraction is truly hidden, because it isn't something that you can see inside of the parks.  It's available to you by using an app of the same name – Play Disney Parks. While you won't necessarily want to be on your phone during your entire Disney vacation, this application does provide for fun and educational entertainment while waiting in the inevitable long lines of some attractions.
Answer trivia questions, collect puzzle pieces, and play all sorts of games that allow multiple players so that you can pass the phone around to the members of your party. However, this isn't just another kid-friendly app. What makes it special is that while you are inside of the parks, special attraction-specific games become available only while you are waiting in the queue! Enable your location while using the app and watch them appear! Engage the whole family and before your know, it's your turn in line to board the ride!
Did you about of all of these "hidden" attractions in Walt Disney World?  Which ones are new to you?  Let us know if you plan to try any of these on your next Disney Vacation!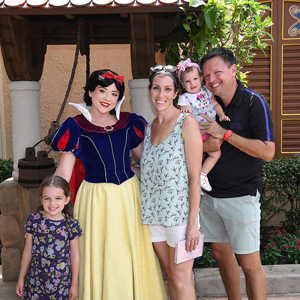 Written by
Shelley Wehler
Contributing Writer
Shelley is a stay-at-home mother of two girls living outside of Charlotte, North Carolina. Her love of all things Disney has grown even more as she sees the magic come alive through the lens of her young daughters. She spends her free time keeping up with the latest in Disney news and daydreaming of her next trip to the parks!