Come on down and enjoy a musical revue that will have everyone singing along! The Country Bear Jamboree, located in Frontierland, is a 16-minute show with over 18 singing animatronic bear friends. In addition, you can expect a musical full of comedy that people of all ages will enjoy.
Country Bear Jamboree Details

| | |
| --- | --- |
| Walt Disney World Park | Magic Kingdom Park |
| Location in Park | Frontierland |
| Height Restrictions | None |
| Age Interests | All ages |
| Thrill Type | Musical experience |
| Hours | Park open till park close |
| Wait Times | Low to moderate |
| FastPass+ | Not available |
| Accessibility Information | May remain in wheelchair/ ECV, Assistive Listening, and Reflective Captioning  |
Attraction Overview
Make sure to warm up your vocal cords before you get ready to sing along with the bears who reside in The Country Bear Jamboree. This attraction is a musical review at the Grizzly Hall where the famous bear residents sing a musical review from park open until close. When entering the theatre, you will see the room come to life.
There is a buffalo, moose, and deer hanging on the wall, ready to host the show and get the singalong started. Once the music starts playing, you will see different "redneck bears" playing classic country music. Guests may be familiar with some famous bears such as Big Al, Henry, and Teddi Berra. 
Walt Disney initially imagined this attraction going inside of a hotel in California called Disney's Mineral Skiing Resort. Unfortunately, this did not come to light after Walt's passing. Before Walt's death, though, he worked with Imagineer Marc Davis, who completed the attraction plans. At this time, the show was supposed to be in a restaurant called Bear Band Resort. Later the idea came to open Country Bear Jamboree as a standalone attraction and include in the opening of the Walt Disney World Resort in Florida. 
Map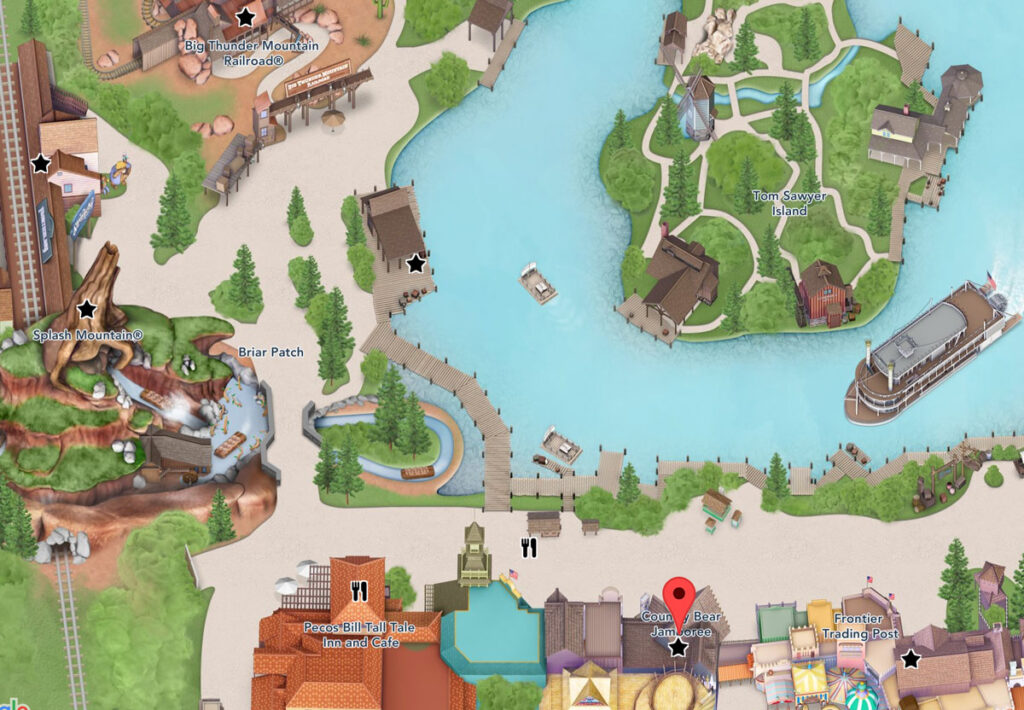 Location & Wait Times
You can find the Country Bear Jamboree in Frontierland, located not too far from Splash Mountain and Big Thunder Mountain Railroad. Additionally, you can find a shortcut to this attraction behind Aladdin's Magic Flying Carpets located in Adventureland.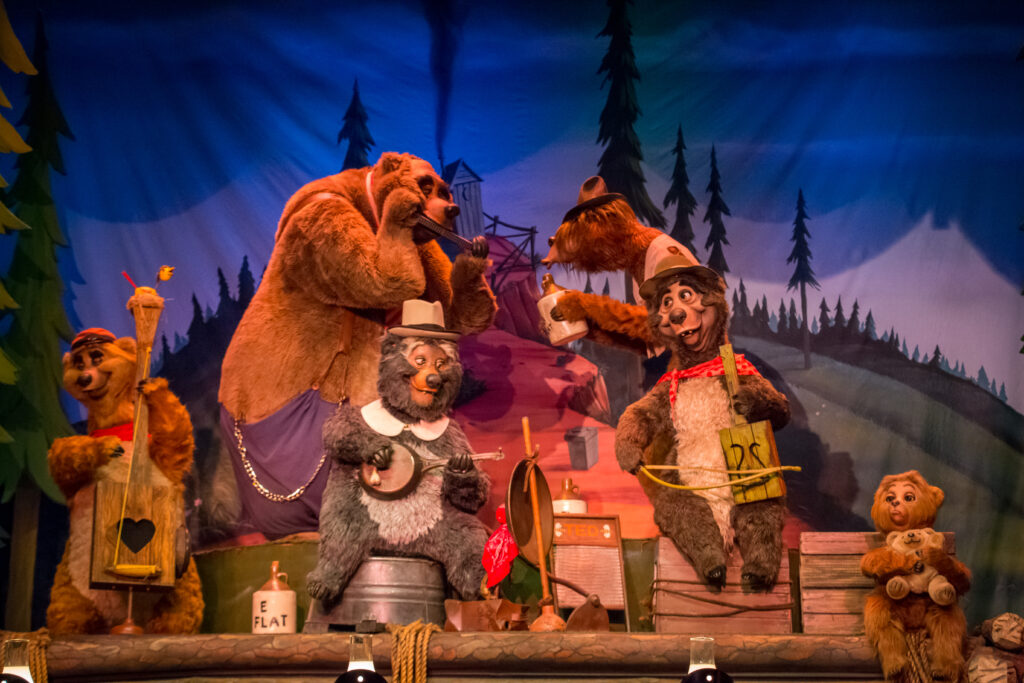 With the Country Bear Jamboree being so close to Big Thunder Mountain and Splash Mountain, this is a good option for Disney's littlest visitors who aren't tall enough to ride those attractions. Instead of waiting in the sun for your family to ride Frontierland's adventure rides, take the little ones to enjoy this entertaining show. The Country Bear Jamboree is a perfect way to find instant entertainment during any part of your day. Whether rain or shine, you can always stop by The Grizzly Hall and sing a few tunes with the jolly bears of the the Country Bear Jamboree. 
The wait time for The Country Bears is typically 16 minutes long. This is because the show is 16 minutes long. Luckily that leads to a short continuous loop of a wait time. 
Queue Experience
The queue for the Country Bear Jamboree is indoors with air conditioning and benches for seating. You will see artwork of some of the famous bear performers you will be seeing in the show. Every once in a while you can sometimes see the Country Bears roaming around the outside of the theatre and maybe even dancing in a Frontierland Hoedown. 
Written by
Bobby Asen
Contributing Writer
Bobby has a strong passion for Walt Disney's stories and the Disney Parks. From taking vacations to the parks, to being an Annual Passholder, to working as a cast member for seven years at Magic Kingdom, his passion for Disney continues to grow. After visiting every Disney Park in the world, Bobby knew he wanted to share his experiences and his love for Disney in his writing.