Join Anna and Elsa and their friends Kristoff, Sven, and of course; Olaf as you journey through Arendelle. Once guests board this Norwegian boat, they will be transported into all the magic that is Frozen. 
Frozen Ever After Details

| | |
| --- | --- |
| Walt Disney World Park | Epcot |
| Location in Park | World Showcase |
| Height Restrictions | Any Height |
| Age Interests | All Ages |
| Thrill Type | Slow rides, Small drops, Dark |
| Hours | Regular park hours |
| Wait Times | Medium |
| FastPass+ | Yes |
| Accessibility Information | Handheld captioning, Must transfer from Wheelchairs |
Attraction Review
Ride Overview
Frozen Ever After premiered at Epcot in June of 2016. This attraction was actually planned before the release of the worldwide success of the Frozen movie. Frozen Ever After was created as a reversing Shoot the Chute ride; which simply means that it consists of a larger, flat bottomed boat that slides down a ramp backwards for one drop into a lagoon. However, the drop is not large, as this ride is suitable for all ages and does not require seat belts or a drop bar. It is just big enough for a light splash for those in the front rows.
Frozen Ever After is a decent length of time, with the entirety of the attraction lasting 5 minutes. When going through this ride, guests will see all of the main characters from Frozen in Arendelle. The boat takes everyone to Elsa's Ice Castle to witness her performing "Let It Go" for all to hear. All of the music that is played during the duration of the ride is from the first Frozen movie, although some sections have words changed to match the performances going on in the attraction. 
The character animatronics and facial animations are good quality and realistic in their movements. The imagineers also accurately captured the personalities of all the characters. From Olaf flubbing the words to well known songs, to Sven having his tongue stuck on an icicle, there is so much to see and enjoy on this remarkable attraction.
Map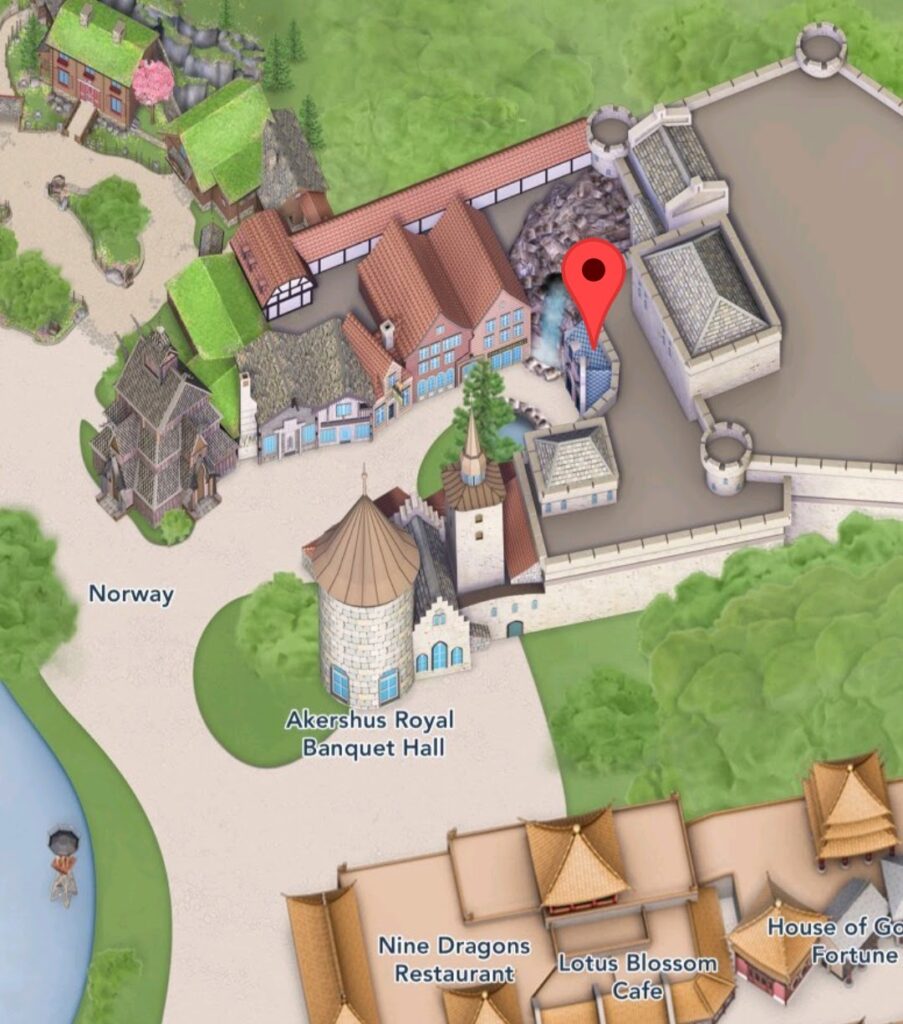 Location and Wait Times
Frozen Ever After is located inside of the Norway Pavilion in the World Showcase. The ride is located all the way in the back of the pavilion, with the entrance next to a beautiful little waterfall. 
Wait times for this ride are slightly higher than some others in Epcot, due to the fact that it is still somewhat new. On top of being on the newer side, it is just a spectacular ride in general. Guests heading for this attraction should expect medium wait times. This ride is a good one to head to right at park opening, as early on in the day the wait times are much lower. 
Queue Experience
The queue for Frozen Ever After is very immersive and fun. Once guests enter the ride queue, it feels as if they have entered a centuries old structure. There are posters and signs announcing the Official Summer Snow Day that Elsa has declared to celebrate the one year anniversary of her and Anna saving one another. 
As guests continue they will walk through Wandering Oaken's Trading Post and Sauna, hearing Oaken's signature "yoohoo". After going through the trading post, guests will board their boats to witness some wintery magic in Arendelle.
Written by
Rachel Van Norman
Guest Author