This June, my boyfriend and I checked in to Disney Vacation Club's newest resort – Disney's Riviera Resort – for a little weekend getaway! With our travel schedule, we would be able to enjoy two full days at Walt Disney World, which was just enough of a Disney fix to hold us over until our next trip in the fall. This vacation was really different for us, not only because we were staying in a new (and new to us) resort, but also because we were not going to enter a single theme park! Because of this, we had plenty of time to enjoy all the amenities at the Riviera and give a full review of the resort.
Bon voyage! We're off to the Riviera!
Arrival & Check-In
We arrived to the resort via Magical Express around 1:30PM, and I  received a text while on the bus that our room was not ready yet. On another type of vacation, we would have been dropping our bags at Bell Services and heading straight to the parks, but on this trip we were dedicated to actually enjoying the resort. So we dropped our bags at Bell Services and meandered around, taking more time to notice the little things than we had when we toured the resort in December 2020.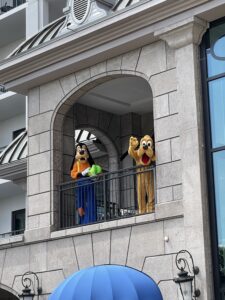 Around 2:45PM, I received another text that our room was still not ready, but no sweat! We had just finished our lunch at Primo Piatto and had started to walk around the resort a bit more, taking pictures and playing some lawn games (more on both of these experiences later!). I'm so happy that we took this time to just relax on the resort grounds because around 3:00pm we got to see some Disney friends, Goofy and Pluto! The "Caravanning Around the World" shuttle brought them to Riviera, and they were doing a little meet-and-greet from the balcony just off the lobby. Lots of selfies were snapped by the guests playing on the lawn behind the resort!
Around 4:30PM we decided to head into the lobby and check on the status of our room. We were planning on bowling at Splitsville at Disney Springs, so we wanted to have enough time to "chill" and change before we headed out. I'm putting emphasis on the "chill," because it was almost 100 degrees on the day we checked in!
The Cast Member at check-in told us that our room was still being cleaned, but that another Deluxe Studio was available on the first floor if we wanted it. Neither one of us is picky about the view (most of the time), so we took that room and headed down to check it out.
Deluxe Studio Room Tour
We were in Room 8129, which was located on the first floor of the West Tower. Our room was a quick walk to the elevators – and even better – the Disney Skyliner! This room is a Standard View room, so our view was of the parking lot located to the side of the resort's entrance.
The layout of the Deluxe Studio at Riviera is a rare one among DVC Studios, and it's definitely my favorite! The bathroom is split into multiple sections by pocket doors: a large walk-in shower and the toilet are in one area, and the vanity and a shower/tub combination are in another. This area can be divided in half by a pocket door, and both areas are accessible by their own pocket doors into the room's entryway. This setup is perfect for families, as multiple people can get ready at the same time and still have privacy.
Since this is a Deluxe Studio, the room has a kitchenette with a mini fridge, microwave, toaster, and coffee maker. The blue tile backsplash will definitely be something I try to recreate in my house!
Stepping into the main part of the room, there is a queen-sized bed with a Hidden Mickey detail in the headboard that I loved! This room also features the newer configuration of the fold-out second bed, a Murphy bed that pulls out over the couch. A bonus in the Riviera Deluxe Studio is the pull-down single bed under the television, making this room perfect for a family of five.
This room definitely had an elegant, up-scale aesthetic, but was still distinctly Disney in theme. The Hidden Mickey on the headboard, Pascal mural on the single bed, 101 Dalmatians mural on the Murphy bed, and Minnie Mouse painting all had a European flair to them. The room almost whispered, rather than screamed "Disney!" Check out my room tour reel here!
View this post on Instagram
Dining At Riviera Resort
Breakfast a la Art At Topolino's Terrace
We were lucky enough to score this very tough-to-get dining reservation three weeks before our trip. So if you don't have any luck at your 60-day mark, keep trying! Our reservation was for 8:25AM, and we were able to do Mobile Check-In from our room at 8:15AM.
Once we were seated, we met our amazing server Wayne, who also happens to be from New Jersey! He explained to us that for the flat rate of $42 per adult, we could order as many of the entrees from the menu as we wanted. One would be our "main entrée," meaning that it was full-sized, and any additional entrees would be smaller versions of those dishes. He also gave us a basket of yummy breakfast pastries with Nutella, whipped butter, and jam.
My boyfriend is a bit of a picky eater, and Wayne was super helpful in putting together a breakfast that he was happy with by getting a bit creative with the menu. I decided to go with the Spiced Sausage Hash as my main entrée and the Sour Cream Waffle as my "side entrée." I also ordered a Bellini because, hey, I'm on vacation!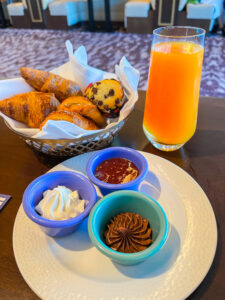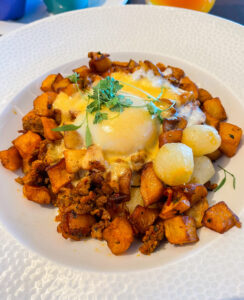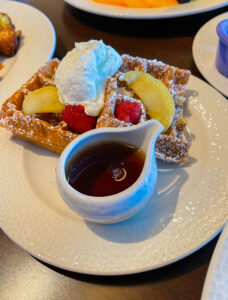 But you're not reading this review just to hear about the amazing food we had. Let's talk characters! This breakfast features visits from some of your Disney favorites, dressed as different types of artists. Painter Mickey, Writer Minnie, Sculptor Donald, and Ballet Dancer Daisy rotate through the restaurant at very frequent intervals. They each do a solo rotation, about once every 5 minutes, then come together to do a dance around the dining room every 25 to 30 minutes.
In the hour that we were eating breakfast, we got to see each of the characters three times alone and twice as a group. Characters will stop by individual tables, keeping a distance due to COVID-19 protocols, but they will happily pose with you to get that perfect picture. Having Minnie compliment my ears was the best part of my morning!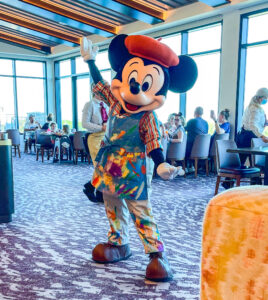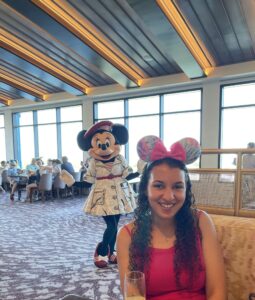 Overall, we really enjoyed our breakfast at Topolino's Terrace! For the price, we were able to order so many different options off the menu, so much that we were running out of table space! Compared to other character dining experiences, this was definitely one of our favorites. Everything was delicious and the characters were terrific! We'll definitely be adding this restaurant to our must-do list for future vacations.
Cocktails & Lunch At Bar Riva
Located just across from the S'il Vous Play pool is a chic lounge called Bar Riva. This space offered lots of bar seating, as well as high-tops and regular dining tables. It also had an extensive menu of beer, wine, and signature cocktails, as well as some delicious food.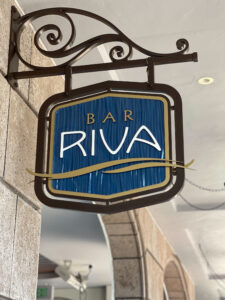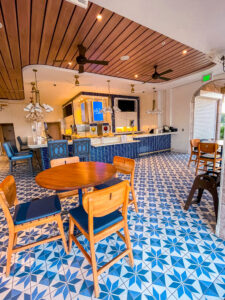 I ordered a few drinks from Bar Riva throughout our stay, including the Frozen Mediterranean Wave, Orange Blossom Margarita, and Sangria Blanca. All three drinks were excellent, and the bartenders here were super friendly! During our pool day, I ordered the Shrimp Greek Salad for lunch and I really enjoyed it. It had a great mix of greens, olives, tomato, and feta, so it was perfect for a light lunch before our dinner at The Boathouse.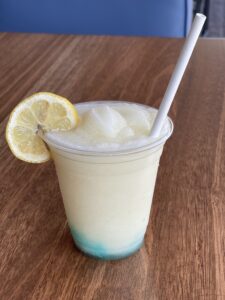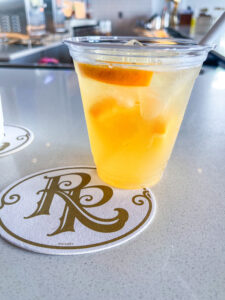 Bar Riva currently holds the spot as my favorite lounge on Walt Disney World property! I loved the open-air design that allowed me to look out onto the rest of the resort, while still feeling tucked away. If you're looking for a quiet spot to enjoy a cocktail while the rest of the family splashes in the pool, this is the perfect place!
Primo Piatto
Primo Piatto is Rivera Resort's quick service restaurant, located on the ground floor of the lobby. Guests can utilize Mobile Order at this location for breakfast, lunch, dinner, and snacks.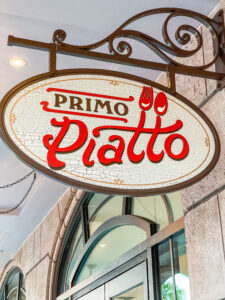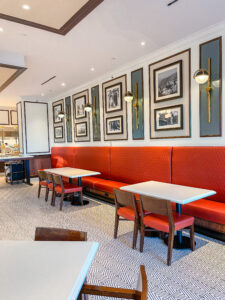 We ate lunch at Primo Piatto while we waited for our room to be ready, and found the food to be okay, but not a favorite. My Margherita Flatbread was really large (a great value), but it's not going to rank as my favorite pizza on Walt Disney World property. Both mornings during our stay, I would swing by Primo Piatto for coffee before snapping some pictures of the resort, and I found it to be basically empty until around 8:30AM.
On our last morning, we ordered breakfast and had a great experience. I was accidentally given the Bread Pudding instead of the Lemon Blueberry Pancakes that I ordered, and the Cast Members was great in fixing the issue quickly. And bonus, I got to enjoy two really yummy breakfast items!
Pools & Resort Activities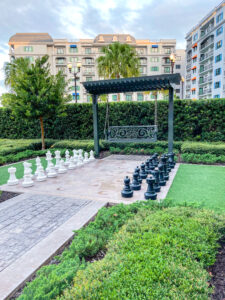 While we waited for our room to be ready, we did something we never do on Disney vacations – enjoy the resort activities! The lawn just behind the lobby at Riviera offers a few fun games for guests to enjoy. In front of Primo Piatto is a Bocce Ball Court, which one family was enjoying when we arrived. Another family was locked in a very serious chess game on the oversized board on the other side of the lawn. We opted to play cornhole on the large part of the lawn, but I don't expect either of us to go pro!
Riviera also has a Community Hall, called the Eventi Room, just off to the side of Primo Piatto. Cast Members and kids were creating various arts and crafts throughout the weekend, including Mickey tie-dye shirts.
We made it a point to enjoy both pools during our short stay, one day at the "fun pool" and one morning at the "relaxing pool." After our breakfast at Topolino's Terrace, we changed into our swimsuits and headed down to S'il Vou Play around 10:30AM. There were plenty of lounge chairs, tables, and cabana-style sofas to be found, and we chose to sit across from the pool's Tower Slide.
In the interest of a full review, I went down the slide twice. It starts out slow, but it has some oomph at the end! We stayed for about three hours, and we found the S'il Vous Play Pool to be the perfect balance of action and relaxation. Kids were able to play on the slide and in the zero-depth entry part of the pool, while adults enjoyed the built-in seating along the sides.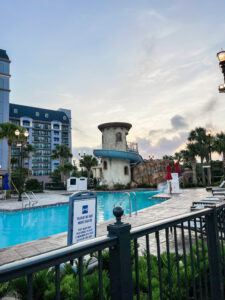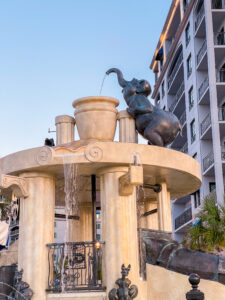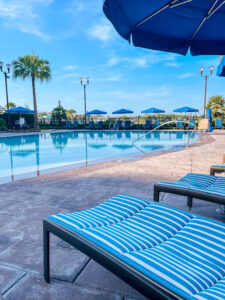 On our check-out day, we spent most of the morning at the Beau Soleil Pool, the resort's leisure pool. This pool is not too far from S'il Vous Play, but the sound is buffered by tall hedges that surround it. The pool had a unique overflow design feature, think of an infinity pool but without an edge. If you're looking for a few hours of peace and relaxation, this pool is great!
Overall Impressions
Even though this was such a short vacation, we really enjoyed our weekend at Disney's Riviera Resort. It felt like a luxurious resort, but still had a lot of the Disney touches that we're used to throughout the property. Bar Riva and Primo Piatto offered some great options for quick service dining, and Topolino's Terrace is now firmly on our list of favorite restaurants at Walt Disney World. The activities and the pools made this resort feel almost like an all-inclusive resort, so it's perfect if you're looking to do a staycation, or just a relaxed Disney vacation.
We'll definitely be back to this resort in the future, and I'll be stalking availability hoping that a night or two here pops up! Until then, I'll be playing the music loop on repeat in my office, enjoying the sounds of "Bare Necessities" in French or a jazzy version of "Be Our Guest."
Ciao!
If you'd like to stay at Disney's Riviera Resort for up to 60% off, contact DVC Shop Rentals now to book your next Disney Vacation!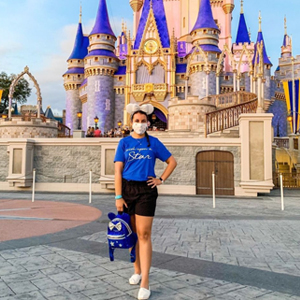 Written by
Samantha, DVC Millennial
Samantha is the creator of DVC Millennial, a magical Instagram account. She's been a Disney Vacation Club Member since 2018, buying in when she was only 25 years old! Her Instagram content is all about creating connections to other Disney fans and demystifying Disney Vacation Club. She loves hearing about other people's love of Disney, so be sure to follow her and send her a message!