Recently, I've seen many dads around the Disney parks wearing t-shirts that say, "Most Expensive Day Ever." And although a Disney Vacations can be pricey, there are definitely ways to cut costs and still have the trip of a lifetime. One of the best and easiest ways to economize is to find budget-friendly dining options that are still filling and delicious.
Over the years, Disney has expanded their dining options to include healthier and more flavorful meals that are available for every budget. These restaurants aren't just available in the theme parks, but also across the resort hotels and DVC properties. Below is a list of budget-friendly dining options at DVC Resorts that won't break the bank!
The Artist's Palette – Disney's Saratoga Springs Resort & Spa
Open for breakfast, lunch, and dinner from 7:00 am to 10:00 pm
Quick service; mobile ordering available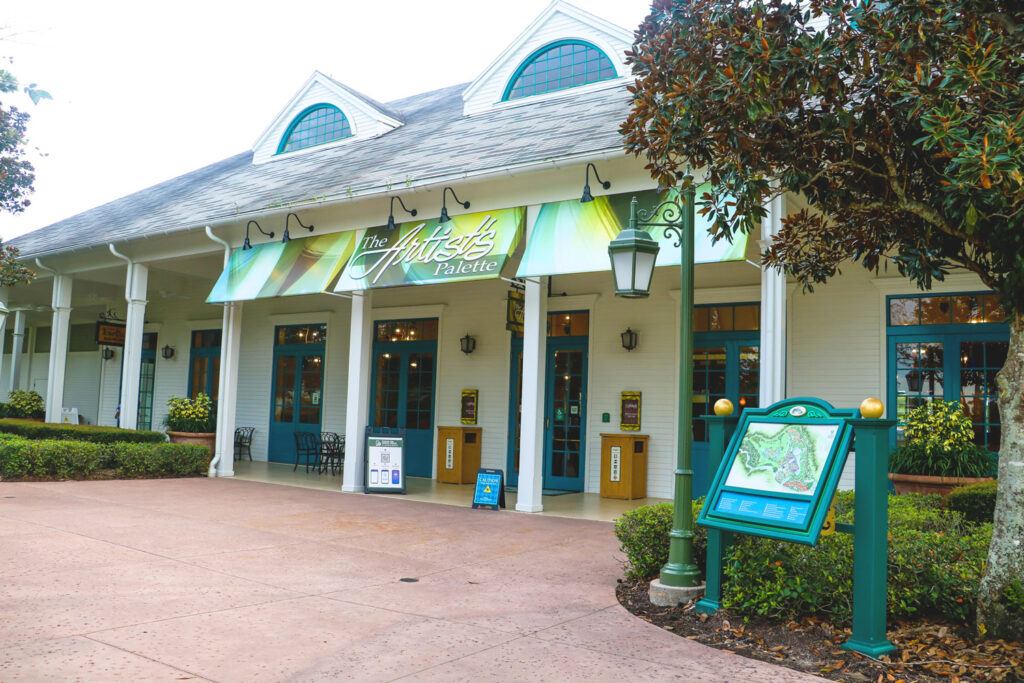 Located at Disney's largest DVC resort, The Artist's Palette is a market-style eatery that's themed after an artist's studio with colorful lighting fixtures and abstract artwork. There's a bakery case with pastries available for purchase and a grab-and-go area for those looking for a quick bite.
Breakfast offers a croissant sandwich and tortilla wrap, as well as a platter featuring Disney fan-favorite, Mickey waffles. In my opinion, lunch and dinner is where The Artist's Palette really shines. They offer a variety of flatbreads, salads, and sandwiches, which are served with seasoned house-made chips. If Disney sold those chips in bags, then I would probably be eating them 24/7!
Capt. Cook's – Disney's Polynesian Villas & Bungalows
Open for breakfast, lunch, and dinner from 7:00 am to 10:00 pm
Quick service; mobile ordering available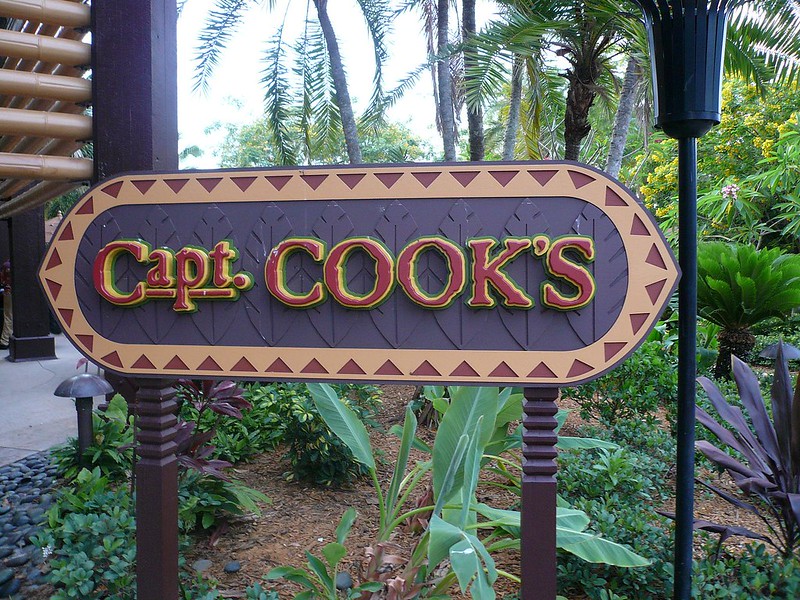 Inside the Great Ceremonial House at the Polynesian, Capt. Cook's offers a laid-back atmosphere with easy access to the Lava Pool. The tiki-themed eatery gives guests an option between counter style dining and a grab-and-go cooler for drinks and snacks. One of the biggest perks of Capt. Cook's is that it has guest favorite Tonga Toast on the menu at almost half the price of Kona Café just upstairs.
For lunch and dinner, guests can choose between American and Asian entrees, like Pan-Asian Poodles, Chicken Wings, and an Aloha Pork Sandwich. My family's favorite meal is the Pulled Pork Nachos, which are served over house-made chips and covered in cheese, spicy mayo, and pineapple salsa. Located on the monorail line, Capt. Cook's is not only a great choice for guests staying at the Polynesian, but also for parkgoers looking for a midday break from the Magic Kingdom. 
Geyser Point Bar & Grill – Boulder Ridge Villas/Copper Creek Villas and Cabins
Open for lunch and dinner from 11:00 am to 11:00 pm
Quick service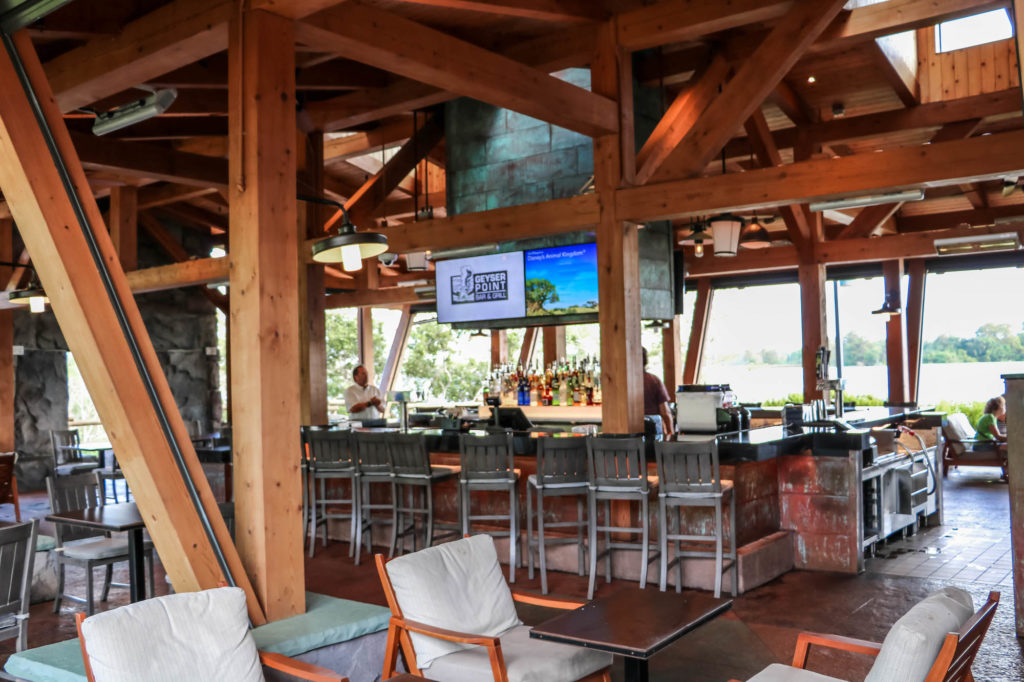 Although Disney categorizes Geyser Point as quick service, I like to think of it as being a hybrid version of quick service and table service dining. This rustic cabin on the water services a three-in-one resort: Wilderness Lodge, Boulder Ridge, and Copper Creek. Even though Geyser Point doesn't offer breakfast, they serve a variety of small bites and full entrees for lunch and dinner.
The Cheesy Barbecue Brisket served with house-made chips is a yummy option from the Small Bites menu that can either be eaten as an entrée or split as an appetizer. On the Rustic Fare menu, the Grilled Portobello Salad (served with your choice of chicken, beef, or salmon) is fresh yet flavorful, but the Bison Bacon Cheeseburger is my personal favorite and probably the most popular entrée. For those guests over 21, Geyser Point also serves handcrafted cocktails and a selection of craft beer that do not disappoint. With generous portion sizes, high quality-food, and prices under $20.00, Geyser Point is a great place to relax after a long day at the parks.
The Mara – Disney's Animal Kingdom Villas
Open for breakfast and dinner from 7:30 am to 11:30 am and 5:00 pm to 10:00 pm
Quick service; mobile ordering available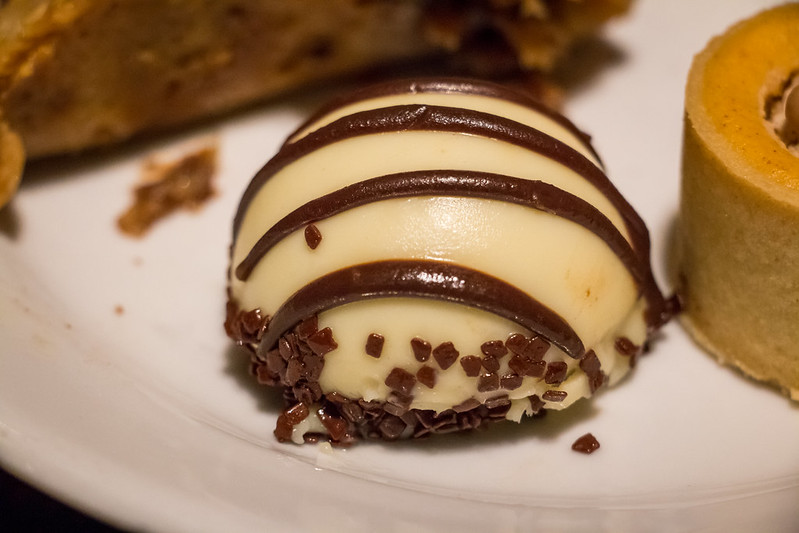 Near the Uzima Springs Pool at Animal Kingdom Lodge, guests will find The Mara, a quick-service restaurant that serves both American favorites and entrees seasoned with an African flair. Although this eatery is located in Jambo House, guests staying at Kidani Village are also welcome to dine here. For breakfast, there's croissant sandwiches, cereal, and pastries in a bakery case, while dinner serves up sandwiches, burgers, and flatbreads.
The Braai Chicken Flatbread and Tamarind Barbecue Pork Sandwich are both tasty dishes that are spiced up with African seasonings, and the Marrakesh Falafel Platter is a delicious plant-based meal. But The Mara's most scrumptious treat is Animal Kingdom Lodge's signature Zebra Domes, which can be purchased in pre-packaged boxes of four. When I'm staying at Animal Kingdom Lodge, I always keep a pack in my in-room fridge for a midnight snack.
Primo Piatto – Disney's Riviera Resort
Open for breakfast, lunch, and dinner from 7:00 am to 10:00 pm
Quick service; mobile ordering available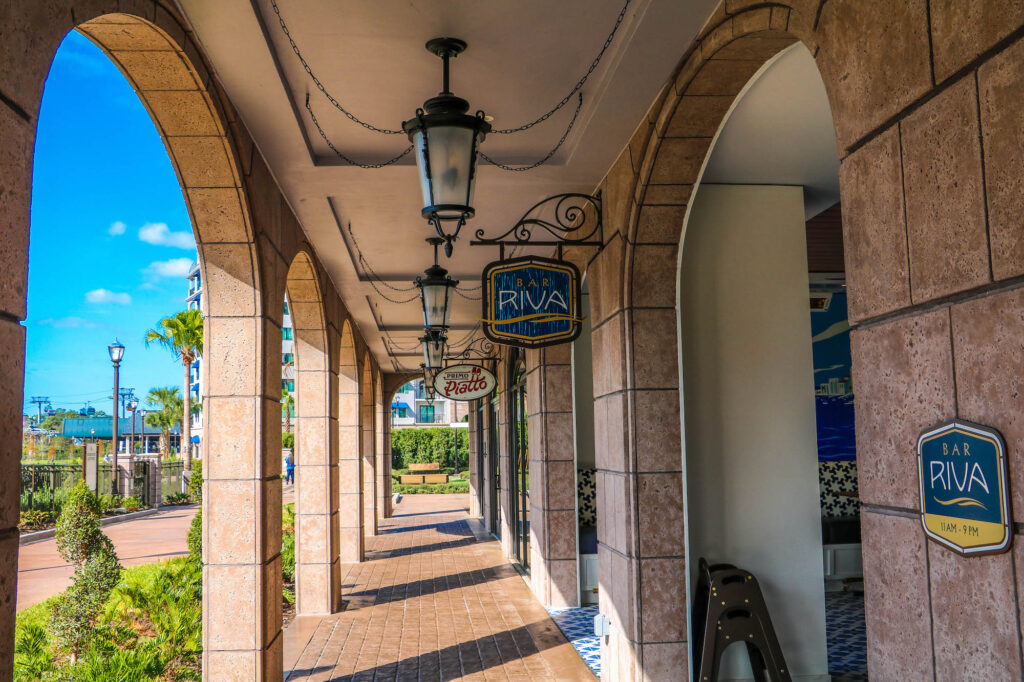 Located at Disney's newest DVC Resort, Primo Piatto offers tasty dishes with a European influence. For breakfast, guests can find typical American fare as well as more embellished meals, like the Blueberry-Lemon Pancakes that are topped with mascarpone cream and lemon-zest.
Lunch and dinner at this café-style eatery feature hearth-baked pizza and both hot and cold sandwiches. Even though the Riviera has only been open for a year and half, the Croque Monsieur- a classic French ham and cheese sandwich- has already emerged as a guest favorite. Not only are these meals a steal for the price, but the atmosphere feels more high-end than some other quick service dining options. 
With the Disney Dining Plan currently on hold, many guests are becoming more conscious of the price of a meal at Walt Disney World. Thankfully, Disney offers plenty of delicious, budget-friendly eateries that are sure to delight your party and leave everyone feeling full. All the options on this list are considered quick service and offer a variety of meals and snacks for under $15.00.
As much as I love Disney chicken nuggets and as economical as they are, I don't want to eat them for every meal of my stay. These restaurants are a great alternative that will be both pleasing to your palate and wallet! So be sure to put these DVC Resort budget-friendly dining options on your list of places to dine on your next Disney Vacation.
Written by
Erika Lucas
Contributing Writer
Erika has lived in Orlando her whole life, so she was practically raised at Walt Disney World. While in college, she worked for Disney in roles ranging from character attendant to VIP tour guide. Nowadays, she spends her days planning her next trip to the parks or dreaming about setting sail on another Disney Cruise.