Located on the West Side of Disney Springs, Splitsville Luxury Lanes is the perfect place to spend an evening with friends or family. Throughout this two-story venue, you'll find restaurant tables, bars, bowling lanes, and billiard tables. Before dining there, I expected the food to be standard bowling alley fare. However, I was pleasantly surprised that the menu was diverse and flavorful, and the portions were generous. 
Let the Good Times Roll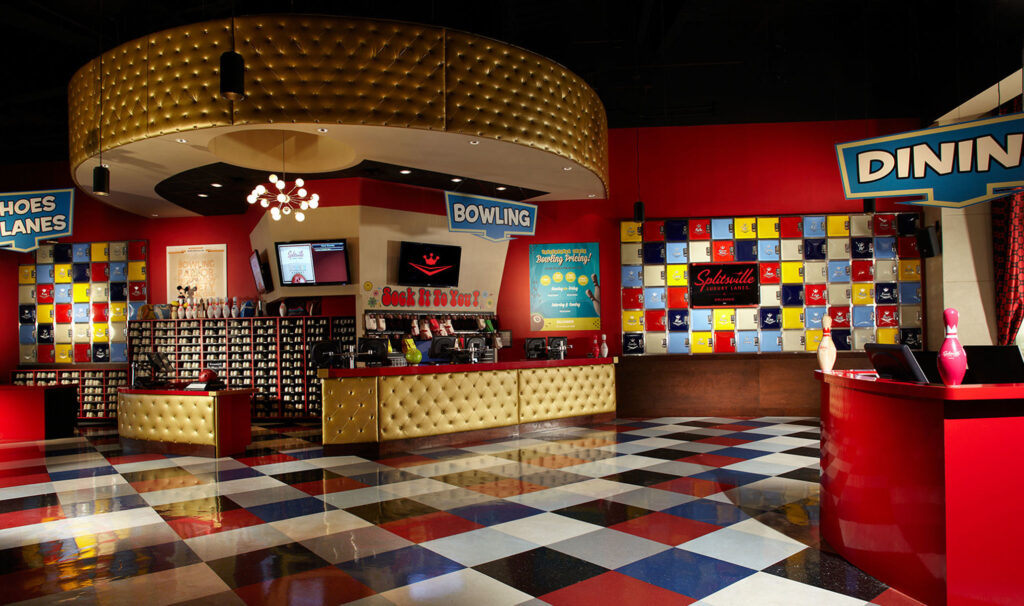 When you first walk into Splitsville, there's a hostess stand to the left for the restaurant and then there's a counter to the right to reserve a lane for bowling. Since Splitsville is a national franchise, you can make dining reservations through their website or on the My Disney Experience app. If you're planning on visiting on a weekend night, I recommend making advance dining reservations and putting your name on the list for a bowling lane before you're seated for your meal.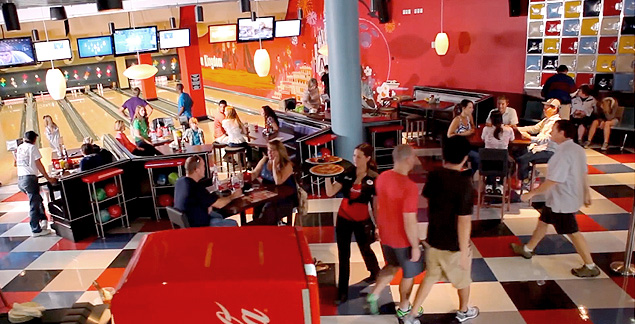 When my family visited on a Saturday evening, the wait time to bowl for a party of four was three hours! Bowling rates are by the hour, and while they can be a bit pricey, it's worth it if you get to use a bowling ball with a Disney character on it. In addition to bowling and dining, Splitsville also has a few bars and an outdoor patio. Some nights they even have live musicians playing out on the patio. It's a great place to hang out and grab a drink with friends, even if you're not planning on bowling. 
King Pin Kitschy Decor
The ambiance at Splitsville is what I like to call mid-century Florida kitsch. There are large murals on the walls of Central Florida icons and staples (for example, a bowling ball that looks like an orange). I assumed the bowling lanes would be on one floor and the restaurant would be on the other, but I was wrong. The dining tables and bowling lanes are scattered around the building. We could definitely hear people cheering and pins crashing while we were eating, but it wasn't distracting at all.
Overall, Splitsville is a colorful environment with retro booths and lighting fixtures that make you feel like you're in the middle of bowling's heyday. 
Sushi With Your Strikes, Anyone?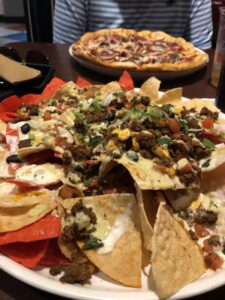 I know bowling alley food gets a bad rap, but Splitsville is definitely an exception! You can sit down and dine at a table or you can order food and drinks while you bowl. One of the things that they're famous for is their sushi. Yes, you heard that right, bowling alley sushi! They offer a wide variety of sushi rolls that can either be served as an entree or split amongst everyone as an appetizer.
They also offer large, personal pizzas with house-made crusts that are absolutely delicious. Most of the menu items are what you might find at a bowling alley- like nachos, burgers, cheese fries- but turned up a notch. The menu is perfect for both foodies and people with a pickier palate.
Overall, Splitsville at Disney Springs is a great venue for a night out, whether you're a Central Florida local or visiting Disney World on vacation. Even if you're not into bowling, Splitsville at Disney Springs still has plenty to offer, like delicious food, creative drinks, and a fun atmosphere. If you're planning on visiting, I would recommend parking in the Orange Garage for the easiest access to Splitsville. Also, be sure to check Splitsville's website for discount deals and bowling specials. 
Have you been to Splitsville? Or are you planning on adding it to your next Disney vacation itinerary? Let us know in the comments below!
Written by
Erika Lucas
Contributing Writer
Erika has lived in Orlando her whole life, so she was practically raised at Walt Disney World. While in college, she worked for Disney in roles ranging from character attendant to VIP tour guide. Nowadays, she spends her days planning her next trip to the parks or dreaming about setting sail on another Disney Cruise.