A frequent question that arises when planning a Walt Disney World vacation in 2021 is "Where can I meet characters?".  All four Disney World parks have created opportunities to see characters inside of the park via cavalcades and, in some cases, setting up stationary outdoor spots where guests can say hello and take photos.  Since the schedule of these opportunities are not always consistent or announced in advanced, and dependent on good weather, now more than ever may be the best time to schedule a Disney character dining experience!
While the characters are still required to remain socially distant, they are permitted to parade near the tables, wave hello, and strike a pose for photos at various places around the room.  You may miss giving them a hug or having them sign your autograph book, but given the restraints of the pandemic, this is actually one of the best and guaranteed ways to get "up-close" to some of your favorite characters.
The character dining experiences that are currently available each day take place at Disney's Contemporary Resort, Disney's Riviera Resort, Hollywood Studios, and Epcot. There is an additional opportunity on Saturdays each week at Disney's Four Seasons Resort.
Dining reservations for character experiences are always highly encouraged and at this time can be made up to 60 days in advance.  If you happen to miss making a reservation for your preferred date, don't panic! Check back frequently for open slots due to cancellations. It's also important to remember that you must have a valid park ticket and reservation already in place in order to make a reservation for a restaurant that is inside of one of the parks. Finally, character appearances are always subject to change, but you are certain to make special memories at any of these opportunities!
Chef Mickey's – Disney's Contemporary Resort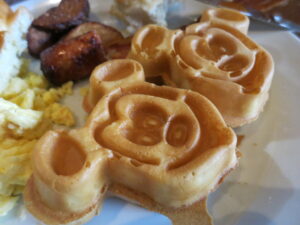 Chef Mickey's is a long-time favorite for Disney fans of all ages.  Located inside the Contemporary Resort with a view of the monorail tracks, it's an easy stop before hitting the parks whether you are staying on property or not.  The traditional buffet set-up has been redesigned as an all-you-can-eat family style meal.  Mickey in his chef's hat is sure to stop by along with the rest of the Fab Five – Minnie, Donald, Goofy, and Pluto. Chef Mickey's also gives each party a postcard keepsake with autographs by Mickey and his friends! Dine here daily from 7:30AM – 12:30PM.
Beginning on May 16, Chef Mickey's is also open for dinner each day with the same family-style setting as breakfast in lieu of a buffet. Your table will choose from a prix fixe menu for first and second courses, but be sure to save room for dessert for a sample of the chef's specialties that will be brought to your table. Dine here on your way home from the parks from 5:00PM-9:30PM.
Breakfast a la Art with Mickey and Friends – Disney's Riviera Resort
Start your day at Disney's Riviera Resort with scenic views from Topolino's Terrace. Do you know what Topolino means? It translates to "little mouse" and is the affectionate name given to Mickey himself by speakers of Italian! Enjoy a variety of entrées from a prix fixe menu while you wait for Mickey, Minnie, Donald, and Daisy to arrive at this rooftop restaurant.  What's more is that the Riviera Resort is on the Skyliner which provides direct access to Epcot and Hollywood Studios.  Stop by before you head to the parks or make a reservation later in the morning for brunch from the same menu.  You do not need to be a resort guest in order to dine at this location. Breakfast a la Art at Topolino's Terrace is open 7:30am – 12:15pm.
Garden Grill – Epcot
Garden Grill is a unique rotating restaurant featuring farm-fresh offerings for lunch and dinner. Located adjacent to The Land attraction in Epcot, you will travel through various scenes during your all-you-can-eat meal served family style. Have your cameras ready for Chip and Dale who are known to stop by with a few of their friends such as Mickey and Pluto.  Garden Grill is open daily from 11:30AM-8:00PM with the dinner menu being served beginning at 3:45PM.
Hollywood & Vine – Hollywood Studios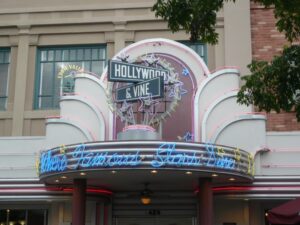 This popular spot near Echo Lake at Disney's Hollywood Studios features character dining all day!  For the little mousketeers, Hollywood & Vine offers the Disney Junior Play 'N Dine breakfast served 8:30AM – 10:30AM. This is a great opportunity to see your favorites from popular Disney Junior TV shows.  Enjoy the thematic music while being greeted by Fancy Nancy, Doc McStuffins, Vampirina, and Roadster Goofy.  This experience has also been converted from a buffet to a prix fixe menu with plenty of delicious breakfast offerings from which to choose.
Later in the day you can meet Minnie and pals for lunch and dinner. They tailor their outfits with the seasons and make your meal extra special with entertaining music and decorations. Mickey, Pluto, and Goofy are known to accompany Minnie to this themed experience.  Lunch begins at 11:00AM and dinner starts at 4:00PM. Guests have a choice of salad and choose their own entrée for both lunch and dinner.
Breakfast with Goofy and Friends – Disney's Four Seasons Resort
Kick-start your day with Goofy and his favorite pals each Saturday morning from 7:00am until 11:00am.  Located just a short distance from Magic Kingdom, this is a great way to begin or end your vacation! Frequent appearances include Goofy, of course, and his pals with Mickey and Minnie. Order your entrée from a prix fixe menu and enjoy a basket of fresh pastries, coffee, and juice while you wait.
More character dining opening soon…we hope!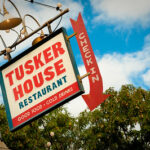 Walt Disney World also announced last week that two other restaurants that typically host character dining will be opening soon!  First, Cape May Café located at the Beach Club Resort will reopen on May 18 without character appearances. However, the Beach Club Resort is scheduled to reopen at the end of May, so we hope to see the character breakfast added back in as an option for guests! It's a perfect stop before hitting Epcot or Hollywood Studios!
Next, it was also announced that Tusker House in Animal Kingdom will be reopening soon. No specific date was given for this centrally-located restaurant, but we are anxiously awaiting more details!  Prior to the pandemic, Tusker House hosted character dining for breakfast, lunch, and dinner, so having this option return to Animal Kingdom for any or all meals would be a welcomed perk at this park!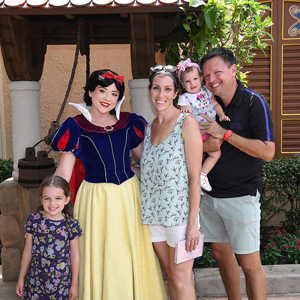 Written by
Shelley Wehler
Contributing Writer
Shelley is a stay-at-home mother of two girls living outside of Charlotte, North Carolina. Her love of all things Disney has grown even more as she sees the magic come alive through the lens of her young daughters. She spends her free time keeping up with the latest in Disney news and daydreaming of her next trip to the parks!