"DVC," or Disney Vacation Club, is Disney's version of a vacation ownership program or timeshare, as traditionally called. Unlike traditional timeshares, DVC is incredibly flexible and generally speaking your DVC Membership can gain value over time. Thanks to the DVC booking process as well as the value of the Disney brand, Disney Vacation Club subverts the usual connotations associated with timeshares and offers a wonderful and affordable way to enhance your Disney Vacations.
Members of Disney Vacation Club can use their Vacation Points to book stays at Deluxe Disney accommodations at Disney World and other locations around the US. Non-members can rent DVC Points to book stays as DVC Resorts and enjoy benefits of DVC.
Main Components Of A Disney Vacation Club Contract
When you purchase a DVC contract there are three main components: the amount of yearly Vacation Points, the Use Year, and the Home Resort. All of these aspects combined help to create your perfect Disney accommodations.
Home Resort
Each DVC contract comes with a home resort. Disney Vacation Club currently offers 15 home resorts to choose from. Most are located at Walt Disney World, but there are options for beach vacations and Disneyland as well. The resorts you can choose from are:
Aulani in Hawai'i
Hilton Head Island Resort in Hilton Head, South Carolina
Vero Beach Resort in Vero Beach, Florida
The Villas at Disney's Grand Californian Hotel at Disneyland
Animal Kingdom Villas at Walt Disney World
Bay Lake Tower at Disney's Contemporary Resort at Walt Disney World
Beach Club Villas at Walt Disney World
BoardWalk Villas at Walt Disney World
Boulder Ridge Villas at Disney's Wilderness Lodge at Walt Disney World
Copper Creek Villas & Cabins at Disney's Wilderness Lodge at Walt Disney World
Old Key West Resort at Walt Disney World
Disney's Polynesian Villas & Bungalows at Walt Disney World
Riviera Resort at Walt Disney World
Saratoga Springs Resort at Walt Disney World
Villas at Disney's Grand Floridian Resort at Walt Disney World
When booking a DVC Vacation, owners have priority booking at their home resort. Villas can be booked 11 months in advance for the home resort, and 7 months in advance for other resorts. For example, I own a Bay Lake Tower contract. At 11 months prior to my desired check-in date I can book Bay Lake Tower, and so can other Bay Lake Tower owners, but no one else can book those villa rooms that far in advance. At 7 months in advance of arrival, all owners can book across locations; I am able to book villas at resorts other than Bay Lake Tower once I am within that 7-month booking window.
Although you do have to choose a single home resort for any one DVC contract, you are not limited to only staying there. You will not have a priority booking window for the other resorts, but you absolutely can stay at the other resorts as you please.
One Notable Exception
There is one notable exception: Riviera Resort, the newest Disney Vacation Club location, has some limitations. If you use DVC Shop to purchase a resale contract now with any home resort other than the Riviera, you will not be able to use your DVC Vacation Points to stay at the Riviera. And if you choose to purchase a resale contract with a Riviera Resort home resort designation, you can only stay at the Riviera Resort—you cannot access the other DVC locations with your Vacation Points.
RCI
In addition to staying at DVC locations, you can also transfer your points to RCI, a separate timeshare company with thousands of locations around the world. Most DVC owners utilize their points for vacations at Disney locations, but it certainly is nice to have this option of using your Vacation Points at destinations elsewhere.
Each home resort has a variable expiration year. Although DVC is a timeshare, it is not the type where you hold ownership rights in perpetuity. At some point, currently between 2042 and 2070, your contract will expire. If you hope to enjoy Disney Vacation Club for the longest amount of time possible, consider buying a home resort with an expiration far into the future such as Villas at the Grand Floridian or the Polynesian Villas & Bungalows.
PRO TIP
Generally, I would advise you to purchase a DVC contract with the home resort where you want to stay the most. The 11-month booking window is definitely an advantage when it comes to ensuring you'll get the villa type that will make your vacation truly a dream.
Vacation Points
Vacation Points are the currency for Disney Vacation Club owners and renters; you exchange Vacation Points for reservations to stay in deluxe villas at Disney Vacation Club resorts.
Point Charts and Seasons
Each resort has a Points Chart that details how many points every villa costs per night. The costs fluctuate depending on what time of year you travel, as well as lower rates for Sunday – Thursday nights and higher rates for Friday and Saturday nights.
The time of year traveled is often referred to as the "DVC Season" or "DVC Travel Period". In recent years prior to 2020 there were five DVC Seasons: adventure, choice, dream, magic, and premier, in order of lowest to highest points cost per night. As expected, the seasons correlate with overall occupancy. The most expensive DVC Season included the highest occupancy times of year for Disney: spring break and the week including Christmas Eve up through New Year's Eve.
From 2021 onward, thus far, DVC has switched to seven Travel Periods that are unnamed, but the concept remains the same. The first travel period includes early September and requires the smallest number of points per night, whereas the seventh Travel Period is the most expensive and again includes spring break and the holiday time.
Every home resort has its own Points Chart. The number of Vacation Points required to stay in a given Villa varies across the different DVC resorts. For example, one week in May in a deluxe studio villa at Old Key West requires 85 Vacation Points per the 2021 Points Chart. In comparison, the same week in a deluxe studio villa at the Beach Club costs 114 Vacation Points.
Unit Types
Villa size also affects cost. Disney Vacation Club offers four standard sizes: studios, one-bedrooms, two-bedrooms, and three-bedroom grand villas. Studios are similar to standard Disney hotel rooms, though they tend to be a little larger and also have a kitchenette. One-bedrooms and larger feature a full kitchen as well as in-unit washer and dryer. Furthermore, some resorts have different view categories, similar to standard hotels. At BoardWalk Villas a standard view room of any villa size will cost less than a boardwalk view room of the same size. Larger sized accommodations and upgraded room views require more points to book.
When looking to purchase a DVC contract you will need to carefully consider the number of Vacation Points you would like to have access to. Smaller contracts, say 50 points, cost less money overall, but also limit the number of nights you can stay at DVC accommodations. Take a methodical look at the Points Chart for your desired home resort and consider what would work best for you and your travel party. If you and only one other person wants to travel together then a studio likely makes sense. On the other hand, if you are hoping to have extended family all stay in the same accommodation you may instead want to consider two-bedroom or three-bedroom villas. Accordingly, adjust the number of Vacation Points you should buy based on your home resort's Points Chart, the villa size and view category you want to stay in, the time of year you will be traveling, and the approximate number of nights you'd like to stay in these DVC accommodations.
The booking system with Vacation Points creates a lot of flexibility for DVC owners. You are not locked into a single time of year to use your timeshare like most traditional timeshare purchases. Also, you are not limited to a single location. You can use your Vacation Points at the various DVC resorts as you desire.
Furthermore, DVC allows you to both bank and borrow Vacation Points. If you are not planning to travel this year, you can bank your allotment of Vacation Points into the next year. Additionally, if your desired trip this year costs more Vacation Points than you have, you can borrow Vacation Points from the next year. The ability to bank and borrow Vacation Points adds another layer of flexibility that allows for customization of your vacations far beyond the expected norms of a timeshare.
Use Year
Every DVC contract has a Use Year, which is effectively the month of every year that your yearly allotment of Vacation Points becomes available in your account. Not every month is available for a Use Year; DVC Use Years are February, March, April, June, August, September, October, and December. For example, if you purchase a 160-point contract with a March Use Year then every year on March 1 your new allotment of 160 points is released to your account.
If you travel to DVC locations throughout the year, then your choice is Use Year will be largely inconsequential. However, if you plan to take your Disney trips at roughly the same time every year you may want to more carefully consider the Use Year of a contract. Generally, buying a contract with a Use Year within a few months before when you will typically be traveling is a safe bet. For example, I prefer to head to Walt Disney World between September and December; therefore, I purchased an August Use Year contract. The logic behind this choice is largely intertwined with the ability to bank unused Vacation Points.
Vacation Points are valid for use during that single Use Year; for a March Use Year this means your yearly allotment of Vacation Points can be used from March 1 through February 28. If you cannot utilize your points, they will expire and effectively be wasted. However, as previously mentioned, you can bank them into the next Use Year. There is a banking deadline, which is based off the Use Year of your contract. Unused Vacation Points must be banked within the first 8 months of the Use Year. A March Use Year has a banking deadline every year of October 31.
In my case, with an August Use Year contract, my banking deadline is March 31. Because I intend to primarily travel in September through December, I will always know if I have unused points before this banking deadline. Plus, if something comes up and I need to push my vacation back, I can travel between January and March in that same Use Year and still meet the banking deadline.
The banking deadline is only relevant if you have Vacation Points to bank; if you plan to utilize your full allotment of Vacation Points each year this will not be a major concern.
Benefits of Disney Vacation Club
Flexibility is key when it comes to owning a Disney Vacation Club contract. Your chosen amount of Vacation Points, Use Year, and home resort for a single contract are set in stone; these variables cannot be changed. But the way you are able to utilize your DVC ownership is vast:
Stays at a plethora of DVC resorts located across the country
What time of year you travel and length of the trip is completely up to you
Bank unused Vacation Points to utilize the next year
Borrow Vacation Points from the next year for an extravagant trip this year
DVC Ownership
To become a DVC owner work with a reputable DVC Resale company like DVC Shop to purchase a contract with your desired amount of Vacation Points, home resort, and Use Year. This will come with an initial cost for the contract, then each home resort has yearly annual dues. These dues vary between resorts. From the time of your ownership until the time that home resort expires you have access to your yearly allotment of Vacation Points to utilize as you please. If you already frequently travel to these destinations, DVC can be a great way to save money in the long run. Instead of yearly hotel costs, DVC has an initial purchase price and annual dues. With a few simple calculations, it is pretty plain to see that over the course of several years the investment in Disney Vacation Club is monetarily worth it.
Ideally, you are able to keep your Disney Vacation Club contract and make great use of it, taking magical vacations for a long time to come. However, sometimes life circumstances get in the way. In the event that you need to sell, DVC Shop can help you list your contract for sale. The ability to sell DVC ownership in case you need to is a huge perk. And unlike typical timeshares that are worth only pennies on the dollar when attempting to sell, DVC contracts usually increase in value over time. Nothing is guaranteed, but for example Grand Californian contracts were selling for about $150-$160 per point in fall 2015, whereas by fall 2020 that average resale price was closer to $220 per point. Personally, I hope I never have to sell my DVC contract. But knowing if that time comes that I will likely make my initial purchase price back, and perhaps even a modest profit, is incredibly reassuring.
Aside from saving money, I also cherish the philosophical investment in Disney Vacation Club. By becoming a DVC owner I have promised myself Disney vacations for years to come. My partner and I were already planning on regular Disney trips, and with Disney Vacation Club we have guaranteed our enjoyment in deluxe accommodations.
Renting DVC
You do not need to be a DVC owner to experience Disney Vacation Club villas. Some DVC owners who do not use their full allotment of Vacation Points will rent them out instead of bank those points. This way, people who are not owners can easily access Disney Vacation Club accommodations.
DVC Shop can assist with the rental process. This is a great way to "try before you buy" for your upcoming Disney trip. Prior to becoming an owner I rented DVC points. It is a fantastic way to stay in deluxe villa accommodations for far less than the cash booking rate Disney advertises. And although I am now a DVC owner, my resale contract does not allow me to use my Vacation Points to book the Riviera Resort. Therefore, I plan to rent points in the future to experience a stay at the Riviera.
DVC Explained
Disney Vacation Club has a lot of jargon and quirks, but the DVC Shop Blog has loads of resources. Be sure to also check out the DVC Shop YouTube channel, and if you still have questions contact the DVC Shop Resales team.
"DVC," or Disney Vacation Club is Disney's vacation ownership program. It comes with built-in flexibilities for you to make the most of your Disney Vacations. Having a firm understanding of the ins and outs of Disney Vacation Club certainly made renting points and becoming a DVC owner an easy choice for me!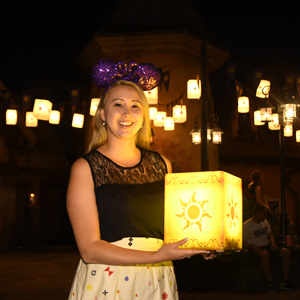 Written by
Jacqueline R.
Contributing Writer
Jacqueline is a PhD scientist with a passion for synthesizing detailed information in an understandable format. She is a Disney Vacation Club owner, overall Disney fan, and the primary content creator on the YouTube channel Pixie Dust PhD.