Unlike some other vacation ownerships, Disney Vacation Club's fifteen unique resorts are all leasehold properties. Being a leasehold means that the land on which the DVC resorts are built is leased from the owner of the land, Disney Vacation Development, Inc. 
What Is A Right To Use Timeshare?
In the timeshare industry this is sometimes referred to as a "right-to-use" property, which differs from a traditionally deed ownership, as well as perpetually owned "pure-points" ownerships.
As with any lease, the agreements between the DVC resorts and Disney Vacation Development, Inc. each have an expiration date. Owners of right to use timeshares may sell, donate or will their ownership contract to another party, but the expiration date remains identical for the new owner. Essentially, owners possess the use rights of their ownerships, while in the developer legally owns the property itself.
DVC Contract Expiration Dates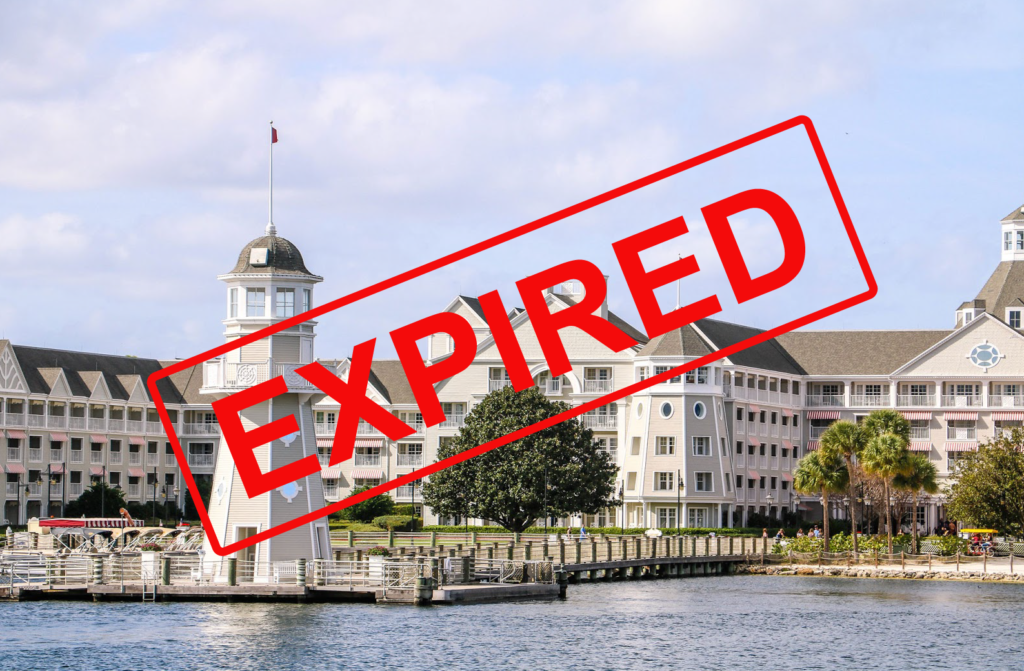 Expiration or end dates of the contract vary depending on your chosen home DVC resort. While most DVC resorts were given an expiration date of 50 years from the property construction date, not all resorts follow this rule.
Additionally, in 2007 owners of Old Key West were offered the option to add an additional 15 years to their contracts. Those who elected to extend their contracts now have an expiration date of 2057, while those who opted out maintain their original expiration date, 2042. 
If looking to purchase a DVC contract it is important to know your properties expiration date in order to determine the length of time you and your family can enjoy your ownership. Some owners may value getting the most affordable maintenance costs, or prefer owning at their favorite resort location, while other owners may place a high value on the expiration date of their contract.
You can find the contract expiration date for each DVC resort below.
*All deeds expire on January 31st of their respective expiration year.
What Happens When DVC Contract Expires?
When your DVC contract reaches its expiration date, in some cases DVC will offer owners the ability to extend their contracts, like in the case of Old Key West. Alternatively, in the case that DVC does not offer owners the ability to extend the contract, the right to use the property is reverted back to Disney Vacation Development, Inc., and you will no longer be able to use your DVC points to book reservations. You can find more detailed information in our article about what happens when your DVC contract expires.
What Are The Differences Between Resale And Direct Purchases?
There are absolutely no differences between resale and direct purchases when it comes to expiration dates. 
Keep in mind, regardless of when or where you purchase your DVC points, the sooner you purchase the contract, the more years you will have to enjoy your purchase. So what are you waiting for? Feel free to contact our DVC Shop Resale team with any additional questions regarding DVC membership contracts, rules and policies. We have licensed agents standing by to help you navigate the process of owning your own piece of Disney magic!