If you've spent more than five minutes browsing the internet for information on Disney Vacation Club you would have undoubtedly come across some mention of the 7 and 11-month booking windows. DVC owners all have opinions about these booking windows and how they manage these time frames when booking their family vacations at DVC properties. Below we'll explain what the 7 and 11-month DVC booking windows are and why they're important to every DVC owner.

The Coveted 11-Month Booking Window
Every Disney Vacation Club owner is eligible to make DVC reservations 11 months in advance at their home resort, i.e. the resort on your contract. Essentially, this means that owners have priority booking when making reservations at their home resort. Although the competition is definitely reduced during the 11-month booking window, this does not mean you are guaranteed to find the room type and dates you're looking for. Reservations are made on a first-come, first-served basis so it is advised to book as far in advance as possible. When booking into your home resort you can book a maximum of 11 months before your check-in date. Booking windows open at 8AM Eastern time and you can book a maximum of 7 consecutive nights. 
To calculate your 11-month booking window simply think about the date you're planning to check-in and offset it by one month. For example, if you'd like to make a reservation for September 20, 2020, your 11-month booking window starts on October 20, 2019. 
Tip:
If your dates are not flexible and you are looking for a specific room type you should consider being ready with your dates and information at 7:45AM ET on the morning your 11-month booking window starts. You can even log in to the DVC member site and pre-fill your information before the clock strikes 8. While this may sound a bit excessive, many other owners will be doing the exact same thing to book reservations. It is also advisable that you have a back-up plan just in case your first choice of room type or dates are unavailable.

The 7-Month Booking Window
For any reservations made at your non-home resort location, all DVC owners are subject to book during the 7-month booking window. As you've guessed it, at this time availability is definitely reduced but that does not mean you will not be able to find the perfect reservation for you and your family. Remember, at 7-months in advance you can book into any DVC resort so your search options are potentially much wider. Many owners consistently successfully book during the 7-month window with no problems. Of course, considering that you're working with lower availability, you may want to be flexible with location, room type and dates. Keep in mind that the most challenging bookings to make are usually longer stays and smaller room types (i.e. Studios). 
Of course it is again recommended that you book as far in advance as possible. The start of your 7-month booking window may be a little more difficult to calculate but you can use a handy tool like this date calculator which allows you to simply enter your desired check-in date and subtract 7 months.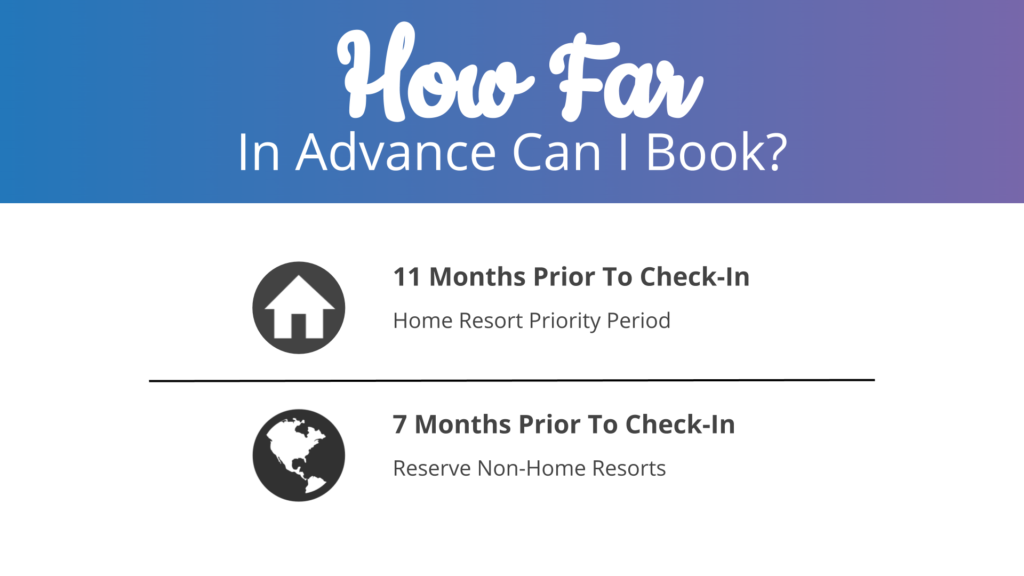 Additionally, there are many tricks and techniques owners use to ensure booking the perfect vacation during the 7-month booking window.

Expert Booking Tips & Tricks
Tips:
Split Stays

– If you can't find all your vacation dates available in one room or even at the same resort, you can split your stay between one, two or even three different rooms or locations to secure your required dates. 

The Switch

– Instead of waiting until the 7-month booking window to book a reservation at a non-home resort, many owners choose to book at 11 months into their home resort then try to later change their reservation for a different location during the 7-month window. This trick gives you some peace of mind as you have a confirmed reservation but also allows you the freedom to try something new if it is available during the 7-month window. Of course this option will only work for owners who are traveling to the Disney World Resort and who own at one of the Disney World DVC resort locations. 

Waitlists

– If you've tried all the other tips and really have your heart set on a specific location and date then you can always waitlist the reservation in hopes that it will become available before your travel dates. Disney allows you to have a maximum of two outstanding waitlists and you can choose to keep them waitlisted until either 31 days or 7 days before your check-in date. Owners can easily keep track of waitlists in the Waitlist Manager on the DVC owners site. 

Cash & Rentals

– The final option which is available to any DVC member is to book a cash room through Disney. Any member can book a cash room 11 months prior to check-in at any DVC resort, regardless of where you own. As this may not be the most cost effective option, you can also rent your points to other members or non-members to offset the cost of your cash booking. Additionally, you can

shop confirmed reservations through DVC Shop

as well as rent other owner's points to book a reservation of your own.
Booking your dream vacation at DVC takes some level of planning but the process does not need to be daunting or stressful. Understanding the 7 and 11-month booking windows and the tips above will hopefully arm you with useful knowledge for when it's time to book your next DVC vacation.
Video by
David Van Norman
Article by
Katherine Rand