It is no secret that one of the most talked-about attractions in Disney World right now is Guardians Of The Galaxy: Cosmic Rewind. If you've been wanting to experience Disney's newest attraction, Epcot's first true rollercoaster, then you'll need to join the virtual queue! In this article, we will show you exactly how to join the virtual queue for Guardians of the Galaxy: Cosmic Rewind using the My Disney Experience app, and some of the tips we used to get a boarding group for this amazing new attraction!
What Is A Virtual Queue?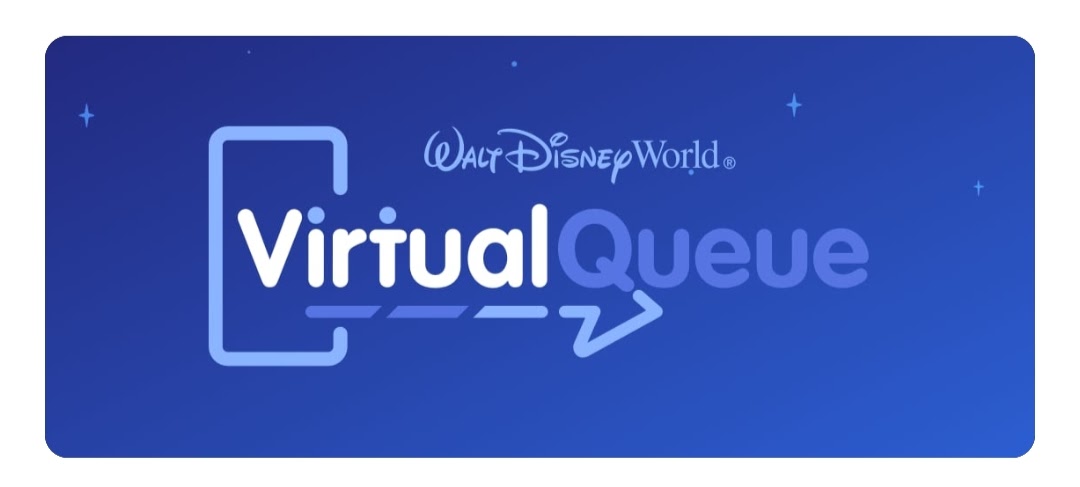 Virtual queues at Disney theme parks allow guests to reserve a time slot to ride an attraction, which prevents waiting in line for hours. Virtual queues have historically been used for new or highly popular attractions, such as Rise of the Resistance and Remy's Ratatouille Adventure.
Although the virtual queue's design prevents long lines, some park visitors have described it as tough, even anxiety-inducing, to reserve a seat in a boarding group. It is important to keep in mind that there is still a chance that you may not be able to get in a boarding group, but following the advice in this article can dramatically increase your chances of getting into a boarding group. We'll go through everything you need to know so you can sleep well at night knowing that you and your family have a great chance of being able to ride this exciting new attraction!
Get Prepared!
Ensure You Have A Valid Park Admission & Park Reservation
To join the virtual queue for Guardians of the Galaxy: Cosmic Rewind, you will need to have a valid theme park ticket, or annual pass as well as a Park Pass reservation for Epcot. You can begin the process of joining the virtual queue at 7am eastern time the morning of the day you have your Park pass reservation for, and you won't need to be physically present inside the park unless you are joining a later boarding group such as the 1pm virtual queue.
My Disney Experience App

If you don't already have the My Disney Experience App, make sure to have it downloaded and ready to go the night before your reservation. Not only is this app extremely useful inside of the parks for using mobile ordering, making dining reservations, or finding directions, it is also your only way onto the virtual queue. You can download this app on both the Google Play Store and the Apple App Store.
Adding Your Friends and Family
Once you have the app set up, make sure that your entire party is added onto the Family and Friends list that is inside of the app. This allows everyone to join the same boarding group at the same time. Every adult in your party that is interested in riding Cosmic Rewind will need a My Disney Experience account and be linked together. If you are planning on bringing children on the ride, be sure that they are listed as a guest that you can manage on your account. If you are missing someone from your party, Disney recently released a way to add them to your Friends and Family list by scanning a QR code that is found in their My Disney Experience app.
When Can I Join The Virtual Queue?
There are up to 3 opportunities for each day you have reserved at Epcot. You can see the chart below that details each time of the day you can join a virtual queue for Cosmic Rewind:
| Time | Details |
| --- | --- |
| 7 AM | No need to be physically in the park |
| 1 PM | Must be checked in and present at park |
| 6PM | No need to be physically in the park. Open to guests staying at Disney Deluxe resorts |
How To Join The Virtual Queue
Locate the Virtual Queue Card on the My Disney Experience App Homepage
To be able to join the virtual queue, guests will need to be on the My Disney Experience App at 7 AM Eastern Time. You can find this section in the app by pressing the menu button in the lower right hand corner of the app, then pressing on the "Virtual Queues" box. Guests will have a second chance to join the virtual queue at 6 p.m. but they will need to be inside of the park at that time.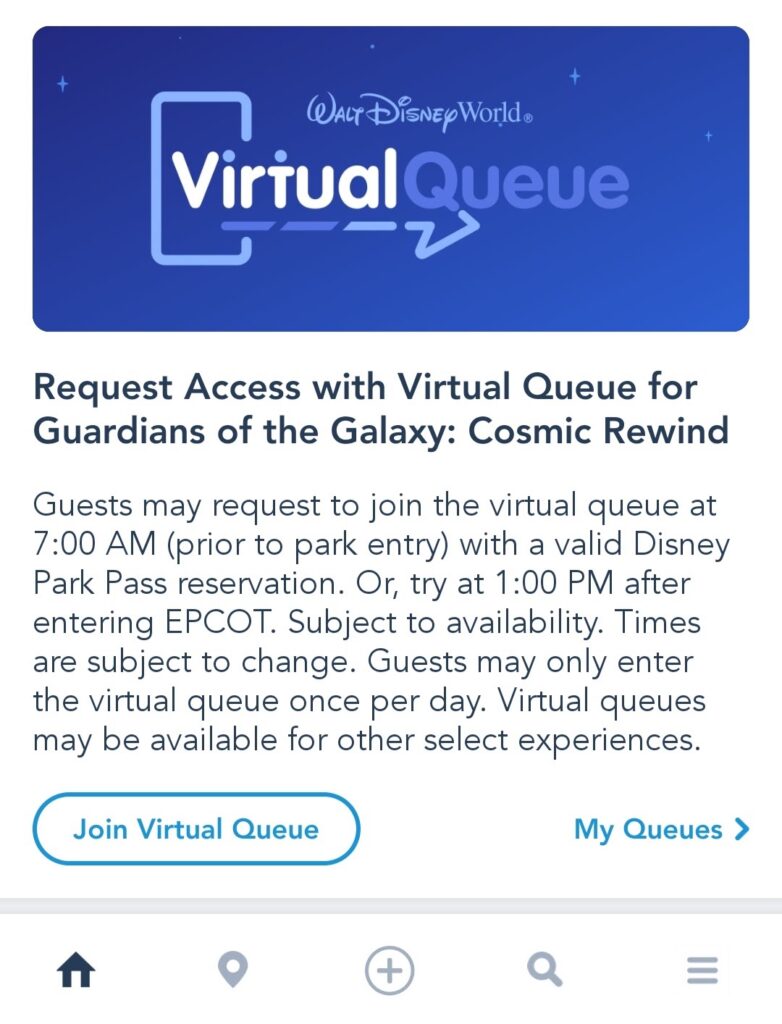 Confirm All Members of Your Party Are Added
It would be best to locate the join virtual queue button and ensure your full party is added well before the 7am starting time to ensure if there are any people missing from your desired party, that you'll have time to add them. If you have the updated version of the app, everyone in the party of your park pass reservation should be automatically selected, but definitely confirm everyone that wants to ride is added.
Hit Refresh Button Right At 7 AM & Press Join Button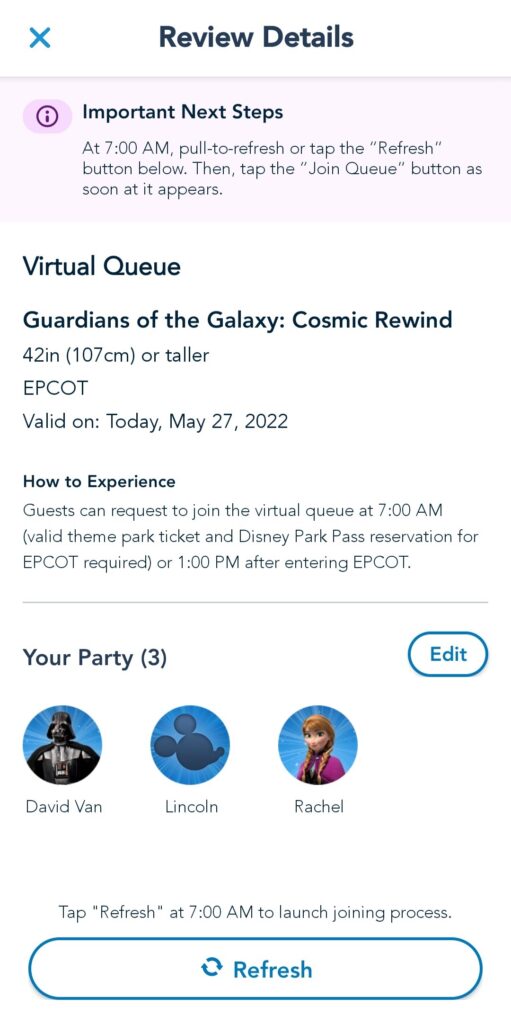 The best advice we can give you is to open a world clock on a computer, and use every single mobile device at your disposable to time your refresh of the page, right as the clock turns to 7:00 a.m. Ensure you are connected to the fastest internet connection available to you, which often times will be a reliable WiFi connection at your resort or home. We had the Disney app open and refreshed the page right as the second changed to 7 a.m. As soon as you see the the join button at the bottom of the screen, press it! The entire process took a total of 2 frenzied seconds.
Rejoice, You're One Of The Chosen Few!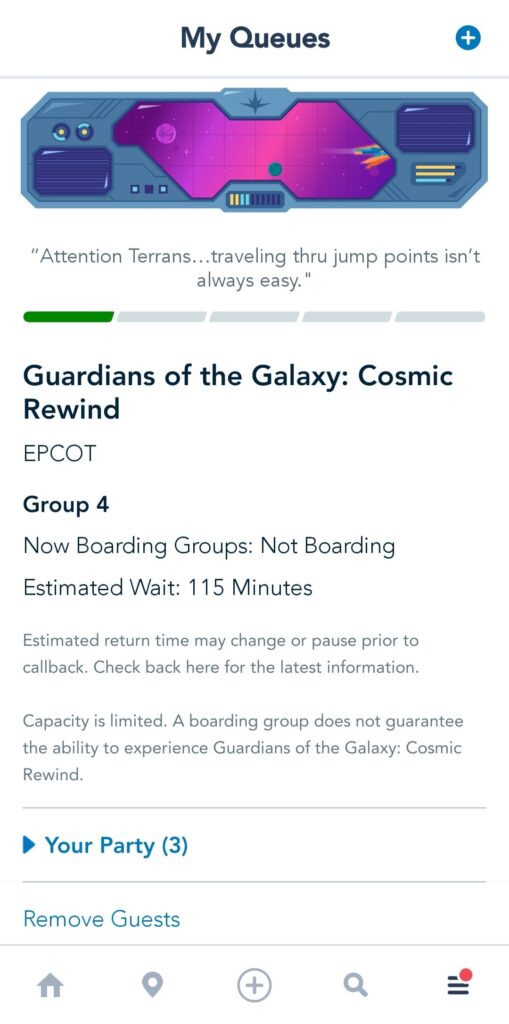 Once you've joined a boarding group, you'll be given a boarding group number. This can help you determine a general time window to make sure to be present at the attraction and ride. This general time window you can extrapolate from your boarding group will be based on the current wait time for the attraction, so definitely be conservation in your assumptions. Boarding groups below 10 or so would do well to be present at the opening time to ensure you have enough time to get to the attraction.
Once your boarding group has been called, you'll get a notification on your phone with a 60-minute wait time, you'll have 60 minutes to get to the attraction and scan in.
What If I Didn't Get A Boarding Group?
Try, try again! You can try again at 1pm, as long as you have scanned into, and are physically at, the park. Also, guests staying at a Disney Deluxe Resort, Disney Deluxe Villa Resort, or other select Walt Disney World Resort hotels will have an additional opportunity to ride Cosmic Rewind. This extra opportunity is of course available to DVC members, as well as those using a DVC rental, like the rentals that our company specializes in!
On days when Extended Evening Hours are running in Epcot, there will be an additional Virtual Queue distribution time at 6:00 pm. Guests do not need to be in Epcot to make reservations but they do need valid theme park admission and a park pass reservation for Epcot, or they may have a park pass reservation for another park that they entered earlier in the same day, if they wish to park hop to Epcot. Extended Evening Hours usually takes place for 2 hours after the regular park close.
Guardians Of The Galaxy: Cosmic Rewind Sneak Peek
If you would like to see what the experience of riding this rollercoaster is like, you can check out our Cosmic Rewind Sneak Peek Video we released after being allowed to get an advanced sneak peek at the attraction just before opening to the public.
Let's Wrap This Up!
Virtual queues are a great way to experience popular attractions without spending hours waiting in line! By joining a boarding group, you can explore the rest of Epcot, whether that's riding other rides, or grabbing some of those delicious Disney snacks while you wait. Just be sure to return to Guardians of the Galaxy: Cosmic Rewind within your designated time window, or you may lose your spot in line!
We hope this article has helped you understand how to join the virtual queue for Guardians of the Galaxy: Cosmic Rewind. Have you ever joined a virtual queue at a Disney theme park? Let us know in the comments!
If you enjoyed this article, be sure to check out our other posts about all things Disney! From tips and tricks to news and updates, we have everything you need to make your next Disney vacation the best one yet on the DVC Shop blog. Have a magical day!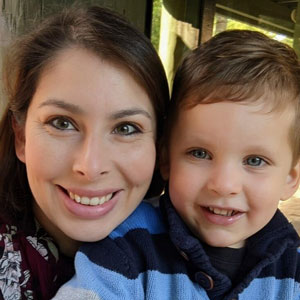 Written by
Rachel Van Norman
Contributing Writer
Rachel fell deeply in love with all things Disney as a little girl. Now as a wife and a mother herself, she shares this Disney obsession with her son and everyone around her. From her love of princesses to eating all the Disney food, Rachel spends her time radiating Disney magic and keeping everyone up to date on Disney news.