Disney Vacation Club is Disney's version of a vacation ownership program, or a timeshare. Folks who regularly travel to Disney Vacation Club destinations such as the Grand Californian in Disneyland, a plethora of resorts at Walt Disney World, Disney's Hilton Head Island Resort, Disney's Vero Beach Resort, and Aulani can purchase a Disney Vacation Club contract and become a DVC Member.
Cost Of Disney Vacation Club Ownership
First, prospective DVC Members will need to decide on three key criteria: home resort, Use Year, and the desired number of Vacation Points. Once those variables have been narrowed down, work with DVC Shop to purchase your ideal contract. Each contract clearly lists the initial purchase price: this consists of the total cost for the Vacation Points included in the contract and closing costs. After the initial purchase price, each year annual dues are owed to Disney Vacation Club. Annual dues vary between resorts, and are listed as a price per point. Members are responsible for paying annual dues every year for as long as they retain ownership of the contract-think of annual dues similar to a home owners association fee.
DVC Members are able to sell their contract if needed-DVC Shop experts can help with this too! Or, if desired, members can utilize their contract until it expires. Disney Vacation Club resorts have different expirations dates, with the earliest expiration year being 2042. Overall, you pay a one-time fee for the initial purchase price, then yearly fees in the form of annual dues until you sell the contract or the contract expires.
What Do You Get with Disney Vacation Club Ownership?
Effectively, a Disney Vacation Club contract guarantees you an allotment of Vacation Points each year. Vacation Points are the DVC currency used to book Disney Vacation Club villas. Although officially you purchase a DVC contract to become a member, you can conceptualize this as purchasing Vacation Points that you exchange for your Disney Vacation accommodations. In this way, the flat one-time price of the initial purchase price and the yearly annual dues gets you access to Vacation Points, and therefore beautiful villa rooms, for decades to come.
How DVC Ownership Hedges Against Inflation
With the primary currency of DVC being Vacation Points rather than dollars, ownership of DVC can help protect against inflation.
Vacation Points At A DVC Resort
The total number of Vacation Points it takes to fill up a Disney Vacation Club resort in a single year cannot change unless DVC adds new villa rooms to the resort, similar to the recently announced Grand Floridian expansion. This means members have a set amount of yearly Vacation Points per their contract, and since the overall number of Vacation Points at that resort cannot increase your points are not diluted with time. The time value of dollars, however, is clear: one dollar today is worth more than one dollar tomorrow due to inflation.
Hotel Price Inflation vs. Disney Vacation Club Ownership
Owning Disney Vacation Club incurs the cost of a one-time fee for the initial purchase price and yearly annual dues. The annual dues are subject to change, and historically do increase over time, usually about 3.5% per year. In that sense, it may feel like DVC owners are still, in fact, paying the cost of inflation. And while that may be true, the increase in annual dues pales in comparison to the increase in hotel prices.
For example, my DVC contract is at Bay Lake Tower at Disney's Contemporary Resort. Bay Lake Tower is a bit on the pricier spectrum for initial purchase price, but overall has lower annual dues compared to many other resorts. Annual dues for Bay Lake Tower thus far have a compound annual growth rate close to 5%, which is one of the highest annual dues annual growth rates.
However, hotel rates at Disney's Contemporary Resort are extraordinary compared to growth rate of Bay Lake Tower annual dues. When the Contemporary opened to guests in 1971, rooms routinely were sold for about $30 per night. Now, those same rooms are easily sold for $500 to over $800 per night, depending on travel dates. Conservatively, this compound annual growth rate in hotel room price is at least 7%, but can easily be upwards of 10% depending on the current hotel rate you would pay based on the time of year you travel.
Taking this example one step further, say you travel during lower cost seasons and would pay only $520 per night to stay at the Contemporary. At a 7% annual growth rate, 20 years from now that exact same hotel room would cost over $1,800 per night! Of course, no one can predict the future and there are no guarantees on hotel price increases. That being said, overall Disney Vacation Club owners do not have to worry about this variable at all. The Vacation Points you buy today will be the same Vacation Points 20 years from now.
Disney Vacation Club Ownership Saves Money In The Long Run
Becoming a Disney Vacation Club owner can save you loads of money in general compared to staying in Disney hotels, but that logic becomes even further compounded when you consider the lack of inflation concerns associated with owning Vacation Points. The value of Vacation Points, in terms of trading them in for villa accommodations, is not going to be watered down over time. Furthermore, those villas you book for Vacation Points will not experience a huge spike in cost over time as standard hotel rooms have shown historically. If you love taking Deluxe vacation to Disney, the built in protection again inflation is a terrific reason to consider purchasing Disney Vacation Club.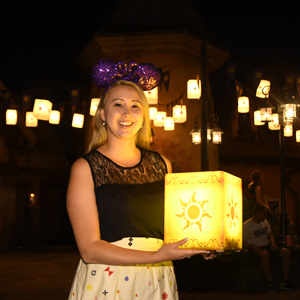 Written by
Jacqueline R.
Contributing Writer
Jacqueline is a PhD scientist with a passion for synthesizing detailed information in an understandable format. She is a Disney Vacation Club owner, overall Disney fan, and the primary content creator on the YouTube channel Pixie Dust PhD.