One of my favorite things on Halloween is dressing the entire family in Disney themed group costumes! There are some great choices out there and the creativity is endless. If you are going to MNSSHP, boarding an October Disney cruise, or just doing some neighborhood trick-or-treating, dressing up as your favorite Disney characters will make it extra special! Sometimes it can be hard to decide what Disney theme would best suit your family considering family size, ages and boys and girls. So, we have some creative Disney themed family costumes for Halloween!
Toy Story
Not to be bias, but Toy Story is one of my favorite family Halloween costumes! It is so easy, and everyone usually gets to pick their favorite character! I also love Toy Story because it is really easy for a DIY costume. No need to have store bought for this one, no matter how crafty you are you can easily pull it off! First off, if you want to get really easy; buy the buzz and woody pajamas! Yes, no one will notice and your little one will be so comfortable all night filling their candy bag! Mr. Potato head? Brown shirt, felt eyes, nose and mouth and find a cheap plastic party hat easily found at part stores!
Star Wars
Any Star War fans? There is a character for everyone with this theme that is out of this world. This is especially fun for families with older kids or a group of friends. Some of these costumes bring homemade to a whole new level, and we are loving it! Getting ready for Halloween may be the best part. No matter how many people are in your family or friend group, Star Wars is a great theme to get creative and make everyone on the same team to fight the dark side!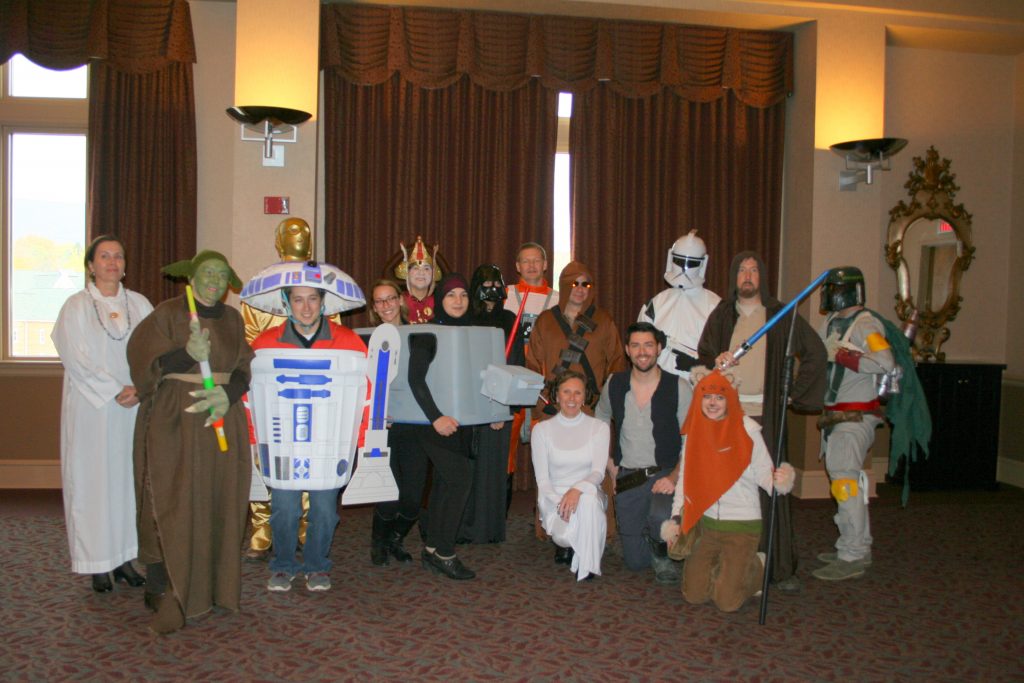 Peter Pan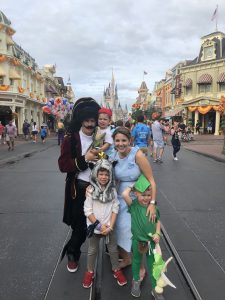 Have a lot of boys in your family? A Peter Pan themed family costume is for you! This was one of our favorites, my middle son got to fulfill his dream as Peter Pan himself, and my oldest got his by being one of the Lost Boys. My littlest at the time took it away with his Smee costume, but my husband played the perfect Hook! Since I was the only girl of the group Wendy it was, but we brought along a Tinker Bell doll. My boy's favorite part was I gave them each a pouch of pixie dust (glitter) which made them feel extra special that Halloween night!
The Seven Dwarfs
Talk about a fun costume idea for the entire family! Get some t-shirts, sweatpants and make some cute beards, and you have yourself the seven dwarfs! This family costume will sure be a hit, you even have a fun song to sing while collecting candy; "Hi ho, hi ho….!" It can be fun choosing who will depict which dwarf, we all know a Grumpy! This colorful and fun family costume is a great way to show everyone's personality and turn heads as you go!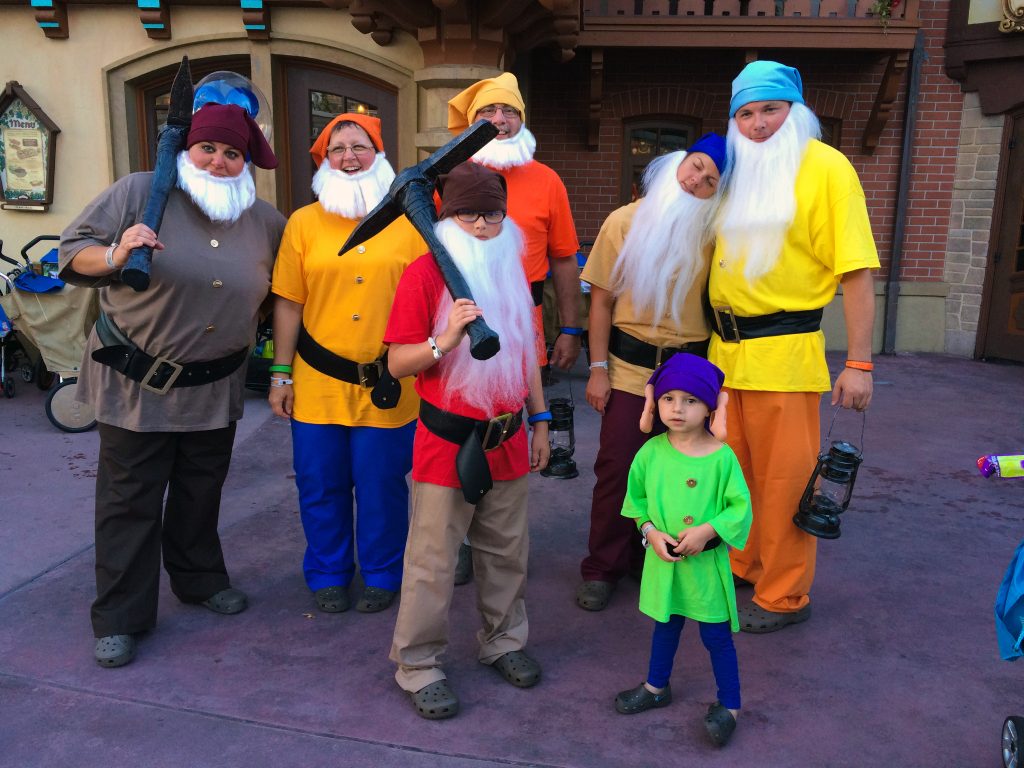 The options are endless when it comes to choosing a Disney family theme Halloween costume! Don't forget Marvel superheroes, or princesses! Have fun creating and getting crafty for your Halloween adventures. Your Halloween will always be a little more special when you add some Disney pixie dust in the mix!
Written by
Erin Bonsall
Contributing Writer
Erin is a stay at home mom of 4 little boys outside Charlotte, NC. She remembers one magical Disney trip at a young age, but having children made her want to bring her own kids to the happiest place on earth! One trip 7 years ago started a love for everything Disney! Now her family visits Disney World as much as possible and it is their favorite place to make magical memories!