Why go on a DVC Member Cruise? Have you ever wanted to meet a Disney star or like to participate in exclusive experiences? Then it's time to plan to join Disney Vacation Club on a member cruise! While the current 2023 DVC Member's Cruise on the Disney Wish is currently showing as sold out, it's not too early to be thinking about joining the next cruise once it's announced or check back as we get closer to see if there are any cancellations. While cruising isn't for everyone, if you are an avid cruiser and DVC member and always wanted to experience a VIP moment, the DVC Member Cruise could be the vacation for you. In addition to meeting your favorite characters, the VIP experiences are something you won't ever forget.
Due to the pandemic, the 2020 Alaskan cruise on the Disney Wonder was postponed to 2022. While the wait was long, it so worth it.  My family and I were showered with fun gifts, special guests and lots of unique experiences in addition to seeing Alaska. This was our second member's cruise and it didn't disappoint. Our last one was in 2018, which was a double dip, or 2 stops to Castaway Cay, Disney's private island in the Bahamas and we were in awe of who we met and what we did.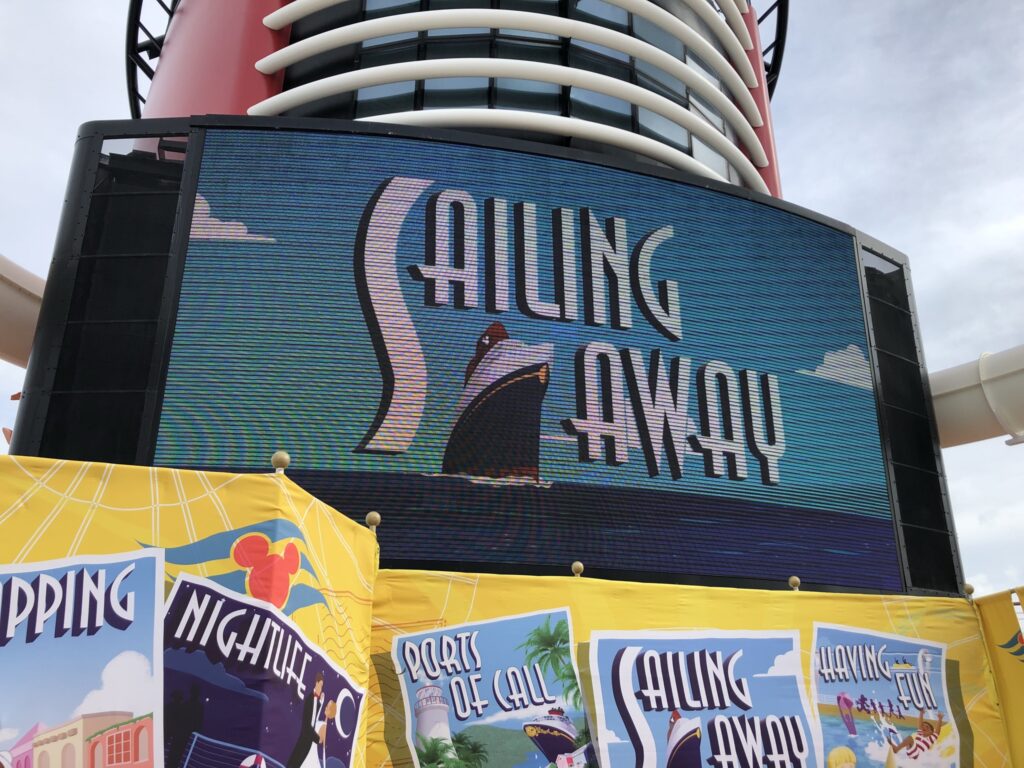 What To expect On A DVC Cruise?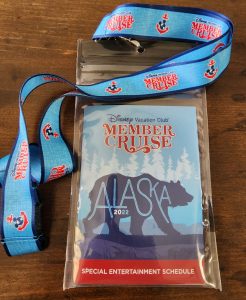 While cruising for most is supposed to be a relaxing vacation, you might need an extra day or two for recovery after this type of cruise. It is jammed pack with experiences. You will need to go with the understanding that you may have to choose between events and might even miss something, or even be a bit tired. This can even be a part of the fun. For example, we booked a brunch at Palo and during that time we missed a presentation about the Making of the Disney Wish. The good news is during port days, DVC does limit the activities, but sea days are crammed with a whole day's full of speakers, presentations and surprises, in addition to the normal cruising activities.
While we were on our 2018 cruise, we were able to see the movie Christopher Robin before it was released in the theaters. For this cruise, we were shown the movie Pinocchio, a week before it was released, as well as sneak peaks of a few other shows that are being released on Disney+ in the future. During the Sail-a-Wave Deck Party, we were included in the Disney+ Day video, which featured all of the celebrities we had on board.
Star Power Gives You The VIP Feeling
There was a wonderful star lineup on our cruise. The fun thing about a cruise is you get the fun of running into stars and their families around the ship. After all, while they are "working", they are also having fun themselves. I had the pleasure of being in the same dining room as Anthony Michael Gonzalez who voiced Miguel on Coco. One evening our dining room was encouraged to do the limbo, and he was trying to get in the line, so I told him to jump in front of me. Another time I was waiting in line to check in for our excursion and Bill Farmer, who voices Goofy was behind me. We enjoyed chatting with him while waiting our turn. I heard lots of similar stories from others who also had chance encounters around the ship with celebrities like Bret Iwan, the voice of Mickey Mouse and Kissy Simmons who plays Nala in The Lion King on Broadway. Everyone was so nice taking their time to talk, give quick selfies or smiles and waves. You never know when your table will be next to a star or if they even sit down next to you to watch a show. They aren't hiding behind the scenes like when you're at the parks or a show, as they are enjoying parts of the cruise, just like you.
Special Moments That Only Disney Can Bring!
My favorite night was Singing With The Stars. It was basically Karaoke, so an audience member was matched up with a star to sing a Disney Hit.  After a few songs were sung, the next song needed four volunteers, so I put my hand up and was lucky enough to be picked. Before I knew it, I was on stage singing with 3 others and Topher Ngo as our lead. Don't recognize the name? He was the voice Aaron T., the bass in the boy band named 4*Town on Turning Red! What an amazing moment.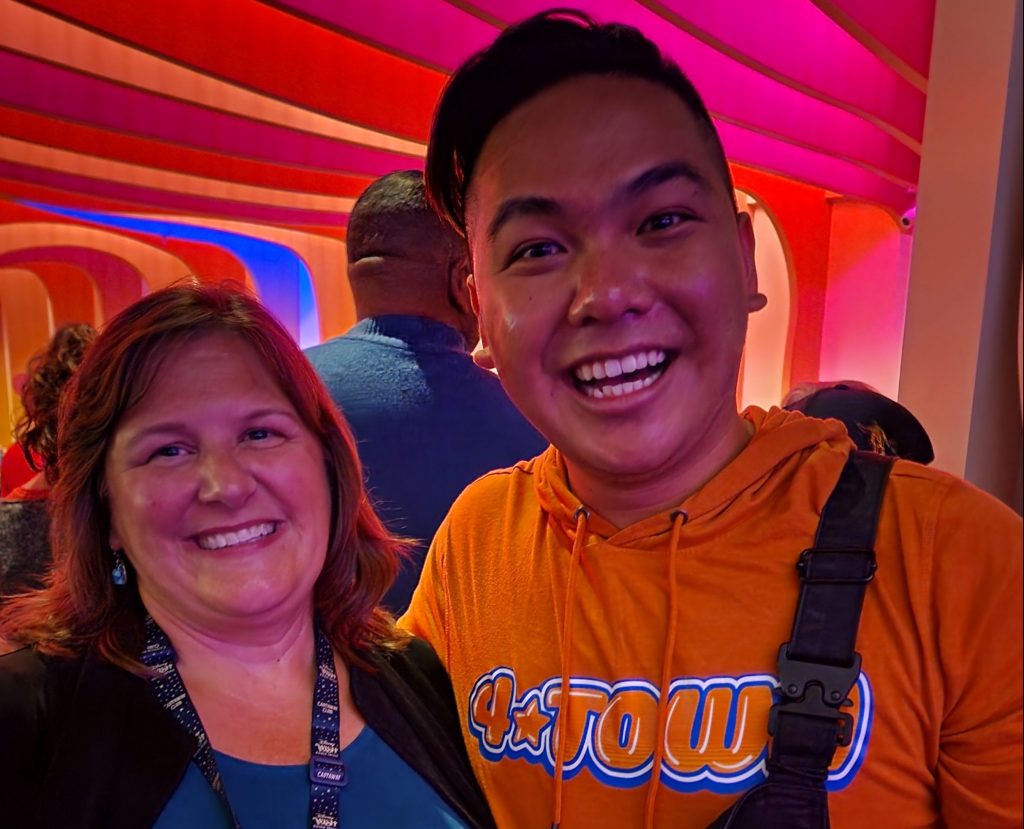 There were several volunteers who were able to join and sing some Disney favorites with different stars. What was even funnier was seeing the looks on the stars faces when they realized that the audience members they were matched up with could actually sing! We all know how interesting some of those Karaoke singers really are, so I'm sure some of the guest celebrities were holding their breath to see how out of tune the audience member might be. They did this on two nights and both nights were wonderful. It was so much fun talking to the stars and seeing them with their families. And on the last morning, who popped onto the elevator with me? Topher! We laughed as we wished each other safe travels back home.
Are Points Worth Using For A DVC Member Cruise?
For many of us, our DVC points are precious and we might not want to part with them, and maybe budgeting for a cruise might be a bit daunting. If you decide to use points towards your cruise, you might consider renting them out and paying for your cruise out-of-pocket. Reach out to DVC Shop if you decide you would like to do this and we can help. Take a look at the DVC Points Chart for you to help you estimate the cost of member cruises. This will help you decide how to use your points over the year and if they could help you towards the cost of your cruise. In the end, we have decided these cruises are so special, we will try to book one at least every two to three years. Happy sailing!
Written by
Karen Fountain
Contributing Writer
Karen has been a Disney fan her whole life and has been visiting almost yearly since 1997, when her daughter turned 4. She has become an avid cruiser with Mickey as well. Born and raised in the Washington, D.C. area, she recently she sold her business and with her husband, decided it was time to make the Orlando area their new home. They love being able to pop over to Disney on a whim and enjoy lunch or dinner at Disney Springs or catch a concert at Epcot.