EPCOT gives guests the opportunity to "travel the world" and experience the culture, history and cuisine of 11 different countries around the World Showcase, as well as interact with the knowledgeable Cast Members participating in the Cultural Representative Program.
EPCOT's France Pavilion
Today we're taking a closer look at the France Pavilion. This pavilion immerses visitors in the sights and sounds of France through stunning scenery, authentic shops and delicious cuisine. Park benches line the walkway by the beautiful fountain and flowering topiary gardens. The view of the water is reminiscent of the Seine. 
The France Pavilion recently underwent a significant expansion to include a new restaurant and attraction. The Skyliner offers guests an unbeatable bird's eye view of these new features, as well as the iconic Eiffel Tower.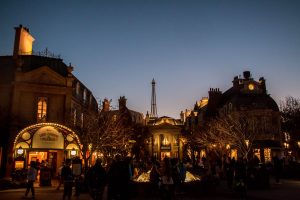 Shops
Shoppers can find plenty of fun souvenirs throughout the France Pavilion shops (which are also usually a great place to find merchandise from "Ratatouille," "Beauty & the Beast," and "The Aristocats").
Plume et Palette

offers designer French bags, accessories, perfumes from Le Tanneur, Dior, Thierry Mugler, and more.

La Signature

features Guerlain cosmetics and fragrances. Guests can also get a makeup consultation here!

Souvenirs de France is the perfect place to find French souvenirs such as artwork, toys, clothing, statuettes, books and more. 

Le Vins de France offers an extensive selection of wines and accessories.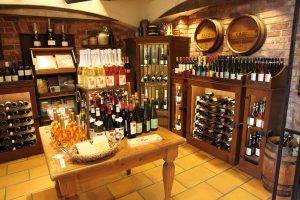 Dining
Quick Service
Les Halles Boulangerie-Patisserie offers delicious meals and snacks. This is a popular spot to grab breakfast, so make sure to head there early if you plan to pick up a tasty pastry in the morning! There are also sandwiches, quiches and soups for a heartier meal; and don't miss out on the variety of beautiful baked goods and desserts, which are a feast for the eyes as well as the taste buds. (I highly recommend the macarons!) Les Halles also offers lattes, cappuccinos, espressos and alcoholic beverages such as the popular Frosé. 
Les Vins des Chefs de France offers wines, alcoholic slushes, champagnes and beers. This is a popular spot to grab a delicious French beverage to enjoy while touring the World Showcase. 
L'Artisan des Glaces is the perfect place to grab a cool treat on a hot day. Pick up an ice cream, sorbet or a handcrafted Artisan's Special.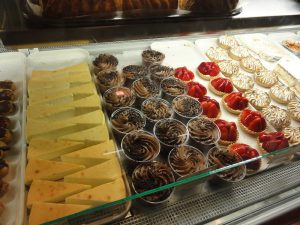 Table Service
La Crêperie de Paris is the newest restaurant to open in the France Pavilion, and features galettes and crêpes for breakfast, lunch and dinner. The savory buckwheat galettes can be filled with meats, cheeses and vegetables for a hearty meal. The crêpes will satisfy your sweet tooth with fruit, whipped cream, hazelnut chocolate spread or caramel beurre salé. For a filling meal, try the Prix Fixe option which includes a choice of soup or salad, one galette, one dessert crêpe, and a glass of hard cider, soda, or juice.
Chefs de France is an elegant yet family-friendly table service restaurant offering fine French cuisine in a charming cafe setting. Enjoy steaks, seafood or the popular ratatouille entree. 
For a truly gourmet experience, visit Monsieur Paul for the ultimate in fine dining. Chef Paul Bocuse has crafted a thoughtful signature menu, which is served Prix Fixe-style. The meal features several courses, palate cleansers and expertly paired wine for those who partake.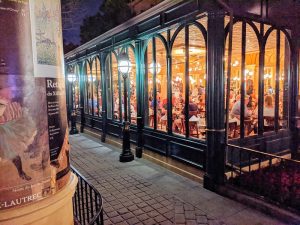 Attractions
Impressions de France offers guests an 18-minute video tour of the landscape, culture, architecture and history of France. The 200-degree widescreen immerses guests in the show, which is accompanied by an emotional soundtrack. Currently, this show is available during the evenings (6:30 PM to 8:45 PM).
During the day (9:00 AM to 6:00 PM), the same theater that hosts Impressions de France also offers an entertaining Beauty and the Beast Sing-Along. This 15-minute retelling of the beloved classic is narrated by Angela Lansbury as Mrs. Potts, and allows guests to sing along with their favorite songs from the film.
Remy's Ratatouille Adventure is the newest attraction to open in the France Pavilion. This innovative ride uses 4D technology and a trackless ride system to "shrink" guests down to Remy's size for an exciting and immersive adventure through Gusteau's!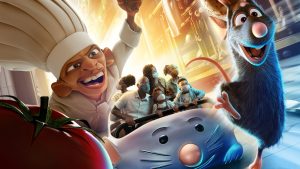 Entertainment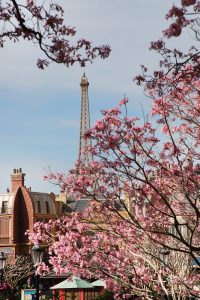 Belle frequently makes appearances in the France Pavilion, so keep an eye out for her near the World Showcase Lagoon (in the shady area between the France and Morocco pavilions). 
The France Pavilion's Kidcot Fun Stop is located in the Souvenirs de France building. Here, kids can pick up a fun activity/memento. 
Did You Know?
The France Pavilion's Eiffel Tower uses forced perspective to give guests the impression of it being much taller than it actually is. EPCOT's Eiffel Tower stands at 103 feet tall, while the original in France stands at 984 feet tall, 1,083 feet to tip.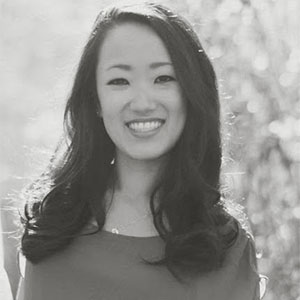 Written by
Leia Cullen
Leia is a proud mom of two boys. She has been in love with Disneyland and Disney World since her first visit to the parks many years ago, and she continues to relive the magic now with her family. She is passionate about creating helpful content that shares news or information about all things Disney, in the hopes it helps others create their own magical moments.