Bon appetit! As part of EPCOT's newly expanded France pavilion, a new table service restaurant opened on October 1st! La Crêperie de Paris offers diners savory crêpes called "galettes" and sweet crêpes for both lunch and dinner.
Upon entering, the decor makes you feel like you are in a traditional French restaurant. I loved the stone and wood beams. The artwork gives the space a pop of color. It feels casual, but still a bit upscale.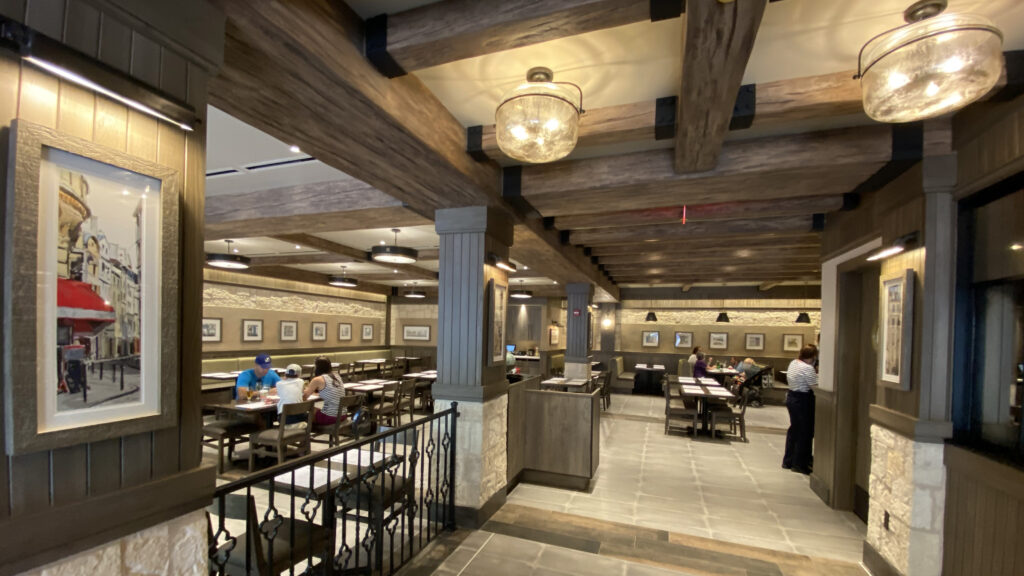 During the DVC Member "squeak" peek preview, my husband and I dined here for lunch. We really enjoyed our meal! After reviewing the menu, we decided to share the Soupe de Jour (Potato Leek Soup) as an appetizer and then the Saumon Galette and Poulet Galette for our entrées. The galette wraps were thin and crispy and the filling was delicious. It wasn't a heavy meal like park food can typically be, but it was still filling. We were actually so full that we didn't have room for dessert (as much as we wanted to try the Pomme crêpe), but we will definitely be going back to try the sweet crêpes!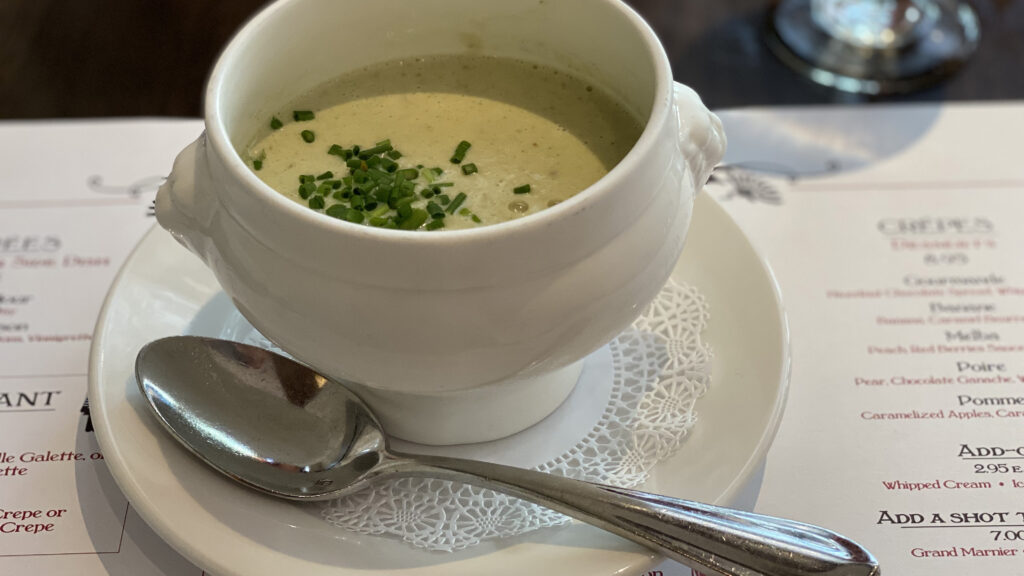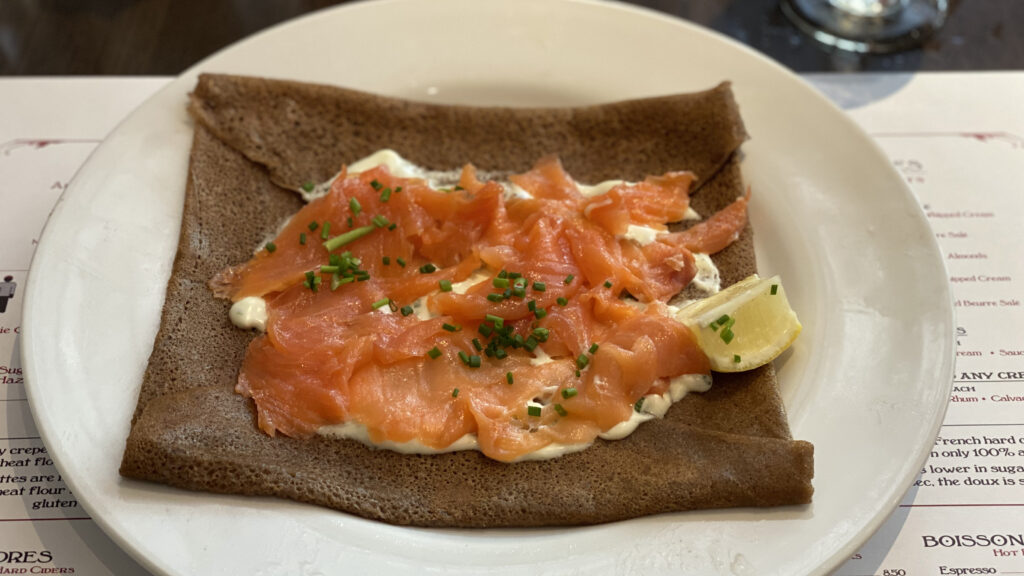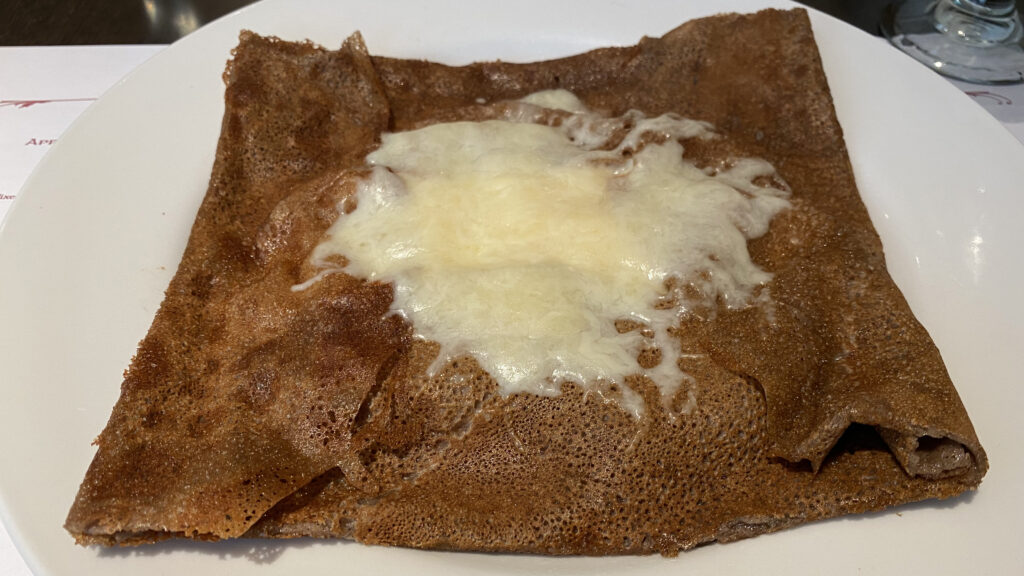 La Crêperie de Paris Menu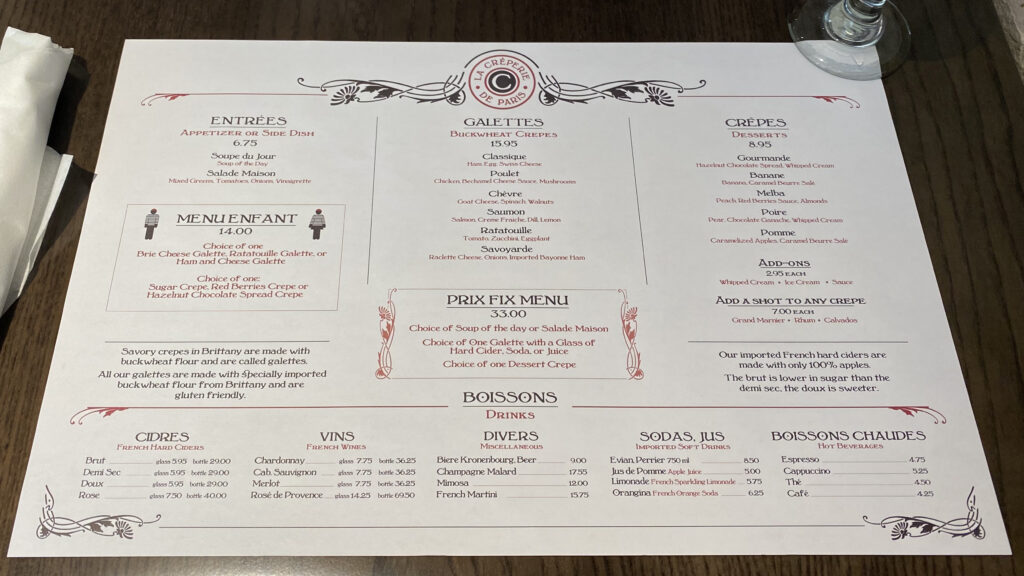 GALETTES
Classique: ham, egg, Swiss cheese
Poulet: chicken, bechamel cheese sauce, mushrooms
Chèvre: goat cheese, spinach, walnuts
Saumon: smoked salmon, crème fraiche, chives, lemon
Ratatouille: tomato, zucchini, eggplant
Savoyarde: Raclette cheese, onions, imported Bayonne ham
CRÊPES
Gourmande: hazelnut chocolate spread, whipped cream
Banane: banana, caramel beurre salé
Melba: peach, red berries sauce, almonds
Poire: pear, chocolate ganache, whipped cream
Pomme: caramelized apples, caramel beurre sale
Prix Fix Options
In addition to a la carte offerings from the menu, guests will find an option for a $33 Prix Fix Menu which includes a choice of soup or salad, one galette, one dessert crêpe, and a glass of hard cider, soda, or juice.
The restaurant imports a variety of Brittany hard ciders as well as the buckwheat flour used to make the savory galettes (which makes them gluten-friendly) from France.
Reservations are not currently available. You can enjoy table service at this new restaurant on a first-come, first-served basis. Another option is Crêpes À Emporter (attached to La Crêperie de Paris) if you are wanting more of a quick service crêpe experience. Just order at the window and go!
Crêpes À Emporter at La Crêperie de Paris Menu
GALETTES
Cream of Brie Cheese Galette
Ratatouille Galette: tomato, zucchini, eggplant
Bechamel, Cheese & Ham Galette
CRÊPES
Butter & Sugar Crêpe
Hazelnut & Chocolate Spread Crêpe
Red Berries Crêpe
Vanilla or Chocolate Ice Cream Crêpe
Other Parisian snacks can be found at Les Halles Boulangerie-Patisserie. What treat from these new dining locations in France pavilion are you most excited to try? Let us know in the comments!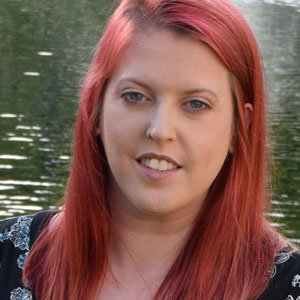 Written by
Sasha Watson
Contributing Writer
Sasha loves traveling, Sunday naps, cookie dough, Halloween and really good roller coasters. An admitted theme park junkie, she is always looking to book her next trip. More often than not, that trip is to Walt Disney World, which is a quick one-hour flight from her home in Georgia. Her favorite travel partner is her husband, Kyle. They've visited Disneyland, Walt Disney World and Shanghai Disneyland, hoping to someday visit all the Disney parks around the world.