As part of our in-depth overview of all the lands in Animal Kingdom, we are taking a closer look at Africa!
Overview
This immersive land transports guests to the village of "Harambe," whose features are inspired by several real countries in Africa. This bustling port offers a wealth of entertainment, shopping, dining and some of the best animal viewing opportunities in the entire park. 
There are plenty of hidden nooks and crannies to explore, so make sure to give yourself enough time to enjoy all that Africa has to offer–after all, it is the largest land in Animal Kingdom park!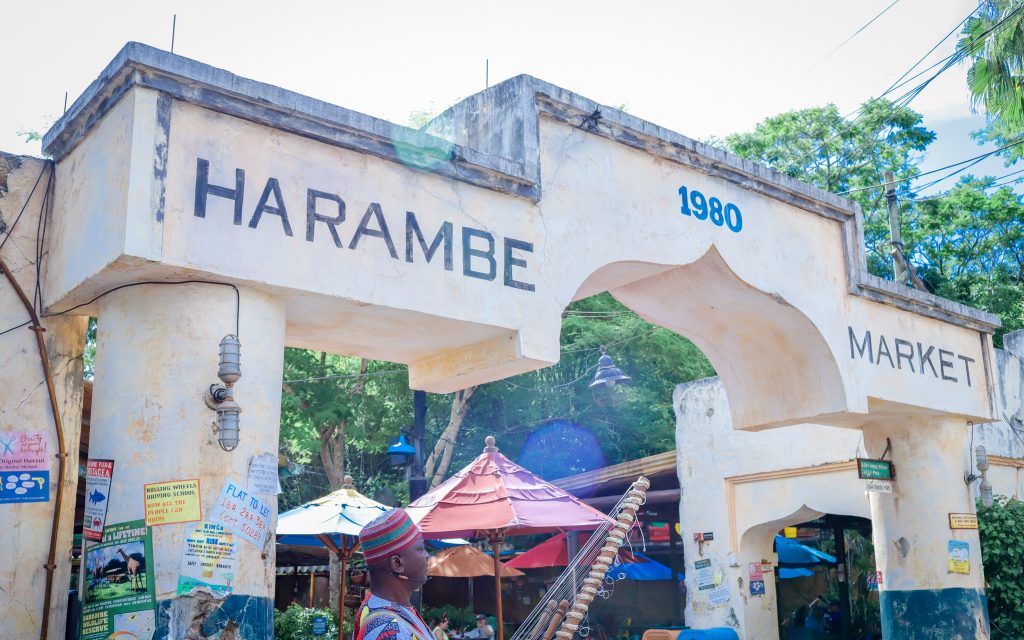 Attractions
Perhaps the most popular attraction in Africa is

Kilimanjaro Safaris

. This family-friendly attraction takes guests on a safari tour to see African elephants, African lions, Ankole cattle, black rhinos, giraffes, hippopotamus, white rhinos, flamingos, zebras and more. The safari utilizes open-sided tour buses to navigate through the animals' habitats.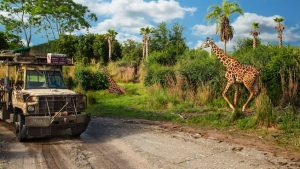 For travelers who want to see wildlife while exploring on foot, the

Gorilla Falls Exploration Trails

offers up-close views of gorillas, zebras, naked mole rats, meerkats, hippos, okapi, Colobus monkeys, African birds, reptiles and more in their authentically-themed habitats.

Take the Wildlife Express Train from Harambe Station over to Rafiki's Planet Watch where you will find the

Conservation Station

and

Affection Section

. 

The Conservation Station features some smaller exhibits housing amphibians, reptiles and invertebrates. You can see where meals are prepared for Animal Kingdom's animal residents at the Meal Prep Station. Peek at the Veterinary Treatment Room where Disney World's animals receive medical care. The Science Center offers a look at some of the ongoing projects real scientists are working on within Disney World. You can also check out the

Animation Experience

, where guests can learn about animals and sketch their own Disney character; this class is taught by a real Disney animator!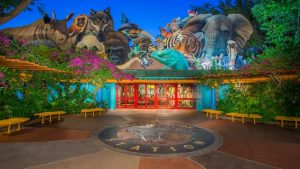 The Affection Section is the only petting zoo in Disney World. You can gently touch, pet or brush domesticated animals like goats, sheep, pigs and cows. 

There is also a butterfly garden where you can spot wild butterflies and other pollinators among the beautiful blooms.
Entertainment
Festival of the Lion King

is another

must-do

for many Animal Kingdom guests. This live show features incredible costumes, puppets, singers, dancers, acrobats and a world-class cast of characters retelling the story of

The Lion King

. The show is engaging, interactive and can be enjoyed by all ages.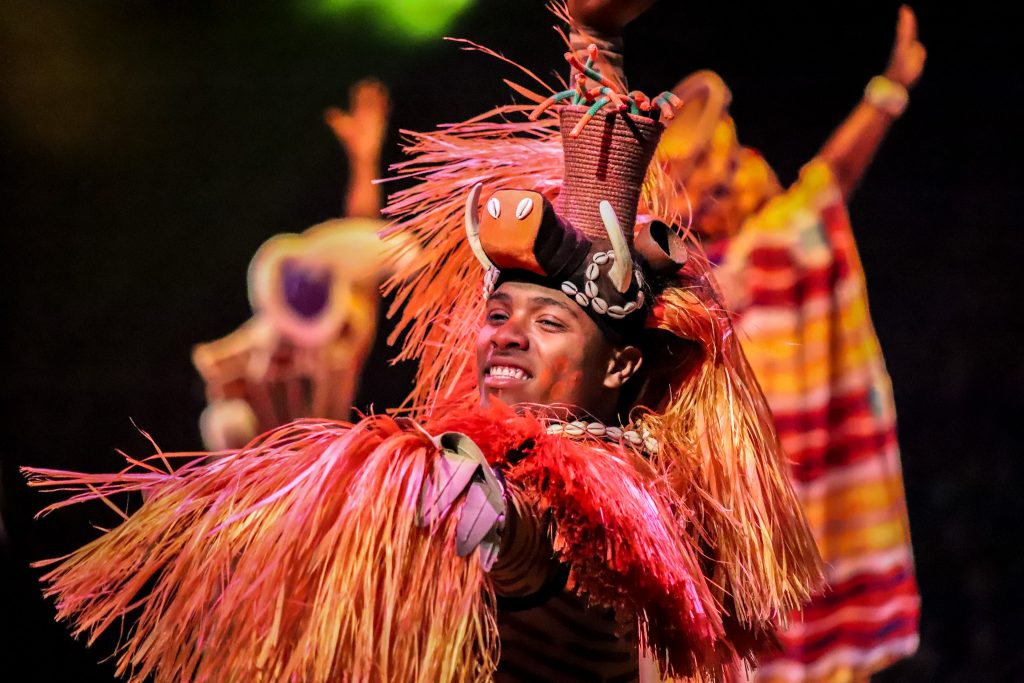 When you're in the mood for some live music, be sure to check the My Disney Experience app to find performance times for these entertaining acts:

The Tam Tam Drummers of Harambe deliver lively and energetic drum rhythms. They perform between the Mombasa Marketplace shop and Tamu Tamu Refreshments.

Kora Tinga Tinga features an incredible musician playing the "kora," a hand-crafted 21-stringed African harp. This live performance can be found near the Harambe Market.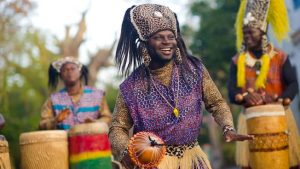 The Harambe Village Acrobats showcase their incredible acrobatic skills to the lively sounds of drumming. They can be found near the Harambe Market, across from Zuri's Sweet Shop.

The Wilderness Explorers program gives kids a fun and educational way to experience Animal Kingdom by providing both a scavenger hunt-experience and a fun keepsake. Learn more about this fantastic experience

here

! There are three locations in Africa:

There is a Wilderness Explorer post at Rafiki's Planet Watch; another near the Kusafiri Coffee Shop & Bakery (across from Ziwani Traders); and one at the entrance to the Gorilla Falls Exploration Trail (Pangani Forest).
Dining
Table Service
Tusker House Restaurant

is a popular character dining experience offering breakfast, lunch and dinner with Donald Duck and friends. This buffet-style restaurant features a variety of American- and African-inspired dishes.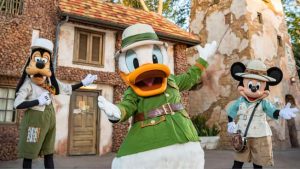 Quick Service
Dawa Bar

(next to Tusker House Restaurant) is a lounge-style "bamboo bar" featuring a menu of specialty cocktails, beers and wines.

Mahindi popcorn cart is a great place to grab a bottled beverage, souvenir popcorn bucket or popcorn refill. You can also order the popular Cinnamon-glazed pecans or almonds here!

Tamu Tamu Refreshments

offers grab-and-go snacks during breakfast, and after 11AM you can order

Dole Whip

here.

Kusafiri Coffee Shop & Bakery is a great place to grab a quick breakfast or specialty coffee beverage. During lunchtime, try the flatbread or Impossible Empanadas.

Harambe Fruit Market

is a stand that sells apples, oranges, bananas, pretzels and other snacks. The grilled corn on the cob (with or without African spices) is a filling, savory snack!

Zuri's Sweet Shop

offers an endless variety of treats to satisfy your sweet tooth. At their sweets counter you'll find crisped rice treats, cupcakes, cookies, fudge, dipped marshmallows, Werther's Caramel treats, caramel or candied apples and more. Don't forget you can save time by

mobile ordering

your goodies!

Harambe Market

is an open-air, plaza-style quick service restaurant offering lunch and dinner entrees like bowls and salads. Mobile ordering is also available here.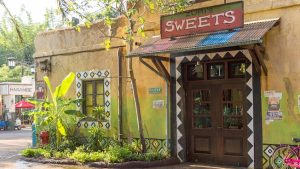 Shopping
Mariya's Souvenirs is a kiosk near "Festival of the Lion King" that sells various souvenirs, apparel and accessories.

The Africa Hub Cart (near the pathway from Discovery Island) offers pins, hats and toys.

Mombasa Marketplace sells authentic African imports including wine, art, clothing, crafts, instruments and toys. 

Adjacent to Mombasa Marketplace, Ziwani Traders sells plush, apparel, accessories like hats and sunglasses, animal-themed souvenirs, artwork and more.

Zuri's Sweet Shop, in addition to their sweets counter, also offers retail snacks and drinks.

Kilimanjaro Safaris Cart (near the attraction) sells Kilimanjaro souvenirs, pins, toys, apparel, jewelry and some snacks.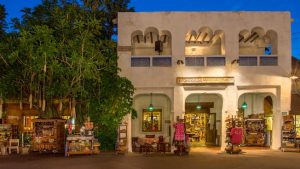 What is your favorite restaurant or experience in Animal Kingdom's Africa? Tell us about it in the comments below!
Featured photo by Emily Murray.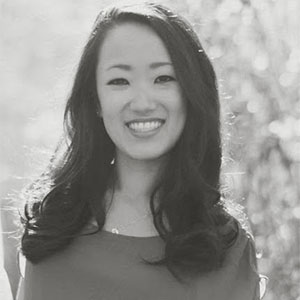 Written by
Leia Cullen
Leia is a proud mom of two boys. She has been in love with Disneyland and Disney World since her first visit to the parks many years ago, and she continues to relive the magic now with her family. She is passionate about creating helpful content that shares news or information about all things Disney, in the hopes it helps others create their own magical moments.