Enjoy fresh fruit and salty snacks in the heart of Harambe Africa.
Harambe Fruit Market Details

| | |
| --- | --- |
| Walt Disney World Park | Disney's Animal Kingdom |
| Location in Park | Africa |
| Dining Experience | Quick Service |
| Hours | 8:00 AM to 8:00 PM |
| Price Range | $14.99 per adult  |
| Type of Cuisine | American |
| Mobile Order | No |
| Reservations | No |
| Allergy-Friendly | Yes |
Overview
The Harambe Fruit Market is located in the heart of Africa in the Disney's Animal Kingdom theme park. It is conveniently right next to one of Animal Kingdom's top attractions, the Kilimanjaro Safaris, which makes it the best place to grab a quick snack before heading out to your next adventure.
Majority of the menu at the Harambe Fruit Market is prepackaged food and drinks, but they also have classic snack items like churros and Mickey pretzels too. The highlight item of this dining location is the corn on the cob. Seriously, you have not fully experienced Disney's Animal Kingdom until you have tried the grilled corn.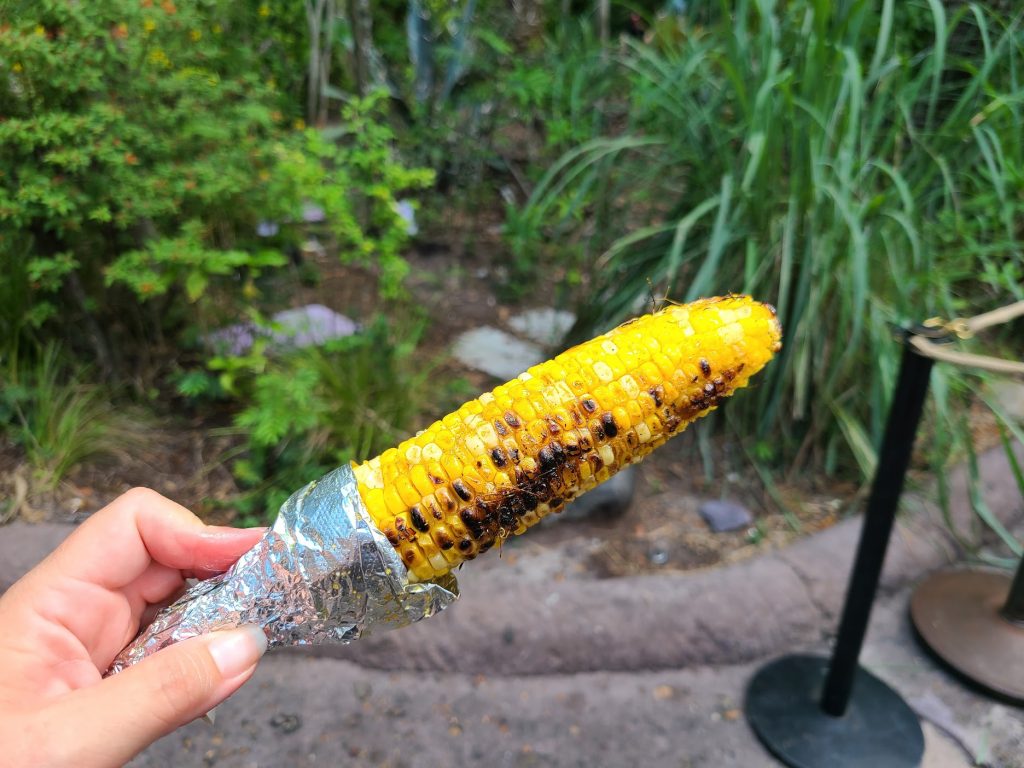 The corn on the cob is grilled and can come with butter, plain, or with African spices. The spices are not overly spicy or hot, but they are salty and flavorful and give a nice pairing to the grilled corn. This is probably the most common item that guests order here, and it is for good reason.
Harmabe Fruit Market is a great stop for guests of all ages since there is something for everyone. In terms of allergies or dietary restrictions, there isn't much you can request for in regards to allergies, but since a good chunk of the food is prepackaged if they are free from items you are trying to avoid, you will be in the clear.
This dining stop is also a great choice for guests who are looking to stay on the healthier side of things, since they also offer plenty of fresh fruit, as well as cheeses. You can even grab one of the 50th anniversary food items at Harambe Fruit Market, the Birthday Muffin. There is even a couple of options in regards to beer if you would like an alcoholic beverage along with your snacks. If not, they also offer plenty of bottled beverages.
There is seating around the back side of the Harambe Fruit Market, although it is open seating for everyone and is not dedicated to only those who have purchased food. However, it is a nice spot to stop, enjoy your snacks and the views, before moving onto another section of Africa or Animal Kingdom. Overall, it is a simple place, but definitely a nice stop in the day.
Menu
Snacks
Birthday Muffin – $3.99
House-made Blueberry Muffin with a surprise addition of colorful sprinkles to celebrate 50 years of magic
All-Beef Hot Dog – $9.49
Mickey Pretzel – $7.19
Mini Babybel® Snack Cheese (3-pack) – $3.49
Fresh Fruit Cup – $3.99
Whole Fruit – $2.29
Grilled Corn on the Cob – $5.29
with or without African Spices
Cuties® Mandarin (3-pack) – $4.19
Assorted Chips – $2.99
Churro – $6.39
Beverages
Assorted Bottled Beverages – $4.69
DASANI® Bottled Water – $4.69
POWERADE® – $4.69
smartwater® – $5.50
Minute Maid® Apple Juice – $3.99
Simply® Orange Juice – $4.99
Alcoholic Beverages
Bud Light Lager – $8.00
Corona Light Lager – $8.00
Heineken Lager – $8.75
Casa Lager – $9.25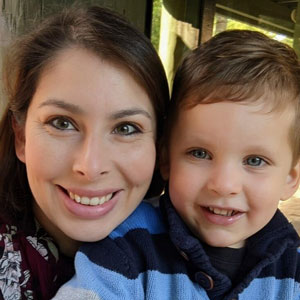 Written by
Rachel Van Norman
Contributing Writer
Rachel fell deeply in love with all things Disney as a little girl. Now as a wife and a mother herself, she shares this Disney obsession with her son and everyone around her. From her love of princesses to eating all the Disney food, Rachel spends her time radiating Disney magic and keeping everyone up to date on Disney news.