Visiting Walt Disney World is always a magical experience, but there are a few times during the year when the parks transform into an even more special place! Halloween is definitely ones of those times. If you've never taken a Disney vacation during the time when it transforms into a Halloween wonderland, you must consider planning your next trip for the spooky season! It's important to know is that Halloween time at Walt Disney World is not just the actual week of Halloween or the month of Halloween. Rather, Halloween time begins in late August giving you plenty of opportunity to plan a trip when the Halloween décor, food, and special events are in place. Take a look at why I think it's one of the best times to visit!
Decorations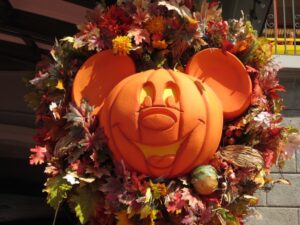 While every detail in Disney is already thoughtfully and magically in place, adding fall and Halloween décor gives the parks an extra pop of excitement. Whether you are a Halloween fanatic yourself or have children who adore this holiday, seeing the large displays of Mickey pumpkins and fall colors, lets you know that it's a special time of year which creates another layer of happiness to your vacation. And if you are an annual pass holder and a frequent visitor of the parks, the decorations allow you to see the most magical place on earth through a different lens as it is all dolled up for Halloween!
Cooler Weather And Smaller Crowds
Let's be honest: the summertime heat in central Florida is real and so are the almost-daily pop-up thunderstorms that result from the sweltering heat. While many families find it easiest to visit the parks in the summer while children are not in school, the high temperatures are much more manageable in September and October and the threat of hurricanes is lower. Also, since schools across the country go back in session anytime between early August and Labor Day, you will see smaller crowds and lower wait times during Halloween time at Walt Disney World. All of these are huge perks for planning a visit in the fall!
After Hours Party And Rare Character Sightings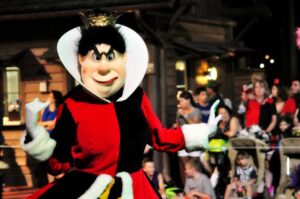 This year the after hours Halloween party is named the Boo Bash and it began in late August and runs through the end of October. While it is a ticketed event that costs additional to your park ticket, you do not have to buy a park pass for that day in order to attend the party. The Boo Bash has been a big hit with exclusive character appearances and unique snacks only available after hours. You can see characters that you normally do not such as Jack Skellington, Maleficent, and the Headless Horseman. Attending an after hours party also allows you access to certain rides with shorter wait times than during the day, special performances, and parades unique to the party. You also are allowed to wear costumes in the park during this special event and you can trick-or-treat at designated stations! After hours parties, like Boo Bash, are usually only offered during Halloween time and Christmastime, so visit Walt Disney World during the fall in order to have the opportunity to party late into the night at Magic Kingdom!
Food And Wine Festival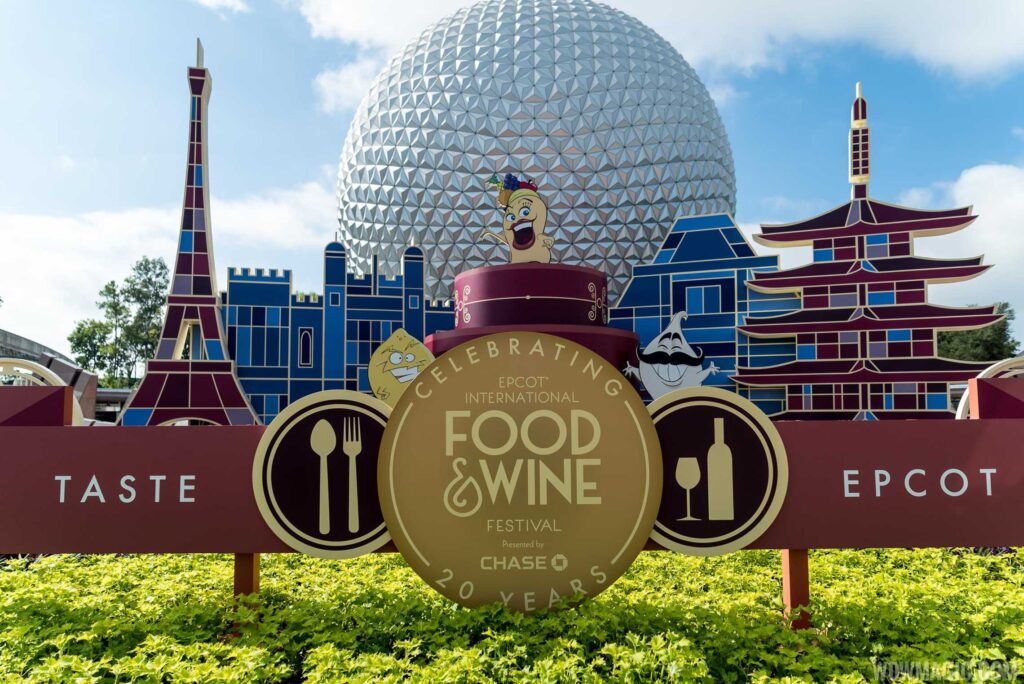 Another reason I like to visit Disney World during Halloween time is that it coincides with Epcot's Food and Wine Festival. In recent years, this festival has begun in mid-summer and has lasted into November! This once-a-year festival is one you cannot miss. While the usual 12 international pavilions already offer a wide variety of food options daily, this festival brings in more food and beverage offerings from even more countries by setting up special kiosks around the World Showcase. You may need more than one day at Epcot in order to experience it all!
Special Halloween Treats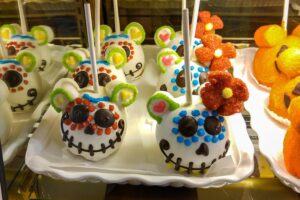 We can't talk about going to Disney World during Halloween time without noting the special seasonally-themed snack options offered at this time of year! Fall flavors spice up usual offerings and the talented chefs and decorators go the extra mile to make the treats scream of Halloween. Among my favorites are the chocolate hazelnut lunch box tart at Woody's Lunch Box in Hollywood Studios which gets a makeover on the outside to look perfect for Halloween and the pumpkin macaron Ice Cream Sandwich which is available at L'Artisan de Glaces in the France Pavilion at Epcot. There are spooky offerings as well such as the Maleficent Dragon Cupcake found at Restaurantosaurus in Animal Kingdom and the Jack Skellington Rice Krispie Treat found at the Confectionary in Magic Kingdom. You won't be short on choices of Halloween treats at any of the Disney parks no matter if you're looking for sweet, savory, or spooky!
Have you visited Walt Disney World during Halloween? What is your favorite thing about Halloween time in Disney? This year there are even more special things happening at the parks as the 50th anniversary celebration is well underway as well. It's the perfect time to visit! As of writing this post, it's not too late to visit this year. Who is up for a last-minute trip? (Me!) There are still park reservations available for all parks next week except for on October 31 when Magic Kingdom is sold out, but the other parks are available. Need accommodations?  DVC Shop has confirmed reservations available for booking beginning 10/25, 10/30 and 10/31.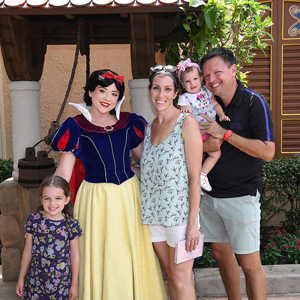 Written by
Shelley Wehler
Contributing Writer
Shelley is a stay-at-home mother of two girls living outside of Charlotte, North Carolina. Her love of all things Disney has grown even more as she sees the magic come alive through the lens of her young daughters. She spends her free time keeping up with the latest in Disney news and daydreaming of her next trip to the parks!