Believe it or not, July is right around the corner and for fans of Walt Disney World, that means that the longest ever EPCOT Food and Wine Festival will soon begin!  Why the longest ever?  Disney hasn't disclosed why this festival is starting even earlier this year, but we can guess it could be one of two reasons: 1) to entice more guests to visit the parks this summer [as capacity limits continue to increase] or 2) to coincide with Walt Disney World's 50th Anniversary celebration beginning October 1 of this year.
Whatever the reason is, we aren't mad about it!  The Food and Wine Festival is THE best time to take advantage of all of the culinary goodness in the World Showcase at EPCOT. Plus the entrance to the festival doesn't cost you any more than your park ticket! Guests planning on visiting the Food and Wine Festival must remember to make a reservation for your day of choice, wear your stretchy pants, and be prepared to eat your way around the world. Thankfully you'll be able to obtain a festival passport that will help you keep track of what you want to eat and which items you have already tried.
It Started With Only 30 Days!
Believe it or not, the original EPCOT Food and Wine Festival was only 30 days long! It debuted on September 28, 1996 and most food items only cost between $1.00 to $3.00. It began the tradition of highlighting gourmet food from the existing international pavilions in the World Showcase and beyond, as well as extra activities like cooking demonstrations, seminars, book signings, and celebrity chef appearances. The very first celebrity chef appearance was Julia Childs and over the years the Food and Wine Festival has welcomed other famous chefs including Robert Irvine, Art Smith, Alex Guarnaschelli.
The festival remained a 30-day event for 19 years until it lengthened to 53 days in 2014. Since Disney usually saw a drop in admissions between August and November, after the summer crowds and before the holidays, they decided to lengthen the festival to encourage more people to visit in early fall and slowly began to increase the total number of days of this popular event as the years went on.  The festival also ran for 53 days in 2015 and then extended to 62 days in 2016. In 2017, the festival began on August 31 for the first time running until November 13 marking a new record of 75 days. The International Food and Wine Festival also ran for 75 days in 2018 before marking its longest run yet in 2019 with a total of 87 days.  In 2019, the festival began on August 29 and ended on November 23, just 5 days before Thanksgiving,
2020 was a different year for everyone and Walt Disney World was no exception.  The parks were forced to close on March 16, 2020 and did not begin to reopen to the public until July 11, 2020. Coincidentally, the EPCOT International Food and Wine Festival began on EPCOT's reopening day of July 15, 2020 most certainly to entice guests to visit the parks after a closure that was longer than originally expected. The 2020 festival ran for a whopping 100 days.
The announcement of this year's start date of July 15 and end date of November 22 sets a record once more of a total of 101 days! That's a long time to take advantage of all of the extra fun at EPCOT, but a generous gift to guests who visit during the summer months and don't usually have the opportunity to experience all of the extra delicious offerings. See what fun is in store for the longest ever EPCOT International Food and Wine Festival.
Extra Activities During The Festival
Scavenger Hunts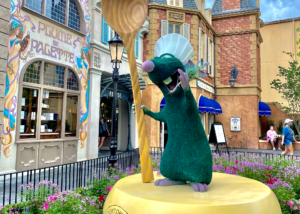 There is no right or wrong way to tackle the extensive offerings at this festival, but if you have little ones with you Remy's Ratatouille Hide and Squeak Savory Scavenger Hunt is a must! Purchase a map at one of three gift shops –  Port of Entry, Mouse Gear, or International Gateway – and then search for hidden statues of Remy as he gathers his ingredients.  Match the stickers to the correct place on the map and once completed, bring it to the Global Marketplaces to receive as special gift from Remy!
A fun activity for lovers of cheese is Emilie's Fromage Montage. This scavenger hunt is located inside of your festival passport. All you need to do is purchase any five of the cheese offerings in the Global Marketplace and you'll be eligible for a special prize from this year's Food and Wine Festival! To redeem, just bring your completed Fromage Montage to the Simmering Sips booth.
Live Music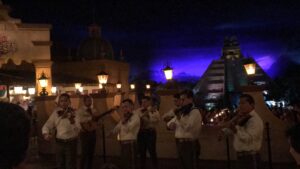 A festival isn't a festival without live entertainment and this year we welcome back live entertainment! Music and food go together like tacos and a margaritas or cheese and wine. While you take time to digest, you can catch the sweet sounds of music from around the world (showcase) at the American Gardens Theatre and the Canada Mill Stage located at the American and Canadian Pavilions respectively.
The Food
What's really exciting is that this week Disney released the actual food booths that will be available in the Global Marketplace and they do not disappoint! With so many options, I'm thinking I may need more than one day in EPCOT in order to try them all! What's more is that additional food booths are opening on October 1 (the start of the 50th anniversary celebration). If you visit this summer, you may want to try to come again in October, especially if you are local.
Returning Favorites
These countries and booths are tried and true favorites that you will see again if you have visited during the Food and Wine Festival in the past.  I applaud the availability of ciders for those that follow a gluten-free diet and the inclusion of a designated plant-based booth!
Australia
Appleseed Orchard
Canada
China
The Donut Box
Earth Eats hosted by Impossible™
Flavors from Fire hosted by The NFL on ESPN
France
Germany
Greece
Hawaiʻi
Hops & Barley
Italy
Japan
Mexico
Refreshment Outpost
Refreshment Port hosted by Boursin® Cheese
Shimmering Sips hosted by CORKCICLE®
Opening October 1st:
The Alps
Belgium
Brazil
India
Ireland
Kenya – Also NEW!
Lobster Landing – Also NEW!
Mac & Eats – Also NEW!
Spain
New Booths In 2021
In addition to the delicious treats in the returning booths, the following booths are brand new for 2021
Brew-Wing at the Epcot Experience
Popular shareable items like chicken wings and flatbreads along with assorted beers and ciders
The Noodle Exchange
Noodle dishes from the Far East
Rotunda Bistro
Fresh seafood and produce in the American Adventure Pavilion
The Swanky Saucy Swine
Mouth-watering pork dishes along with wine, beer or a cocktail.
Tangierine Café: Flavors of the Medina 
Moroccan cuisine such as grilled kebabs and a falafel pita
Reading through this list sure has us hungry, but remember, the regular rides and attractions are still open during this festival as well. The Food and Wine Festival simply gives EPCOT a boost of extra excitement and maybe makes your meal planning for the day easier.
Have you been to the EPCOT Food and Wine Festival?  What are your favorite booths?  Which dishes are a must-try?  Let us know in the comments below!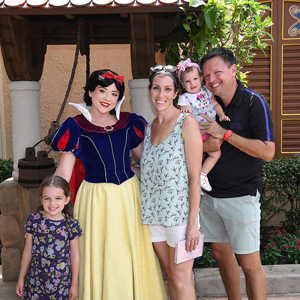 Written by
Shelley Wehler
Contributing Writer
Shelley is a stay-at-home mother of two girls living outside of Charlotte, North Carolina. Her love of all things Disney has grown even more as she sees the magic come alive through the lens of her young daughters. She spends her free time keeping up with the latest in Disney news and daydreaming of her next trip to the parks!