Question of the day: Do you decorate for Halloween before or after October 1? Walt Disney World's answer is "yes, WELL before October 1," with their Halloween décor beginning to make an appearance before the end of August!  With two young daughters, we do love Halloween in my family, but since we live in the south where the temperatures are well into the 80s most of September, it's hard for me to get into the Halloween and fall spirit before October 1.
Now that it's October, I am full speed ahead thinking about Halloween and have already purchased our costumes, and will be aiming to pull out the decorations in the coming days. Sadly, we won't be making a trip to the Disney parks this year for Halloween, so I've been thinking about how we can make our home extra magical with some Disney-themed decorations and household items. Here's how you can decorate your home for Halloween Disney-style.
Links provided below are not ads or affiliated. They are for informational purposes only. 
Disney Halloween Yard Decorations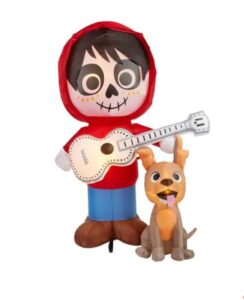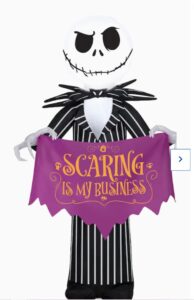 What better way to say you love Halloween than to display Disney inflatables in your yard?  I have found that Lowe's and Home Depot offer a good selection of Disney inflatables. Both stores offer a variety of characters beyond Mickey and Minnie including Urusla, Zero, and Oogie Boogie.
My favorite options are these two.  Miguel from "Coco" will come to life as he stands 6.5 ft high with his guitar and trusty friend Dante and this smaller Jack Skellington inflatable is a better accessory for your porch standing at just 3.5 ft high.  Check out all of the Disney Halloween inflatables from Lowe's and the inflatables from Home Depot, and let us know which is your favorite!
If you enjoy Tim Burton's "Nightmare Before Christmas," then adding these yard signs are just what you need to be a notable home on your block! Each character comes on a 36-inch stake that you can display in your grass or landscaping.  Purchase all 4 yard stakes so that you have the entire collection, but be mindful that these are not designed to be all-weather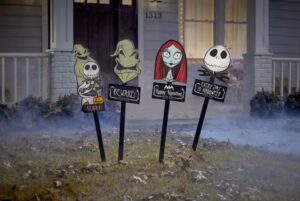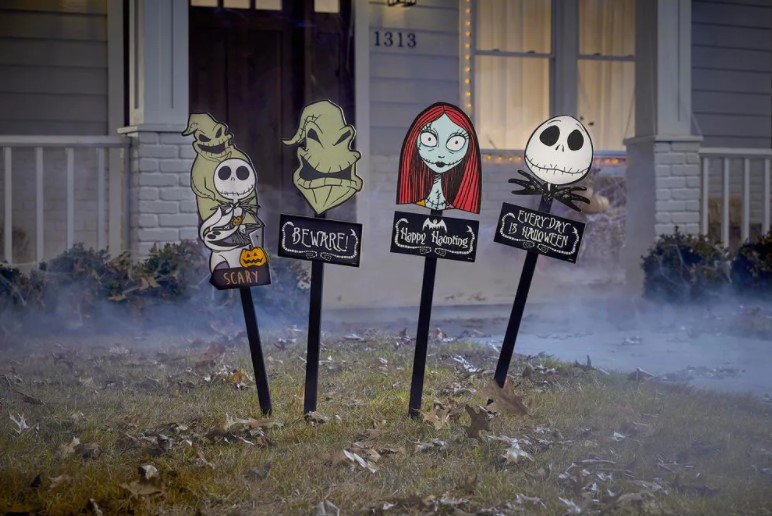 Finally, this "Nightmare Before Christmas" projection light is suitable for indoor or outdoor use and will project 4 characters in constant motion onto your home or a wall.  Jack, Sally, Oogie Boogie, and Zero rotate around in a spooky pattern and may just give your neighbors a fright! They each display in a different color that will shine through the darkness on Halloween night.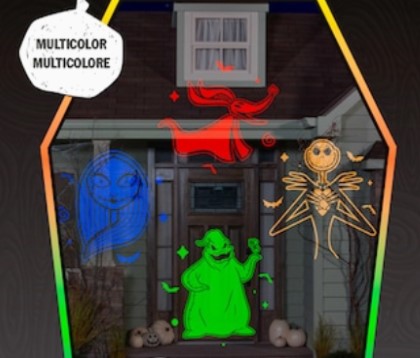 Disney Halloween Flags
If you prefer something a little more subtle for the outside, you can choose to display a large flag or small garden flag with your favorite Disney Halloween characters. This Hocus Pocus garden flag offers a cheeky greeting to your guests and is available to order from Amazon.com.
The website flagology.com offers a wide variety of Disney themed flags that promise to ship quickly and free if you spend $35!  Many designs come in both full size and garden size. This adorable Pooh flag would look great hanging in the autumn breeze. But if you prefer something more frightful, you may want to choose to display one with villains such as this one with Ursula, Maleficent, and the Evil Queen.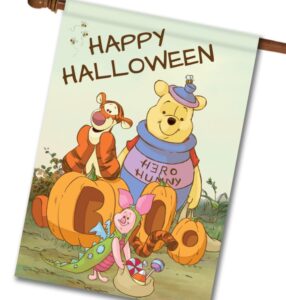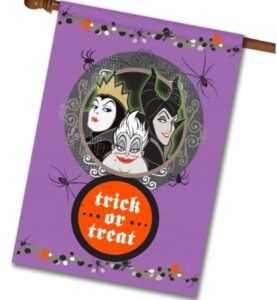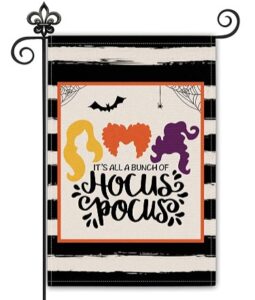 Disney Halloween Decorations For The Dining Room And Kitchen
Now that the outside has been transformed, what can we add indoors that will makeover your home in time for your own Boo Bash?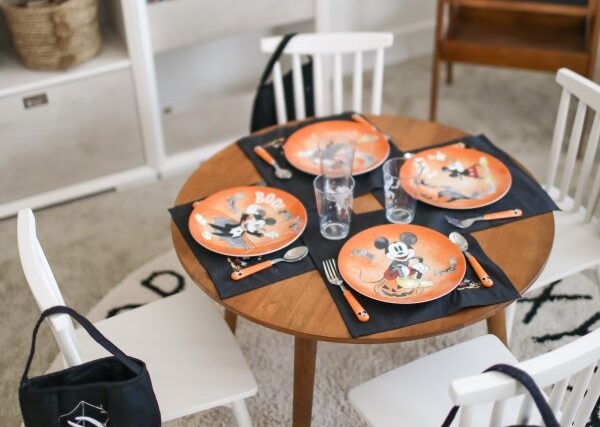 Let's start in the dining room! Pottery Barn Kids has an adorable Mickey Mouse Halloween collection that also features Minnie! Start with the Mickey Halloween black table cloth or Mickey runner. Add Mickey Halloween placements, Mickey Halloween plates,  and Mickey Halloween bowls. Finish with Mickey Halloween tumblers and your dining room will be well dressed for the season!
The plates, bowls, and tumblers each come in 4 different designs, so you may choose to mix and match or keep your set uniform. There are even Mickey Halloween cloth napkins to add to your place setting.  This collection is beautifully themed and worth the investment if you usually host a Halloween party or are just a lover of all things Halloween and Disney!
Another great find from Pottery Barn Kids, is this light-up Mickey doormat!  Since it does require batteries, it is recommended for use on well-covered areas or even indoors.  This would look great in any entry way or even by the sink in the kitchen or the bathroom!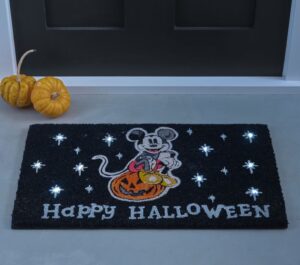 Also for your kitchen, don't forget some Halloween-themed dish towels to display!  This pair from Shop Disney, will add some Halloween cheer to your cooking area. Whether you're looking for a sweet Minnie set or prefer spooky Mickey vampire, these two additional sets available from Amazon will be perfect for you or to give as a gift to any of your Halloween-loving friends!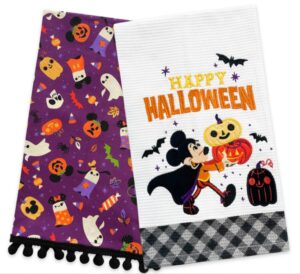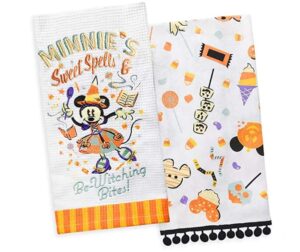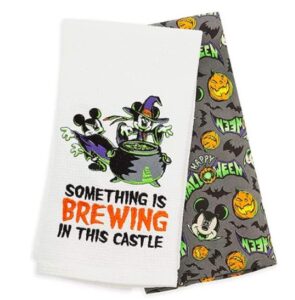 Disney Halloween Decorations For Your Living Room
Suitable for hanging on the mantle or above any doorway, this Mickey bat garland will make a subtle statement about your Disney obsession.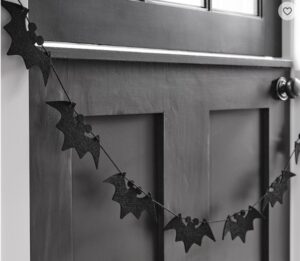 Another piece for your mantle or a tabletop is the Mickey and Minnie Mouse Countdown Calendar featuring the loveable mice in front of candy corn colored pumpkins.  Change the number each day with the provided blocks.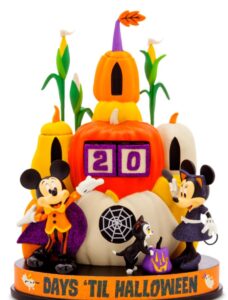 The Bradford Exchange has beautiful Disney Halloween pieces that would make for wonderful  centerpieces or accent pieces on a console table. The lighted figurine collection comes with a pumpkin centerpiece that lights in four different colors and 4 different character Halloween scenes.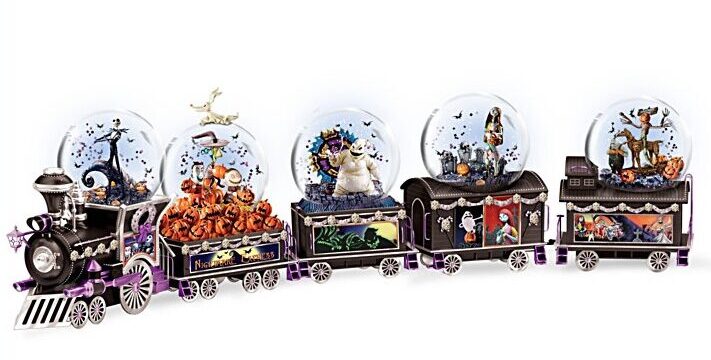 Also available from Bradford Exchange is this Nightmare Before Christmas Tabletop Tree that comes pre-lit and stands 3 feet high! I adore snow globes, so this Nightmare Before Christmas Musical Train with miniature snow globes really caught my eye. Last, Disney's Enchanted Pumpkin Castle features many of your favorite Disney characters in the windows of a pumpkin-shaped tabletop castle that also plays eerie Halloween sounds.  Which one would you love to have?
One more product that would look great on a mantle or table is these Mickey and Minnie Ghost wooden cutouts.  They stand freely, but also come with a string so that they can hang on the wall!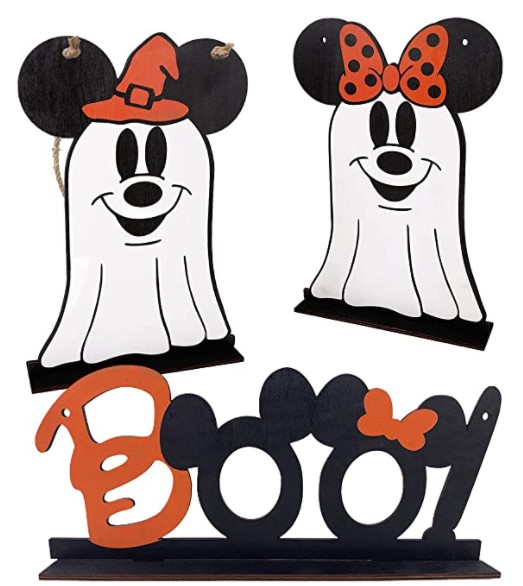 To round out your living room Halloween décor, you must have some Halloween throw pillows! ShopDisney offers these adorable Mickey Jack-o-lantern throws that will add Halloween cheer to your sofa or they could be used as an accent pillow on a bed. These adorable light-up Halloween plush Mickey ghosts from ShopDisney would also be a cute addition as an accent piece on shelf or on the sofa next to the jack-o-lantern pillows.  Everyone will love the surprise that they light up, too!
Will you join us in decorating your home for Halloween Disney-style? Let us know your favorite Disney Halloween decoration in the comments below!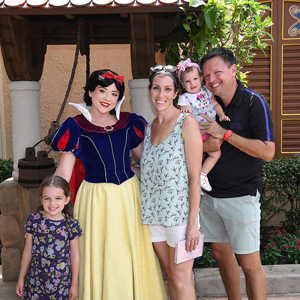 Written by
Shelley Wehler
Contributing Writer
Shelley is a stay-at-home mother of two girls living outside of Charlotte, North Carolina. Her love of all things Disney has grown even more as she sees the magic come alive through the lens of her young daughters. She spends her free time keeping up with the latest in Disney news and daydreaming of her next trip to the parks!