Last week marked the return of After Hours parties at Disney World! For the past year, most special events at Disney had been suspended due to COVID-19, but recently Disney announced the return of After Hours events with a Halloween themed féte called Boo Bash.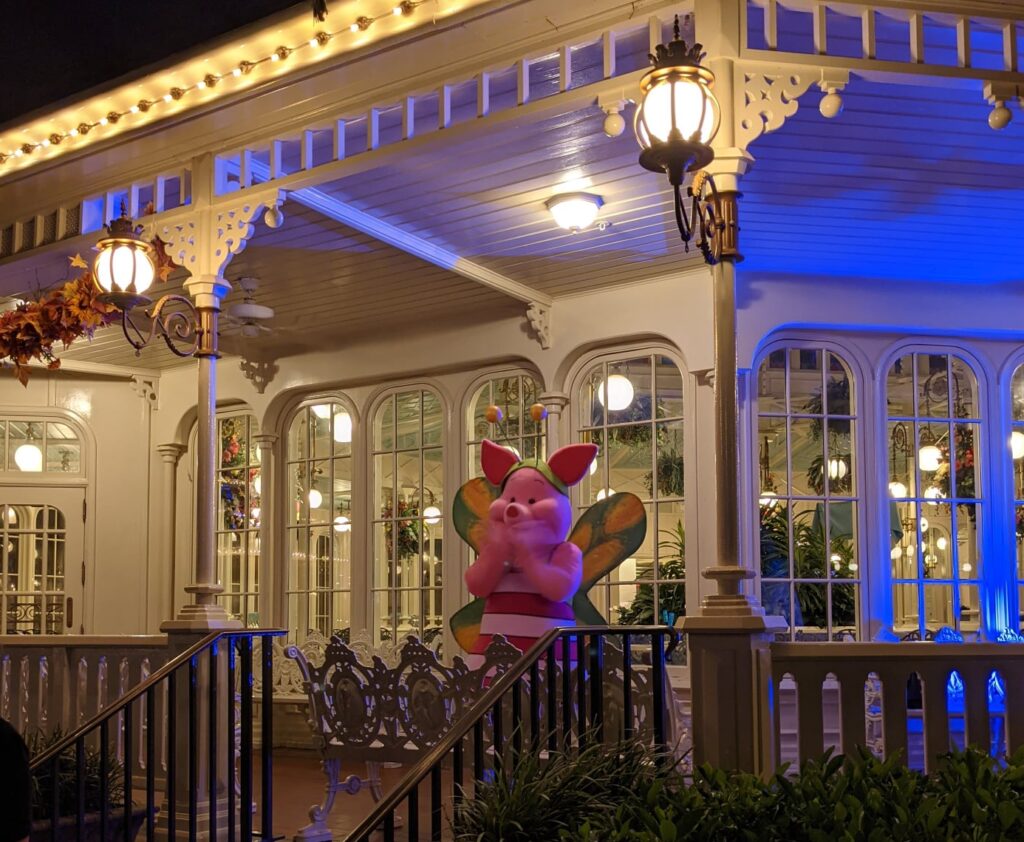 Like After Hours parties of the past, Boo Bash is a specially ticketed event being held after regular Magic Kingdom park hours on select evenings. The first day of Boo Bash was held quite a bit earlier than Halloween season however, on August 10th.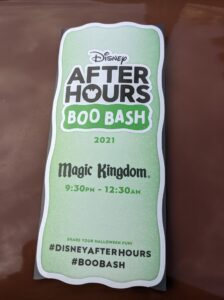 Personally, I have attended almost every special event that Disney has offered in the past decade so naturally I was one of the first in line to purchase tickets to Boo Bash. The following is my experience.
While this event was a bit toned down in comparison to previous years, guests were still treated with perks like…
Admission to the event as early as 7PM
Themed treats and drinks
Character sightings around the park
Free popcorn, ice cream bars, water and candy!
My Arrival
When I arrived at the park around 7PM it was still very busy because Magic Kingdom was open until 9PM. My colleague Jenifer and I enjoyed a walk around the park until just before the Happily Ever After fireworks began. We then headed over to Seven Dwarfs Mine Train and hopped on the ride just in time to watch the fireworks from the ride. 
After Mine Train, we decided to go to Sleepy Hollow and wait there for the day time park guests to exit the park and for the Boo Bash to officially begin!
Food And Drinks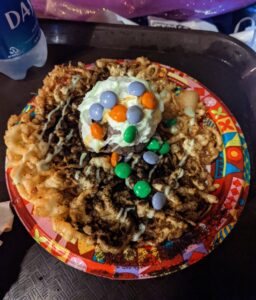 In addition to the free popcorn, candy, and ice cream bars available to all Boo Bash guests, there were two special Boo Bash snacks available for purchase. 
The first was an absolutely delicious caramel and cinnamon funnel cake topped with chocolate ice cream, whipped cream, and M&Ms. It was available at Sleepy Hollow and was amazing!
The second sweet treat was the Maleficent Churro available at the Main Street USA snack cart. This unique twist on the traditional park snack was covered in chocolate cookie crumbles, drizzled with purple icing and topped with sprinkles.
While water was free for guests, those wanting something extra special had a choice between three frozen blended drinks available for purchase. They were the Mocha Chocolate Chip Frozen Drink, the Apple Ginger Dale Frozen Drink and the Prince John Sucker Frozen Drink. 
The first two beverages were sold out before 11PM but I did get to try the Prince John Sucker. This tart apple slush drink was topped with whipped cream, caramel and a ring pop and was delicious!
One of the great things about the special treats at Boo Bash is that they were all available for mobile order!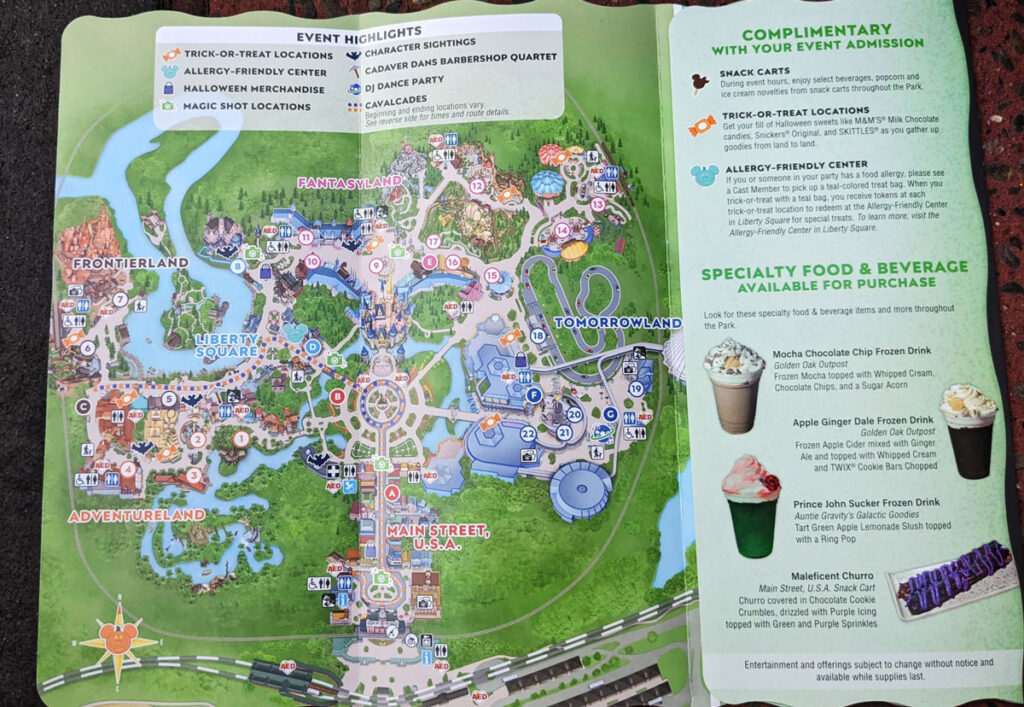 Candy Stations
Like at Mickey's Not So Scary, there were candy stations set up at various locations around the park. I visited each station twice but received less candy than I normally would have at previous Disney Halloween events.
Characters, Cavalcades & Entertainment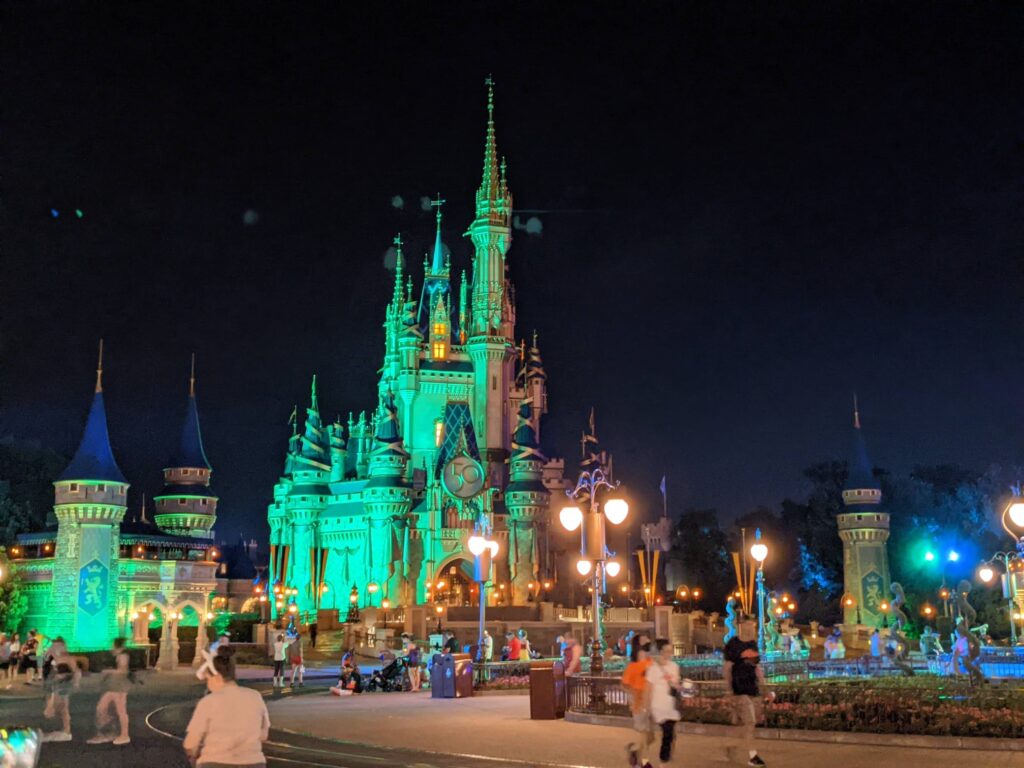 While there were no parades, character meet and greets, fireworks, stage shows or castle projections at Boo Bash, there were many opportunities to see characters through cavalcades and character viewing opportunities.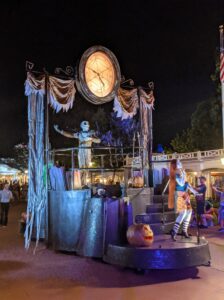 The four cavalcades available were:
Mickey's Happy Halloween Cavalcade with Mickey and friends
Villan's Cavalcade
Jack's Nightmare Cavalcade with Jack, Sally and Boogie Oogie
Maleficent's Fiery Prowl with Maleficent's dragon
Each of the four cavalcades last about 4-5 minutes but they were spread out over an hour. This meant a lot of waiting time between each group of characters. The cavalcades appeared twice throughout the evening.
Character stations around the park were another opportunity for guests to see their favorite Disney characters dressed in Halloween gear. At these five different character stations guests could take socially distanced photos with their Disney pals.
Additional entertainment was available like the Dapper Dans who transformed into the Cadaver Dans for the evening. Throughout the entire event there was also a Dance Party taking place at the Tomorrowland stage. Unlike other dance parties this one did not have characters present.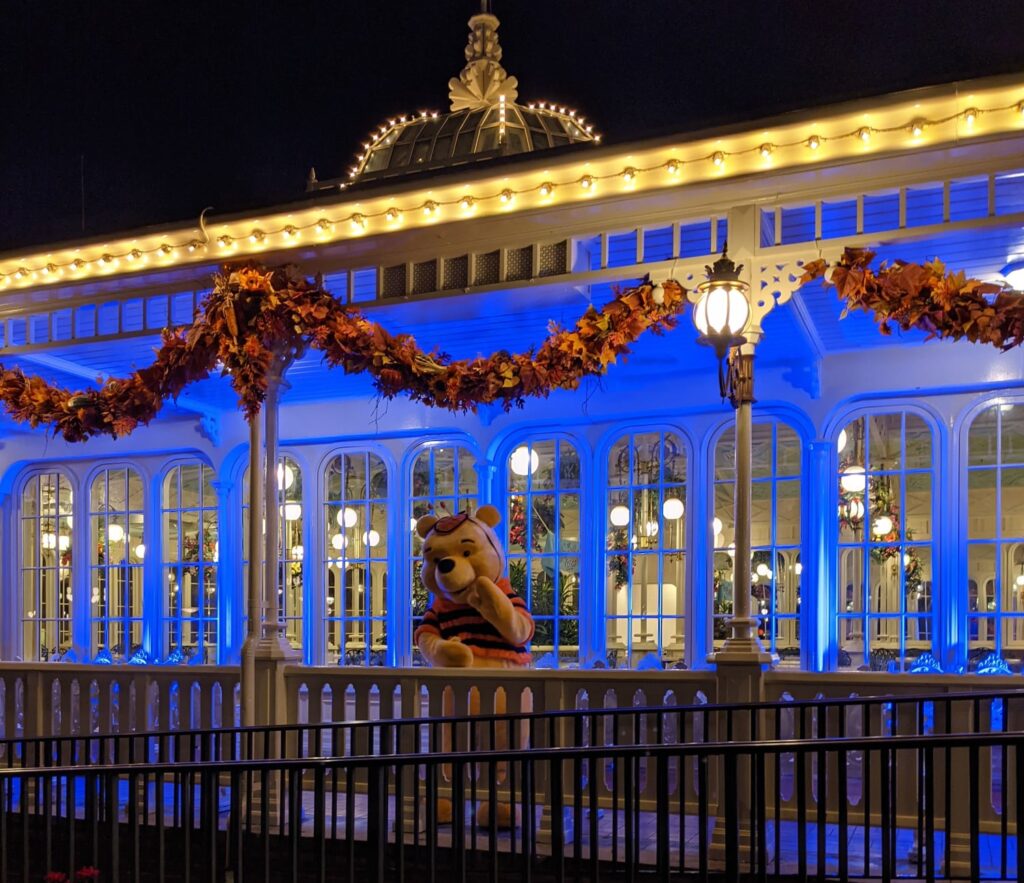 Compared to other Disney events, Boo Bash was definitely a bit quieter and more low key. However, this was to be expected considering it was the first After Hours event Disney has hosted since the start of COVID-19. Those familiar with other Disney parties may feel that this one is lacking the high energy atmosphere they are used to. But if you're looking to experience the park with significantly less crowds, hop on rides with very short wait times, plus get some free candy and snacks, you won't be disappointed. 
Are you planning to attend Boo Bash? What are you most looking forward to? Share your thoughts or questions about the event in the comments below.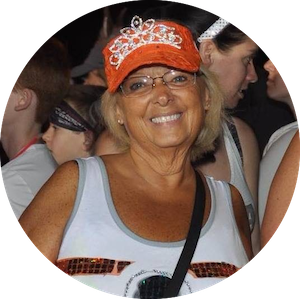 Written by
Bee Thaxton
DVC Shop Resales Broker
Bee has worked in all facets of the Real Estate industry in her 35+ years of experience. Her knowledge of DVC and the resale market is vast and her integrity and service to her clients has earned her a reputation of excellence. She lives close to the parks and loves to meet her clients. You may find her wandering around Epcot or in a fancy costume running a 1/2 marathon through Magic Kingdom.